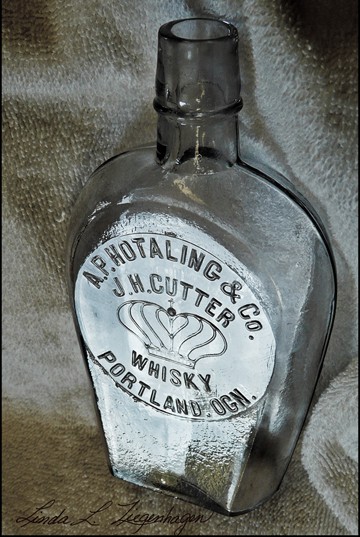 FOHBC members, Garth & Linda Ziegenhagen report an extremely important new find in a A.P. HOTALING & Co. J.H. CUTTER (embossed crown) WHISKY, PORTLAND. OGN.
Garth states that "an 80 year old man had the bottle and was going to put it on eBay. He dug it in The Dalles Oregon in the 1970′s. He doesn't want his name used. Richard Siri and Mike Dolcini have the half pints. I have another shard of the pint that Randy Littlefied had dug. It shows the slug plate well but the top is broken off. Apparently this is the only one known".
OGN is an older abbreviation for Oregon and WHISKY is an older spelling of whiskey. Also the crown is a much fancier crown than normally used. It doesn't have the bumps on the shoulder that were invented in 1874 for air vents.
A.P. Hotaling opened the Portland office in 1873 and was the most successful whiskey dealer in the west after he acquired the Cutter brand name. There is much more to the story of acquiring the Cutter brand already on the blogs. See Western Glob Top Whiskey's Blog.