Dolores J. Munsey
1934 – 2015 | Obituary | Condolences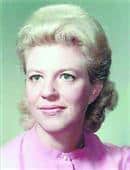 Munsey, Dolores J. 12/05/1934 ~ 01/22/2015 POWAY — Dolores J. (Murray) Munsey passed away peacefully in her sleep on January 22, 2015 in Poway, California after courageously fighting the effects of a stroke she had 18 months earlier. Dolores was born in St. Louis, Missouri in 1934 but called San Diego County her home for 69 years. She graduated from Hoover High School in San Diego in 1953. In 1956, she married Dr. Cecil Munsey Jr., a fellow educator and professional writer – author. They spent 59 years together and raised their son Cecil III, who is an optician. Dolores worked as a secretary with the California State Board of Equalization for 10 years before enrolling at San Diego State University where she earned a Bachelor's, Degree, a Master's Degree, and several teaching credentials. During her working career, Dolores was a teacher in all K-6 elementary school grades, was a Resource Teacher, and program administrator with San Diego Unified School District until her retirement in 2000. In retirement, she proffered her services for 10 years in the Volunteer Office of Pomerado Hospital in Poway. Dolores is survived by her husband, Cecil; and son, Cecil, both of whom will miss her profoundly. At her request no services will be held.
Published in U-T San Diego on Feb. 1, 2015
See more at: U-T San Diego | Guest Book
Visit: CecilMunsey.com
FOHBC Hall of Fame
1987 – Dr. Cecil Munsey, Ph.D
A bottle collecting pioneer noted for significant contributions to the organized hobby, not the least of which was his 1970 book, An Illustrated Guide to Collecting Bottles. He also authored The Illustrated Guide to the Collecting of Coca-Cola. He is a skilled researcher, writer and editor.