What's the Attraction for You at National Federation Shows?
Updated 12 April 2023
By Bill Baab & Ferdinand Meyer V
Why are you here? That's an easy question, but the answer may not be. You might be here because of a chance to buy quality bottles for your collection. Or you might be here to visit with friends. Or it may be a combination of both answers, with a few personal reasons thrown in. Whatever the reason, the facts remain that you are happy to be here, and you plan to make the most of it.
Before 1976 when the Federation of Historical Bottle Clubs (as it was then known) held its first national show in St. Louis, antique bottle shows were strictly local or regional, attended mostly by collectors and members of the curious public who resided within those locales. The National Antique Bottle-Jar Exposition held Aug. 14-15, 1976 during our nation's Bicentennial celebration changed all of that, especially from a collector's perspective.
"I wasn't exactly a stranger at bottle shows when the St. Louis show was scheduled, but I'd never traveled so far," said FOHBC member Tom Hicks of Eatonton, Ga. "LeRoy Smith (a collector from Union Point, Ga.) and I got so excited because the show was going to be s-o-o-o big. We got to calculating just how many minutes we could spend at each table so we could see everything." Hicks has attended every national federation show since except Nashville, Tenn.  "We had our van all packed and pointed out at the road, ready to go to Nashville, when I came down with a case of kidney stones. I later told my wife, Mabel, that missing that show was worse than the stones and ranked right up there with the other major disappointment of my life — not seeing Boston Red Sox slugger Ted Williams play an exhibition game in Montgomery, Alabama." Presumably, Hicks and his friend found the time to visit all 280 sales tables in St. Louis.
Let's go back in time and check out all the shows leading up to this one. It's made possible thanks to pages of past issues of Old Bottle Magazine, Bottle News, Antique Bottle World, Antique Bottle & Glass Collector and Bottles and Extras.
---
The 1976 National Antique Bottle & Jar Exposition
– St. Louis, Missouri
There is no doubt this show set the standards for those to follow. There were 140 outstanding displays of bottles and fruit jars, many of which had never been in the public view; 280 sales tables, and 4,000 collectors. Hal Wagner was chairman and Jerry Jones co-chairman of the event. The program featured articles by some of the legends of the hobby, including Helen McKearin, Alice Creswick, George Herron, William E. Covill Jr., Dr. Cecil Munsey, Dick Roller, John Wolf, and Paul Ballentine. Ken and Shirley Asher, Old Bottle Magazine publishers, devoted 17 pages to photos of the displays, unfortunately, all in black and white, because the color was expensive to print back in those days. There was a surprise awaiting visitors – a commemorative Expo bottle in the shape of a scroll flask with the federation's distinctive eagle on one side and crossed flags on the other. How many of these bottles sold during the Expo still exist?
---
The 1980 National Antique Bottle & Jar Exposition
– Rosemont, Illinois
The St. Louis extravaganza was a tough act to follow, but show chairman Ken Sosnowski and co-chairman Jim Hall did their darndest and, in the opinions of those who were there, succeeded. There were 330 sales tables and 70 displays, the latter including a Hutchinson bottling display by Bob Harms and Sean Mullikin. Demonstrations on how Hutchinson bottles were actually filled were held every two hours. The 96-page program included articles by Betty Zumwalt, Bob Ferraro, and Clevenger Glass Works' Jim Travis, among others. Souvenirs included a commemorative paperweight to display owners, a miniature stoneware jug to those attending the banquet, and suitably inscribed log cabin bottles in cobalt and amethyst made at the Clevenger factory and sold for $20 apiece.
---
1984 Antique Bottle, Jar & Insulator Exposition
– Montgomery, Alabama
After the two previous shows were held in the Midwest, the Sunny South finally got a chance to shine and highlighted insulators on the cover of its 78-page program. Chairman James Robbins called the show "my dream come true." Feature articles were written by Bernie Puckhaber (Saratogas), Dick Bowman (Insulators), and Dennis Smith (Pioneer Glass Works), among others. The latter also found time to put together an outstanding exhibit on Celery Cola (on which he is still THE authority). There were 32 exhibitors and 204 dealers listed in the program. There also was a heatwave as one might expect in the Deep South during the August show dates so visitors and hosts alike built up lots of sweat equity. One specially made quilt was raffled (and brought $3,400) and the other was auctioned (for $1,600). Profits from the two-plus auction of a one-of-a-kind Federation bottle ($325) were donated to the Verbeck House/National Bottle Museum in Ballston Spa, N.Y.
---
1988 Antique Bottle & Jar Exposition
– Las Vegas, Nevada
Show chairman Lou Pellegrini and his crew of volunteers "hit the jackpot," according to comments from many of those who attended the Federation's fourth Expo. There were 285 dealers set up on 365 tables and there were 53 displays. Show-goers likened the atmosphere as comparable to that of the St. Louis Expo and, while there were a few glitches, the bulk of the comments were positive. Bob Harms had his traveling Hutchinson bottling machine there, while other displays ranged from Alex Kerr's target balls and go-withs to a display of historical flasks. There was something to please just about everyone. There was no mention of Expo souvenirs.
---
1991 Bottle & Advertising Show – Memphis, Tennessee
The display of a pair of $40,000 bottles owned by Frank Brockman was one of the highlights of the show at the Memphis Cook Convention Center. One was the Northbend-Tippecanoe Cabin and the other the sapphire blue Columbia-Eagle Flask. "He brought them in from California at my request and we used them in our pre-show publicity," said show chairman Gene Bradberry. "I borrowed the artwork for the full-color, slick paper flyer from Norm Heckler and used it with his permission. We had 200 sales tables and (Atlanta collector) Bob Simmons handled some great displays. Heckler, Jim Hagenbuch, and Dick and Elma Watson were among well-known collectors in attendance." Bradberry's idea at the time was to create a national show every year. "There were still those who wanted an Expo every four years so we compromised and had the national shows every year between the Expos."
---
1992 Antique Bottle & Jar Exposition – Toledo, Ohio
Show chairman Adam Koch and his Ohio Bottle Club volunteers had to get used to hearing exclamations of  "Holy Toledo!" from excited visitors at the show at the Seagate Centre. The bulk of the comments from show-goers was highly positive. The program was the thickest ever, 110 pages counting the covers, with features by Ralph Finch, Bill Agee and Stanley, and Isabel Sherwood. There were a bunch of specialty group meetings taking place, too – the Jelly Jammers and those who liked fruit jars, Saratoga Waters, painted label sodas, poisons, whimsies, glass knives, milk bottles, and infant feeders. There was a chance for early buyers to get into the show in advance of the rest of the crowd and this did not sit well with many. But as one dealer among those manning a record 550 sales tables put it: "those people were there to buy and they did." There were 60 displays, all outstanding.
---
1993 National Advertising & Bottle Show – Richmond, Virginia
Somewhere in the Federation board of directors records, there is mention of someone who probably was suffering from bottle show withdrawal pains suggesting that instead of waiting another four years for an Expo to roll around, why not hold annual national shows. This Virginia show was the first of many and it was a good one. "The show was great and went off without a hitch," said Federation Chairman Gene Bradberry. There were 17 displays, including a genuine wagon showing off hundreds of medicine bottles and go-withs. Post-show stories never gave a dealer count, but comments given to reporter Ralph Finch were mostly on the positive side.
---
The 25th Anniversary National Bottle & Advertising Show & National Convention Cherry Hill, New Jersey – June 22-26, 1994
The Federation was "born" in 1969 so the Silver Anniversary show was a special one, thanks to Dick and Elma Watson of New Jersey and Jerry McCann of Chicago. The Watsons had come up with the idea of a bus trip to Wheaton Village in Millville, N.J., and McCann got the ball (and the bus) rolling, according to a post-show article. The Federation rented the bus for $500 and each one who made the trip paid $10 that included the trip, admission to the museum, and a box lunch. The next day, the Watsons arranged for a Wheaton glassblowing display to set up in the hotel parking lot. Collectors from Canada, England, Scotland, Germany, Grenada, and the United States came to the show. Some of the visitors made it to the Watsons' "bottle house." Jon Panek of Deerfield, Ill., said his visit there "was like dying and going to heaven!" A special pontiled olive green commemorative flask embossed with the familiar Federation eagle, F.O.H.B.C., and 1969-1994 was available at the show.
---
1995 National Bottle Show – Chicago, Illinois
Dealers set up on 210 tables and there were 11 outstanding displays. Many visitors were able to take a Friday night cruise on the Chicago River and out onto Lake Michigan. Jon Panek of Deerfield, Jerry McCann of Chicago, and Barb and Bob Harms of Riverdale, Ill., came up with lots of neat extras not normally found at such shows. At previous shows, visitors lamented that two days were just too short. The complaints at this one were that the show was too long. Perhaps the 90-degree heat had something to do with that. One of the most unusual items sold during Jim Hagenbuch's Glassworks Auction was a salt-glazed jug imprinted with Lancaster Tonic Bitters, C.A. Wood & Co., 37 Haverhill St. Boston. It sold for $400. Hagenbuch's 3-day-old van was stolen, and that was bad enough, but happily, there were no bottles inside.
---
1996 National Antique Bottle Exposition – Nashville, Tennessee
"Music City, USA," attracted 665 sales tables staffed by 461 dealers and many of those in attendance came in a vacation mode. There were 45 displays. Bitters maven Carlyn Ring was named to the Federation Hall of Fame. Many visitors, among them non-smokers, enjoyed a trip to the Museum of Tobacco Art & History. Show chairman Claude Bellar and his staff of volunteers were lauded for their efforts. Norm Heckler conducted the auction and among noteworthy items were an 1820-30 Concentric Ring Flask that netted $20,000 and a cobalt Columbia Eagle Portrait Flask that garnered $21,000. There were no awards given for the displays, but each entrant received a commemorative bottle of Jack Daniel's best stuff. Ken Anderson's trailer, which held all of his Indian cures, go-withs, and the great medicine wagon he displayed them in, escaped being damaged when the trailer broke loose from the hitch and wound up in a ditch. "It must have been Indian magic," commented one observer.
---
1997 National Antique Bottle Show – Jacksonville, Florida
The show was smaller than usual, with 120 dealers manning 160 tables, but enthusiasm was high for the first show held in the South since the 1993 affair in Richmond, Va. Dick Watson and Doc Ford were inducted into the FOHBC Hall of Fame. Carl Sturm celebrated his birthday and a slice of key lime pie with one candle was delivered to him. There were several outstanding displays, ranging from Wayne Boynton's Celery-Cola display to Ron Rasnake's pictorial case gins to Joe Brock's Jacksonville's Past in Glass, among others. Another highlight was a dinner cruise up the St. Johns River.
---
1998 National Antique Bottle Show – Cincinnati, Ohio
Burton Spiller gave a nostalgic talk about the early days of bottle collecting as he remembered them and that was one of the highlights at the Cincinnati Convention Center. Another event was more personal for Spiller, who was inducted into the FOHBC Hall of Fame. Fifteen terrific displays attracted lots of attention. There were 160 dealers' tables and at one of them, a dealer was going to put out some Beanie Babies. But show chairman Adam Koch was adamant that Beanie Babies had no place at an antique bottle show and sale. Good for him!
---
1999 National Antique Bottle Show – Cincinnati, Ohio
No one made a bid to play host to this year's show, so Adam Koch & Co. agreed to do a 2-peat. Howard Dean, the longtime collector of Saratoga Springs bottles and author of many stories relating to the bottle hobby, was elected to the FOHBC Hall of Fame during this meeting. Kevin Sives, a FOHBC member and early user of the Internet, gave a user-friendly talk about using that medium to one's advantage. There were two programs on inks and labeled inks by Keith Leeders and John Hinkle, respectively.
---
2000 National Antique Bottle Exposition – Denver, Colorado
Dave Cheadle succeeded Dave Hinson as editor of BOTTLES and EXTRAS and found time to give an educational talk on trade cards and bottles, one of the Rocky Mountain highs during the show. Sheryl Anderson was show chairman and did a remarkable job. There were new books galore from Pike's Peak Gold by John Eatwell and David Clint III, Antique Glass Bottles by Willy Van den Bossche of Holland, and Bitters Bottles by Bill Ham and Carlyn Ring. Seven countries and 33 states were represented at the event and the federation picked up 60 new members, according to post-show reports. It was noted that the first FOHBC convention was held in Denver back in 1969, presided over by John Eatwell.
---
2001 National Antique Bottle Show & Sale – Muncie, Indiana
Thirteen exhibits featuring fruit jars, water bottles, poisons, and show globes, among others, and 140 sales tables highlighted the show in "Fruit Jar Country, USA."  Future federation president Ralph Van Brocklin gave a slide presentation on Western Whiskey Flasks. The show was chaired by Norman Barnett, with lots of help from his wife, Junne. The Federation made a nice profit via an auction conducted by Norm Heckler with lots ranging from inks to barber bottles. Collectors came from California, Colorado, and Georgia. The Minnetrista Cultural Center housed a collection of patent models of fruit jars plus other exhibits relating to Muncie history and the Ball Brothers Fruit Jar Co. Visitors literally had a ball!
---
2002 National Antique Bottle Show & Sale – Syracuse, New York
The 72-page program featured 16 pages of "Pride of New York" bottles in full color and is definitely a coveted collector's item. Ralph Van Brocklin, who was elected FOHBC president,  gave a seminar on Western Flasks, and George Waddy, a featured columnist in Antique Bottle & Glass Collector, gave one on Saratoga Bottles. There was more on Saratogas inside the program written by authority Howard Dean, while Kevin A. Sives wrote about New York glass houses of the 17th through 19th centuries. Elma Watson, John Eatwell, and Mayor Bob Ferraro were inducted into the FOHBC Hall of Fame. Phyllis and Adam Koch wrote a touching tribute to Elma Watson in the September BOTTLES and EXTRAS. Mrs. Watson died of cancer on Aug. 26, 2002. There were 252 sales tables and 29 exhibits and the show's auction conducted by Norm Heckler grossed $25,000.
---
2003 National Antique Bottle Show & Sale – Louisville, Kentucky
More than 200 tables awaited early buyers at this show co-hosted by Wayne and June Lowry of Raymore, Mo., after two years of planning. Longtime collectors Norm and Junne Barnett were inducted into the Federation Hall of Fame. They set up their famous collection of unusual fruit jar closures as one of 16 educational exhibits. Orville Seales of North Jackson, Ohio displayed more than 100 Louisville mini jugs (mostly from the Bauer Pottery of Paducah). Norm Heckler called the auction which grossed more than $30,000.
---
2004 National Antique Bottle Exposition – Memphis, Tennessee
Ralph Van Brocklin closed out his last term as FOHBC president with the triumph that was this Expo. Chaired by his friend and longtime federation member Gene Bradberry in the latter's home town, the show featured 371 sales tables and 23 displays. Seminars included such topics as baby bottles, locating sites and digging them, black glass dating, fruit jars, and bitters. Twelve authors got a chance to sign and sell their books. Jimmie Wood of Denver, N.C., was awarded the FOHBC People's Choice ribbon for his stunning display of applied color label sodas from North and South Carolina. There also was a forum describing the trials and tribulations of becoming a book author, with Jack Sullivan, Dewey Heetderks, Jerry McCann, John Eatwell, and Bill Ham chiming in.
---
2005 National Antique Bottle Show – Grand Rapids, Michigan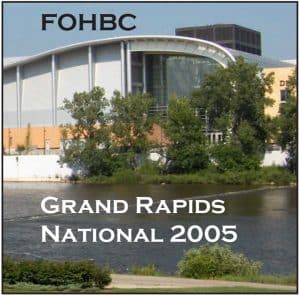 Thirty-one outstanding displays awaited visitors' attention at the show where chairman John Pastor and his crew of volunteers did a marvelous job. Seminars were plentiful and first-class, with Red Book author Doug Leybourne discoursing on fruit jar closures, Carl Sturm speaking about identification and dating of black glass bottles, Dann Louis talking about cures, Dan Simons on Michigan bottles, Wayne (Jar Doctor) Lowry about cleaning old bottles, Dr. Darell Erickson on infant feeders, Rick Cirali about Connecticut glass and Mark Vuono on historical flasks. Norm Heckler again loaned his auctioneering talents to the Federation. One of the outstanding bottles sold was a green Drake's Plantation Bitters for $10,500.
---
2006 National Antique Bottle Show – Reno, Nevada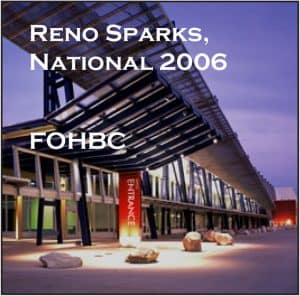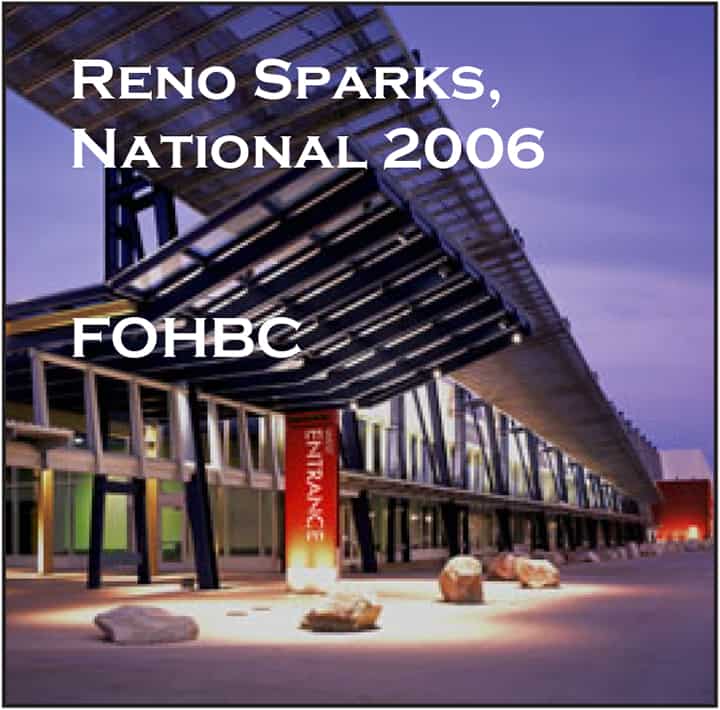 This was the first national show held in a Western state since the 2000 Expo in Denver, Colorado, and it was a roaring success, thanks to the efforts of FOHBC conventions director Wayne Lowry, show chairman Marty Hall, and Reno-Sparks club members. There were 287 in line for early admission and 315 more for general admission, making for standing room only around the 266 sales tables. A significant piece of federation business was the approval to publish Bottles and Extras bi-monthly instead of quarterly. California collector Richard Siri was the keynote speaker and his discourse on Hostetter's Bitters was complemented by his 190 variants of those well-known bottles. The displays drew this rave from Ralph Van Brocklin: "Hands down, The Best group of displays I have ever seen at a show!" Wonderful seminar topics ranging from target balls to historical bottle research were highlights of the meeting. Bottles and Extras editor Kathy Hopson-Sathe gave the show coverage of more than 17 pages of the Fall issue and Van Brocklin did a masterful job of describing what went on.
---
2007 National Antique Bottle Show – Collinsville, Illinois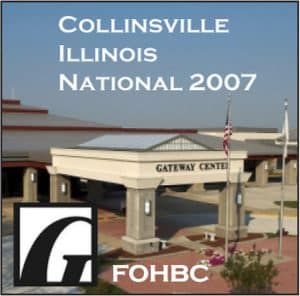 "Back To Where It All Began" was the theme at Collinsville's Gateway Center, pointing to the inaugural national show held in 1976 across the Mississippi River in St. Louis, Missouri. Special pins were presented to "Long Timers" who attended both shows. Wayne (Jar Doctor) Lowry was show chairman, with assists from Curt and Ellen Faulkenberry, Jim and Debbie Taylor, and Pat Jett. Wayne's wife, June, business manager for the federation, was stunned to receive the President's Award from Carl Sturm. Seminars ranged from "Something for Everyone" by Jelly Jammer members Phyllis Pahlman and Margaret Shaw to "Chero-Cola – There's None So Good" by Dennis Smith to "Using the Internet to Collect Bottles" by John "Digger" Odell to "Ink Symposium" by Keith Leeders, John Hinkel, Ed and Lucy Faulkner, Frank Starczek and Don Carroll. Longtime collectors and federation members Gene Bradberry and Ed Provine did a show and tell session on early glass-blowing methods and tools of that trade. Other highlights included 19 outstanding displays. Greg Hawley, one of a group of treasure hunters who found and excavated the Steamboat Arabia, was the banquet speaker.
---
2008 National Antique Bottle Exposition – York, Pennsylvania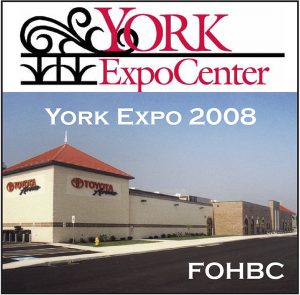 Collectors from across the country and around the world (Australia, Germany, United Kingdom) made the trek to the ninth Federation Expo where they enjoyed seeing 32 terrific displays ranging from fruit jars to California perfumes. They also attended outstanding seminars on Saratoga waters, black glass, inks, the Lancaster, N.Y. Glass Works, and the Kola Wars. Convention Director R. Wayne Lowry reported 415 sales tables had been sold. Perhaps the show's only negative aspect came at the banquet where featured foods were in short supply and some of the 246 guests had to accept substitutes. The FOHBC Hall of Fame grew by four new inductees in Tom Caniff, Jim Hagenbuch, Carl Sturm, and Betty Zumwalt. Steve Ketcham and the late Katie Foglesong were inducted onto the Honor Roll. Norm Heckler once again was the auctioneer for the Expo event, with an early, olive-green Wryghte's Bitters / London the top lot with a $3,900 bid. Russ Smith of the United Kingdom and Rex and Joanna Barber of Australia penned views of the Expo from their perspectives in the November-December BOTTLES and EXTRAS. Former FOHBC president John Pastor resigned as Midwest Region director and Jamie Houdeshell was named to take over the post. Mr. Pastor accepted the position of second vice president and remains on the board of directors. June Lowry became editor of BOTTLES and EXTRAS after Kathy Hopson-Sathe was forced to step down because of illness.
---
2009 National Antique Bottle Show – Pomona, California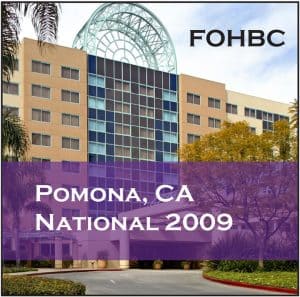 The highlight of this show, host of which was the Los Angeles Historical Bottle Club, was the awards banquet during which many collectors received their just dues. It was the first Federation National Show to be held on the West Coast and was ably chaired by Pam Selenak. Onlookers included collectors and dealers from Australia and England, as well as from 18 states. Outstanding exhibits included Richard Tucker's historical flasks (winning the People's Choice ribbon) and Terry Monteith's well-displayed collection of demijohns and carboys captured the FOHBC Most Educational ribbon. Alan DeMaison received the President's Award for his outstanding contributions as Federation treasurer from Richard Siri. The FOHBC Hall of Fame gained another member in Johnnie Fletcher of the Oklahoma Territory Bottle & Relic Club. Johnnie was originally nominated by his friend, Ed Stewart, of Paola, Kansas, for inclusion on the FOHBC Honor Roll, but Johnnie's dedication and contributions to the hobby led board members to vote him into the main shrine. Midwest Region Editor Joe Coulson's Glass Chatter of the Midwest Antique Fruit Jar & Bottle Club was a first-class winner in the newsletter category. The Ohio Swirl, edited by Phyllis Koch of The Ohio Bottle Club, was second. Huron Valley Antique Bottle Club's show flyer was first and the Antique Bottle Club of San Diego placed second. Jack Sullivan, of Alexandria, Va., won for the best-researched article for "The Night the Axe Fell on Cleveland." Dave Maryo, the host club's president, was second with his article, "Forsha's Balm is Endorsed by President Lincoln." Mike Bryant won the best true story award for "The Snake in the Glass" and best fiction for "Ask Aunt Blabby."
---
2010 National Antique Bottle Show – Wilmington, Ohio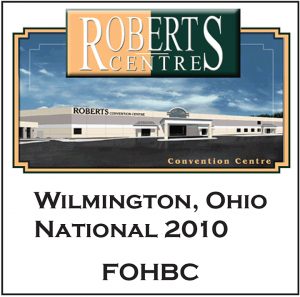 The best thing about this show, those who attended would agree, was the Roberts Centre showroom with its well-lighted, wide aisles, offering plenty of room for 297 sales tables, 20 wonderful displays, and hordes of people. Show chairman Jamie Houdeshell became ill a few days before the show, but co-chairman Joe Hardin and chief coordinator Patty Elwood stepped up. They were assisted by Jamie's parents, Jim and Mira Houdeshell, as well as Richard Elwood and John and Margie Bailey. Jamie's pet project was the auction and, thanks to his early efforts. the event grossed just shy of $20,000. A highlight of the show was the induction of Scott Grandstaff and Kitty Roach, of Happy Camp, Calif., onto the FOHBC Honor Roll. Joining them was another Californian, Jeff Wichmann. Scott and Kitty founded the original Bottles and Extras magazine, eventually giving it to the Federation when it got too much for them. Sheldon Baugh gave an educational talk about Ohio's Shaker communities and displayed Shaker bottles from his own collection.
---
2011 National Antique Bottle Show – Memphis, Tennessee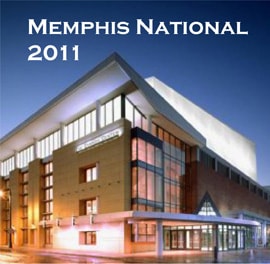 FOHBC President Gene Bradberry played the perfect host as the Federation returned to the Southland for the first time since 2004. That show also was held in Memphis, known for its downtown trolley cars and barbecue. Second Vice President Ferdinand Meyer V outlined his progress on the FOHBC web site (FOHBC.org) and Virtual Museum during the semi-annual board meeting held prior to the show and sale. Seminars were held dealing with inks (John Hinkel), bitters (Meyer, Don Keating, and Sheldon Baugh), odd-closure fruit jars (Dick Watson), German colognes (Carl Sturm), and applied color label sodas (Randee Kaiser). Seven outstanding displays sparked interest, with Base-Embossed Cylinder Whiskeys by Steve Schingler winning the Most Educational Award and Patented Labeled Medicines by Henry Tankersley garnering the People's Choice Award. Ninety-one lots were offered during the FOHBC National Auction, with the highlight of the sale the Morning Call Bitters going for $5,460, which was $1,460 over the high estimate. The unique variant, light amber with a hint of olive in color, sports deeply indented panels and arched column corners. Another highlight was the induction of Bill Baab, of Augusta, Georgia, into the FOHBC Hall of Fame. Former Federation Treasurer Mike Newman, of Martinez, Ga., nominated the 76-year-old  Baab, who joined the Federation in 1996 and later became its Southern Region editor. Ferdinand Meyer V was presented the President's Award by Gene Bradberry.
---
2012 National Antique Bottle Exposition – Reno, Nevada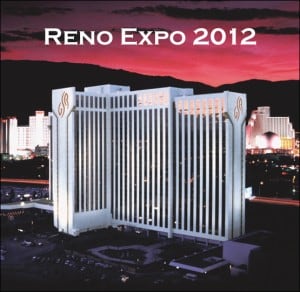 Those who were there at the Grand Sierra Resort and Casino included longtime collector and published author Mike Polak, of Long Beach, California. Let's hear all about it from Mike: "Over the years, I've attended a large number of club bottle shows, national shows, and Expos, and I need to say that the Reno 2012 Expo was absolutely fantastic and probably the best all-around show I've ever attended!" If that comment didn't make show co-chairmen Marty Hall and Richard Siri proud, who knows what will?
This was a show of "firsts" in the hobby. Complementing the thousands of words written about the show was a series of great color photos from the lenses of the first professional show photographer, Scott Selenak. ("There was so much action, my camera couldn't stop firing," he said later). Norman C. Heckler & Co., conducted the first "Drake's, Whiskey & Umbrella Ink Shootout" where more than 200 people showed up. Competing in back-to-back-to-back "duels" were Circle Cutter Whiskey cylinders, Drake's Plantation Bitters, and umbrella inks. After all was said and done, Judges Bruce Silva, Dennis Bray, and Ralph Hollibaugh awarded Steve Hubbell, of Gig Harbor, Washington, top billing in the Cutter category for his olive green-amber specimen. Drake's Judges Jeff Noordsy, Jeff Burkhardt, and Rick Simi picked a blue-green example owned by Ferdinand Meyer V, of Houston, Texas, as No. 1. Umbrella inks Judges Holly Noordsy, Bryan Grapentine, and Jamie Houdeshell chose a mint and pontiled puce ink owned by Jim Jacobitz, of San Francisco. "I learned how to have a shootout with killer glass bullets and still remain friends," said veteran collector Lou Lambert.
There were eight seminars on various subjects of interest to collectors held on the Friday before the show. Twenty-seven outstanding displays drew lots of attention. Nearly 200 dealers spread their offerings in the vast Grand Sierra Resort and Casino hall. Two longtime contributors to the hobby, Warren Friedrich, of Grass Valley, Calif., and Jack Sullivan, of Alexandria, Va., were inducted into the FOHBC Hall of Fame. Fourteen scintillating displays ranging from David Hall's fantastic assortment of E.G. Booz bottles to Dennis Bray's outstanding EC&M insulators to eye candy Swirls, Whirls, Twists & Twirls from Dwayne Anthony, featuring bottles, fruit jars, and insulators.
2013 National Antique Bottle Show – Manchester, New Hampshire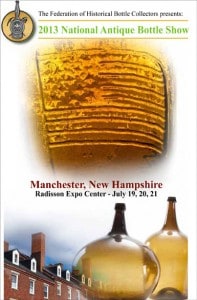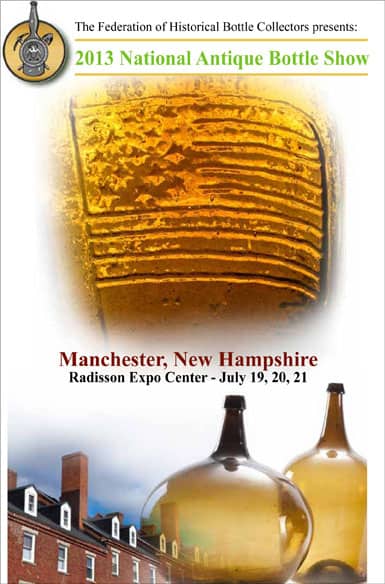 When collectors of antique bottles and early American glass think of New England, early glass works come to mind. Like Keene, Stoddard, Temple, Lyndeborough. "I have never seen so much world-class glass under one roof before," said FOHBC Hall of Famer Bill Baab after having attended the Federation's first National Show to be held in New England. The "roof" belonged to the Radisson Expo Center and the place was Manchester, New Hampshire July 19-21. Co-chairmen Michael George and Maureen Crawford and their Merrimack Bottle Clubbers pulled out all the stops to make this show one attendee will remember for the rest of their lives.
Nine seminars covering as many different areas of collecting got the crowd going in the right direction early on Friday, July 19. Presenters were Rick Ciralli, Connecticut Glasshouse Rarities; Tom Haunton, Last Links to the Past: 20th Century South Jersey Glass; Ian Simmonds, American Mold Blown Tableware 1816-35: A Fresh Look at "Blown Three-Mold"; Michael George, New Hampshire Glass Factories and Products; George Waddy, Mineral Waters from Yankee Country; Jim George, Early 20th Century Milk Marketing in New England; Brian P. Wolff, Mount Vernon Glass Co.: History, Products, People; David Hoover, Uncovering Demijohns, and Al Morin, Markings & Seals Embossed on Milk Bottles.
In addition to the glass and pottery offered by the 168 dealers present, collectors were treated to 17 displays of outstanding glass and pottery. The People's Choice Award was won by Michael George for his awesome display of Stoddard glass, including inks, a flask with an embossed American flag (featured on the souvenir program cover), medicines, utilities, and whimseys. Most Educational Award was won by Ken Previtali, of Glastonberry, Connecticut, for his wonderful ginger ale display, many of the bottles displaying an astounding array of paper labels featuring great and colorful graphics. Other exhibitors were Tom Marshall (New England Inkwells), Mark Newton (Lyndeborough Glass), Dale Murschell (Wistarburg Glass), Jeff & Holly Noordsy (Utilitarian Vessels from New England and New York State), Bob Kennerknecht (Sunburst Flasks), Dave Olson (Bonney Ink Bottles), Dave Waris (Moxie Bottles), Rob Girourd (Striped Sandwich Glass), Kevin Kyle (Blue Sodas), Dennis Gionet (Manchester-Produced Bottles), Paul Richards (New Hampshire Glass Shards), Jim and Karen Gray (Stoneware Jugs), Bobby Heton (Cone Inks) and Jim Bender (Reproductions).
Next came the New England Bottle Battle, sponsored by Norman G. Heckler & Co., and directed by Michael George, dressed in full 19th-century regalia. Categories were Whimsical Objects, Colored Medicines, and Utility Bottles. And the winners were: (Whimsical Objects), Kevin Sives, Appalachian, N.Y., for his handled E. Waters Ink; (Colored Medicines), Dr. Charles and Jane Aprill, New Orleans, for their half-gallon cobalt Dr. Wynkoop's Sarsaparilla; (Utility Bottles), Rick Ciralli, Bristol, Conn., for his multi-sided utility bottle. Wrapping up the first night's activities were the Madness in Manchester Auction put on by Jim Hagenbuch of Glass Works Auctions, with John Pappas the auctioneer. One of the highlights was Lot No. 44, a wide-mouthed sunburst flask/snuff jar in light greenish aqua. Pre-auction estimate was $40,000 to $60,000, but it sold for $24,000.
Inducted into the FOHBC Hall of Fame were Gene Bradberry, of Bartlett, Tenn., and Alan Blakeman, of the United Kingdom. Bradberry is a longtime Federation member, having served multiple times as its president, as well as in other capacities. Blakeman, the publisher of BBR (British Bottle Review) Magazine, is England's well-known "Mr. Bottle Man."
---
2014 National Antique Bottle Show – Lexington, Kentucky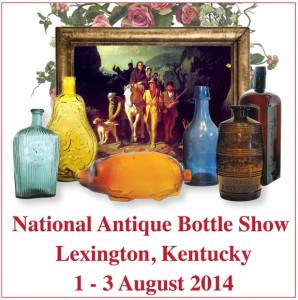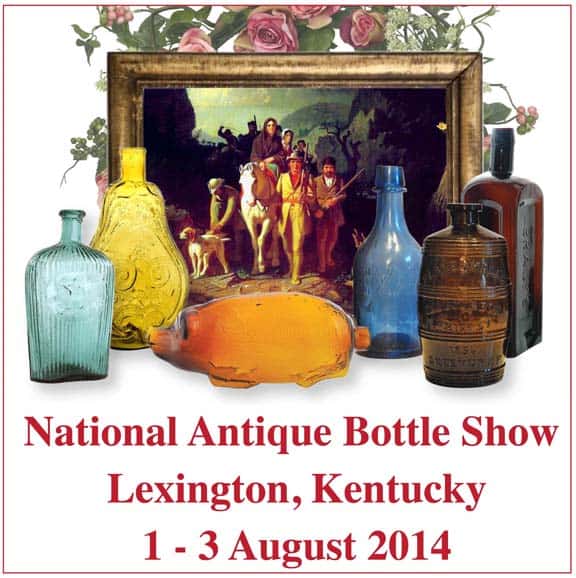 It was Tom Phillips' last show as conventions director and he made the most of it, teaming with co-chairmen Randee Kaiser and Sheldon Baugh to make the FOHBC's first visit to Lexington and Bluegrass horse country most enjoyable. One-hundred forty-seven dealers set up at 204 tables and offered a bounty of glass and ceramic treasures and most were ecstatic about their successful sales. "One said that within an hour of setting up, he made over $3,000," said Randee's wife, Sue. "Another said he made four times the profit as what he usually collects at shows." The numbers of early buyers (178) and general attendees (320) exceeded the numbers at past shows, said Phillips, whose good work was acknowledged when he received the President's Award from FOHBC President Ferdinand Meyer V. The show was headquartered at the Hyatt Regency Hotel and held at the adjacent Lexington Center, a wonderful venue with lots of space, great lighting, and enthusiastic staff.
Events got underway on Friday, Aug. 1, with a series of six seminars: Jerry McCann's Mid 1800s, The Evolution of Bottles Through Fruit Jars; The History of ACL Soda Bottles in Kentucky and Beyond, by Randee Kaiser; Here's to Beers, by Gary Beatty; FOHBC Virtual Museum Progress, by Ferdinand Meyer V and Steve Libbey; The History and Evolution of the Shaker Herb and Medicine Industries by Sheldon Baugh, and Ohio River Privy Digging by Jeff Mihalik. All were entertaining and educational.
This show was notable for a number of "firsts." A ribbon-cutting with Randee and Sheldon utilizing the oversized scissors (enough ribbon was leftover for next year's Chattanooga show and 2016's Sacramento show) opened the showroom doors. There was an appraisal table in charge of Martin Van Zant (who became a Kentucky Colonel) and friends who saw a cool master ink, a Japanese balsam from Cincinnati, lots of Coca-Cola bottles, an aqua double eagle historical flask "and a ton of common stuff," he said. California antique bottle auctioneer Jeff Wichmann donated a cool $5,000 for raffling off. Scott Selenak, who has become the Federation's chief photographer, recorded everything on his trusty digital cameras.
Friday night's banquet featured Michael "Mr. Bourbon" Veach as the guest speaker. He later signed copies of his book, Kentucky Bourbon Whiskey. Since Lexington is home to the Kentucky Derby, it was appropriate that the Federation holds its own Run for the Roses. Instead of Thoroughbreds, the contest featured wax sealer fruit jars, scroll flasks, and Midwestern swirl decanters. FOHBC member Chip Cable videotaped the bottles and projected each onto a large screen. Sue Kaiser tracked down the finishers: WIN: Midwestern Swirl Decanter–John Pastor, New Hudson, Mich.; Historical Scroll Flask – Steve Schlinger, Braselton, Ga. Wax Sealer Fruit Jar–Jerry McCann, Chicago, Ill. PLACE: Midwestern Swirl Decanter–Tom Lines, Birmingham, Ala.; Historical Scroll Flask–John Pastor, New Hudson, Mich.; Wax Sealer Fruit Jar–Ryne Henrich, Crystal Lake, Ill. SHOW: Midwestern Swirl Decanter–Dave Maryo, Victorville, Calif.; Historical Scroll Flask–Mike Henrich, Crystal Lake, Ill.; Wax Sealer Fruit Jar–Perry Driver, Live Oak, Fla.
There were 13 educational displays running the gamut of subjects, with Tom Sproat's 19th-century glass-making tools winning the Federation's Most Educational Award. Jim Hubbard's outstanding display of Kentucky pocket flasks won the FOHBC Best of Show Award. Worth mentioning was Federation historian Dick Watson's display tracing the history of the organization that started in 1969. Unfortunately, Dick and someone else was involved in an automobile accident just minutes away from Dick's New Jersey home. Both have since recovered. Another novel idea was the fancy hat contest, won with a bottle- and horse-themed example worn by Leanne Peace. Capping the night's activities was the "Thoroughbred Auction" conducted by Jim Hagenbuch.
---
2015 National Antique Bottle Show – Chattanooga, Tennessee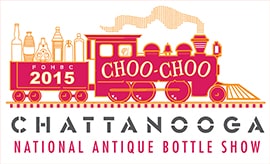 The Federation found itself on the right track after picking Chattanooga as the perfect site for its Southern Region national show July 31-Aug. 2. So "Choo-Choo to Chattanooga" was the theme engineered by great graphics on the show's logo showing an old-timey steam engine. Chattanooga itself was made famous by the Glenn Miller tune "Chattanooga Choo-Choo" sung or hummed during the 1940s-50s: "Pardon me Boys, is that the Chattanooga Choo-Choo?" Federation President Ferdinand Meyer V expressed it well in the lead of his main story in the September-October issue of BOTTLES and EXTRAS: "The train arrived in all of its glory, met us at the station, and carried its passengers on a grand three-day excursion in the great southern city of Chattanooga, Tennessee. It left us with memories that will last a lifetime." Show co-chairman Jack Hewitt and John Joiner co-wielded the giant scissors to cut the ribbon allowing "passengers" to stream into the showroom of the Chattanooga Convention Center on Saturday afternoon. Dealers were allowed in first, then early buyers, instead of everybody en masse as in previous shows.
Opening the event on the evening of July 31 was the FOHBC Banquet and Awards session in the Marriott Hotel's ballroom. It was preceded by a cocktail party during which old friends greeted each other and made new friends. Highlights included the induction of target ball collector and expert Ralph Finch, of Farmington Hills, Michigan, into the FOHBC Hall of Fame, and an amusing and emotional address by keynote speaker Tom Hicks, of Eatonton, Georgia. Hicks later became ill and, to his dismay, missed the show and the Rolling Thunder Auction held Saturday night. The Federation Board of Directors surprised President Meyer with a special award denoting his outstanding service not only to the Federation but to the hobby as well. The President's Award went to Jim Bender, of Sprakers, New York, "for his outstanding service as FOHBC historian." Other honors were bestowed on winners in the club newsletters, show flyers, web sites, articles-research/information, best true story, and best original fiction story categories.
Bottle-knowledgeable Mike Newman, of Martinez, Georgia, was the perfect emcee of the Battle of Chattanooga Bottle Competition capping the first day's activities. He was ably assisted by Chip Cable of McMurrayville, Pennsylvania, who filmed and projected the images of each entry. Bob Riddick and Mark White, both of Lexington, South Carolina, checked each bottle and made sure each was returned to its respective owner. First-place winners were Dr. Charles Aprill, of New Orleans, for his 9-1/2-inch tall, cobalt blue Wells, Miller, Prevost sauce bottle. Dr. Aprill is well-known for his love of cobalt blue bottles. Eric Schmetterling, of Moorestown, New Jersey, won the colored sodas category with his amethyst Blagroves Superior Aerated Mineral Waters, Brooklyn, New York, 10-sided, iron-pontiled tenpin-shaped bottle. Best Bottle South of the Mason-Dixon Line winner was Dr. Aprill with his blue wine with embossed grapes and leaves. It was an unembossed variant of the Imperial Levee, J. Noyes, Hollywood, Miss. Judges also gave Dr. Aprill a first-place tie with his pontiled blue Dr. Leriemondie's Southern Bitters. It was unmarked but known to be from Brookhaven, Mississippi.
Another innovation introduced by President Meyer was the membership breakfast on Saturday morning. Previous membership gatherings were held on Friday afternoons and were lightly attended since many show-goers did not arrive until later. This one attracted 110 members who voted to increase the Federation dues package to keep up with growing expenses and re-institute life memberships.
One of the best programs is the seminars held during the morning prior to the show's opening. Tommy Schimpf presented Charleston, South Carolina Colored Sodas; Every Bottle Has a Story, with Ferdinand Meyer V and Jack Sullivan; The History of Jack Daniel Whiskey by Mike Northcutt; Alkaline-Glazed Stoneware of the Edgefield District by Jim Witkowski of Charleston, South Carolina; The Evolution of the Coca-Cola Bottle by Doug McCoy and Bottle and Relic Digging by Rick Phillips and Paul Sampson.
Show scenes were documented by talented Mallory Boyle, Jack Hewitt's daughter and her photos were displayed throughout the BOTTLE and EXTRAS issue featuring summaries of the show. Twelve wonderful, colorful, and educational displays under the title of Great Southern Bottles chaired by Tom Lines, Birmingham, Ala., and Ed Provine, Millington, Tenn. "Best in Show Award" was presented to Mike Newman, Martinez, Ga., for his stunning array of colored sodas from Georgia and South Carolina. The "Most Educational Award" was given to Tom Sproat, Covington, Kentucky, for his display of glass-making tools. Other displays were Tenn-Cola, Gene Bradberry, Bartlett, Tenn.; Dale Murschell, Springfield, W. Va., paperweight perfume bottles; Walter Smith, Augusta, Ga., Edward Sheehan sodas from Augusta; Mike Jordan, Ocala, Fla., Hyacinth Vases; Bill Haley, Chattanooga, Glass Insulators; Amy Autenreith, Chattanooga, Houston Museum Bottles; Dennis Smith, Buffalo, N.Y., Celery Colas; Jim Berry, Johnsonville, N.Y., Inks, and Mike Northcutt, Lynchburg, Tenn., History of Jack Daniels.
NOTES: Ninety-two-year-old Dorothy "Tootsie" Hood, of Apison, Tenn., a longtime bottle collector, became a member of the FOHBC when her grandson bought the membership. . . a treasure trove of items from E. Dexter Loveridge of Wahoo Bitters fame was auctioned off. . . James Penrose came from far off New South Wales. . . Alicia Booth, Houston, Texas, donated a Success to the Railroad historical flask as a hat contest prize in honor of her late husband, Tom. . . Liz Maxbauer, New Hudson, Mich., won it. . . the Souvenir Program's 107 pages carried features by Jack Sullivan and Charles David Head as well as a listing of the Top 25 Tennessee Bottles. . .there were 230 sales tables. . .
---
2016 National Antique Bottle Show & Convention – "Back to Our Roots" in Sacramento, California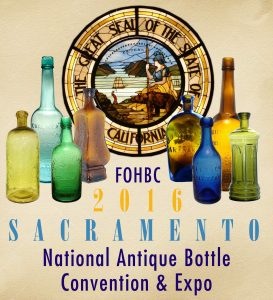 "A Celebration of People and Our Hobby:" That's how FOHBC President Ferdinand Meyer V headed the lead story in the follow-up November-December issue of the Federation's magazine, Bottles and Extras. The organization took root in 1969, some 10 years after John C. and Edith Tibbitts organized its predecessor, The Antique Bottle Collectors of California, in their Sacramento home. That club caught the imaginations of antique bottle collectors from "sea to shining sea," including Charles Gardner, of New London, Connecticut, known as "The Father of Antique Bottle Collecting."
Federation officers and board members pulled out all the stops to make this venture into Gold Rush Country a memorable and memory-making, strike it rich experience. The first stop was the privately-owned McClellan Conference Center and Lions Gate Hotel at the decommissioned McClellan Air Force Base (1935-2001) seven miles northeast of Sacramento. Sacramento resident Jeff Wichmann held an open house at his American Bottle Auctions where visitors "ooohed" and "ahhed" at his collection of outstanding historical bottles and related "goodies."
The Lions Gate General's House played host to a reception for dealers and their assistants, early buyers, displayers, and seminar conductors on Thursday evening (the first day of the event). The Sacramento Shootout followed that evening back at the hotel with whiskeys (Jesse Moore Sole Agent cylinders, U.S.A. Hospital Bottles, and Hostetter's Stomach Bitters) in the bottle battle. Richard Siri, who spearheaded the Shootout, found himself the hospital bottle winner. Dale Mlasko captured the top whiskey prize, while Mike Henness's Hostetter's topped that category.
The inaugural FOHBC Membership Breakfast Meeting was held at the 2015 Chattanooga show and was a great success, so it was repeated on the Lions Gate Hotel patio. Nothing like free food to attract a crowd. A fine array of speakers presenting educational seminars on Warner's Safe Cures and Products (Michael Seeliger, Mike and Kathie Craig), the A.W. Cudworth Business Journal (Tom Jacobs), Early American Scent Bottles (Chris Hartz), Early California Stoneware (John O'Neill), Red Wing Advertising Stoneware (Steve Ketcham) and Gold Rush Artifacts (John Schroyer) followed.
The mudflats at Benicia, California are unlovely to behold. Just when they revealed their hidden iridescent glass treasures is a matter of conjecture, but their unique colors were on a wonderful display called Benicia Glass – Nature's Tiffany by Michael and Karen Peart. It was just one of 20 outstanding displays of bottles, jars, miniatures, Owl Drug bottles, Hostetter's Bitters, and an apothecary cabinet filled with gems. The Warner's Safe Bottles and Posters display took both "Best in Show" and "Most Educational" ribbons.
Collectors holding early admission badges joined the rush of dealers into the McClellan Conference Center showroom at 1 p.m., Friday. There was a bit of confusion when the supply of early admission badges gave out, but a runner was sent to a local office supply company for name stickers. The crowd may have been a record number for the first day and most were in a buying mood.
That set the stage for the FOHBC Cocktail Party and Banquet Friday evening. There had been 115 reservations, but 150 showed up to feast. The highlight of the meeting was an emotional speech by Betty Zumwalt, the 2008 FOHBC Hall of Fame inductee and noted authority on antique glass, as well as an author. Jeff Wichmann, who had been named to the Federation Honor Roll in 2010, was "bumped up" to the Hall of Fame following his many contributions to the bottle hobby. The late Tommy Mitchiner, of Gordon, Georgia, was placed on the Honor Roll for his role as the Peach State's most famous antique bottle collector and researcher, particularly relating to the Savannah, Ga., bottles of John Ryan (1852-1870s). John Joiner, of Newnan, Georgia, was presented the President's Award for an outstanding job at the 2015 Chattanooga National Antique Bottle Show. Mike Bryant, of the Antique Bottle Club of San Diego, hauled off four awards to lead club honors.
Showroom doors opened at 9 a.m., Saturday, Aug. 6, and almost 700 folks piled through the door. General admission tags gave out. A tour bus arrived loaded with Reno Antique Bottle Club members. The future of any hobby is its ability to attract younger members and Richard and Bev Siri was ready. The show's co-chairmen had prepared 44 children's grab bags, each filled with two or three newspaper-wrapped bottles from the Siri collection. The day was capped by the 49er Bottle Jamboree Auction conducted by Fred Holabird, president of Holabird Western Americana based in Reno, Nevada. Star of that western bottle-themed auction was an early yellow-green Gold Dust Whiskey from San Francisco (1871-74), a flawless example of only eight known. It brought $34,500 including the auction house premium. Eyes of 200 in-house bidders plus hundreds more online (including a collector aboard an aircraft carrier) shattered previous FOHBC auction records, according to President Meyer. Also setting a record was the 134-page Souvenir Program, surely to become a favored collector's item.
Jim Bender and Bob Strickhart, co-chairmen of the 2017 National Show in Springfield, Massachusetts (Aug. 3-6), may find it a hard "act" to follow. We shall see.
---
2017 National Antique Bottle Show & Expo – Springfield, Massachusetts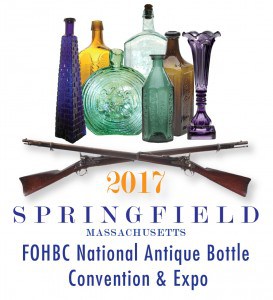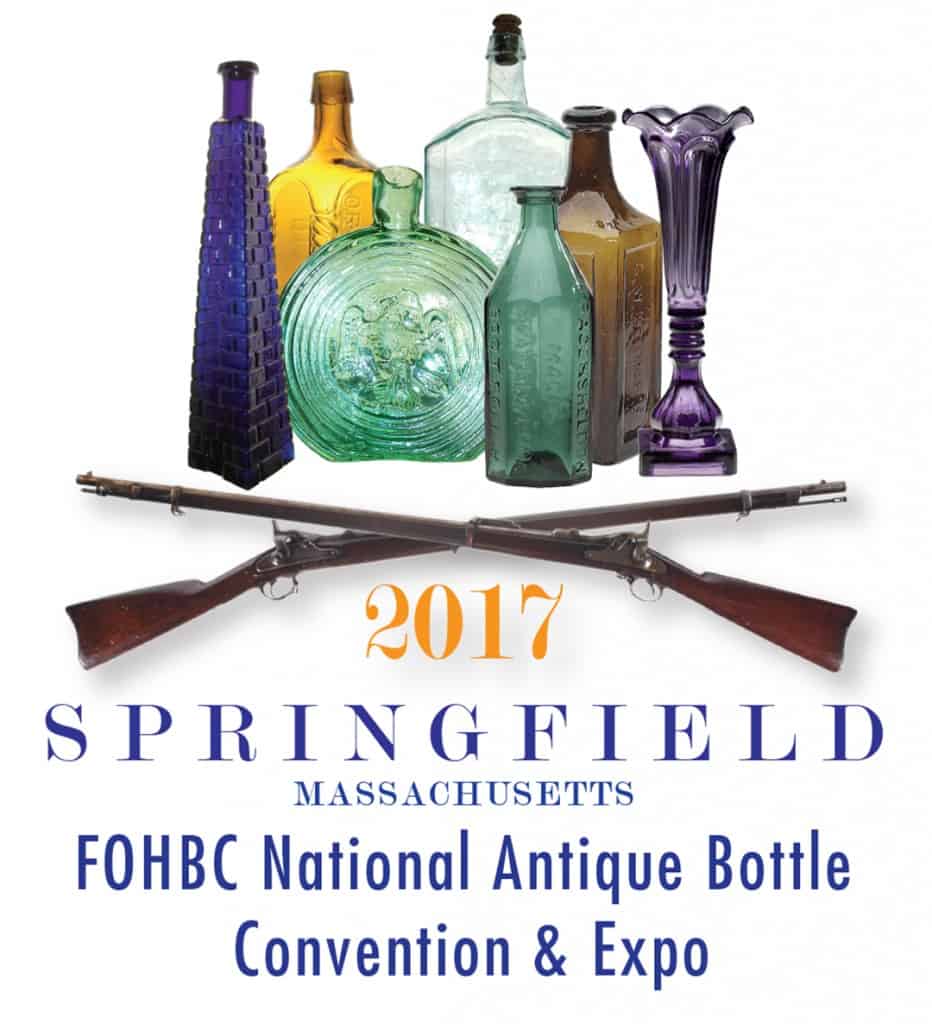 When one thinks of Springfield, Massachusetts, the legendary Springfield rifle comes into the mind's eyes of many people, but not antique bottles; that is until the Federation of Historical Bottle Collectors held its annual National Show and Exposition there.
The four-day, high caliber event (pun intended) started with a reception at the historic Springfield Armory on Aug. 3, setting the tone for the rest of the week. There was a small glitch not of the Federation's making: A Tennessee company conducted an auction at the host hotel during the reception, leading to a future rule prohibiting such things from happening during FOHBC shows next year in Cleveland and in Augusta, Georgia in 2019 and beyond.
Co-show chairmen Jim Bender and Bob Strickhart did an amazing job in taking control of the show. "We both felt it was what a show chairman does," Bender said. "So everything good or bad was on us."
The Sheridan Springfield Place Monarch Hotel was the host for the show and the staff could not have been more helpful. The Springfield Bottle Battle took place in the MassMutual Center. These contests give collectors the opportunity to see rare examples of the best bottles known from that Massachusetts area. Judges Ed Gray, the bewigged Jim Hagenbuch, and John Pastor were up to the challenge and didn't go off half-cocked. The winner was Mike George with a very rare pontiled Phelps Arcanum. Jack Fortmeyer was runner-up with a very rare Massachusetts Fire Extinguisher, and Ron Ranka was third with super-rare lavender-colored J&IEM monitor ink.
Matt and Elizabeth Lacey and Louis and Lindsey Fifer made sure the event ran smoothly and Chip Cable again was present to videotape all of the bottles and show them on the big screen for everyone's viewing pleasure.
Here are the other categories, judges, and winners: Best Sandwich Glass, Judges Eric McGuire, Greg Bair, and Mike George. Ed Beard, first; Nick Wrobleski, second and third. Best Saratoga-Type Spring Water Bottle, Judges Jeff Ullman, Jim Berry, Jim Bender. Rich Strunk, first, peach-toned Excelsior Rock Springs quart; Strunk, second, rare beveled corner John Clarke quart; Rick Cirali, third, Lynch and Clarke quart.
Six seminars on varying subjects were held Friday morning and, as usual, attendees had to make up their minds which of the two held at the same time they wanted to attend. The FOHBC tried to remedy the situation by videotaping each, with plans to make the tapes available in the future. The programs were Glassmaking in New England (Michael George), The Marketing of Milk in the 1940s (Peter Bleiberg), Flask Classification 101 (Mark Vuono), Colors of Sandwich Glass (Wes Seeman), Excavations of The Mount Vernon Glassworks (Richard Strunk and Mark Yates) and Dr. Sweetiing and the Flag Salt Remedy Co. (John M. Spellman).
The late Dick and Elma Watson were among the honorees at the Friday evening banquet, with Jim Bender, Bob Strickhart, and Phyllis Koch sharing their memories of the Hall of Fame collectors and their collections. The Watsons' son, Steve, presented an emotional Bender with a small flask of a man holding a flag that was a part of his parents' collection. FOHBC President Ferdinand Meyer V enjoyed the moments when he inducted longtime collector and Mohawk Valley Antique Bottle Club founder Jon Landers onto the Honor Roll and Charles and Mark Vuono into the Hall of Fame. Together, the father-son duo built what is believed to be the best collection of American historical flasks in existence. Ferdinand presented the annual President's Award to five women for their hard work at the FOHBC 2016 Sacramento National Antique Bottle Show and Expo. They are Val Berry, Alicia Booth, Elizabeth Meyer, Linda Sheppard, and Bev Siri.
Next came the Watson One Auction on Saturday morning, conducted by Jim Hagenbuch's Glass Works Auctions and called by Jesse Sailor. The idea for the event came from the co-chairmen who knew Dick and Elma would have loved to be involved in the show. Specially designed stickers in the shape of Massachusetts with the lot number, Springfield, and the auction house logo were placed on each bottle.
Another of the highlights came from Norman C. Heckler & Co. The auction house had no fewer than seven display tables placed in a living room setting, including tables and chairs and many spectacular bottles. Speaking of displays, Fran Hughes was credited for coordinating the set-up of no fewer than 11 displays. The dealers in attendance voted Rick Ciralli's Connecticut Glass the Best of Show Award. The Peoples Choice and Most Educational were presented to Richard Campbell for his spectacular dose measure glasses.
The FOHBC Virtual Museum is gathering momentum. The brainchild of Richard Siri, the museum "is a digital and online expression of one might find in a real museum, containing (but not limited to) images of bottle and glass." There was a display held during the show. It revealed how the "spinner system" of photography works. Alan DeMaison demonstrated it for all the people who asked about it.
---
2018 National Antique Bottle Show and Expo – Cleveland, Ohio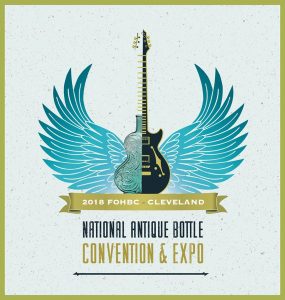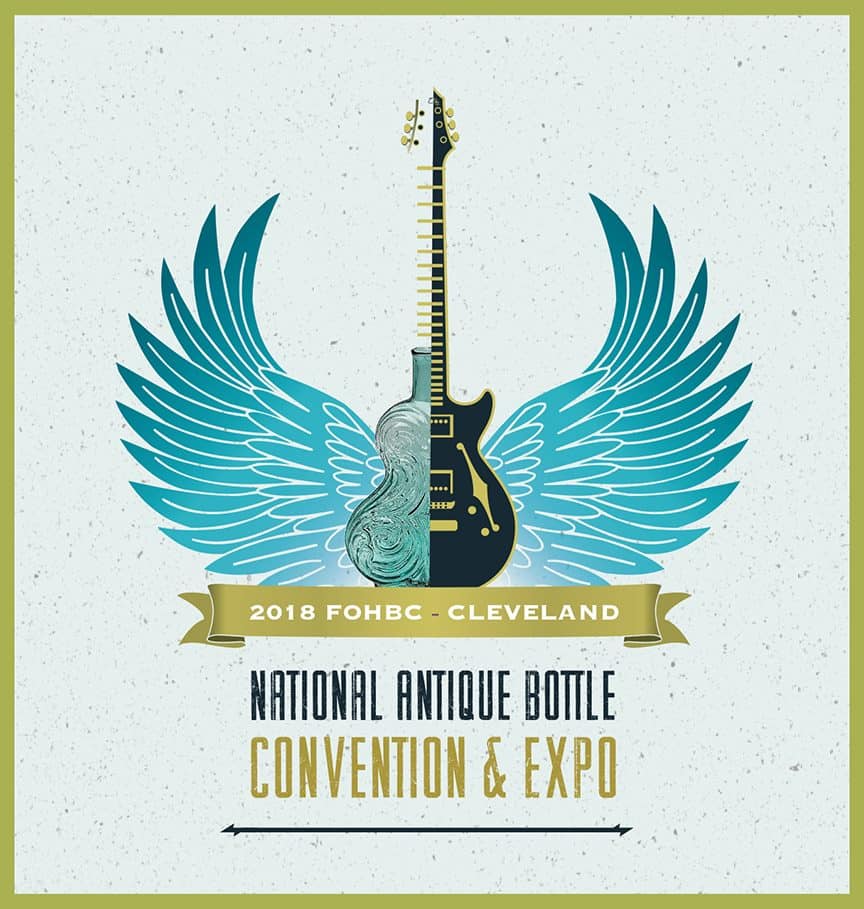 The announcement that reception for the Aug. 2-5 show would take place in the Rock 'n Roll Hall of Fame was music to the ears of many bottle collectors. That venue also inspired the post-show writer whose imagination led to "The FOHBC Rocks and Rolls Into Cleveland" headline topping the show summary in the November-December issue of Bottles and Extras. Most events took place at the Huntington Convention Center across the street from the host hotel, the Marriott Downtown at Key Center.
Show co-chairmen Matt Lacy and Louis Fifer, with considerable help from Matt's wife​ their wives, Elizabeth ​and Lindsey, Alan DeMaison, Adam and Phyllis Koch, ​and John Fifer (Team Cleveland) put together a program that appealed to the visiting collectors of antique bottles.
John Fifer and Rick Ciralli took charge of the "Battle of the Bottles" competition with Chip Cable and Tom Masiarik projecting each entry onto a large screen so that everybody in the crowd could enjoy a super view. Taking home special awards sponsored by John Pastor were first-place winners Jim Hall and his egg-shaped A.T. Blake soda, a unique Cincinnati bottle; Matt Lacy's GII-126 electric blue eagle wreath flask in Midwestern Flask category, and John Fifer's Mantua creamer in the Pattern Molded Tableware contest.
Runners-up in the Ohio Soda category were Jon Dickinson, cobalt paneled David Baker soda from Cincinnati ​in second and third was Hall again for his paneled J. Printz soda from Zanesville, Ohio, John Fifer placed second in Pattern Molded Tableware with a citron Kent pan and third was a 20-rib yellow broken swirl flask made by the Franklin Glassworks. Matt Lacy's amber Ravenna Glassworks iron pontiled flask was runner-up in the Midwestern Flask category while Tom Lines' yellow-green GII-69 cornucopia eagle was third.
Seminars occupying most of the second morning featured many knowledgeable folks, with Dennis and Nathan Huey revealing secrets of privy digging in Ohio; Jim Bender amazing his audience with the history of reproduction bottles, many of which looked like the real thing; Bill Barrett unveiling the histories behind Zanesville glass manufacturing companies; Tom Sproat showing off his considerable knowledge of the Hemingray Glass Company; exploring the Eric Canal through the eyes of Ohioan Bob Koren and a "Bitters" Journey traveled by Ohio Bottle Club member Ted Krist.
Attendees at the annual membership breakfast held Friday morning got their last look at outgoing FOHBC President Ferdinand Meyer V who will be missed. "It was time," he said, and then incoming FOHBC board members were introduced, including new President Matt Lacy. All face new challenges not only to the Federation but to the hobby as a whole.
One notable change in traditional events was with the auction billed "Electric Auction." The auction was held Saturday morning and was managed and executed by the show chairs whilst being called by auctioneer Jesse Sailor instead of outsourced to an auction house. The overall expectation of the auction was not met, with less than ideal outcomes and minimal participation. Bidders wound up with quality glass at low prices.
The main event was the FOHBC banquet held Friday evening, with guest speaker Terry Kovel, the renowned antique expert. Among Ferdinand's last official duties was the honoring of Richard Siri and Richard "Dick" Roller by inducting each into the FOHBC Hall of Fame. Then Ohioan Alan DeMaison was given the 2018 President's Award for outstanding service.
Among door prizes was a commemorative two-foot-long guitar and a souvenir jug turned and decorated by master potter Jim Healy. Linda Shepard won the guitar, while Patricia Sprang took home the jug,
Other show highlights included 15 outstanding displays. Tom Sproat's "Glass Jars Made or Patented in Ohio before 1880″ earned the Most Educational Display Award, while Ted Krist's "Bitters" in all the bottles' colorful glory grabbed the "Best in Show" award. Other displays included Duane Rader's "Milk Bottles," Roger Hardesty's "Cleveland Advertising Stoneware," Alan DeMaison's "War Slogan Milk Bottles," Phyllis Pahlmann's "Jelly Glasses," Berny Baldwin's "Glasshouse Whimsey Turtles," Jim Berry's "Inks," Jim Hall's "Ohio Sodas, 1840 to 1860," Dennis and Nathan Huey's "Cleveland Ohio's Sodas and Ales," Jim Bender's "FOHBC History," Alan DeMaison's "FOHBC Virtual Museum," Brian Gray's "Barber Bottles and Their Molds," Jim Hagenbuch's "A Selection of Midwestern Pattern Molded Glass" and Tim Kearns' "Knowles, Taylor, Knowles Chinese Whiskey Jugs."
Post-show comments by several of the attendees were mostly positive, but one was disappointed by the low turnout. "Unfortunately, the show was not well supported by the bottle community (in Ohio, as well as in the surrounding states)," noted collector Jerry McCann, who lives in Illinois "It was an opportunity lost for hundreds, no thousands of collectors to make this show the spectacular even it should. Have been, and a lost opportunity to have experienced the bottle community at its best."
---
2019 FOHBC 50th Anniversary National Show & Convention – Augusta, Georgia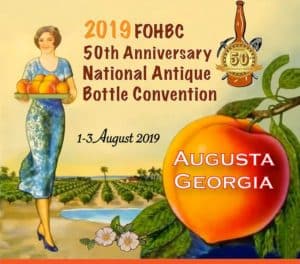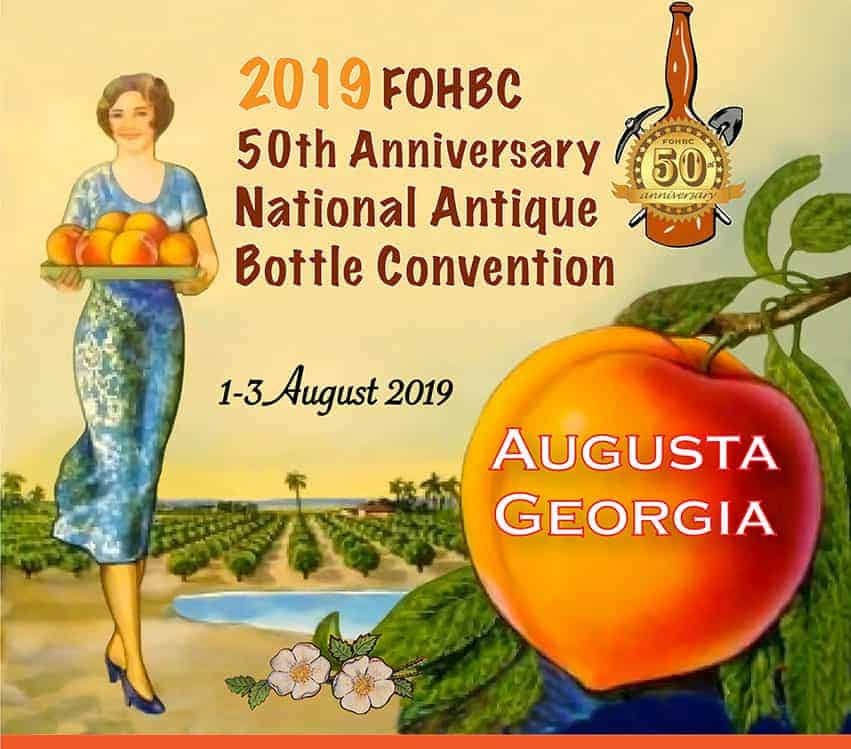 Teamwork. That was the key that led to the overall success on August 1-3 for the first Federation of Historical Bottle Collectors National & Convention ever held in Georgia. Making it even better was the fact that the Augusta show marked the 50th anniversary of the founding body.
Instead of having the show directed by a chairman and co-chairman, it was decided to share the responsibilities with a six-member "consortium," also called Team Augusta.
Handling pre-show publicity and setting up the six seminars was Bill Baab. Walter Smith, of Augusta, was in charge of the educational exhibits, including one of his own, while retired banker Mike Newman, of nearby Martinez, became the show treasurer. He also chaired the Sweet Georgia Peaches Bottle & Pottery competition and held an open house. Eric Warren and Marty Vollmer, from Lexington, S.C., signed up the dealers and set up tables on the 100,000 square foot showroom floor. Both have had plenty of practice because they are key players in a group conducting the South Carolina Bottle Club shows each February in Columbia.
The team "quarterback" was Ferdinand Meyer V, of Houston, Texas, who dipped into his vast reservoir of national show knowledge garnered over the years and kept the team moving in the right direction. He was responsible for the layout, design, and contents of the 140-page Souvenir Program, national marketing, social media, and visual look for the show. We think we scored a touchdown!
The show venue at the massive Marriott Hotel and adjacent Augusta Convention Center with its huge Olmstead Hall showroom subsequently played a key role. Centrally located in downtown Augusta, it was within walking distance of quality restaurants as well as next door to the Morris Museum of Art.
Cooperation of hotel officials was front and foremost and our appreciation was expressed to hotel Manager Matt Ricker, Director of Events Robert Korzen, Convention Services Manager Casey Stringfield and Senior Convention Services Manager Marisa Barnes, Banquet Manager Brenda Corsano, Chief of Security Bill Tolbert, and his staff and Encore AV Director Rick Cook. All the pre-show meetings with those folks were cordial and professional and things got done.
The 15 educational displays featured a "first" subject for FOHBC national shows. Charles Hilton, of Graniteville, South Carolina, drove a restored 1956 Detroit Industrial Vehicle Company (DIVCO) milk truck through the open door and onto the showroom floor. Hilton owns the Augusta area's best collection of local milk bottles and many were included in the display anchored by the first milk truck ever exhibited at a national FOHBC show, according to those who should know. Other displays featured Bludwine and Budwine bottles from Mark Williams of Athens, Ga.; Charles Axt Catawba Wine Bottles from Paul Chance, Savannah, Ga.; a fabulous 19th-century drug store display from Henry Tankersley, Tulsa, Okla.; Fruit Jar Patents (with an array of incredible closures) from Tom Sproat, Ryland Heights, Ky.; Historical Augusta Bottles from Augusta's Walter Smith; Vintage Soda Water Brandology from Bob Pettit, Safety Harbor, Fla.; Celery Cola bottles from Dennis Smith, Buffalo, N.Y.; Koca Nola Soda bottles and a 50-gallon stoneware crock from Charles Head, South Pittsburg, Tenn.; Lubricating Oil Bottles from Vern Huffstetler of Graniteville, S.C.; Marty McMurtry and Chris Prince, Bottles from the S.C. Bottle Museum, Whitmire, S.C., and Edgefield District S.C. Pottery from Samuel Ford of Aiken, S.C.
Security was extremely tight before and during the show, with Tolbert and his staff sharing high visibility with armed and uniformed Richmond County Sheriff's Department deputies and officers. It was noted before the show that the FOHBC had reserved the right to search bags and boxes for contraband. No negative incidents took place, as far as can be determined.
Among the first-day highlights was Mike and Julie Newman's Open House. All of their world-class antique bottle collection and some of their antique jugs and pots filled nearly every room of their home, including their spectacular bottle room upstairs. There the collection of historical flasks, early soda water bottles, and numerous patent medicines, many from Augusta, glowed from back-lighted glass display shelves. The Newmans also took the opportunity to honor one of Georgia's best-known diggers and collectors in a room dedicated to the memory of Tommy Mitchiner (1946-2013). Stanley Gwinnett, another pioneer Georgia collector, also was honored. Mitchiner's widow, Sherry, and son Ryan also were present. The latter was named for famous 19th century Savannah bottler John Ryan.
Later that afternoon, the scene moved to the Augusta Museum of History where the FOHBC VIP Reception was held in the building's rotunda. Visitors also moved up to the second floor where a small portion of the Bill & Bea Baab Antique Bottle Collection was on display. The Baabs in 2014 had donated 531 bottles which joined 88 Augusta drug store bottles given to the museum earlier. There also were several pieces of local pottery and miscellaneous items in the display cases as well. Museum Executive Director Nancy Glaser went all out to add to the display and her efforts were appreciated by all in attendance.
That first day's activities were capped by the Sweet Georgia Peaches Bottle & Pottery Competition which drew 38 examples of the finest Southern pottery, best Georgia bottles, and best Southern sodas. The event was held back in the Marriott. First-place winners were: The best piece of Southern pottery was judged to be a 3-gallon decorated storage jar attributed to master potter Collin Rhodes of South Carolina's Edgefield District and owned by John LaFoy, Greenville, S.C. There was a silhouette of a buggy and driver on the obverse and a two-color flower on the reverse.
The best Georgia bottle dated to the 1790s and on an applied seal was embossed Dr. G. Harral Druggist Savannah, Ga. The best Southern soda was a tear-drop-shaped, deep olive green Finley & Phin and came from Charleston, S.C., where its owner, Jamie Westendorff, resides.
During the windup of the show on Saturday, Aug. 3, Elizabeth Meyer of Houston, Texas added a Georgia Peaches Jug to her national show collection by winning a silent auction. She also owns the Chattanooga Choo-Choo, Springfield Rifle, and Cleveland Guitar decorated jugs from previous national shows. Another jug featuring an Augusta Canal scene was won by Vaughn Jones, Statesboro, Ga., by raffle. New York state master potter Jim Healy designed and donated the Augusta jugs.
The second day was kicked off by a series of six seminars on a variety of subjects and all drew a good number of interested collectors, much to the satisfaction of the presenters. Veteran antique bottle collector Harvey S. Teal, 91, of Columbia, S.C., and Karl Harrar, of nearby Aiken, S.C. started off the series. Teal spoke on South Carolina Local Flasks used during the 19th century prior to the establishment of the South Carolina Dispensary System in 1891. Harrar explained the workings of his ground-penetrating radar system instrumental in easily locating yesteryear's privies and trash pits.
Doug Herman Sr., of the nearby community of Martinez, related the backgrounds of his paternal and maternal grandfathers. The former helped establish the Augusta Brewing Company in 1888 and the latter operated Savannah bottler John Ryan's Augusta Branch before establishing his own in 1880. Dennis Smith, of Buffalo, N.Y., is widely known as an expert on early sodas and spoke about the competition in his Kola Wars program. A museum class display of early Charleston, S.C., sodas highlighted the program presented by longtime collector Tommy Schimpf of that coastal city. Mark Williams, of Athens, Ga., showed off his expertise on Bludwine and (later) Budwine bottles.
Baab utilized a pair of giant scissors decorated with FOHBC and cut the ribbon opening the show to 170 dealers and 107 early buyers at 1 p.m., Friday. Five hours later, all gathered in the Oglethorpe Ball Room for the annual cocktail reception and awards banquet. Among the main honors presented by FOHBC President Matt Lacy were a Special Lifetime Achievement Award to longtime member Sheldon Baugh, of Russellville, Ky., and the President's Award given to Team Augusta member Bill Baab for his efforts in promoting the show.
---
FOHBC Reno 2020 National Antique Bottle Convention – Reno, Nevada

[Covid-19 Pandemic Cancelation]
---
FOHBC Syracuse 2021 National Antique Bottle Convention – Syracuse, New York

[Covid-19 Pandemic Cancelation]
---
FOHBC Reno 2022 National Antique Bottle Convention – Reno, Nevada

As time and the Covid-19 Pandemic progressed, we knew Reno 2022 would be different. The world had changed around us. People crawled into shells, stayed and worked at home, cooked meals, and rediscovered conversation. The antique bottle shows were canceled, and we learned to satisfy our lives and collecting passions online. Restaurants and brick-and-mortar retail died while online shopping, video conference calls, and auctions flourished. It wasn't until early January 2022 that we saw some daylight. Show Chair Richard Siri traveled back and forth constantly to the Grand Sierra Resort and met with the city of Reno, and every other Reno team member did their thing.
Because of all this, we realized that our Reno 2022 convention would be different. Though the enthusiasm and buzz were off the chart, sales were sluggish. Richard reminded the FOHBC board that many of our dealers from past Western conventions had passed. Gas prices were breaking a record, airlines were reporting significant delays and price spikes, our national supply chain was broken, and new strains of Covid were making the news. Some days we would get three new tables or early admission attendees, and one or two would cancel. The good news was never fluid. We stayed optimistic, worked hard, and pulled it off.
Typically, the FOHBC board meets annually in March at the Baltimore Antique Bottle Show and again at the FOHBC national event during the late July–early August date window. These meetings usually take four hours and are pre-planned with a concise agenda and support material. Unfortunately, we missed two years of in-person meetings during the Pandemic, so we held them online to keep the machinery running. This year's meeting was excellent as we had outgoing FOHBC president John O'Neill chair the meeting with the incoming president and secretary, Michael and Alice Seeliger, at his side. Also in attendance from the board were Eric McGuire (Western Region Director), Elizabeth Meyer (FOHBC Business Manager), Henry Hecker (new FOHBC Midwest Director via Zoom), and Ferdinand Meyer V and Richard Siri (Directors-at-Large). Unfortunately, our first vice president, Jeff Wichmann, was absent due to health reasons, and our treasurer, Jim Berry, was on vacation. Also in attendance were DeAnna Jordt (Reno 2022 Treasurer), Bella Meyer (Youth Coordinator), and Richard Kramerich. Our event photographer, Gina Pellegrini-Ott, also photo-document the meeting. We concluded the meeting at noon and probably could have gone longer if we had the time.
We downplayed our VIP Reception this year as we stayed on campus, so to speak, at the Grand Sierra Resort, which caters to a captive audience. With a casino, shopping, entertainment in the form of concerts, shows, events, a cinema, many types of dining and drinking establishments, nightlife, bowling, skating, a pool, and a spa, there is plenty to do without leaving the resort. Our reception was simply a cocktail party where you could socialize with your bottle friends, pick up your packet early and register for the convention. VIP, in this case, means dealers, early admission, displayers, speakers, and helpers. Relaxing, catching up with the news, and planning an exciting convention and bottle show were nice.
The Western Region loves its bottle competitions and shootouts, as they are affectionately called. Chairman Siri spearheaded this event as he has done for the past two or three Western conventions. The three categories and winners were: Group 1: Bay City Soda Water Co. S. F. 1st Place: Eric McGuire, Petaluma, California; 2nd Place: Larry Westfall, Poway, California; 3rd Place: Tom Jacobs, San Francisco, California. Group 2: J. F. Cutter Extra Old Bourbon (Shield & Star). 1st Place: Larry Westfall, Poway, California; 2nd Place: Richard Siri, Santa Rosa, California; 3rd Place: Craig Cassetta, Chico, California. Group 3: Old Sachem Bitters and Wigwam Tonic. 1st Place: Ferdinand Meyer V, Houston, Texas; 2nd Place: Bella Meyer, Houston, Texas; 3rd Place: Ferdinand Meyer V, Houston, Texas.
The FOHBC conducted a membership meeting breakfast. This year, FOHBC's outgoing president, John O'Neill, was responsible for holding court. His agenda included a recap of the previous day's Reno 2022 convention events, what was coming, a discussion about the proposed Houston 2024 convention, bylaw changes, and a summary of the previous day's Board of Directors meeting.
We were fortunate to present some exciting educational seminars at Reno 2022 organized by seminar coordinator Eric McGuire. The seminars were held after the membership breakfast meeting, from 9 am until 12 noon, and were open to FOHBC members and the public. This year, Team Reno member Bella Meyer handled the equipment set up for each speaker. John Shroyer gave the first seminar, "Morgan Oyster Bed Bottle Finds." John's talk focused on those who raised oysters in these areas, what he found over the last 48 years, and why the bottles were preserved beneath the oyster shells. This well-attended seminar was fascinating, with good memories, imagery, historical recollections, and found bottles. John Burton presented the second seminar on the "Grace Brothers Brewing Company." John discussed the company's history, a significant force in the brewing industry. Michael Seeliger presented the third seminar, "Dr. Charles Craig, Dr. John Henion, and Hulbert H. Warner: Their connections, lawsuits, competition, and eventual business demise." This "Warner's" seminar covered the initial development and success of Dr. Craig's formula and marketing and sales of his other various formulas.
The Ribbon Cutting Ceremony has matured over the years into a signature event to gather the convention team and the FOHBC president as a bulwark between hundreds of advancing dealers and early admission ticket holders. A bright red Federation ribbon was used as a ceremonial barrier and focal point. The excitement is palatable, and the ribbon is on the edge of chaos separating great bottles and glass. At precisely 12:59 pm, show chair Richard Siri cut the ribbon, signaling that the showroom doors to the Summit Pavilion would open at precisely 1:00 pm. This year's cost was $100, and we easily had over 300 paying this for the afternoon. 
This year we tried a Silent Auction and toned things down a bit from the epic FOHBC–Holabird 49er Jamboree Auction at the 2016 Sacramento National that went into the wee hours of the morning on our final night. We asked that convention goers bid during the convention on 50 to 100 lots that were displayed adjacent to the Federation tables. All in all, we had some nice bottles and glass show up. Richard Siri provided many great lots, but to our dismay, the Silent Auction had little attention, with many items selling for a deal at their minimal cost. We will probably not be doing this again.
This year's banquet was streamlined with less fanfare. President John O'Neill welcomed everyone with a few words and introduced our new 2022-2024 board president, Michael Seeliger. We focused on having a great dinner with friends, followed by Eric McGuire, our banquet keynote speaker. There were no club and member contests, no Hall of Fame inductees, and no contests or games. Everyone seemed relaxed, and the conversation and smiles lit up the room. Less is more sometimes. 
We had 700 general admissions, not including 300 plus for early access. We usually have a strong gate at our Western events. Without a doubt, the S.S. Central America exhibition was a good draw. This once-in-a-lifetime exhibit titled "S.S. Central America Gold Treasure Artifacts" displayed, among many other items, recovered bottles, gold rush jewelry, firearms, luggage tags, photographs, currency, gold pokes, clothing, and a treasure box and lid. The S.S. Central America exhibition anchored one long wall of the showroom floor that Richard Siri and display lead John Burton set up as a "display lane." 
The Western region always has excellent displays, and this year did not disappoint. There were fewer displays than we would have liked, but the ones there were outstanding. Also, display voting was more secure this year as we moved the ballot box from the showroom floor to the FOHBC tables. The Federation, per our bylaws, gives out two ribbons, "Best in Show" and "Most Educational."
This year's displays included Ammonia Utility Bottles by David Hall. This outstanding display missed a "Most Educational" ribbon by two votes! Ron, Gary, and Jeannett Barnes had two displays. The first was California Mini Jugs, to the left of their ever-popular Miniatures display. Henry Guillen displayed his fantastic collection of U.S.A. Hospital Department bottles in a rainbow of colors. Each was meticulously arranged to complement adjacent bottles in this extraordinary color run. Russell & Kitty Umbraco had an attractive display called Reno Brewing Company. Their attention to detail made this display stand out from the other colored glass displays. Richard Burgarella was a proud father setting up and guarding his Labeled Western Whiskeys with pride. He has collected and upgraded to present examples without the expected rag-tag appearance of labeled bottles with a less-than-desirable proportion of labels vs. missing labels. 
Richard Siri displayed next to his son Rick Siri. Richard displayed the Top 25 Western Whiskey Cylinders while his son displayed Small Town California Whiskeys. These two collections, side by side and backlit, were terrific. Two more fine displays were to the right of the S.S. Central America exhibition. At the end were the Prescription Bottles from Henry W. Davis Druggist Circa 1800s displayed by Brian Bingham. This theatrical display presented the office of Dr. Davis, whose character surprised us on opening day in full costume—the "druggist bottle" display which took home the "Most Educational" ribbon. The Food Bottles display by Lou Pellegrini won the "Best of Show" ribbon. 
As you entered the Summit Pavilion showroom floor, the FOHBC tables were first on your right, set within a long niche that you had to pass to enter. Here you could get your registration and dealer packets from Bev Siri or DeAnna and Helmut Jordt, join the FOHBC or renew your membership with our business manager, Elizabeth Meyer, purchase merchandise and the latest issues of Antique Bottle & Glass Collector and four new t-shirt designs. You could also buy raffle tickets for a beautiful Jim Healy stoneware jug made just for our event. Jim does this each year, and the jugs have become quite collectible. The FOHBC tables were also where the youth coordinator, Bella Meyer, was stationed. She corralled the children as they came in and asked them if they wanted a grab bag or to play Scavenger Hunt Bottle Bingo. This game was neat as some adults played and filled the whole card. They said they learned so much and had fun interacting with the dealers. $100 gift certificates were also coordinated from the FOHBC tables. Jeff Wichmann, with American Bottle Auctions, generously donated $1,000 for ten drawings. Richard Siri continuously called numbers as thrilled winners reached the podium. The redeemed certificate had to be used within the showroom to purchase dealer items or merchandise. 
Across the wide entry and egress vestibule along "Display Lane" was a prominent area used for Virtual Museum imaging. We advertised all year that Alan DeMaison, our imaging chief, would be at Reno and asked if you had potential pieces for the museum to stop by the area or, better yet, make an informal appointment. With a big banner, multiple white cloth-covered tables, and his lighting, camera, and other equipment, Alan imaged and interacted with his "customers" and the crowd. It seemed that he was always busy and reported that he could image 90 excellent specimens for the museum. He also secured some generous gift donations. 
On Saturday night of the convention, we tried something different and had a "Team Bowling Event." We asked convention-goers to team up for the FOHBC Reno 2022 Bowling Event at the GSR Bowling Center, a stone's throw from our entry doors to the Summit Pavilion. Back in 2019 or so, chairman Richard Siri proposed a bowling event. There were strikes, gutter balls galore, and some ringers hidden in our midst, like Richard Siri, who won with the best three-game overall score. Helmut Jordt had the best one-game high score. Showing up to bowl (and not watch like John Burton, Alan DeMaison, Henry Guillen, and Bev Siri, to name a few) that night in alphabetical order was Jerry and Helen Forbes (and Cutter), Cecelia Guillen, DeAnna and Helmut Jordt, Mike Lake, the Meyer team (Elizabeth, Bella and myself), the Pellegrini team, Gina, Jordan and Waylon, Dennis Fox, and Richard Siri. We all had fun; there was so much laughter it was contagious. The best thing was when Bev said afterward that she hadn't seen her husband Richard smile and have so much fun in years! It's events like this we will remember.
It was refreshing not to hear any complaints about how long the convention was and how appreciative everyone was. Our pent-up demand for camaraderie was evident, and the amazing glass that showed up was over the top.