Support your local shows!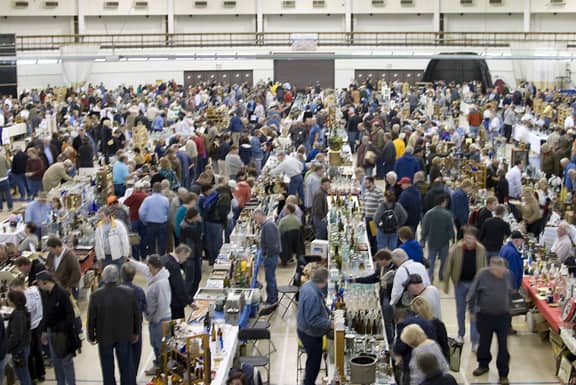 Please send us any show information, flyer art, additions or corrections to Matt Lacy, mlacy@fohbc.org so we can keep this list up to date.
Thanks!
---
Antique Bottle Show Calendar
July 2019
20 July 2019 (Saturday) Concord, North Carolina –  The First Annual Carolinas Antique Bottle & Collectibles Show, City Club at Gibson Mill, 325 McGill Ave, Concord, NC 28027. Free Admission Saturday 8:00 am – 2:00 pm. Vendor Tables still available: Contract Here! More Information: John McAulay, mcaulaytime@aol.com
24-27 July 2019 (Wednesday – Saturday) Wyomissing, Pennsylvania – 29th Antique Advertising Association of America Convention, Crowne Plaza Hotel, 1741 Papermill Road, Wyomissing, Pennsylvania 19610, Convention runs Wednesday evening, July 24 through Saturday morning, July 27. FREE Public Day Friday, July 26, from 1:00 pm – 10:00 pm. Full convention is $125 including 5 meals. Public Day is FREE. Antique Advertising Association of America, www.pastimes.org
27 & 28 July 2019 (Saturday & Sunday) East Ridge, Tennessee – The 2nd Annual Chattanooga Civil War & Artifact Show, Camp Jordan Arena, 323 Camp Jordan Parkway. Contact us now for vendor space! Civil War relics of all kinds, antique weapons and swords, photos, newspapers, antique jewelry, Americana, old bottles, arrowheads, metal detectors, door prizes, and more! Fun for collectors and history buffs of all ages. Bring the whole family! For information or dealer inquiries, email anita@americandigger.com or call 770.362.8671 or 716.574.0465.
August 2019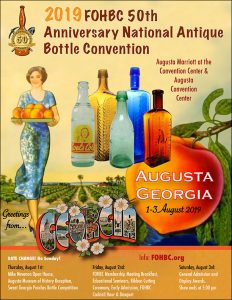 01 – 03 August 2019 (Thursday – Saturday) Augusta, Georgia – 2019 FOHBC 50th Anniversary National Antique Bottle Convention & Expo, SHOW PAGE LINK, Augusta Marriott at the Convention Center and Augusta Convention Center, Information: Augusta National Consortium Chairs: Bill Baab, riverswamper@comcast.net, Ferdinand Meyer V, fmeyer@fmgdesign.com, Mike Newman, thenewm@aol.com, Walter Smith, supplies@furnituredoctor.net, Marty Vollmer, martyvollmer@aol.com, Eric Warren, scbottles@aol.com, FOHBC National Convention – Southern Region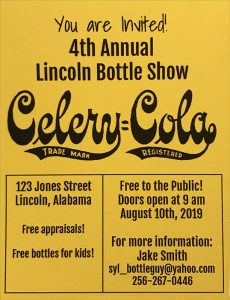 10 August 2019 (Saturday) Lincoln, Alabama – 4th Annual Lincoln Bottle Show, Lincoln Civic Center, 123 Jones Street, Lincoln, Alabama 35096, 9:00 am to 2:00 pm. Vendor set up on Friday, 5:00 pm – 7:00 pm and Saturday 7:00 am to 9:00 am. Contact chairman Jake Smith 256.267.0446, syl_bottleguy@yahoo.com. Free public admission, free kids table free appraisals. This is our fourth year and like every year we honor a different soda. This year Celery-Cola. Info on Facebook.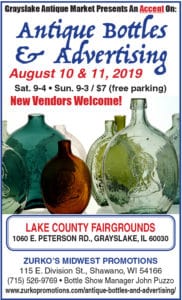 10 & 11 August 2019 (Saturday & Sunday) Grayslake, Illinois – Grayslake Antique Market presents an Accent on: Antique Bottles & Advertising, Lake County Fairgrounds, 1060 E. Peterson Road, Grayslake, Illinois 60030, Saturday 9:00 am to 4:00 pm and Sunday 9:00 am to 3:00 pm, $7 (free parking), Zurko's Midwest Promotions, 115 E. Division Street, Shawano, Wisconsin 54166, 715.526.9769, Bottle Show Manager: John Puzzo, zurkopromotions.com More Info
12 – 18 August 2019 (Monday – Sunday) Bouckville, New York – 48th Annual Madison-Bouckville Antique Show, Outdoor antiques and collectibles including two huge bottle tents! Over 2,000 dealers and vendors located on scenic Route 20, Bouckville, New York, Contact: Jim Burns, 315.527.3269 or Jim Bartholomew, 585.705.8106
18 August 2019 (Sunday) Poughkeepsie, New York – Hudson Valley Bottle Club 32nd Annual Mid Hudson Bottle Show & Sale, 9:00 am to 2:30 pm; early buyers 8:00 am $15, Poughkeepsie Elks Lodge 275, 29 Overocker Road, Poughkeepsie, New York, Contact Info: Mike Stephano, 27 Rogers Road, Hyde Park, New York 12538, 845.233.4340, mjsantique@aol.com, FOHBC Member Club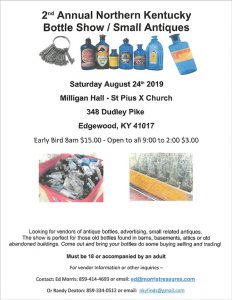 24 August 2019 (Saturday) Edgewood, Kentucky – 2nd Northern Kentucky Bottle Show, Milligan Hall St. Pius Church, 348 Dudley Pike, Edgewood, Kentucky 41017, Saturday, Early Bird 8:00 am – 9:00 am, $15, Set up:  Saturday, 6:00 am, Admission after 9:00 am $3.00, Contact: Edwin Morris, 7105 Cols Spring, 859.414.4693, ed@morristreasures.com
25 August 2019 (Sunday) Davenport, Iowa – The Mississippi Valley Annual Antique Bottle & Advertising Show, 9:00 am to 2:00 pm, Knights of Columbus Hall, 1111 West 35th St. Davenport, Iowa, Contact: Merle Vastine, 563.349.0816
September 2019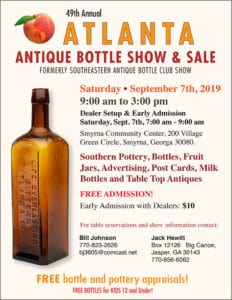 07 September 2019 (Saturday) Smyrna, Georgia – 49th Annual Atlanta Antique Bottle Show & Sale, Saturday, September 7th, 9:00 am to 3:00 pm, Dealer Setup & Early Admission, Saturday, September 7th, 7:00 am – 9:00 am, Smyrna Community Center, 200 Village Green Circle, Smyrna, Georgia 30080, Free Admission! Early Admission with Dealers: $10, For table reservations and show information contact: Jack Hewitt, Box 12126, Big Canoe, Jasper, Georgia 30143, 770.856.6062 or Bill Johnson, 770.823.2626, bj3605@comcast.net
08 September 2019 (Sunday) Pekin, Illinois – Pekin Bottle Collectors Assoc. 50th Annual Show & Sale, 8:00 am to 3:00 pm. Admission $2. Free Appraisals. Moose Lodge, 2605 Broadway Street, Pekin, Illinois, Contact: Daryl Weselch, 309.264.9268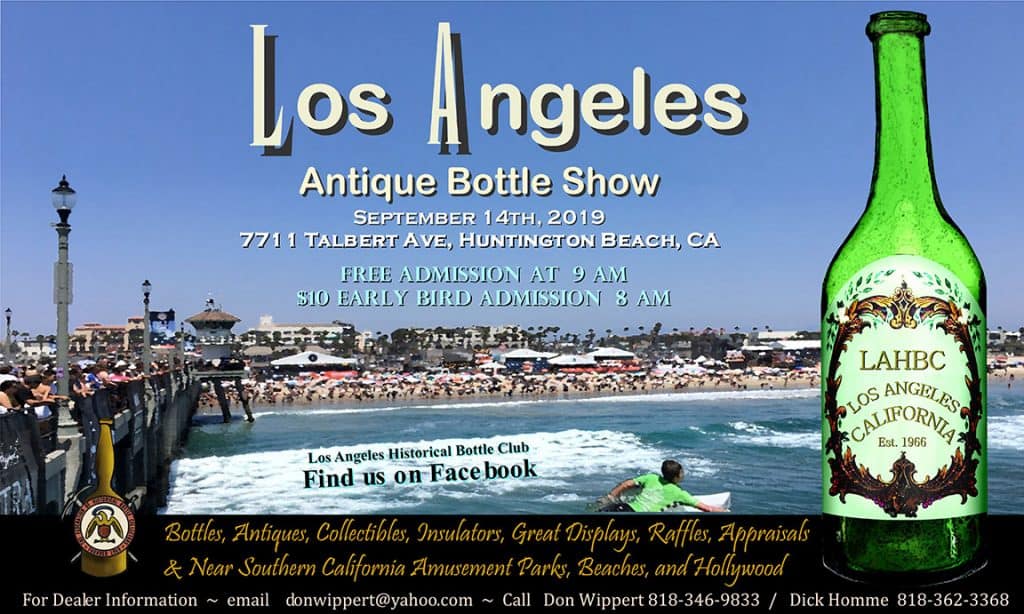 14 September 2019 (Saturday) Huntington Beach, California – The Los Angeles Historical Bottle Club's 53rd Annual Antique Bottle, Fruit Jar, Antiques & Collectibles Show & Sale 9:00 am to 3:00 pm; Early Bird $10 at 8:00 am, at the Huntington Beach Elks Lodge #1959, 7711 Talbert Avenue, Huntington Beach, California 92648. Free admission, Info: Don Wippert,  818.346.9833, donwippert@yahoo.com, or Dick Homme, 818.362.3368, FOHBC Member Club
14 September 2019 (Saturday) Richmond, Rhode Island – The Little Rhody Bottle Club tailgate swap meet, 9:00 am to 2:00 pm. Free set up for all! Free coffee, donuts and pizza for all participants. Bring your own tables! Jules Antique Center, 320 Kingstown, Richmond, Rhode Island (3 miles East of Route #95 on Route #138), Contact Info: William Rose, 508.880.4929, sierramadre@comcast.net, FOHBC Member Club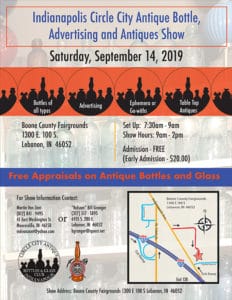 14 September 2019 (Saturday) Lebanon,Indiana – Indianapolis Circle City Antique Bottle, Advertising and Antiques and Advertising Show, Boone County Fairgrounds, 1300 E. 100 S. Lebanon, Indiana 46052, Set up: 7:30 am – 9:00 am, Show Hours, 9:00 am -2:00 pm Admission – FREE (Early Admission $20, Free Appraisals on Antique Bottles and Glass, For Show Information contact: Martin Van Zant, 812.841.9495, 41 East Washington Street, Mooresville, Indiana 46158, mdvanzant@yahoo.com or "Balsam" Bill Granger, 317..517.5895, 6915 S. 280 E. Lebanon, Indiana 46052, bgranger@iquest.net, FOHBC Member Club, FOHBC Member Club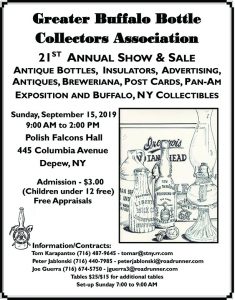 15 September 2019 (Sunday) Depew, New York – The Greater Buffalo Bottle Collectors Association's 21st Annual Show & Sale. Polish Falcons Hall, 445 Columbia Ave, Depew, NY 14043. General Admission $3: Sunday 9 am – 2 pm. Contact chairman Joe Guerra 716.207.9948 or jguerra3@roadrunner.com, or www.gbbca.org, FOHBC Member Club
15 September 2019 (Sunday) Westford, Massachusetts – The Merrimack Valley Antique Bottle Club's 45th Annual Bottle Show, 9:00 am to 2:00 pm, early buyers at 8:00 am. Special note: There will be a $20 door prize drawing just for early buyers at 8:45 am. www.mvabc.org, Westford Regency Inn, 219 Littleton Road, Westford, Massachusetts. Just five minutes off Exit 32 of I-495 follow the signs.Contact: Cliff Hoyt, 978.458.6575, choyt48@comcast.net, FOHBC Member Club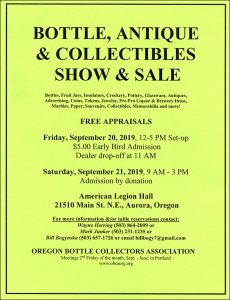 20 & 21 September 2019 (Friday & Saturday) Aurora, Oregon – Oregon Bottle Collectors Association – Bottle, Antiques, Collectibles Show & Sale, Friday 12 noon – 5:00 PM dealer set-up & early bird, Admission $5, Saturday 9:00 AM – 3:00 PM regular public admission by donation, American Legion Hall, 21510 Main St. N.E., Aurora, Oregon, Contact Info: Wayne Herring, 503.864.2009, Mark Junker, 503.231.1235, Bill Bogynska, 503.657.1726, billbogy7@gmail.com – FOHBC Member Club
21 & 22 September 2019 (Saturday & Sunday) Santa Rosa, California – The Northwestern Bottle Collectors Association's 54th Annual Antique Bottle & Collectibles Show. Santa Rosa Veterans Memorial Building, 1351 Maple Ave, Santa Rosa, CA 95404. General Admission: Saturday 10 am – 4 pm ($5), Sunday 9 am – 3 pm (free); Early Admission: Saturday 10 am – 11 am ($10). Contact chairman Lou Lambert 707.823.8845 or nbca@comcast.net, or www.oldwestbottles.com, FOHBC Member Club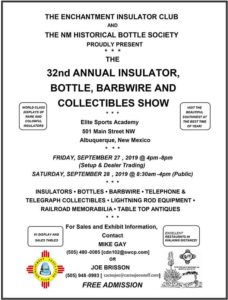 28 September 2019 (Saturday) Albuquerque, New Mexico – Enchantment Insulator Club | New Mexico Historic Bottle Society 32nd Annual Show & Sale, Elite Sports Academy, 501 Main Street NW, Albuquerque, New Mexico, 87104, Friday, September 27, Dealer Set-up and Trading from 4:00 PM – 8:00 PM Saturday, September 28, 7:30 AM – 8:30 AM, Show opens to public on Saturday at 8:30 AM. Early admission: $10 for non-dealers/displayers, Friday September 27 4:00 PM – 8:00 PM. Set up day(s) and time: Friday September 27 4:00 PM – 8:00 PM Saturday, September 28 7:30 AM – 8:30 AM, Cost of admission for show & early admission: $10, Contact: Michael Gay, President and Show Chairman, 5516 Kachina NW, Albuquerque, New Mexico 87120, 505.480.0085, E-mail: cdn102@swcp.com, See Show Packet, FOHBC Member Club
29 September 2019 (Sunday) Hammonton, New Jersey – The Fall Antique, Glass, & Bottle Show Presented by Batsto Citizens Committee, Inc., Batsto Village, Wharton State Forrest, Hammonton, New Jersey 08037, 9:00 am to 3:00 pm, Rain or Shine event, For information, Harry Rheam 856.768.1532, hcrheam@gmail.com
2019 (Sunday) Strongsville, Ohio – The 48th Ohio Bottle Club Fall Antique Bottle Show and Sale. Holiday Inn Cleveland Strongsville, 15471 Royalton Road, Strongville, Ohio 44136. Early Admission ($20) 7:30 am – 9:00 am; General Admission ($5) 9:00 am to 2:00 pm. View Contract. For information: Louis Fifer, 330.635.1964, fiferlouis@yahoo.com FOHBC Member Club
October 2019
05 October 2019 (Saturday) North Chesterfield, Virginia – The Richmond Antique Bottle Show and Sale General Admission $3, 9:00 am to 3:00 pm; Early Admission $10 at 7:30 am, at the Chesterfield County Fairgrounds, 10300 Courthouse Road, Chesterfield, Virginia 23832. Info: Marvin Croker,  804.275.1101 or Ed Faulkner 804.739.2951; RichBottleClub@comcast.net FOHBC Member Club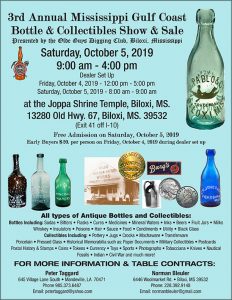 05 October 2019 (Saturday) Biloxi, Mississippi – Presented by the Olde Guys Digging Club of Biloxi, Mississippi, the 3rd Annual Mississippi Gulf Coast Bottle & Collectibles Show & Sale will be held from 9:00 am to 4:00 pm at the Joppa Shrine Temple, 13280 Shriners Blvd., Biloxi, Mississippi. 39532 (Exit 41- I-10). Dealer Set Up on Friday, October 4, 2019 from 12:00 pm – 5:00 pm and Saturday, October 5, 2019 from 8:00 am to 9:00 am. Free Admission on Saturday, October 5, 2019. Early Buyers $20. per person during dealer set up. For more information or table contracts contact: Peter Taggard, 645 Village Lane South, Mandeville, Louisiana  70471, Phone 985.373.6487  Email: petertaggard@yahoo.com, or Norman Bleuler, 6446 Woolmarket Rd., Biloxi, Mississippi 39532. Phone: 228.392.9148, Email: normanbleuler@gmail.com, FOHBC Member Club
06 October 2019 (Sunday) Chelsea, Michigan – The Huron Valley Bottle and Insulator 43rd Annual Show & Sale, 9:00 am to 2:00 pm. Admission $3 for adults, children 16 and under free, Comfort Inn Conference Center, 1645 Commerce Park Drive next to the Comfort Inn, Chelsea (Exit 159 off I-94), Contact Info: Mike Bruner, abbott4girl@sbcglobal.net or Rod Krupka, 248.627.6351, rod.krupka@yahoo.com, FOHBC Member Club
06 October 2019 (Sunday) Dryden, New York – The Finger Lakes Bottle Collectors Association's 50th Antique Bottle & Collectible Show and Sale, 9:00 am to 3:00 pm. Free general admission. Dryden Fire Hall, 26 North St., Dryden, NY 13053. Website: sites.google.com/site/fingerlakescollecting. Contact Info: Tobias Dean, TDEAN10@twcny.rr.com, 607.262.0272. FOHBC Member Club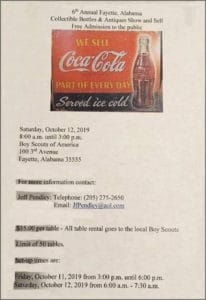 12 October 2019 (Saturday) Fayette, Alabama – 6th Annual Fayette, Alabama Bottle Collectible Bottles & Antiques Show & Sell, Free admission to the public, Boy Scout of America Scout Building, 100 3rd Avenue, Fayette Alabama 35555, Saturday 8:00 am till 3:00 pm, Set-up: October 11th from 3:00 pm till 6:00 pm and October 12th from 6:00 am till 7:30 am, Contact: Jeff Pendley, Chairman, 205.275.2650, JfPendley@aol.com
20 October 2019 (Sunday) Findlay, Ohio – 43rd Findlay Antique Bottle Show at the Old Mill Stream Centre, Hancock County Fairgrounds, 1017 E. Sandusky Street, Findlay, Ohio 45840, Sunday, October ​20, 2019, 9:00 am – 2:00 pm, Early Bird Hours: 7:00 – 9:00 am – Tickets are only $10 and include complimentary Coffee and Donuts until 9:00 am. Early Bird Session is Sunday only, not Saturday. Set up day(s) and time: Saturday 1:00 pm – 8:00 pm, Admission is $2, Kids under 12 are free (w/adults)​ Free appraisals w/paid admission Plenty of FREE parking in a huge paved parking lot. Findlay Antique Bottle Club, Contact: Fred Curtis, Show Chairman, 419.424.0486, finbotclub@gmail.com, FOHBC Member Club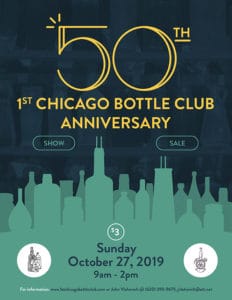 27 October 2019 (Sunday) Matteson, Illinois – 50th Annual 1st Chicago Bottle Clubs Show & Sale, Holiday Inn Conference Center, 500 Holiday Inn Plaza Drive, Matteson, Illinois 60443, Sunday 9:00 am – 2:00 pm, No early admission, Dealer set up is Sunday from 6:30 – 9:00 am, Admission is $3.00, childern under 16 free, 1st Chicago Bottle Club, www.1stchicagobottleclub.com, Contact: John Vlahovich, Show chairman, 139 Concord Court, Dyer, Indiana 46311, 630.390.9679, jvlahovich@att.net, FOHBC Member Club
27 October 2019 (Sunday) Albany, New York – Capital Region Antique Bottle & Insulator Club 23rd Annual Show & Sale, 9:00 am to 3:00 pm, Polish Communithy Center, 225 Washington Avenue, Albany, New York, Contact: Jason Privler, 518.506.2197, nyscapitol@yahoo.com, FOHBC Member Club
November 
2019
02 & 03 November 2019 (Friday & Saturday) Roseville, California – 49er Historic Bottle Assoc. 42nd Annual "Best of the West" 2019 Antique Bottle, Insulator & Western Collectibles Show, Placer County Fairgrounds, 800 All America City Blvd., Roseville, California 95678, Saturday, November 2nd: 10:00 am – 4:00 pm $10, Sunday, November 3rd: 9:00 am – 2:00 pm Free, $10 Parking Fee, Info: 916.367.1829, FOHBC Member Club

03 November 2019 (Sunday) Elton, Maryland – 4th Annual Tri-State Bottle Collectors and Diggers Club Antique Bottle Show, Singerly Fire Hall, 300 Newark Avenue, Route 279 (I-95 exit 109A), Elkton, Maryland 21922, Sunday, November 3, 2019 9:00 am – 2:00 pm, No Early Admissions, Dealers only entry at 6:30 am, Set-up begins at 7:00 am, Admission: $3 per person, Children under age 12 free, Tri-State Bottle Collectors and Diggers Club, Inc, Contact: Dave Brown, Show Chair, 6 Martine Court, Newark, Delaware 19711, 302.388.9311, dbrown3942@comcast.net, FOHBC Member Club
09 November 2019 (Saturday) Jacksonville, Florida – Antique Bottle Collectors of North Florida 52nd Annual Show & Sale, Saturday 8:00 am to 2:00 pm, Free Admission!, Early buyers, Friday 2:00 pm to 5:00 pm $30, 5:00 pm to 7:00 pm, $20, Fraternal Order of Police Building, 5530 Beach Boulevard, Jacksonville, Florida, Contact Info: Mike Skie, 3047 Julington Creek Road, Jacksonville Florida 32223, 904.710.0422 or Corey Stock, 904.607.3133, jaxbottleshow@yahoo.com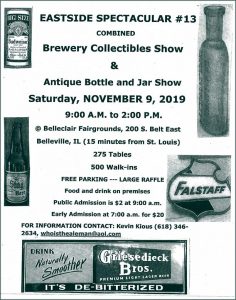 09 November 2019 (Saturday) Belleville, Illinois – Eastside Spectacular #13 Combined Brewery Collectibles Show & Antique Bottle and Jar Show, Saturday 9:00 am to 2:00 pm (see flyer)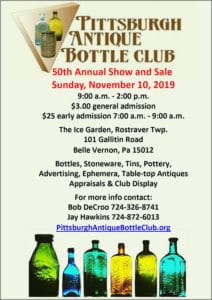 10 November 2019 (Sunday) Belle Vernon, Pennsylvania – Pittsburgh Antique Bottle Club's 50th Annual Show and Sale at the Ice Garden Rostraver, Twp., 101 Gallitin Road, Belle Vernon, Pennsylvania 15012, Directions Here, 9:00 am to 2:00 pm, General Admission: $3, Early admission 7:00 am to 9:00 am $25, Contact: Bob DeCroo, 724.326.8741 or Jay Hawkins 724.872.6013, PittsburghAntiqueBottleClub.org, FOHBC Member Club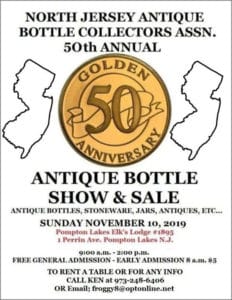 10 November 2019 (Sunday) Pompton Lakes, New Jersey – Golden Anniversary – North Jersey Antique Bottle Collectors Assn. 50th Annual Show & Sale, 9:00 am to 2:00 pm, Early Buyers 8:00 am at the Pompton Lakes Elks Lodge No. 1895, 1 Perrin Ave, Pompton Lakes, New Jersey, Contact: Ken, 973.248.6406, froggy8@optonline.net, FOHBC Member Club
June 2020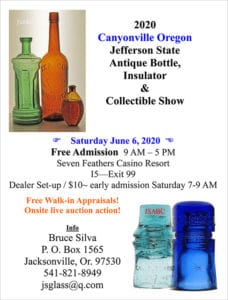 06 June 2020 (Saturday) Canyonville, Oregon – 2020 Canyonville Oregon Jefferson State Antique Bottle & Insulator Expo, Saturday: 9:00 am – 5:00 pm, Free Admission, $10 early admission 7:00 to 9:00 am. Seven Feathers Casino Resort, I-5, Exit 99. Info: Bruce Silva, P.O. Box 1565, Jacksonville, Oregon 97530, 541.821.8949, jsglass@q.com, FOHBC Member Club
July/August 2020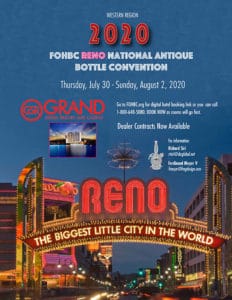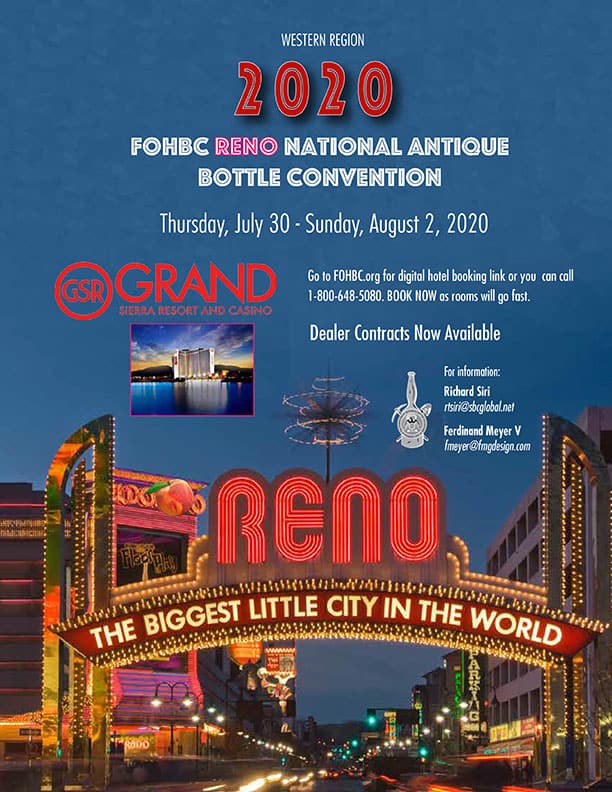 30 July – 03 August 2020 (Thursday – Sunday) Reno, Nevada – 2020 FOHBC National Antique Bottle Convention & Expo, Grand Sierra Resort & Casino, Information: Richard Siri (rtsiri@sbcglobal.net) or Ferdinand Meyer V (fmeyer@fmgdesign.com), Mini-Contract, FOHBC National Convention – Western Region