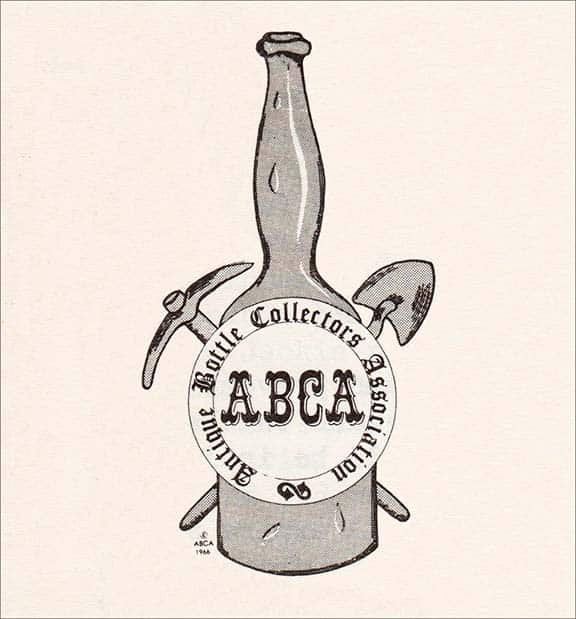 ** This page is in the process of being developed **
1959

– ABCA Founded
On October 15, 1959, Mr. and Mrs. John C. Tibbits (wife Edith) called the first meeting of what became The Antique Bottle Collectors Club of California at their home in Sacramento, California. Tibbits was elected the first president. It was believed to be the first such club. This attracted the attention of antique bottle clubs across the country and many joined what eventually evolved into the Federation of Historical Bottle Collectors (FOHBC).
Read: Where and How Bottle Collecting Got Its Start
1960

– First ABCA Convention
1963

– The Pontil
The inaugural issue of The Pontil was published.
1968

– ABCA Eight Annual Convention
Thirteen clubs met during the annual ABCA convention on 21- 23 June 1968 at the El Rancho Hotel-Motel in West Sacramento, California. The General Chairman was Elmer Lester (see information below). There were 45 affiliated clubs and the organization had grown too big for one club to handle it. Delegates voted to organize the "International Federation of Bottle Clubs," according to George Rieber, who later became the first Federation chairman. The first meeting was held on November 16 in Oakland, California, with the Golden Gate Historical Bottle Society as host.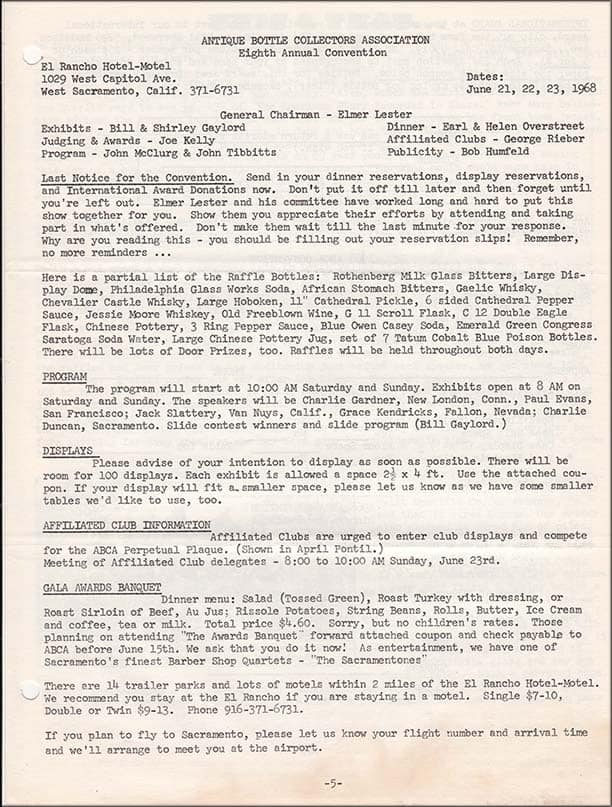 1969

– The first six Board Members
March 30, 1969 – 55 delegates from 17 clubs met to conduct the business of the Federation of Historical Bottle Collectors. The photo below is the first slate of officers elected at the meeting. Left to right: Peck Markota, 2nd Vice Chairman, John Eatwell, 1st Vice Chairman, Dick Hansen, Recording Secretary, George Rieber, Honorary Chairman, the late Elmer Lester, Chairman, and Julie Gray, Treasurer.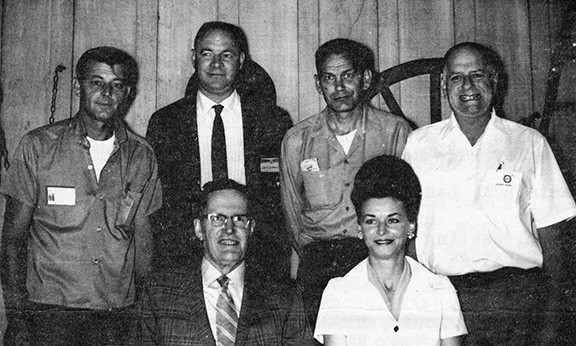 1971
– Reproduction Bottles Were a Concern
Reproduction bottles were a concern to the FOHBC right from the start. In 1971, and again in 1975, with help from lobbyist Michael P. Daniels, Bill H.R.12284 was introduced to the 52nd Congress asking that all reproduction bottles be marked. The bill failed congress both times. They stated that there was no clear understanding of what an antique bottle was.
1976
– The 1st National Antique Bottle & Jar Exposition
The first National Antique Bottle & Jar Exposition was held in 1976 at St. Louis, Missouri. Hal Wagner and Jerry Jones served as Show Chairmen. With 140 displays and 280 sales tables, the floor was filled. Over 4,000 collectors attended the show which makes it still the best attended show in FOHBC history.
1983
– FOHBC Hall of Fame
The FOHBC decided it needed a way to honor and remember well know individuals making lasting and outstanding contributions to the hobby. So in 1983 they started the Hall of Fame by inducting Helen McKearin as its first member. There are currently 36 members in the Hall of Fame.