2013 Baltimore Bottle Show Report
By Dave Maryo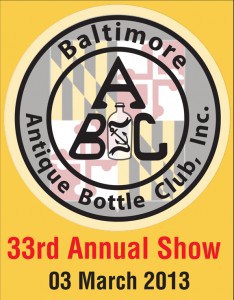 I had been looking forward to my trip to Baltimore for several months. It's always a great bottle show and I also attend the Federation of Historical Bottle Collectors meeting during the same weekend. My flight out was the day after the February Los Angeles club meeting. I was exhausted from working through the day and attending the LA club meeting the night before, but I was still excited to be on my way to Baltimore for the weekend of events.
The FOHBC meeting took most of the morning on Saturday, but we had a good meeting and got a lot accomplished. I spent the afternoon resting and calling some friends to see if they would be attending the show. Most said they would be at the show, but one lucky digger told me he was sixteen feet down in an early hotel privy pulling out some fantastic 1840 to 1860 bottles and would not attend this year. The next morning I arrived at the show
and found the parking lots already full at 6 AM. It was a long walk to the building in 28 degrees with gusts of wind blowing so hard it stung any exposed skin. I met Baltimore Bottle Club member Andy Agnew at the entrance table and I was finally in the world's largest antique bottle show!
After having a good night's sleep on Saturday I was ready to visit with some old friends and meet some new ones. The amount of information that I gain by attending these shows is more than I could gain by reading an entire room full of books on antique bottles. Talking to other collectors, especially advanced collectors, can help you learn more about bottles in your own collection and expose you to other bottles that you might like even more in the process. Each time I go to a large bottle show I learn something new about glass produced in the early years of our country. I also learn about other types of rare bottles and early glass products. No matter what type of bottles you collect going to a large show like Baltimore or Auburn can be a great learning experience.
My first stop on the sales floor was at John Pastor's table. John has some rare pattern molded bottles in his next auction that I wanted to examine in person. His partner Liz smiled and set 4 globular swirl bottles on the counter. I love this type of glass and seeing the quality and the colors in this group caused me to pause for a moment before picking up the first one to examine it.
Next I stopped at Dale Murschell's table to talk to him about the Wistarburgh Glass Works. Dale has a wealth of knowledge about Wistarburgh. I purchased his book on Wistarburgh last year and had some questions to ask him about the products produced at the glass works. I was lucky enough to catch up with Dale and discuss some of the characteristics of Wistarburgh glass products. I thanked Dale for taking time to talk to me and moved on to talk to other collectors. I spotted a very rare small free blown globular bottle on Jeff and Holly Noordsy's table and moved closer to take a look. Their table is always sure to make me stop and look at their bottles and glass. I don't know what I enjoy more, the items they bring for sale or the artistic displays they create with all their great bottles and glass. Talking to them you can learn a lot about both early New England and Midwestern glass products. Next I stopped by to talk to Norm Heckler. Norm has always been one of my mentors for collecting early bottles and glass. Norm has had some great sales lately with fantastic bottles. Most of the bottles and glass in his latest sales have had closing prices that would drain my bank account, but there have been a few bottles lately that I have seriously considered even at that price range. As time moved on I realized that I was caught up in the crowd and I could no longer move freely around the show. I now was just moving with the crowd and stopping at some tables along the way.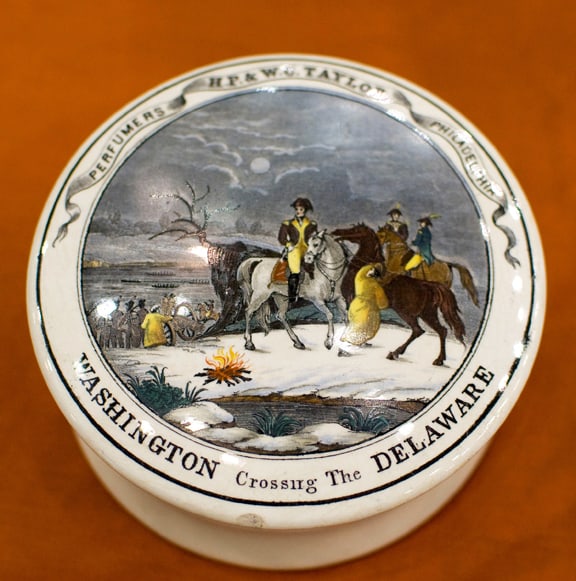 I spent some of my time helping out at the FOHBC table to talk to collectors about the FOHBC and membership. It was also a chance to get off my feet for a while and talk to other FOHBC board members. I decided to get back in the crowd and stopped to talk to Bill Ham who was at the Glass Works Auction table. Then in one of the isles I spotted a fantastic pot lid that I knew Cindy would like. I knew the pot lid would be out of my price range, but I talked to the man behind the table anyway since he had two other pot lids that might be in my price range. When I looked at his name tag I recognized his name immediately. I asked him if he was the same Ben Swanson that sold his collection of 1,300 pot lids at the Hammer Rooke sale in 1990. A large smile appeared on his face as he confirmed that it was his collection. He went on to tell me about his first attempts to sell the collection to museums in England and how he came to sell the collection through Hammer Rooke. We had a great conversation about pot lids and I asked if I could take a picture of the pot lids he had for sale. I explained that my wife collects pot lids and she would love to see the large multicolored example of the pot lid showing Washington crossing the Delaware River. He was happy to oblige and took the pot lids out of his display case and arranged them on the table for me to photograph. Ben told me he plans to consign the three pot lids to Glassworks Auctions for a future sale. Maybe I will have another chance to by one of Ben's pot lids for Cindy's collection.
After having looked over all of the seller's tables I spent some time over at the displays. The milk glass display stood out from the others. It had some wonderful early glass and I had a chance to talk to Gary Katzen about some of the pieces in his display. The more we talked it was evident that we shared the same passion for early glass. It was getting toward the time I needed to leave for my flight back to Los Angeles and I still had not found any items to purchase. While looking at some of the seller's tables I ran into Jerry Forbes and he told me about a dealer that had a rare Los Angeles whiskey for sale. Jerry took me over to the dealer's table to take a look. I already had an example of the whiskey, but the price was right and it was my first and last purchase of the day.
It was time to go and I said my final good byes to my bottle collecting friends. As I packed up and headed to the airport for the long flight home I was already
thinking about attending the show next year.