In honor of and in preparation for the upcoming FOHBC 2014 National Antique Bottle Show in Lexington, Kentucky, we thought it would be nice to look at the Top 25 Kentucky's Rarest Bottles. I will try to add pictures if I have actual examples, file pictures or if I can obtain pictures. Please help if you have images of any of these great bottles. We can only hope that some of these examples will make an appearance in the regional display exhibit at the Lexington National Show. Info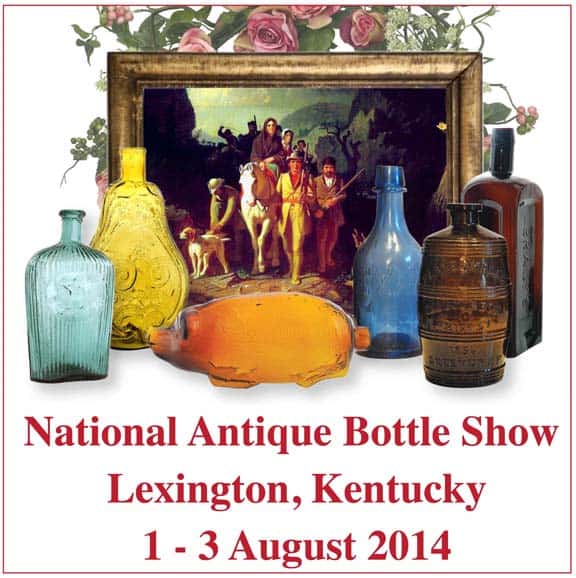 Kentucky's Top 25 Rarest Bottles
Compiled by Paul Van Vactor, Sheldon Baugh and Steve Keith
20 May 2014
Compiling top 25 lists is a favorite with sports fans, but there's no rule against doing the same for a state's antique bottles. So we got together and the following lists are what we came up with. Not all of them are bottles. Enjoy.
TOP 25 of Kentucky's Rarest Bottles:
See list for Top 25 Kentucky Bitters:
---
1. Large olive green lady's leg, measuring approximately 12 by 3.5 inches and embossed Universe Bitters / Manufactured by / Aug. Horstmann / Sole Agent / F.J. Schaefer / 231 Market St. / Louisville, Ky.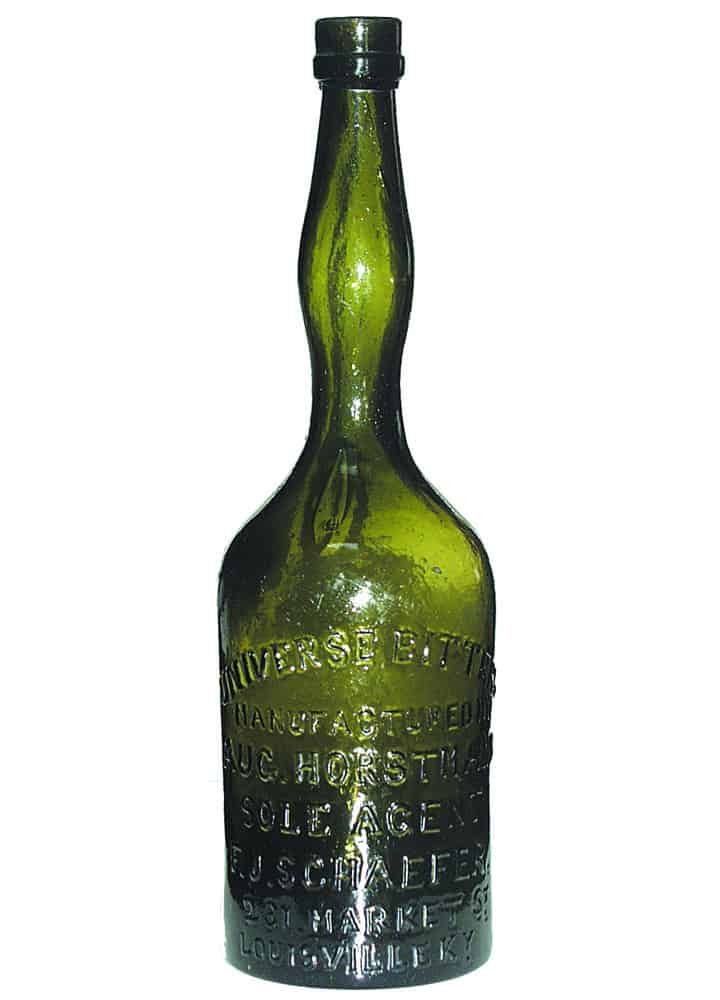 ---
2. Amber historical flask (GII-27), 2.5 quart size. Embossed on front is a large American eagle, head turned left, wings spread, embossed arrows in feet. On the reverse: FARLEY & TAYLOR / RICHMOND, KY. Corrugated sides, plain lip and pontil. (see below)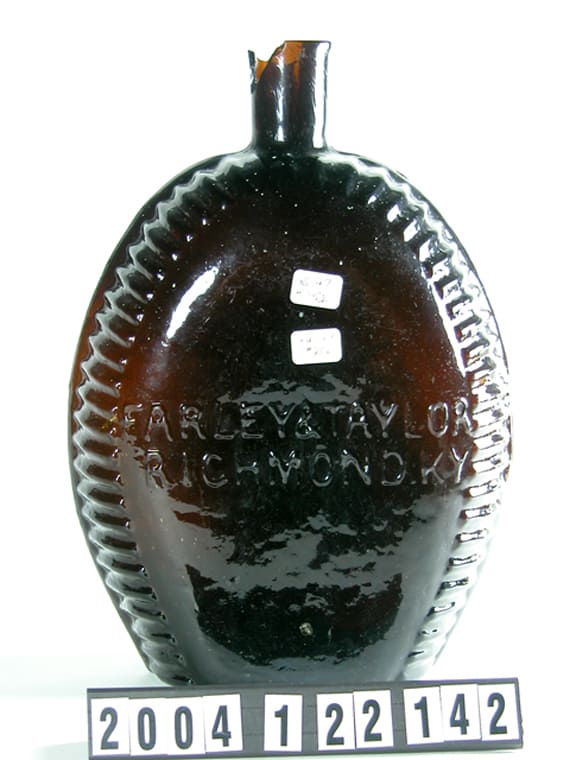 ---
3. Cobalt blue pig-shaped bottle, DUFFY'S CRESCENT SALOON / LOUISVILLE, KY. Embossed rooster. Probably has a Jefferson Street address. Read: Figural Pig Series | Duffy Crescent Saloon Figural Pig Bottle (see below)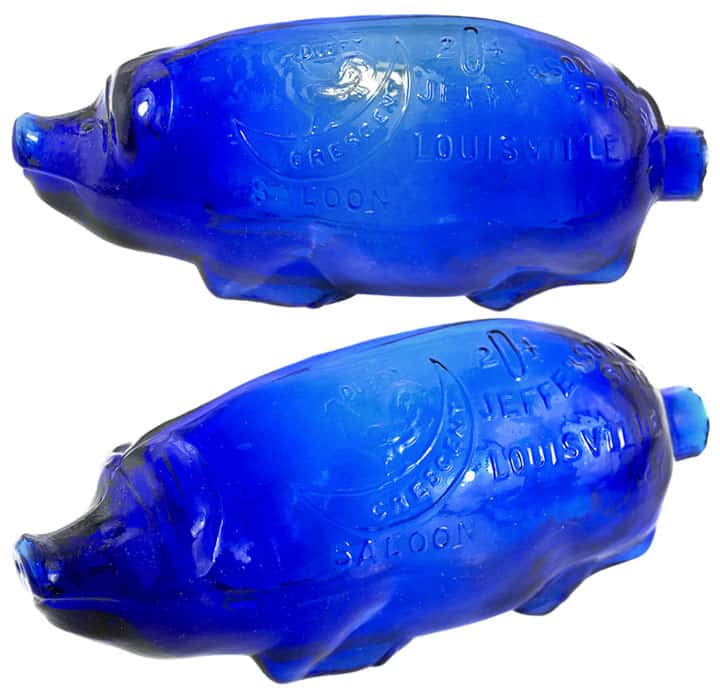 ---
4. Large (one gallon) pottery pig bottle incised JOHN BERLING / COLUMBUS, KY. POTTERY. Here's what the owner had to say: "The Columbus pig is very reminiscent of an Anna (Pottery) pig with the Mississippi River, railroads and the streets of Columbus, Ky. On one side is BACK STREET (backs up to the river) and JOHN BERLING / COLUMBUS, KY. POTTERY with an incising of his house and kiln."
---
5. Cobalt blue ale or mineral water bottle shape embossed METCALFE BREWERY / LOUISVILLE, KY. Probably about a quart and with an iron pontil.
---
6. Aqua target ball embossed LOUISVILLE, KY. GLASS WORKS.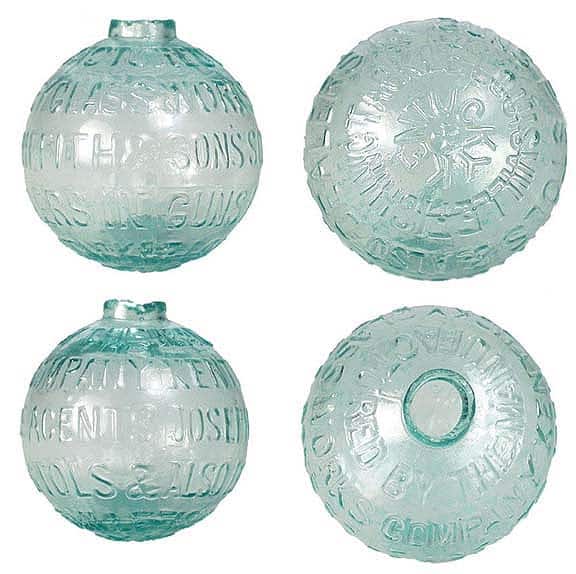 ---
7. Olive amber whiskey barrel-shaped quart bottle embossed BLAKE & HALL'S / OLD BOURBON / WHISKEY / GREENUP, KY. Smooth base. (see below)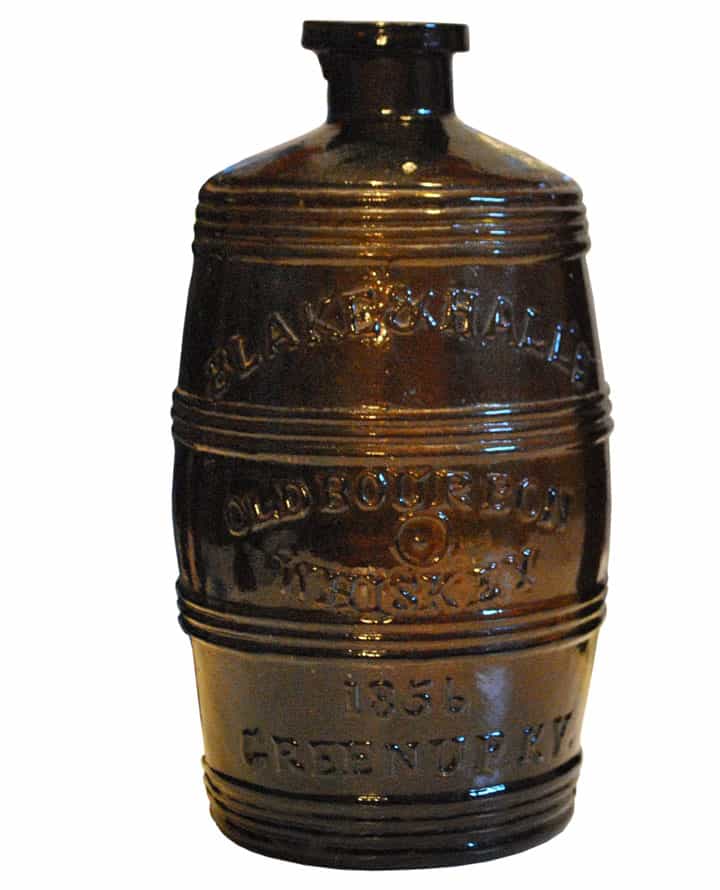 ---
8. Aqua round bottle similar to a pickle with a smooth base and embossed SHAKER PRESERVES. (see below)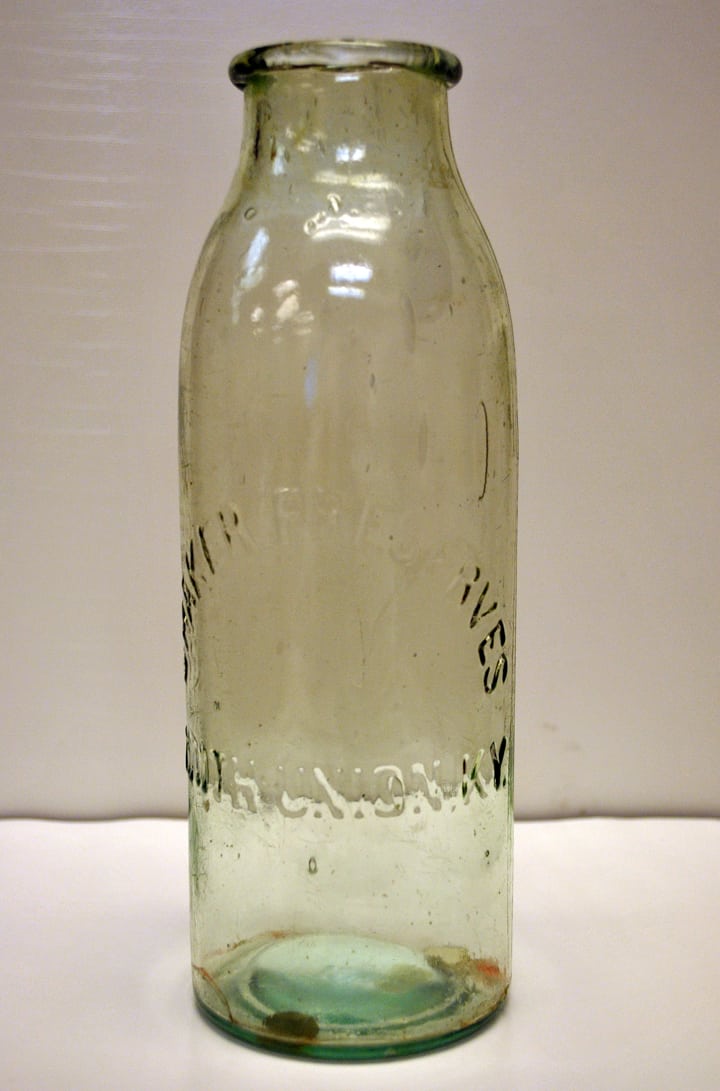 ---
9. Green "John Bull Sarsaparilla-shaped bottle embossed GENUINE PHOENIX SARSAPARILLA / LOUISVILLE, KY. Pontiled.
---
10. Amber whiskey tall and about a 5th in size, six-sided with an iron pontil and embossed KEENE & CO. / FRANKFORT, KY. Bottle is full of seed bubbles.
---
11. Open pontiled medicine, probably a small rectangular bottle embossed AMERICAN OIL / BURKESVILLE, KY. Color is lighter than cobalt and darker than cornflower blue. (see below)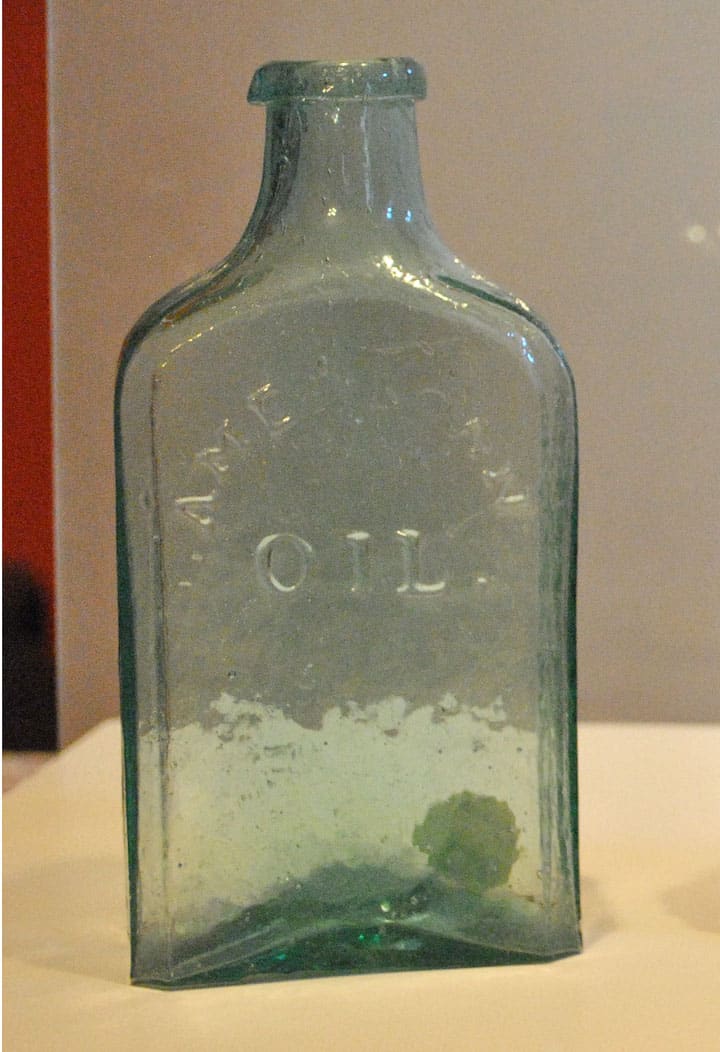 ---
12. Amber bitters-shaped barrel bottle with a smooth base. Embossed J.A. CLARK / 219 THIRD ST. / LOUISVILLE, KY. (see below)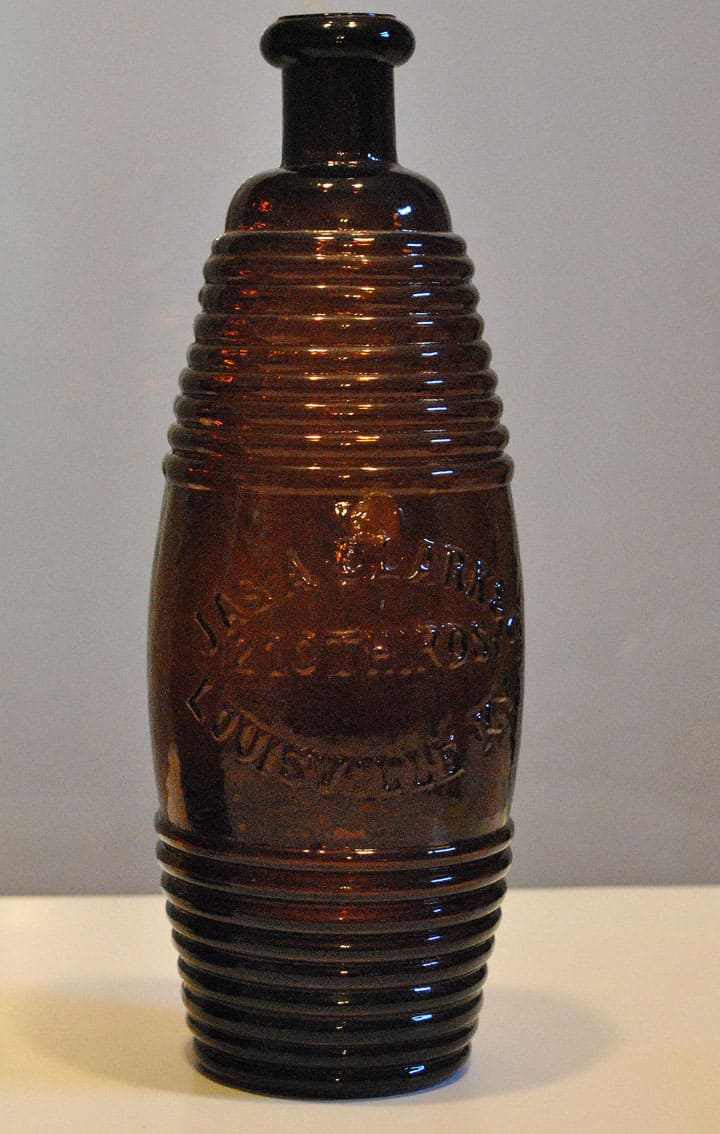 ---
13. Amber triangular-shaped bitters bottle with embossed ribs on the sides. Embossed PASQUIER'S / FRENCH BITTERS / LOUISVILLE, KY.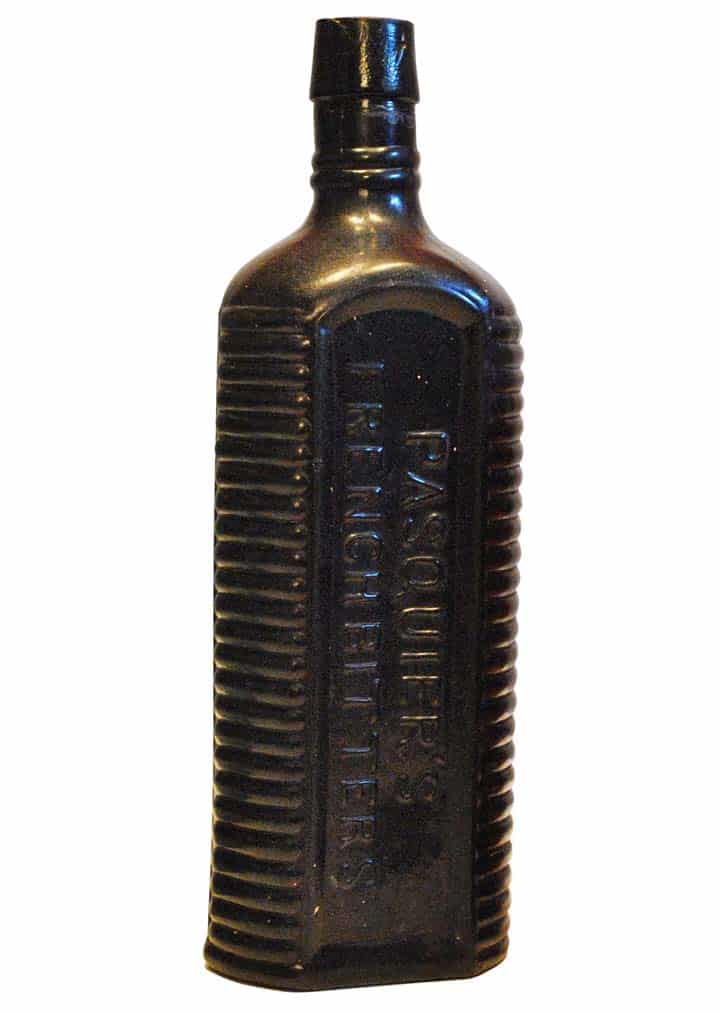 ---
14. Olive green whiskey-shaped barrel bottle with smooth base. Embossed NELSON'S / OLD BOURBON / MAYSVILLE, KY. Another rare color is honey amber. Read: Barrel Series – I. Nelson's Old Bourbon (see below)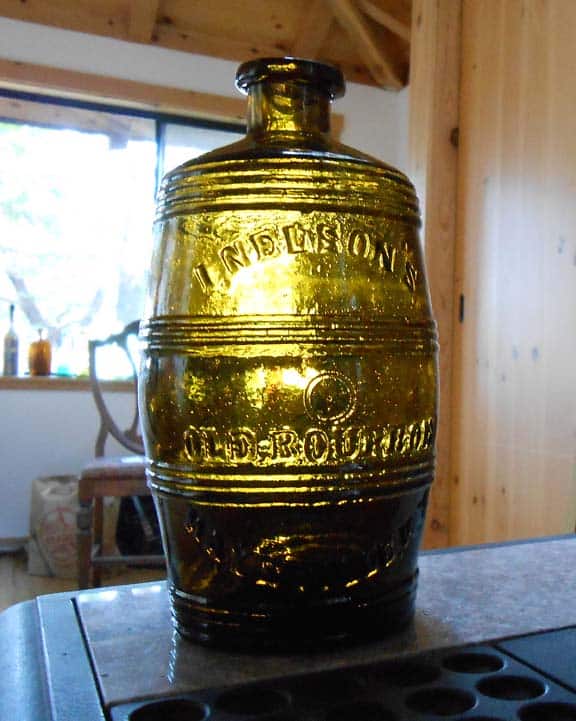 ---
15. Amber octagonal lady's leg bitters bottle embossed RIVAUD'S / COCKTAIL / BITTERS / LOUISVILLE, KY. A related bottle is very rare and is an amber square bitters embossed RIVAUD'S IMPERIAL BITTERS / VICTOR RIVAUD / LOUISVILLE, KY.
---
16. Aqua smooth base (just missing pontil era) embossed DR. BRUCE'S / INDIAN VEGETABLE / PANACEA / NEW CASTLE, KY. It's similar in shape to a large John Bull Sarsaparilla-shaped bottle. (see below)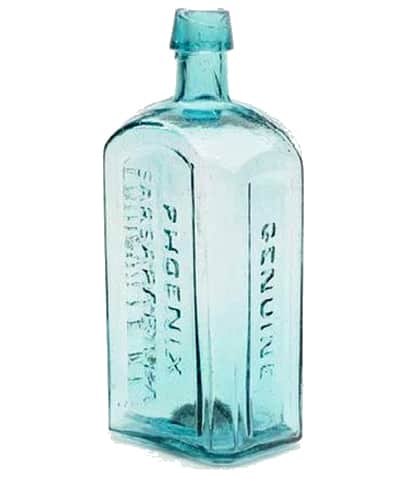 ---
17. Deep emerald green bottle with iron pontil (slightly taller than most mineral waters) embossed T.E. JENKINS / PAROQUET / WATER / LOUISVILLE, KY. It has a tapered top with ring. Only one known in this color; one is known in teal.
---
18. Aqua umbrella ink with open pontil embossed WALKER'S / LOUISVILLE, KY.
---
19. Deep emerald green blob top soda embossed CRYSTAL PALACE / LUPE & EVANS / LOUISVILLE, KY. Base is smooth and bottle is loaded with tiny seed bubbles. (see below)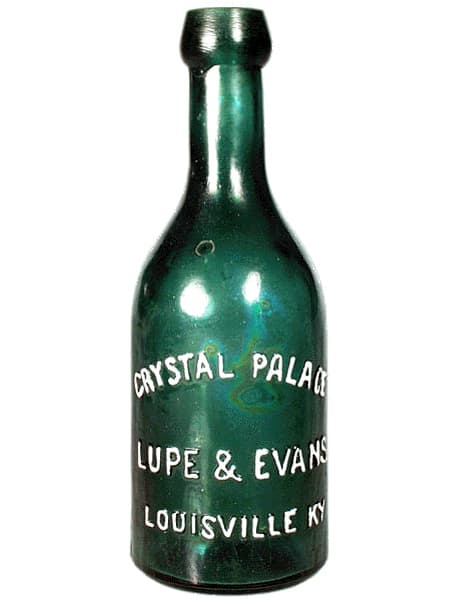 ---
20. Green rectangular bitters bottle with smooth base, measuring approximately 9.5 x 3-3/8 x 2-3/8 inches and embossed O'MARRAS / FENIAN BITTERS / LOUISVILLE, KY. / J.B. WILDER & CO.
---
21. Half-pint deep green historical flask (GI-33) embossed LOUISVILLE, L KY. / GLASS WORKS on one side. The other side embossed with an American eagle with talons, five embossed stars.
---
22. Yellow to citron open pontil rectangular medicine embossed S & S / MAYSVILLE, KY.
---
23. Olive-green mineral water bottle with open pontil, embossed ARTESIAN WATER / LOUISVILLE, KY. On reverse is DuPONT lettered vertically. There is a series of 1-1/2-inch panels which are rounded off and embossed all around the side at base. Another example exists in olive amber. (see below)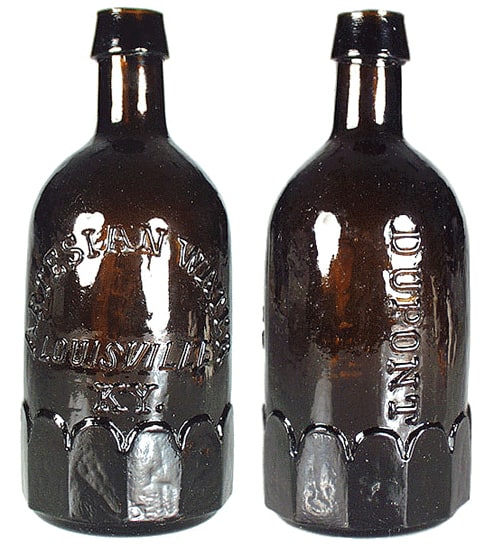 ---
24. Tall black glass bottle with seal embossed T. RUCKER / LOUISVILLE. Seal is placed on top just below shoulder. Probably one of the oldest known Kentucky bottles, it was dug in Louisville during the early 1900s.
---
25. Very large aqua bottle (John Bull Sarsaparilla-shaped) with iron pontil. Embossed J.T. RICKERSON'S / HOARHOPUND / & / SARSAPARILLA / CYNTHIANA, KY. All four sides are embossed. (see below)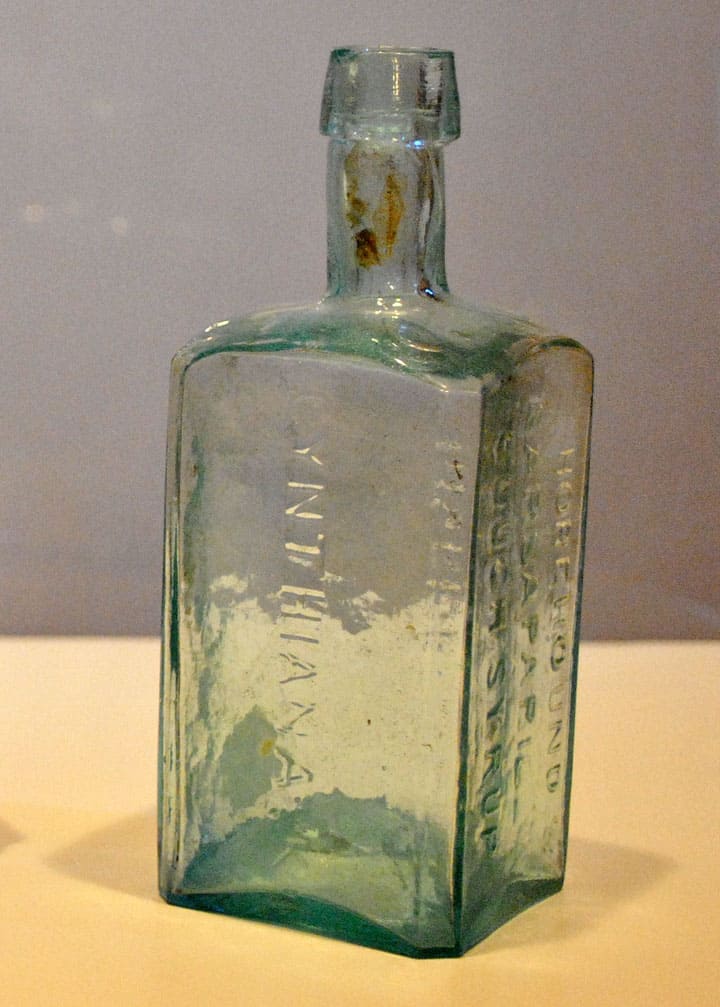 ---
Credits:
1.

Carlyn Ring Collection – Glass Works Auctions Sale

2.

Kentucky Online Arts Resource Blog 

3.

Glass Works Auctions.

6.

Glass Works Auctions

7.

Anonymous Collection 

11.

 Anonymous Collection

12.

Anonymous Collection 

13.

 Anonymous Collection

14.

Jerry Forbes Collection

16.

Medicine Bottle Nexus

19.

Glass Works Auctions

23.

Glass Works Auctions 

25.

Anonymous Collection