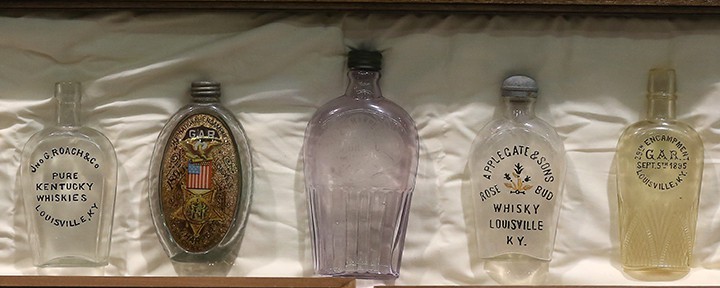 Educational Displays at the

FOHBC 2014 Lexington National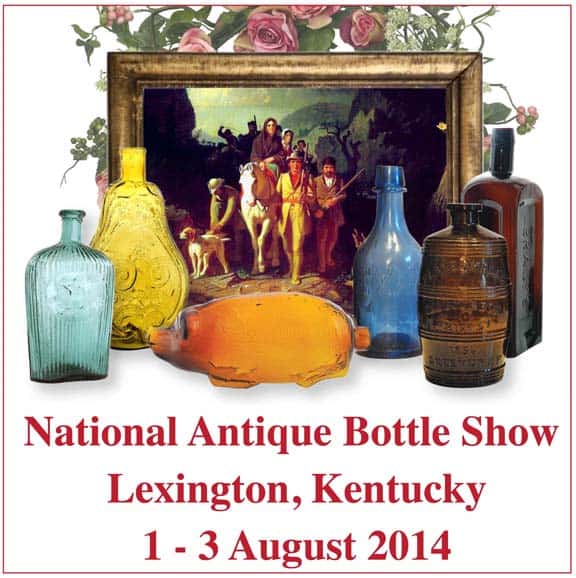 We ended up with thirteen education displays at the Lexington National that were as different from the recent Reno and Manchester National displays as possible. Interesting and interactive to some extent, they seemed to get quite a bit of attention. As I viewed the exhibits and look at the pictures from our show photographer, Scott Selenak, I realize that we need some type of backdrop for the displays next year. There were two awards, one for Most Educational and the other for Best In Show. The audience voted and the winners were announced at 2:00 pm on Sunday, 1 hour before show close. Plaques and ribbons were presented to the winners, Tom Sproat (Most Educational) and Jim Hubbard (Best in Show). Let's look at the displays! All photographs by FOHBC photographer, Scott Selenak
PRICE'S PATENT TEXAS TONIC – Tom Phillips
The first example of this bottle was discovered in 1987 by some local diggers in Lexington, Kentucky. They dug the bottle out of a local privy. The hole had other bottles dating from the 1840s. With the exception of a small corner hole, the bottle was found in excellent condition. Tom purchased this example in the late 1980s and kept it until recently; He sold it to a native Texan. Read More: The incredible Price's Patent Texas Tonic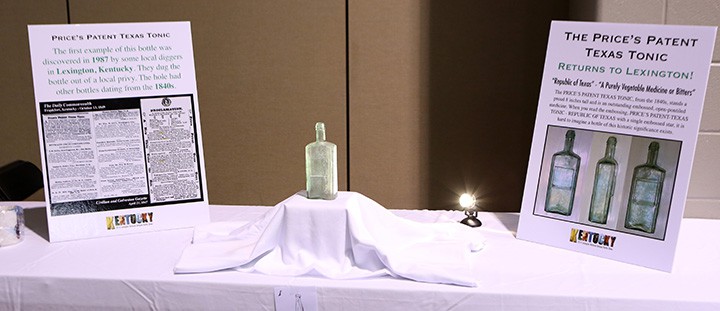 ---
CELERY COLA – Dennis Smith
Definitely a very nice display with a variety of elements to make it engaging. The rear- illuminated "Celery Cola 5c" caught many eyes as you first focused on the Celery Cola graphics and then the cool bottles. Various ephemera and advertising elements rounded out the display.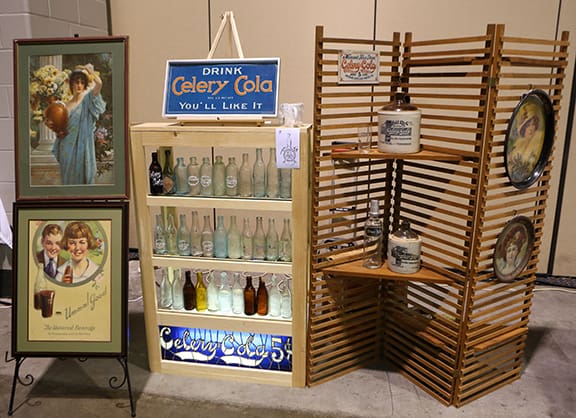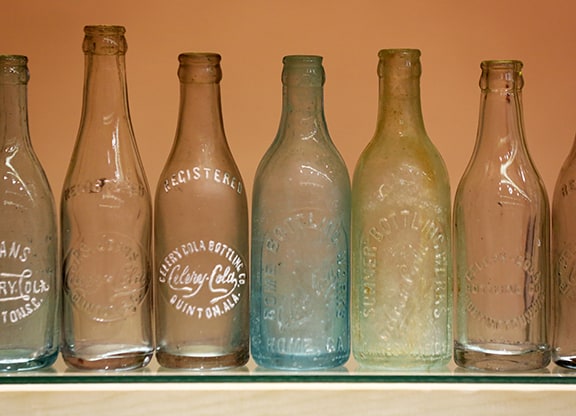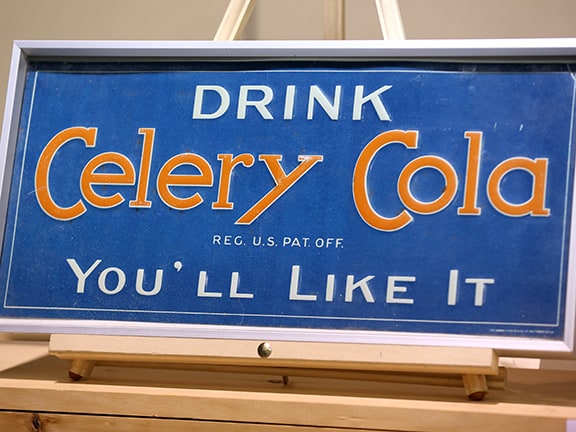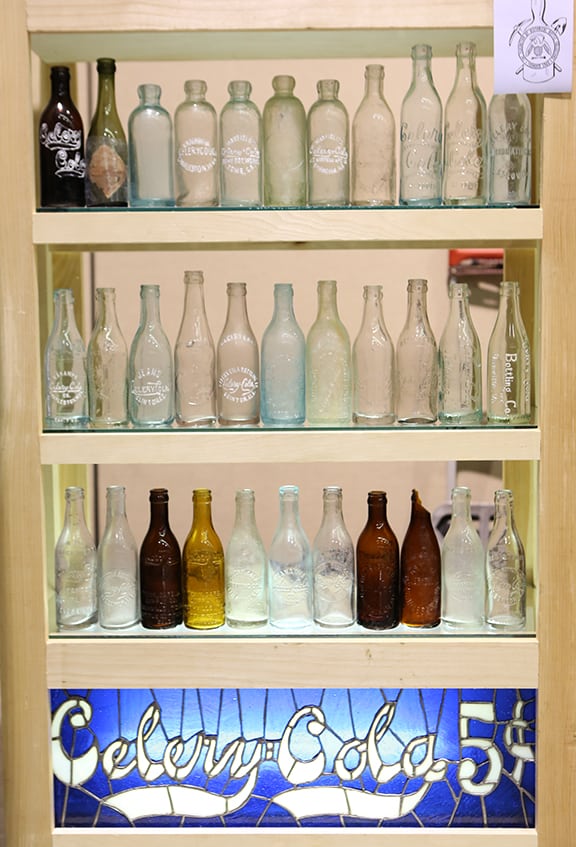 ---
PHARMACY BOTTLES – Bruce Wood & Ron Dadiras
A handome display of druggist and apothecary bottles show depth in the collection of Pharmacy bottles. So many bottle brands and concoctions start with the druggist.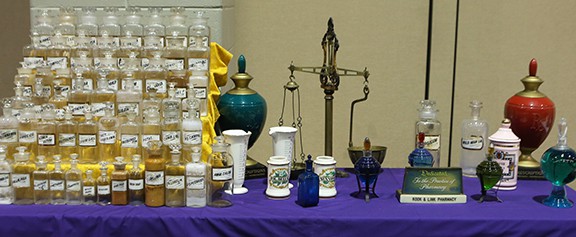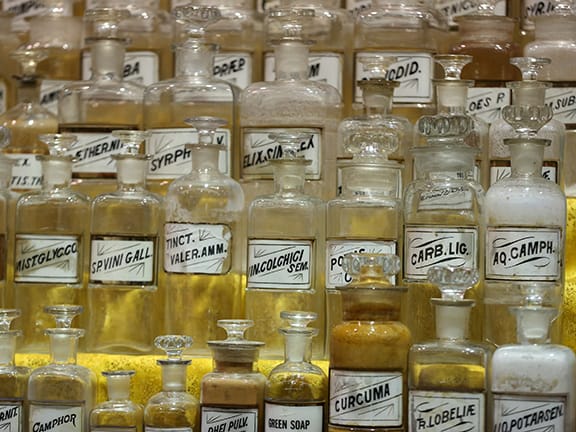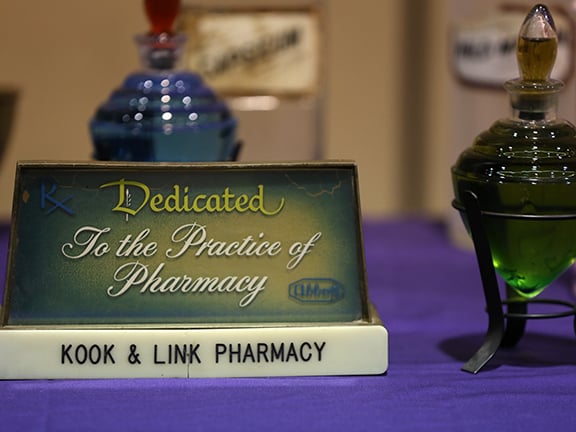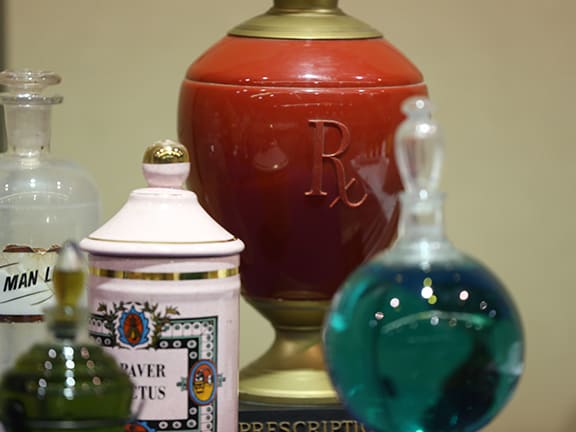 ---
SCHAFER & VATER GIVEAWAY BOTTLES, FLASKS, & DECANTERS – BLUE AND WHITE GLAZE ONLY – Tom Lines
An amazing collection of very interesting and sometimes amusing figures in immaculate condition. This caught my eye for visual appeal as the blue and white colors really stood out. I found myself wondering how these pieces survived over the years with the fragile forms. Read More: Shafer & Vater Whiskey Nips over at American Bottle Auctions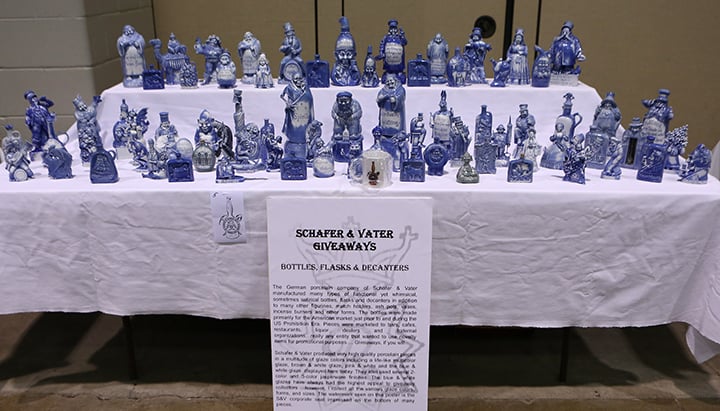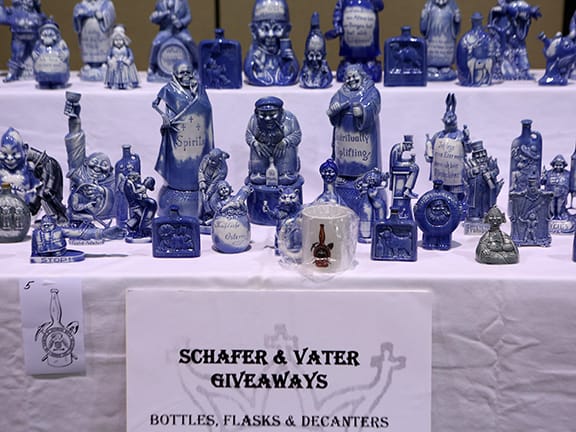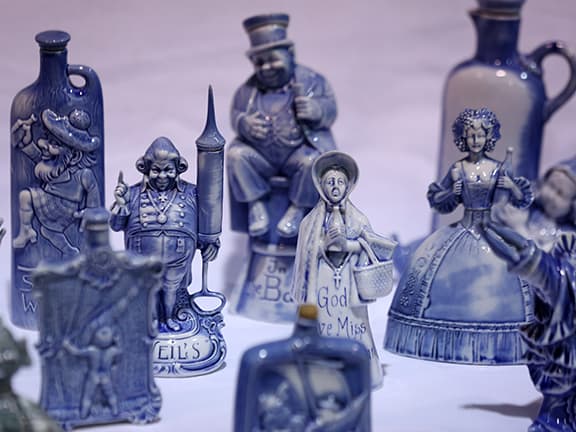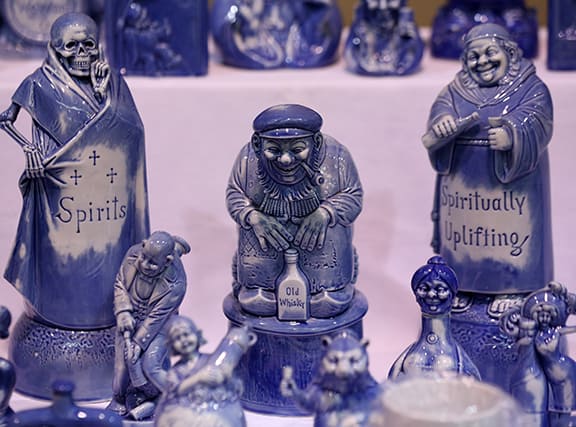 ---
END OF DAY GLASS HOUSE WHIMSIES – Dale Murschell
An incredible assortment of end-of-day glass pieces. Usually we think of turtles, hats and canes but on this table you could see so many interesting and colorful objects.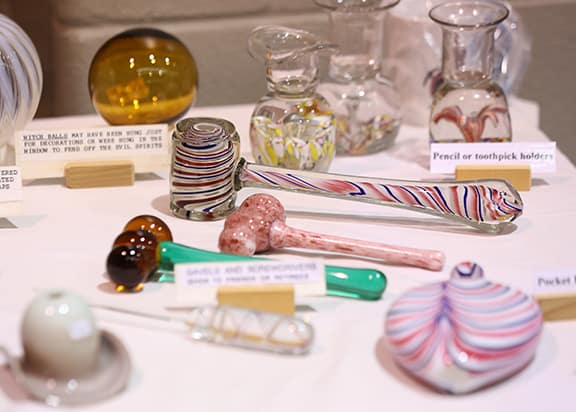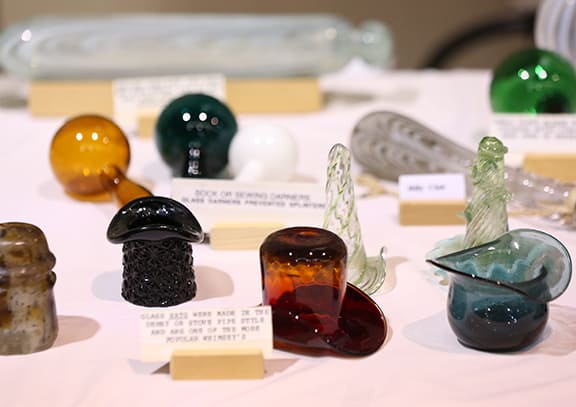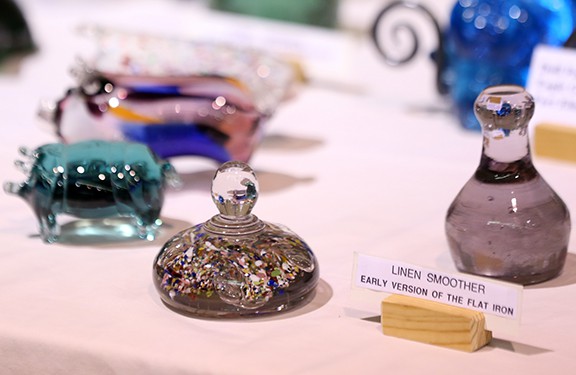 ---
KENTUCKY POCKET FLASKS – Jim Hubbard
This display was a monster and certainly got one of my votes. Taking up three or so tables was Jim Hubbard's Kentucky Pocket Flasks. The display was brilliant and enticing. You wanted to read reach flask. Jim's display won Best of Show. Lexington Show Co-Chair, Sheldon Baugh presented Jim with a plaque and ribbon.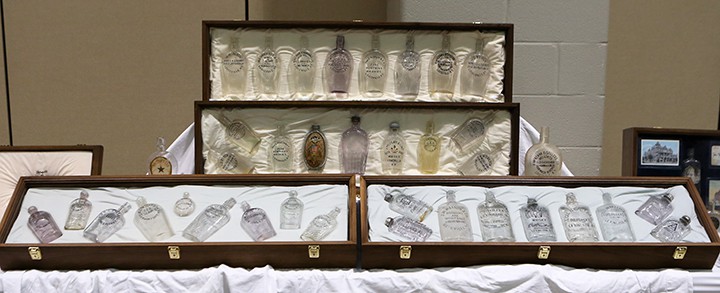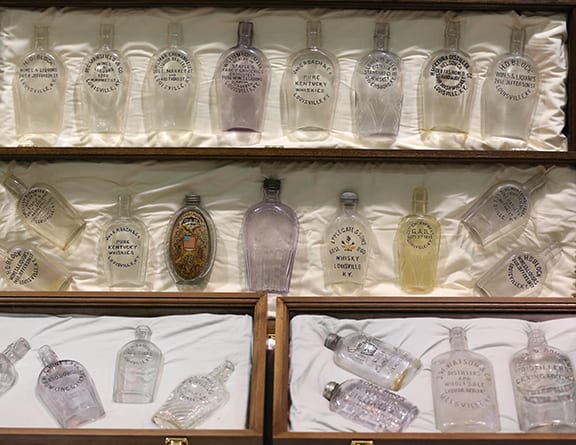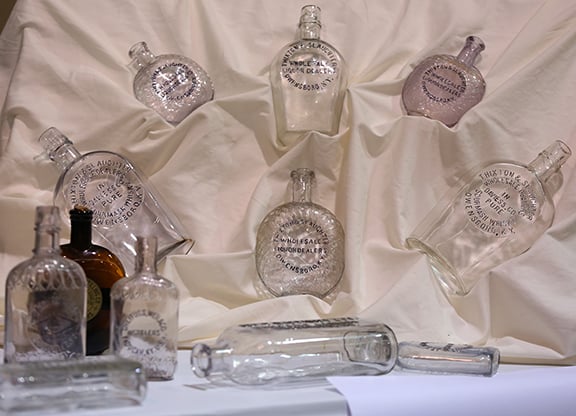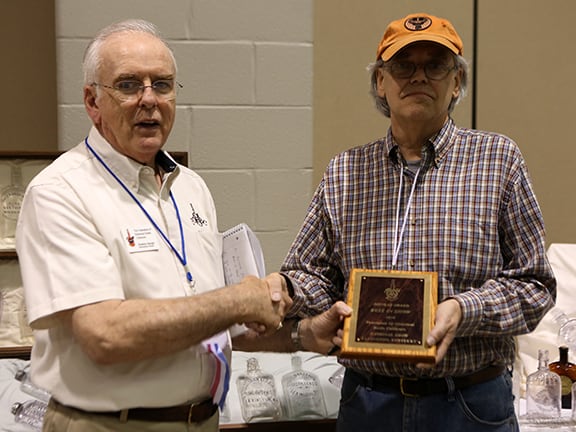 ---
EARLY AMERICAN WAX SEALER JARS – Ron Hands
Another favorite and well put together display belonged to Ron Hands with his Early American Wax Sealer Jars. These type of jars seemed to dominate the jar category at the show as a seminar was given on them too by Jerry McCann. A great variety of material made for strong eye appeal. The colorful children's blocks were a great way to label the display.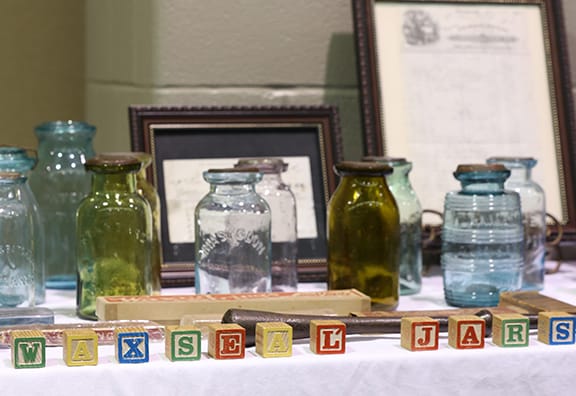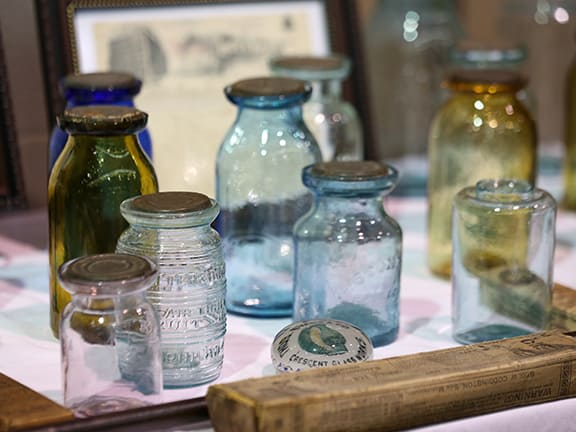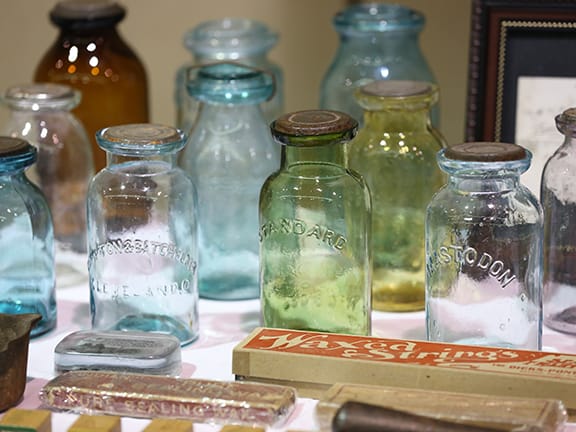 ---
STRAP SIDE HALF PINTS – David Berry
These little flasks are so fun to see grouped. So many colors. I was also really pleased to see the Star in Circle Airport Whiskey. This is one of my favorite graphics on a label.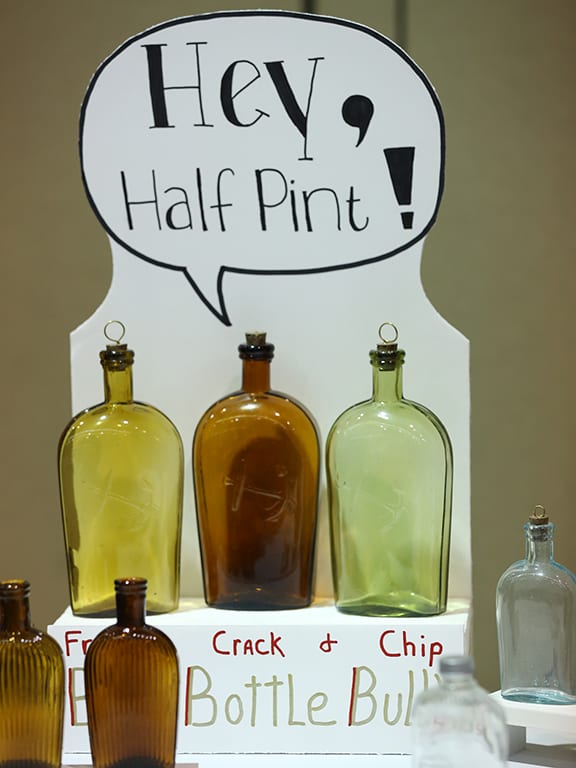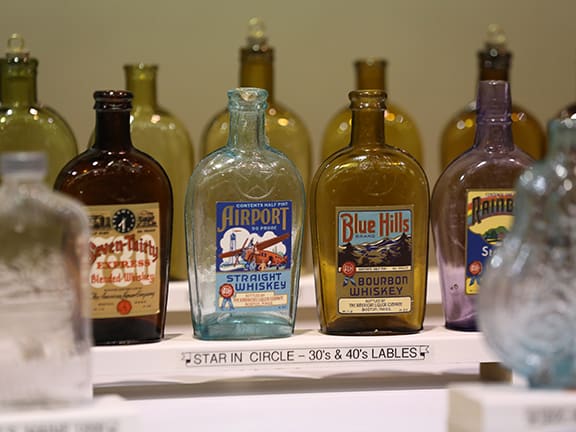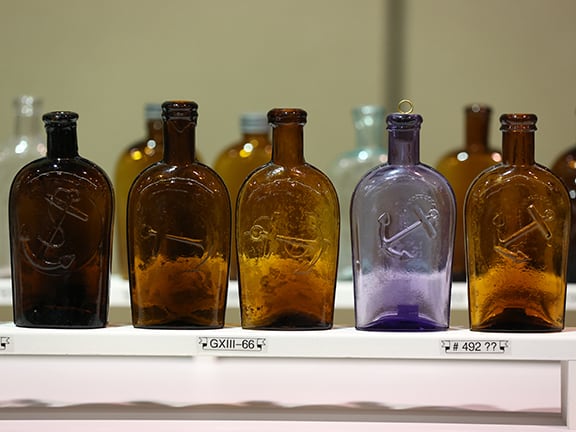 ---
19th CENTURY GLASSMAKING TOOLS – Tom Sproat
Tom Sproat won an award for Most Educational Display with this well thought out exhibit on 19th century glassmaking tools. Large and easily readable graphics and a variety of glass and tools made this easy to understand and learn from.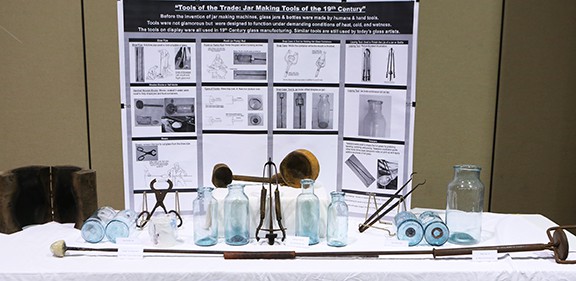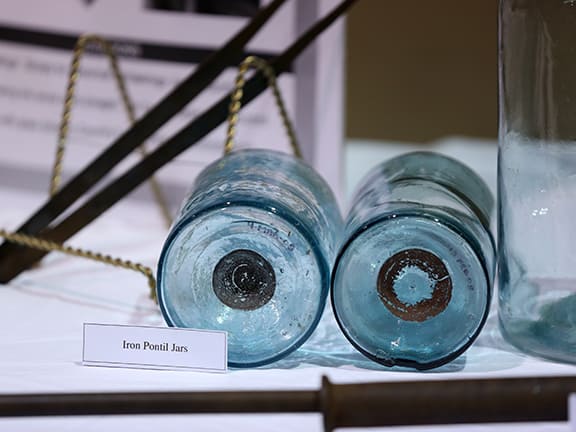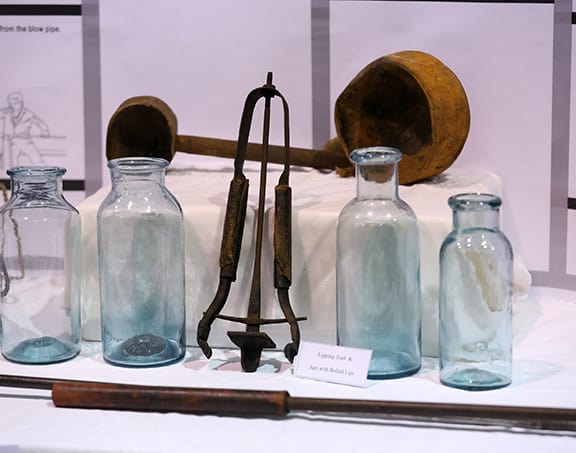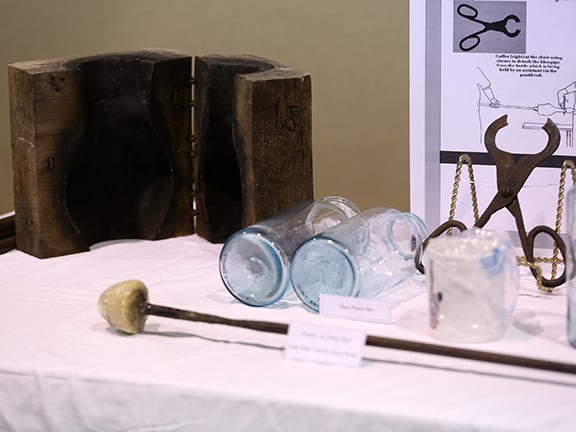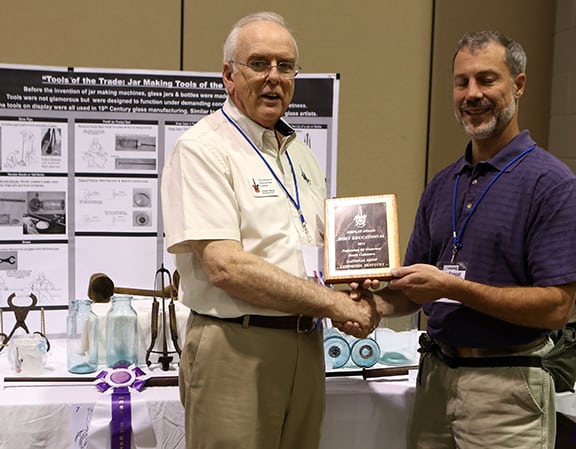 ---
MIDWEST AND KENTUCKY FEATURE BOTTLE DISPLAY – Collective Effort
The Federation commissioned Brian Riecker to build a new illuminated display cabinet for Lexington and future shows. This cabinet was used during the Run for the Roses bottle competition event and to display extremely rare Midwest and Kentucky bottles during the show. Many of these beauties were filmed by the virtual museum crew. Look at that green Roback's Stomach Bitters barrel on the top shelf!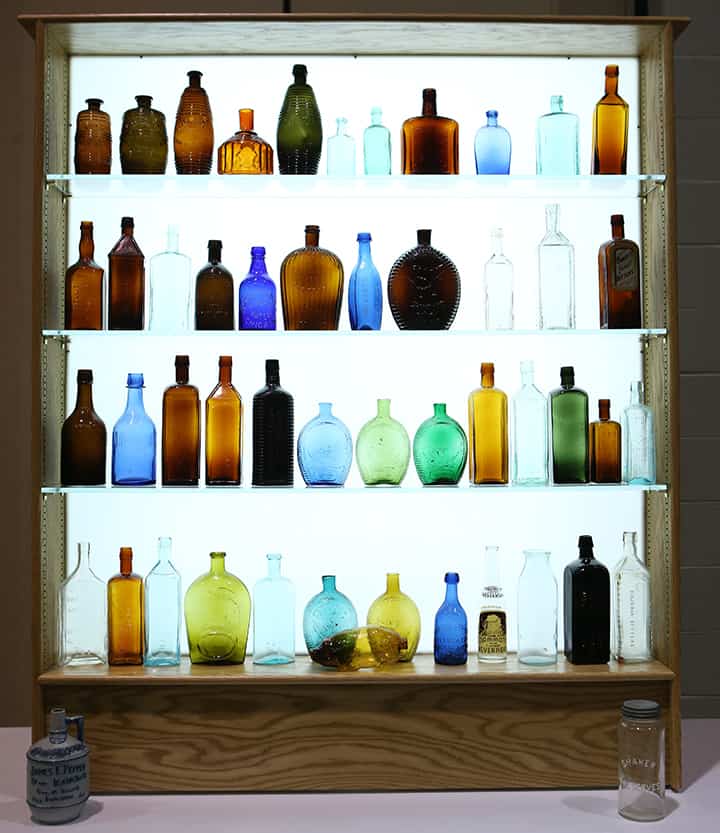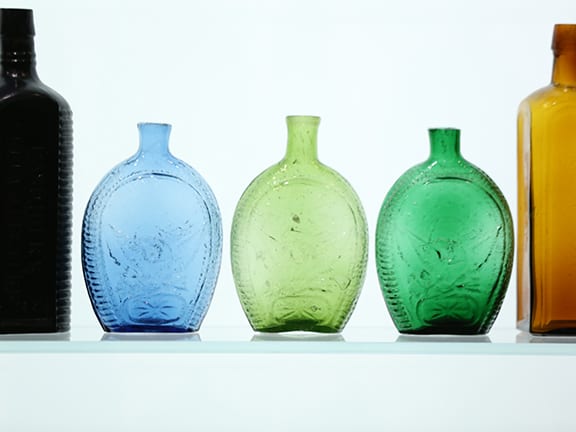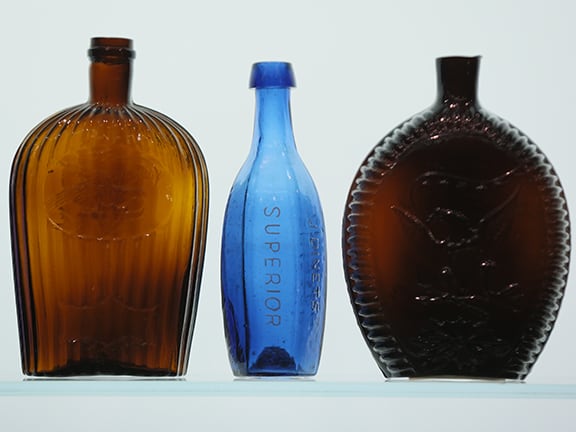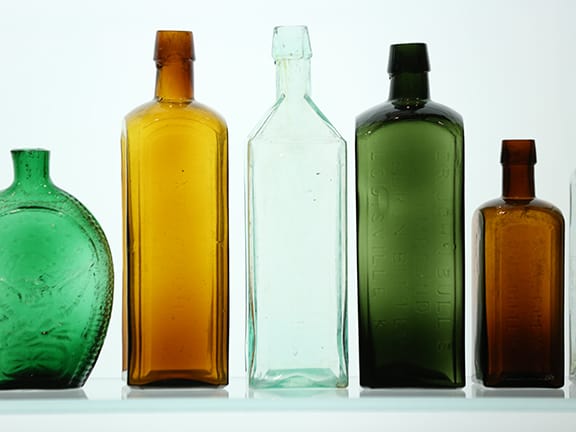 ---
FOHBC HISTORY – Dick Watson
As many of you have probably heard, Dick Watson and Dave Olson had a major traffic accident heading out of New Jersey to Lexington. We understand that they are both in good recovery. It was sad that Dick could not see the great display that he and Jim Bender put together for the Federation of Historical Bottle Collectors. What a super effort. This display and the Federation history will be expanded on in the November/December issue of Bottles and Extras.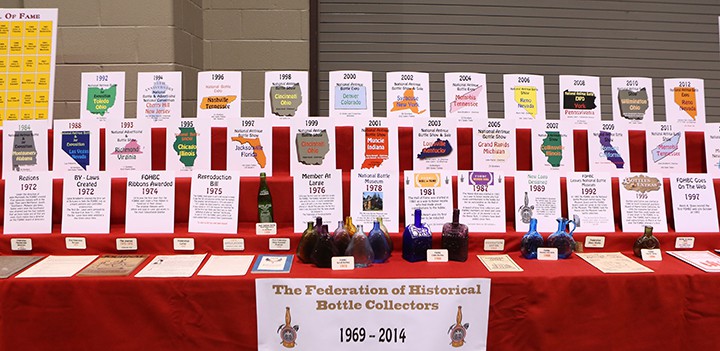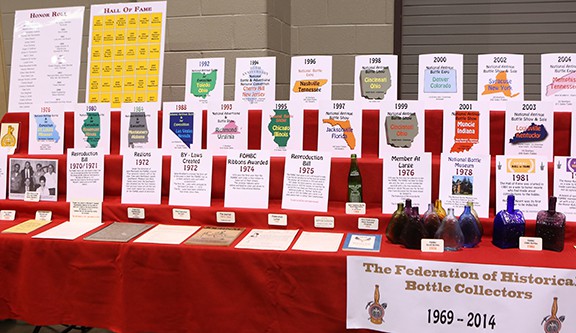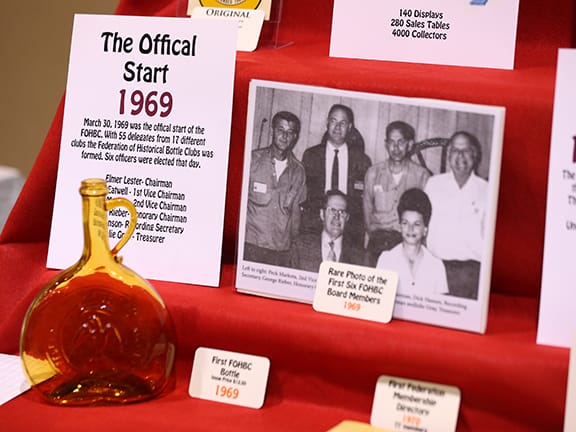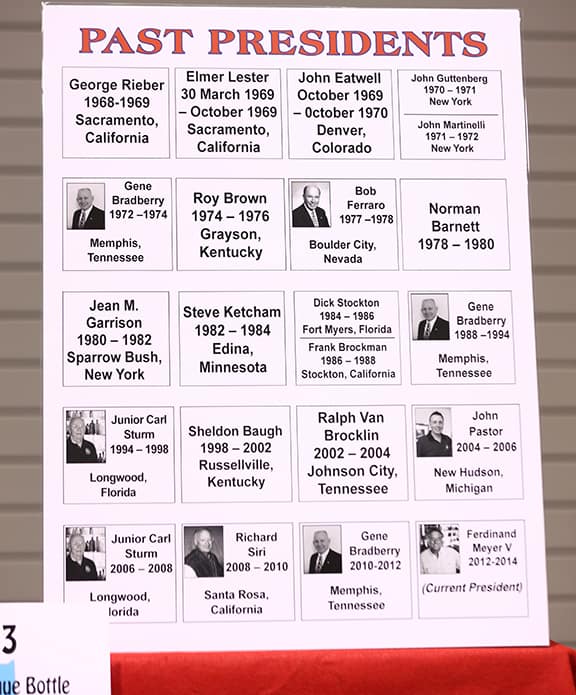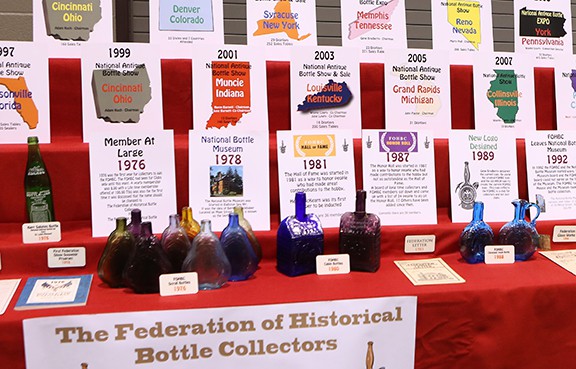 ---
REPRODUCTION BOTTLES – Jim Bender
One of our interactive displays in that Jim Bender gave periodic talks at the display to explain and point out, "Is it Real of Fake". Jim is a real authority in this area. The display received a lot of attention and will be profiled in the November/December issue of Bottles and Extras.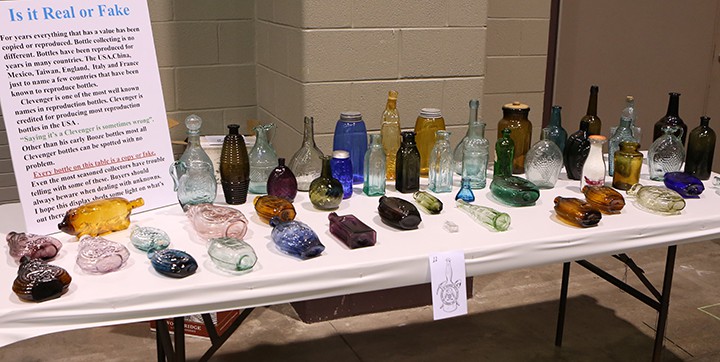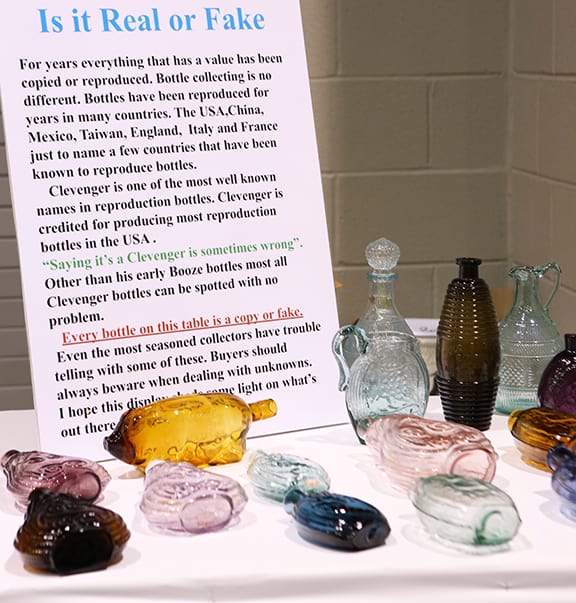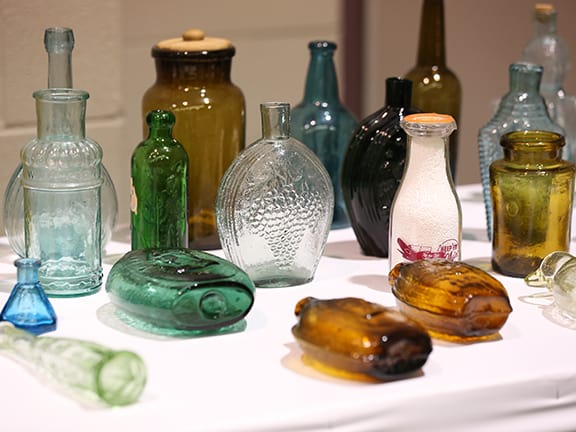 ---
Virtual Museum Filming – Steven Libbey
Steven R. Libbey and his 2-man crew, filmed "Spinners" during Saturday and Sunday for the Virtual Museum. Steven is founder of the Wisconsin Antique Advertising Club. Some of the greatest midwest and other specific bitters bottles were filmed for the first gallery. Many of the owners were interviewed for video segments for the museum.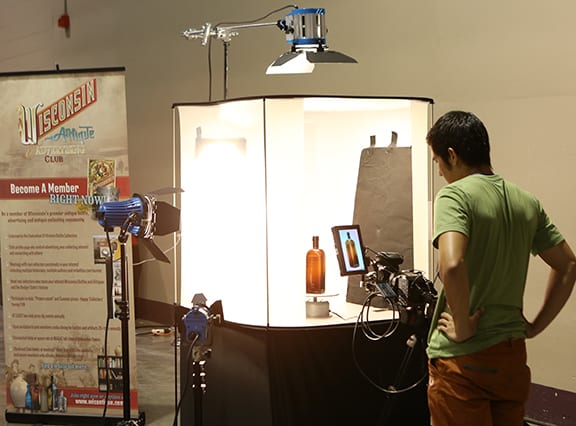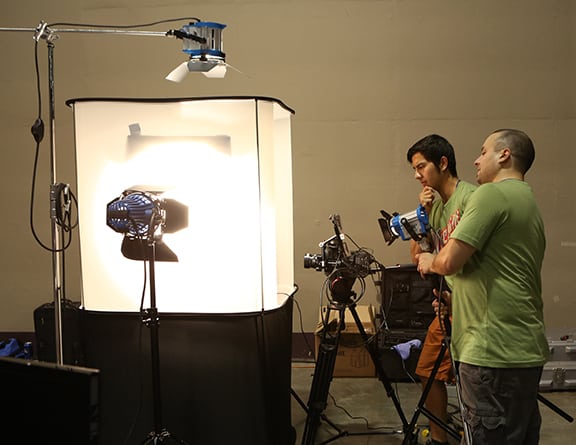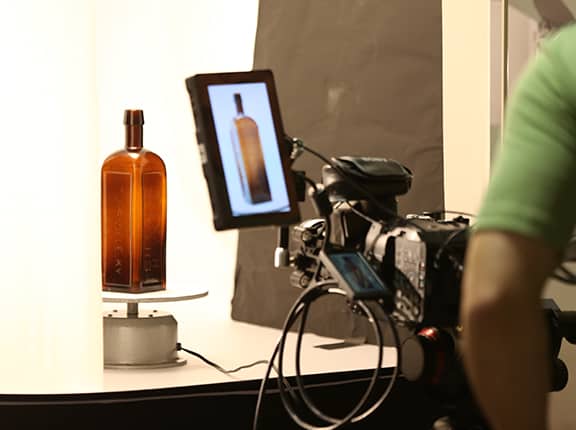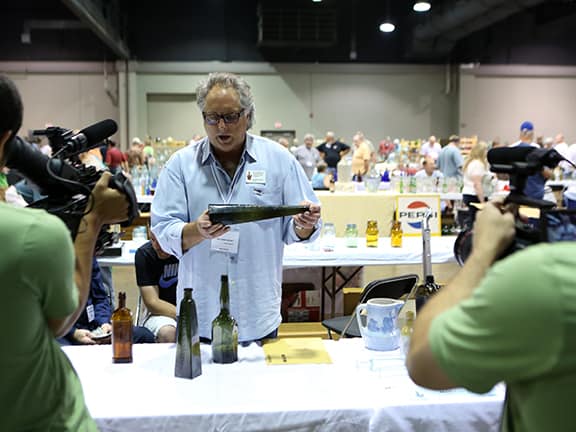 ---
BOOK SIGNING EVENT – Michael R. Veach & Chet Zoeller
Not really a display though we dedicated a table for our FOHBC Banquet speaker, Michael R. Veach to sign his latest book, "Kentucky Bourbon Whiskey". Michael was joined by fellow author, Chet Zoeller who signed his book. "Bourbon in Kentucky".