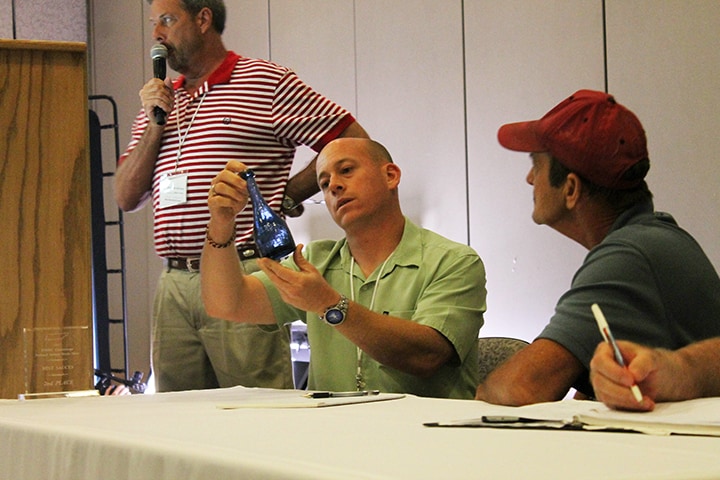 Battle of Chattanooga Bottle Competition:
Chattanooga
Convention Center, Ballroom H, 8:00 – 11:00 pm
All Photography by Mallory Boyle unless noted
The much anticipated Battle of Chattanooga bottle competition, which was coordinated and emceed by Mike Newman (Martinez, Ga.) was as exciting as can be, that is if you are a hard core bottle collector who likes seeing the best of the best. Some of these bottles you may never see again so it was exciting to get close and review the examples in the Federation light box and on screen as filmed and projected by Chip Cable from McMurray, Pennsylvania. Bob Riddick and Mark White, both from Lexington, South Carolina did a great job in checking in the bottles from all of the registrants as well as assuring their safe return. Chip Brewer from Charleston, South Carolina was the primary person in charge of carrying the bottles from station to station. Jack Hewitt also helped with this job.
In the Sauces Category, the judges were David Olson, Lou Pellegrini and Jimmy Bray. First Place was awarded to Dr. Charles Aprill of New Orleans, Louisiana with his blue Wells, Miller, Provost sauce in a rare 9 1/2 inch large size. In Second Place, Terry Gillis of Fort Payne, Ala. won with his yellow green keyhole design peppersauce. In Third Place was Christian Morgan of Charlotte, N.C. with his aquamarine cathedral peppersauce with unusual flared lip treatment.
In the Colored Sodas category, the judges were James Campiglia, Vic Svendsen and Tod von Mechow. First Place was awarded to Eric Schmetterling of Moorestown, N.J. with his amethyst colored Blagroves Superior Aerated Mineral Waters, Brooklyn, N.Y., sided tenpin shape, iron pontil. In Second Place was Bob Currens of Export, Pa. with his blue Ira Harvey, Providence, R.I., teepee shaped, open pontil soda. Third Place went to Tom Leveille of Newport News, Va. with his green J. M. Roseberry, Alexandria, Va., embossed eagle, iron pontil soda.
In the Best Bottle South of the Mason-Dixon Line category, the judges were Tom Lines, Jamie Westendorf and Jim Hall. In First Place (tie) was Dr. Charles Aprill of New Orleans, La. with his blue wine with embossed grapes and leaves, unlettered variant of the Imperial Levee, J. Noyes, Hollywood, Miss. Also in First Place (tie) was Dr. Charles Aprill with his blue Dr. Leriemondie's Southern Bitters, pontiled, known to be from Brookhaven, Miss. but not marked. In Third Place was Jimmy Bray of Oglethorpe, Ga. with his green Colliers Remedy, P. M. Cohen & Co., Charleston, S.C., pontiled medicine.