2015 Chattanooga National Antique Bottle Show
Rolling Thunder Preview: Saturday, Marriott Plaza Ballroom A & B, 5:30 – 7:00 pm
Rolling Thunder Auction: Saturday, Marriott Plaza Ballroom A & B, 7:00 – 10:00 pm
*All Photographs by Mallory Boyle unless noted
One of the signature events of any national antique bottle show is the Federation auction. This year it was no different. Step back a year and a half or so ago, and we were in a situation where Glass Works Auctions auctioneer Jim Hagenbuch passed on his opportunity to be our southern auctioneer in Chattanooga. He had been doing our auctions for a number of years and felt it was time to move on. John Joiner and Jack Hewitt, thinking quick, immediately suggested that we consider Jim Daniel of Daniel Auction Company from Sylvester, Georgia. Zoom forward to Saturday night and presto, we had one of the finest auctions ever. Jim and Pattey Daniel are professional yet have that southern charm that made this event distinctive. 144 lots were hammered down, some going low, but a number far exceeding the estimates.
Interesting enough, Jim Hagenbuch again played a role in the auction as he was the high and successful bidder on the lion's share of the treasure trove of E. Dexter Loveridge items that were found in a home of one of his granddaughters outside of Chicago, Illinois. You may remember the last issue of BOTTLES and EXTRAS which had a feature article. Yes, bitters were the star here on this night. As Jim took home the pictures and some of associated material, new Federation member Brad Francis (Alma, Arkansas) took home the labeled E. Dexter Loveridge Wahoo Bitters bottle and Jerry Forbes (Big Sur, California) took home the hat and walking stick. Brad was especially happy since his new bottle was pictured on the cover of the previous issue.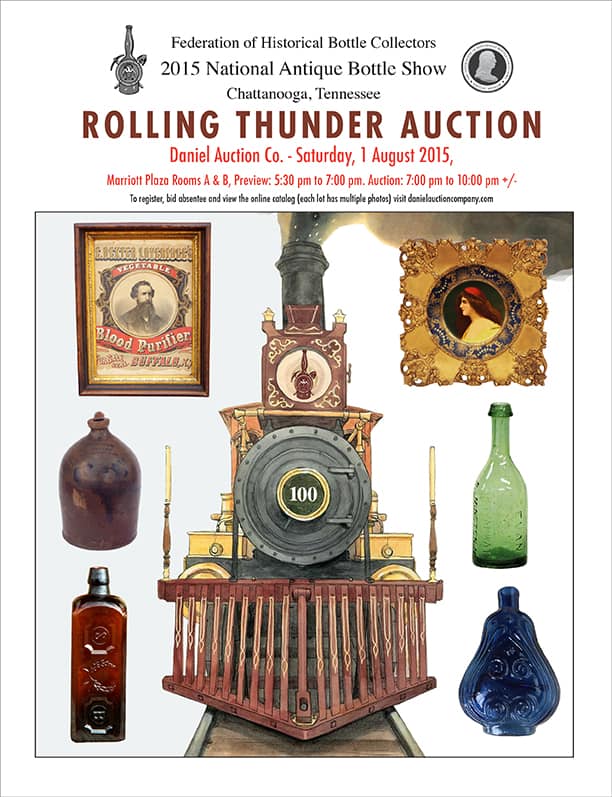 Here are the "unofficial auction results" as Daniel Auction Company did not publish a "Prices Realized" list. All prices listed do not include auction house premium. Bitters seemed to be the star here.
STANDOUTS