The Oldest Club in The Country Holds Its Fall Show
by Jim Bender | FOHBC Historian
The Empire State Bottle Collectors Association held its fall show and sale last October 18. This is the 17th year for the Scriba, N.Y., location. Barry Haynes heads up the show and does a great job, always filling the show room. There were 60 tables at the show with 95 percent being bottles along with a few very interesting displays.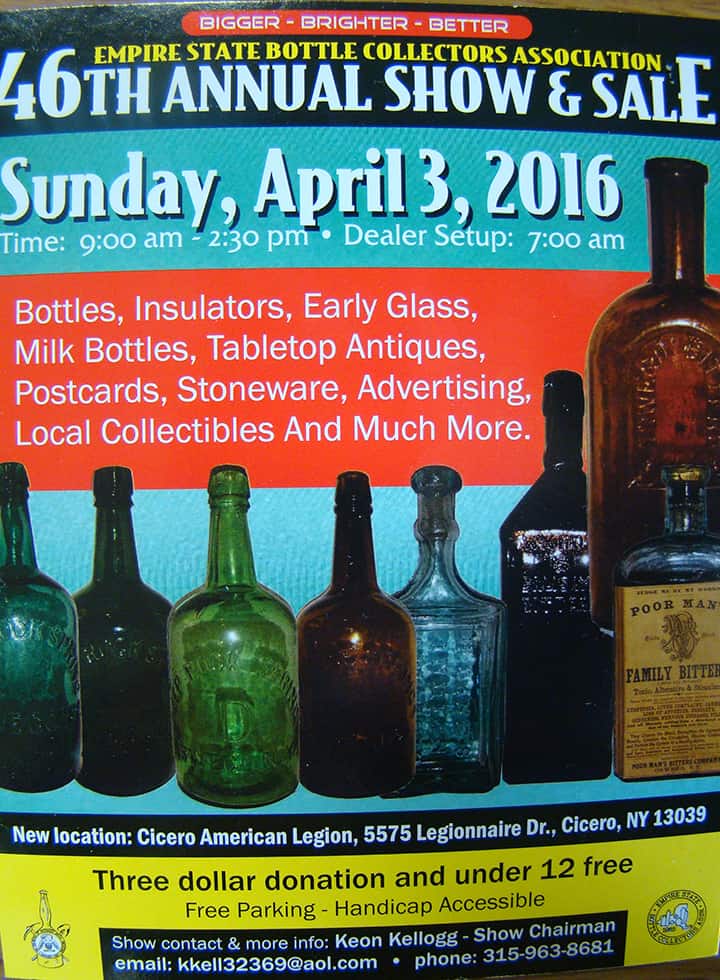 On the drive from home that morning, we started to see cars with snow on their roofs as we got closer to the show. Being from the northeast, we are used to seeing flurries in the air in October, but seeing 5 inches of snow on the cars seemed a bit out of place. That's why they call it lake effects!
Once we arrived at the show, everyone greeted us and said they were glad we made it. I found out why as we talked. We arrived at the show around 10:30 and by the time we got there the sun was shining and the roads were clear. The dealers, however, hit snow and black ice conditions in the early morning hours. But true to the hobby they continued on.
The show room was filled with great bottles. It was a great place to make some good buys. I bought four things for my collection. These smaller shows may not have the flash that the large shows have but they clearly are the place to find some bargains. I always make out good at these shows and always leave happy.
The Empire State Bottle Collectors Association always puts on fall and spring shows. Next year's 46th spring show will be in a new location, moving from the firehouse which they outgrew to the Cicero American Legion. This location is much bigger and has great lighting. So mark your calendars for April 3, 2016 and be sure to attend. Ken Kellogg is the chairman for that show.
This year marks the 50th anniversary of the Empire State Bottle Collectors Association. It is the oldest continuous running club in the country. Linda and I will be attending the celebration dinner being organized by John Spellman and his wife. Keep watch for an article on the dinner in the next few weeks. We really have to hand it to these guys — 50 years, two shows a year and still going strong. GREAT JOB!
As the FOHBC Historian I would like to include a small bit of history. Pioneer collector Charlie Gardner was a member of the Empire State Club and he did attend some of their meetings.