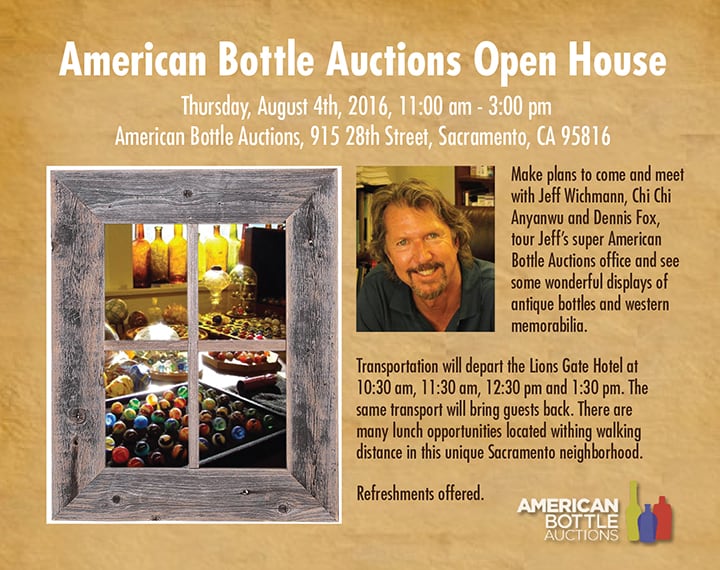 American Bottle Auctions Open House added to 2016 Sacramento National Convention & Expo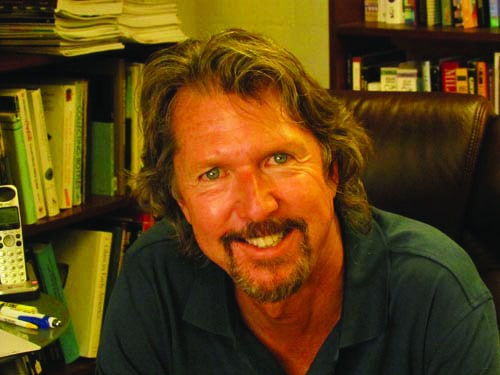 [PRESS RELEASE] 29 March 2016
THURSDAY, August 4th, 2016
American Bottle Auctions Open House | American Bottle Auctions, 915 28th Street, Sacramento, CA 95816, Thursday, August 4th, 11:00 am – 3:00 pm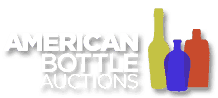 Another great event has been added to the FOHBC 2016 Sacramento National Antique Bottle Convention & Expo. Come meet with Jeff Wichmann, Chi Chi Anyanwu and Dennis Fox, tour Jeff's super American Bottle Auctions office and see some wonderful displays of antique bottles and western memorabilia. Buses will depart the Lions Gate Hotel at 10:30 am, 11:30 am and 1:30 pm. The same buses will bring guests back. There are many lunch opportunities located in this unique Sacramento neighborhood. Refreshments offered.
Generals House Reception | Lions Gate Hotel, Generals House, Thursday evening, August 4th, 5:30 – 7:30 pm
There will be an American Bottle Auctions and Peachridge Glass sponsored open house reception at the historic Lions Gate Hotel Generals House on Thursday evening, August 4th from 5:30 to 7:30 pm. This event is for dealers who have bought tables, their assistants, displayers, seminar givers and those with early admission passes. This event occurs prior to the Sacramento Shootout which will be held at the Lions Gate Hotel Club Ballroom.
Sacramento Shootout | Lions Gate Hotel Club Ballroom, Thursday evening, August 4th, 8:00 – 11:00 pm
The Sacramento Shootout bottle competition will be held at the Lions Gate Hotel Club Ballroom on Thursday evening, 04 August after the General's House Reception. There will be three (3) categories. Each category will have three (3) judges. Awards will be give for 1st, 2nd and 3rd place. The categories are: 1. Jesse Moore Sole Agent (cylinder fifths), 2. U.S.A. Hosp. Dept. quarts 3. Hostetter's Stomach Bitters (limit 4 entries per competitor). Security will be provided. For additional information contact Richard Siri, Sacramento Convention Chair, PO Box 3818, Santa Rosa, California, 707.542.6438, rtsiri@sbcglobal.net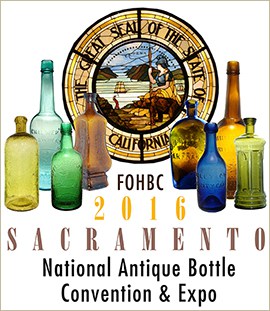 Click for Full Schedule and Information