2016

Houston Bottle Show

fun as usual!
25 July 2016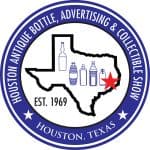 The Houston Bottle Show is usually a tough one for me because it is usually a week or two before the Federation National Show (FOHBC 2016 Sacramento National Antique Bottle Convention & Expo) where a lot of my attention has been focused. This year was no different but I must say, it was well worth setting up and visiting with the Texas and southwest bottle crowd. I even picked up a few pieces that will work their way into my house which is under major renovation from the Houston floods this past April and May.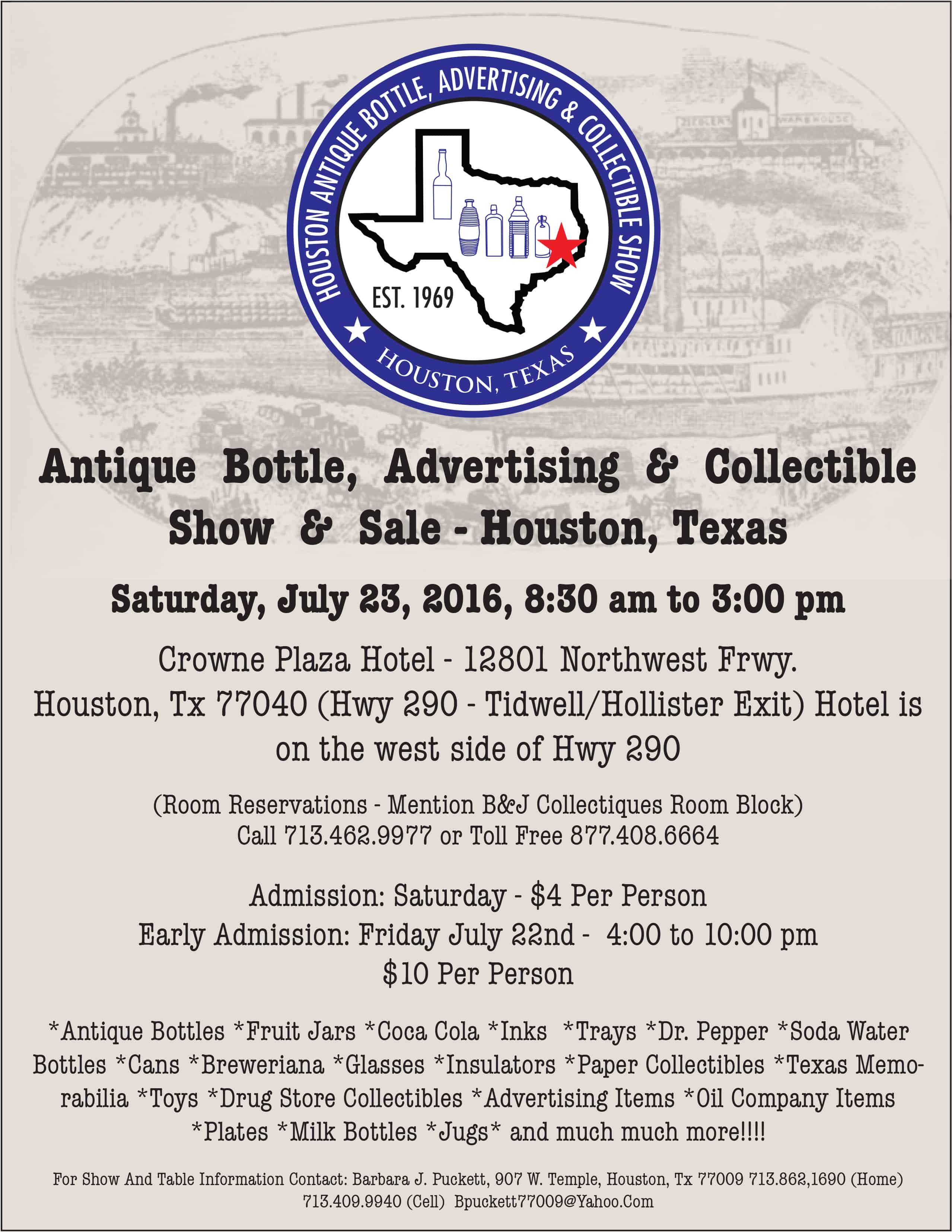 This past Friday started out early for me as I was in Dothan, Alabama for business the day earlier. I had a 6:15 am flight to Houston from Pensacola, Florida so I had to arise at 3:15 am and drive southwest. It now occurs to me that maybe I should have just stayed in Alabama and hit the 1st Tuscaloosa Antique Bottle, Pottery and Advertising Show. Nah, I had reserved a table in Houston and needed to stay the course. I did miss set-up and early admission on Friday night as getting around Houston during rush hour is a nightmare. There is construction everywhere and they had closed down all Easy Pass lanes to upgrade equipment.
Read More: Really glad I made it to the 2015 Houston Antique Bottle Show
Read More: Workin' the 2014 Houston Antique Bottle Show
Read More: 2013 Houston Bottle Show Sightings
Read More: 2012 Houston Antique Bottle Show – Rain or Shine!
Read More: Meyer Table at the 2011 Houston Bottle Show
Saturday morning I got up around 4:30 am. Most of my bottles are packed up and in storage so I had trouble putting enough material together for a table. I usually get two tables and set up light boxes and display bitters and other figural color runs. You can see some previous table set-up at the links above. The material is not for sale, and just for fun as it draws people to the table where I have a table display rack of BOTTLES and EXTRAS and FOHBC memberships. I meet so many cool people this way.
This year my table was next to Alton Neatherlin who is a legend with the Houston bottle scene. I hope to do a story on him at some point. I also very much missed Dan Cowman who passed away earlier in the year. Dan was the king of bottle ephemera and had so many killer pieces of bitters material…and great bottles. Most is at auction now with Terry McMurray (McMurray Antiques & Auctions) in New York. The second Cowman auction had just ended a week before. Terry reported very strong prices which is good.
I also ran into Joe and Paulette Matthews who presented me with a copy of their upcoming Teakettle Ink Price and Reference Guide. Alicia is holding the book. I will be doing a separate piece on this super book.
FOHBC board member elects Alicia Booth (Public Relations Director) and Brad Seigler (Southern Region Director) were also present. Brad has a great collection of Texas bottles and had a table full of material including black glass from a collection he just picked up. He also had this killer Chippewa Salt framed advertising piece (pictured below) from Wadsworth, Ohio which I snatched up and I will hang at Peach Ridge when the time is right. Still painting and staining the walls for the next few weeks. Alicia Booth will be heading to Sacramento next week with us for the National. We leave on Tuesday, 02 August. Bags are packed. Elizabeth is also coming along with my granddaughter Isabella and Coco, my Weimie.
The Houston Bottle Show each year is headed up by Barbara and Kathy Puckett (pictured below). Barbara always does a great job as Show Chair. I especially like the carpeted floor and fully covered tables. I wish more bottle shows would consider the full coverage as it hides valuables and other material beneath the tables. It also makes for better pictures.
Also spotted in the crowd were a number a familiar faces such as Jay Kasper, Chris Renaudo, Earl McIntyre, Ronnie Britton, Henry Tankersley, David Cole, Robert Vaughn, Mike McGrew, Dee Mondey, Will Beauchamp, Courtney Frioux, Tracy & Barbara Bradford, Casey Roby, Phil Lambert, Jeff Yaun, Ronnie Britton and more.
I was able to pick up this large PYREX insulator in a light orange carnival color from Chris Renaudo which will go with my smaller one. Thanks Chris. I put them on some raw butcher block on my raw Saltillo tiles at home. Made for a nice picture.
Casey Roby reports that he is building a bottle making museum in East Texas, I hope to do a separate story on that too.
Anyway a fun day. I even asked a select few if they would be interested in putting together a proposal to bring the FOHBC National Convention to Houston in 2019. The answer was always a strong yes. You see, at one time in the 1970s or so, Houston was the epicenter of bottle collecting. Could it be again?