FOHBC 2016 Sacramento National Antique Bottle Convention & Expo

|

FOHBC Board Meeting
FOHBC Board Meeting | Lions Gate Hotel, Lions Den, Thursday morning, August 4th, 8:00 am – Noon
The semi-annual FOHBC board meeting occurred on Thursday morning. FOHBC members were welcomed as non-participating guests.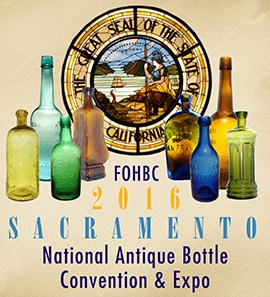 This will be first is a series to explore the many scheduled events at the FOHBC 2016 Sacramento National Antique Bottle Convention & Expo. We will start out with the FOHBC Board meeting as this was our first scheduled event of the four day mega convention. The meeting was scheduled from 8:00 am to noon on Thursday morning, 04 August 2016 within the Lions Den at the Lion's Gate Hotel, our host hotel. This meeting usually occurs at our national convention in late July or early August and in March every year at the Baltimore Antique Bottle Show.
All photographs are by our official show photographer, Angelina (Gina) Pellegrini unless otherwise noted.
You can read the agenda below. Comprehensive meeting notes will be published at a later date. Read Meeting Notes.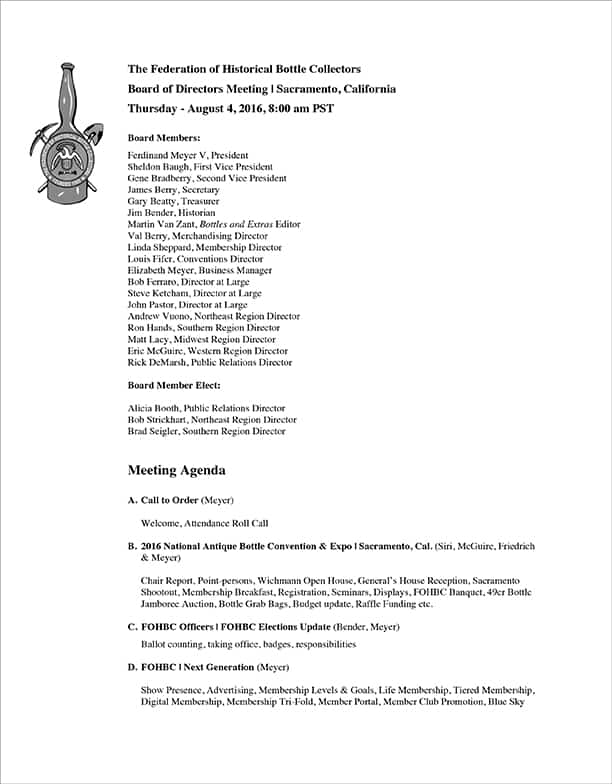 The meeting was presided over by Ferdinand Meyer V (FOHBC President) and was attended by Sheldon Baugh (FOHBC First Vice President), James Berry (Secretary), Jim Bender (Historian), Val Berry (Merchandising Director), Linda Sheppard (Membership Director), Louis Fifer (Conventions Director), Elizabeth Meyer (Business Manager), Steve Ketcham (Director-at-Large), John Pastor (Director-at-Large) and Eric McGuire (Western Region Director). Alicia Booth (Public Relations Director elect) was also in attendance. Other board members were in absence due to illness or conflicting events of importance.
Special guests in attendance included Isabella Alucema, Warren Friedrich, Lou Pellegrini, Richard Siri (Sacramento Show Chair), Bev Siri (Sacramento Show Chair), and Coco my Weimaraner. Of course Gina was photographing.