Northwestern Bottle Collectors Association Show & Sale
By Eric McGuire
01 June 2017
The Santa Rosa Veteran's Memorial Auditorium was the site of the Northwestern Bottle Collector's Association annual show and sale on May 6 & 7, in Santa Rosa, California. After a number of years of a slump in club membership and show attendance a noticeable resurgence in both has been lately experienced, and this year's show was no exception to this renewed interest. It was one of the best shows in recent memory.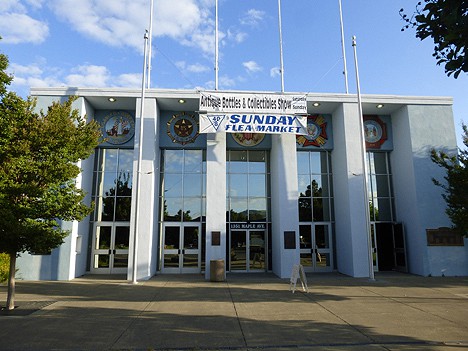 The Santa Rosa Veteran's Memorial Auditorium was the site of this year's NBCA show and sale. Improved lighting has made the site a great venue for this event.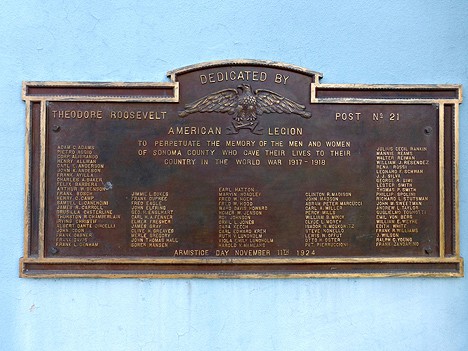 In light of Memorial Day, the auditorium was a relevant location for the show and sale. One wonders how many of the men and women who lost their lives in the first World War would have caught the bottle collecting interest if they had the chance.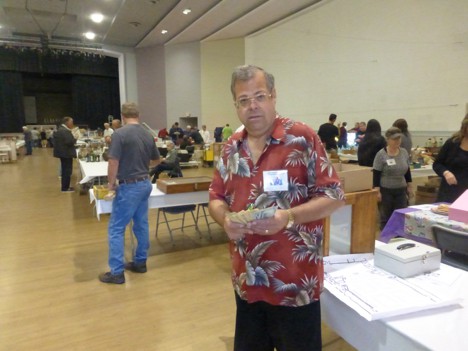 The early morning crowd was greeted at the door by our current president, Merle Avila, who admits, first and foremost, to be a collector of coins, but he can't resist picking up bottles from his home town of Sebastopol, California.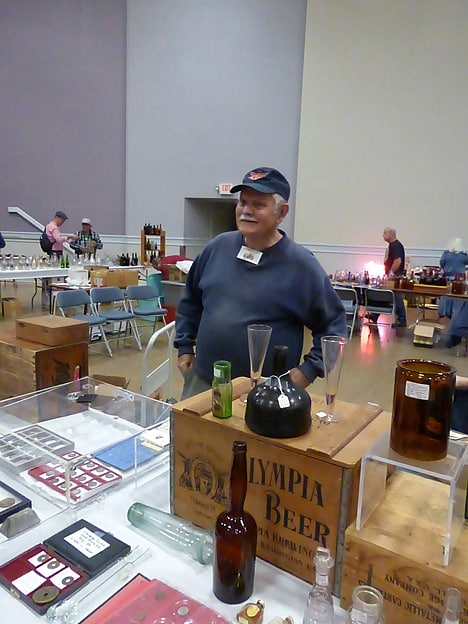 Before the doors opened to the public, long time collector, Ken Salter, from the eastern shore of the San Francisco Bay, was ready for action. Ken always has different and interesting items on his sales table. Spending considerable time at his second home in France he often scours the French countryside for unusual bottles and other small items of European origin to sell here.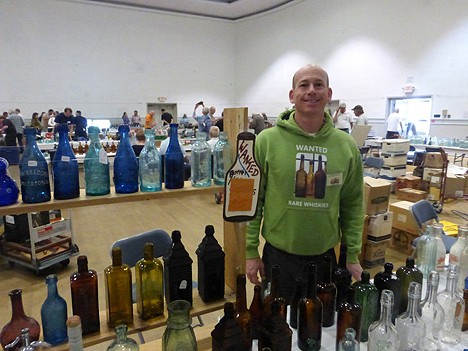 James Campiglia needs no introduction as he gets around, whether it be in a privy pit somewhere in the U.S., or at a bottle show in the same country.
Dennis Fox sells a lot of bottles, shown here in the green striped shirt. Associated with Jeff Wichman's American Bottle Auctions, Dennis is known for great prices and can sometimes cause major traffic jams in front of his sales table.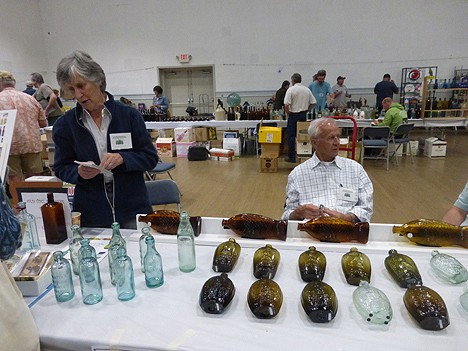 Ben and his wife, Noel Bouck, at their sales table, are transplanted New Englanders who both retired from academia and now live in California. One can easily see Ben's weakness for Eastern glass.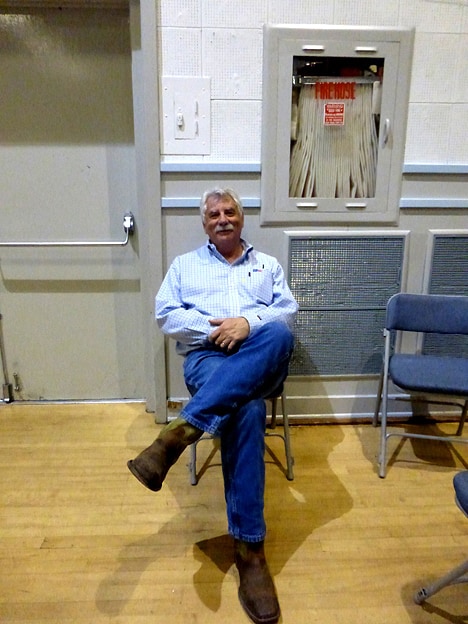 Veteran California collector, Lou Pellegrini, takes a break from the sales table aisles. Lou has assembled one of the finest collections of food type bottles in the country.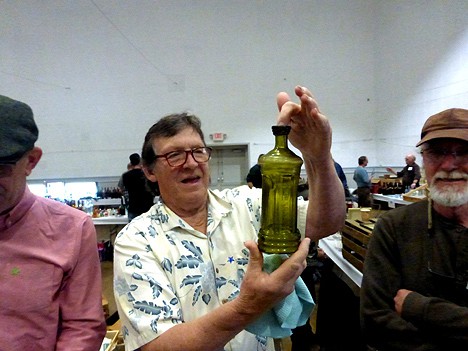 Sacramento collector, Mike Peters, shows a very pretty Lacour's Bitters, one of the most iconic of the western made bitters bottles. Mike is perhaps most well known as the person who was successful at diving for bottles in the Sacramento River. No easy task for a river that usually runs very murky with practically no visibility and lots of deadly obstacles. As a former police officer and blackwater diver for the City of Sacramento, he is extremely experienced and I wouldn't recommend anyone try what he did. On the right is Lou Lambert, show chairman, who did an excellent job in hosting this event.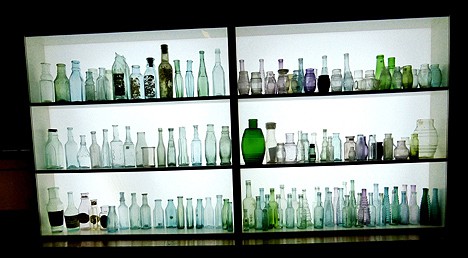 Unfortunately displays were somewhat limited this year but Richard Siri, Jr., put together this one consisting of a large variety of food bottles. "Rick" is the son of veteran collector and past FOHBC president Richard Siri.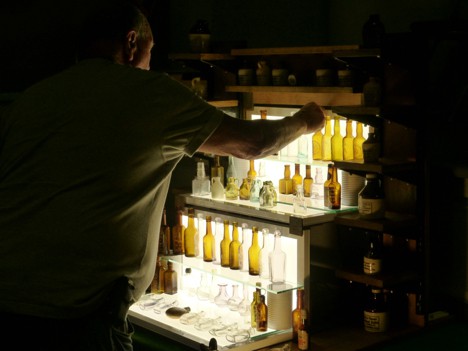 Shown here is Ron Barnes who is constructing his outstanding display of miniature liquor bottles. Ron is also well kno