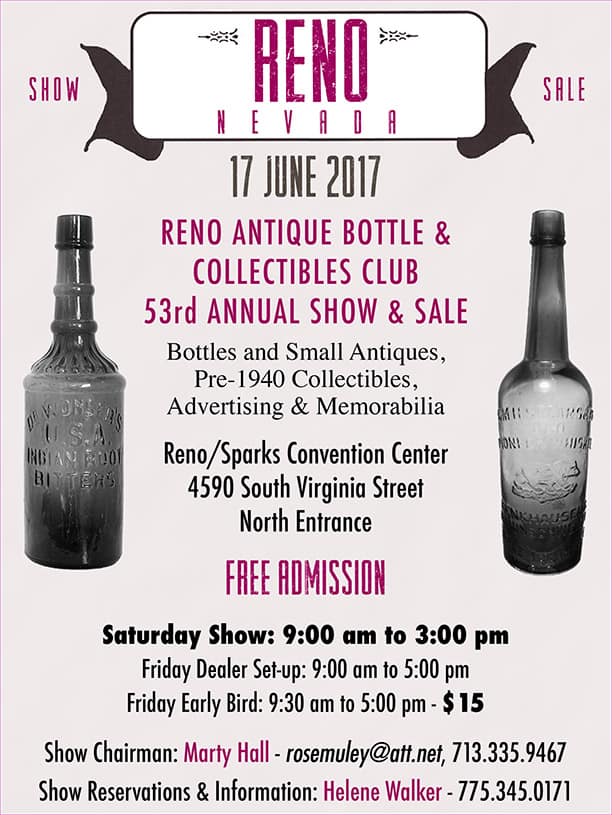 Reno Antique Bottle & Collectibles Club 53rd Annual Show & Sale
By Eric McGuire
21 June 2017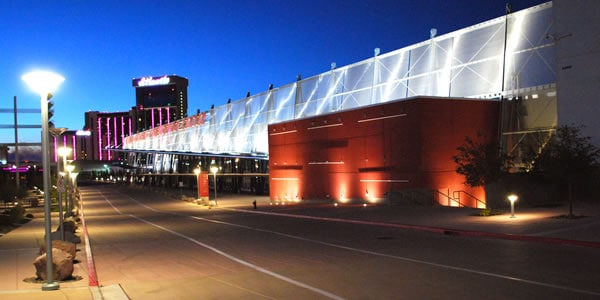 On a typical sweltering Summer day the Reno Antique Bottle & Collectibles Club held its 53rd Annual show and sale at the Reno/Sparks Convention Center (pictured above) on June 16 & 17 in Reno, Nevada. This has been one of the premier bottles sales events in the West since its inception, and Marty Hall and Helene Walker have been involved in its success for more years than I can recall. This year was no exception.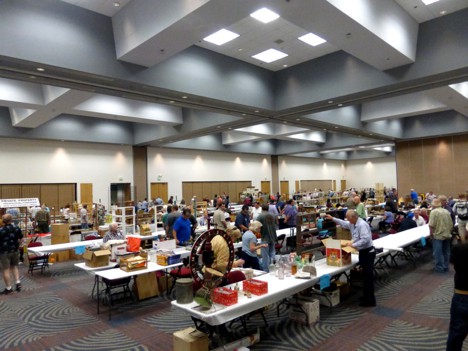 The venue was excellent with the all important lighting being great. With setup just beginning, that is Beverly and Richard Siri in the foreground.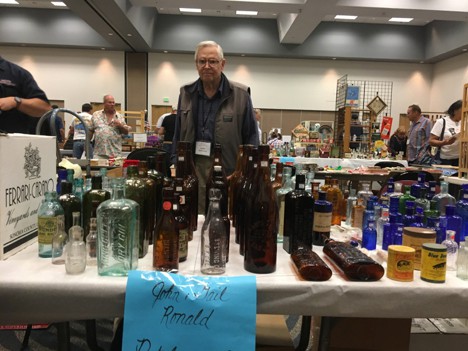 John Ronald from Petaluma, California, is a strong supporter and regular dealer at many of the shows in the Western states.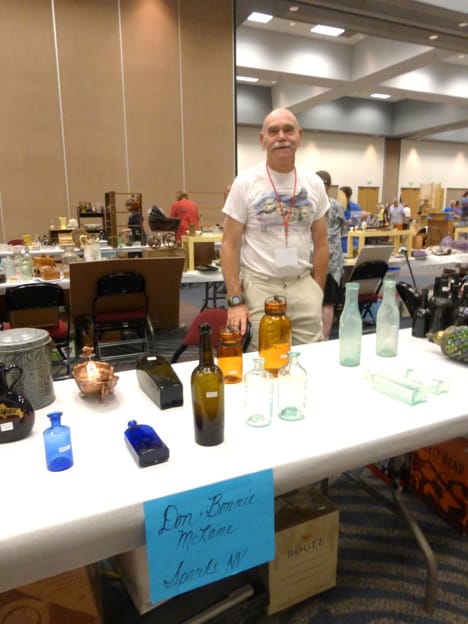 Don McLane and wife, Bonnie, have been members of the Reno club since its inception. Don has turned over huge amounts of desert soil during the last half century.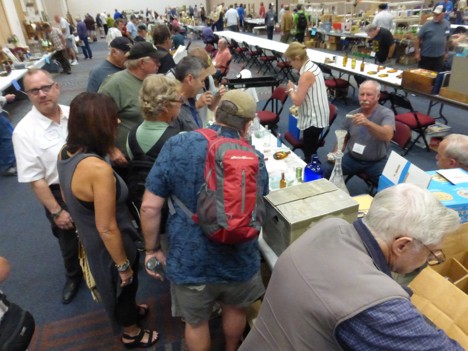 Noted local collector, Lane Puckett, Virginia City, created such a stir during his setup that I couldn't even tell what all the commotion was about.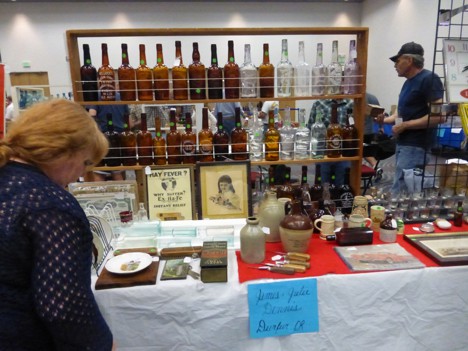 Western whiskey bottles are always a favorite on the Left Coast as typified by the sales table of Jim and Julie Dennis from Dufur, Oregon.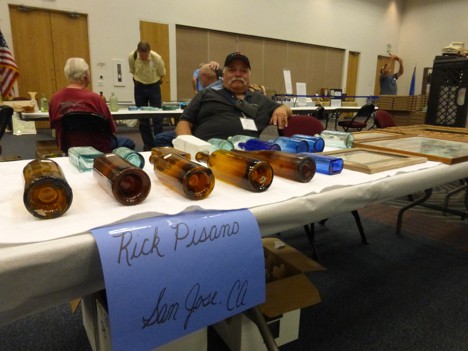 Rick Pisano, from San Jose, drove over the "hill" (the Sierra Nevada Mountains) to sell a few bottles and help pay for his recent acquisitions.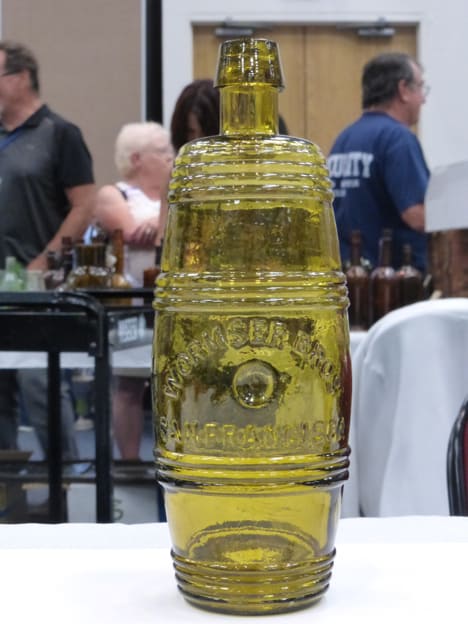 Spotted on Ralph Van Brocklin's table was a Wormser Bros. barrel that was the closest color to yellow that amber glass could produce. A truly outstanding example!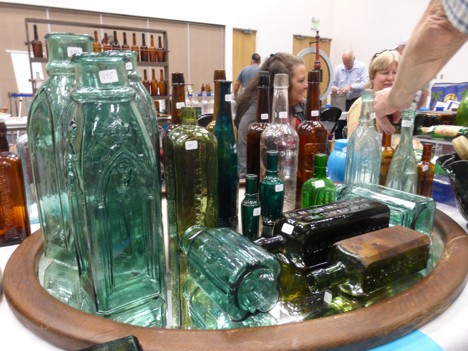 Kenton and Mitzie Beach, from Aberdeen, Washington, had a nice array of collectible bottles from which to choose.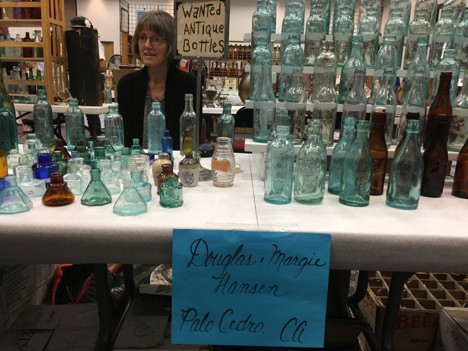 Margie Hansen from Palo Cedro, California (near Redding), secured the table while hubby Doug, scouted new prospects.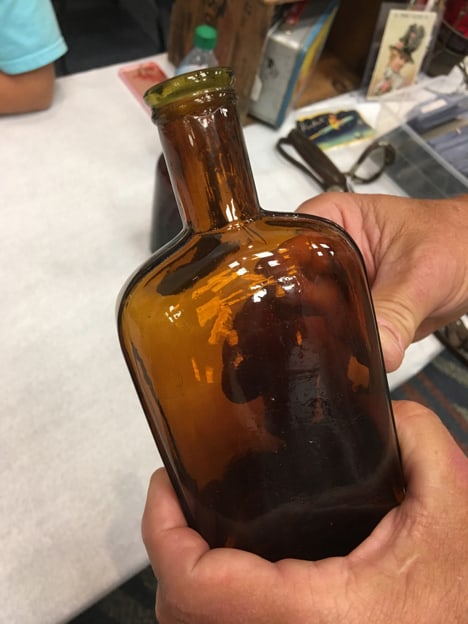 Randy Selenak, from Orange, California, picked up this very interesting C.C.G.Co. liquor flask that is a bit of a conundrum. Is the very top of the double collar really green?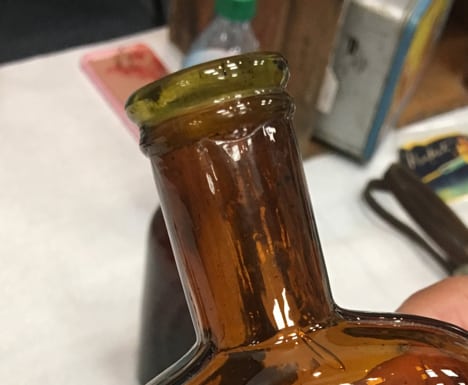 A close up of the top shows what appears to be a tooled double collar that was worked with a lipping tool. It must have begun as a separate application but it just doesn't look like it. Whether it is Cream City glass or Colorado glass makes little difference as it is quite unusual. It is interesting to note that these C.C.G.Co. base embossed flasks are found with some regularity in the West – but not with a two-toned top.