The Mississippi Gulf Coast Bottle Show
by Richard Kramerich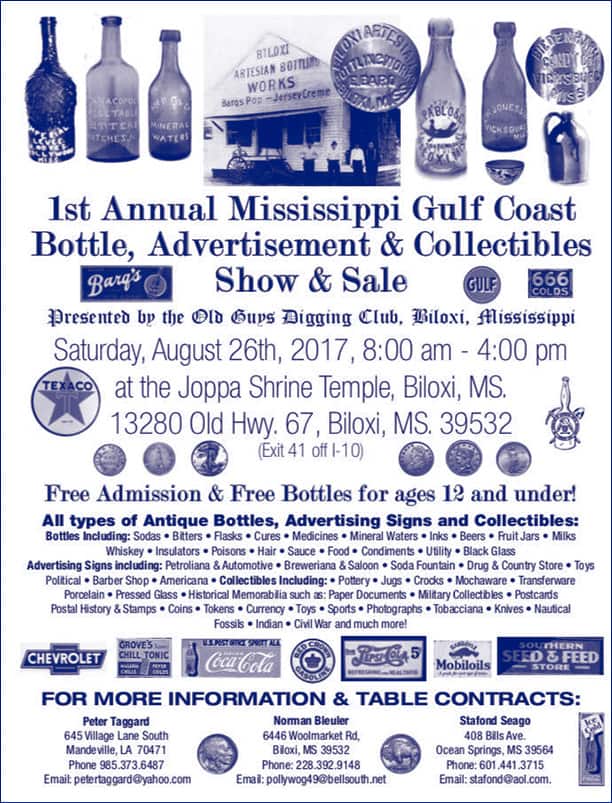 The Old Guys Digging Club's First Annual Mississippi Gulf Coast Bottle, Advertisement & Collectibles Show & Sale on Saturday, August 26, 2017 was a huge success. The number of sold dealer tables was 137. The weather was great all weekend with no rain in the forecast. More than sixty percent of the dealers participated in the dealer setup from noon to 4 pm on Friday, August 25th. The dealer setup closed at 4:00 pm which afforded a rare chance for many of the dealers to go out to eat at a normal dinner time with each other after the setup.
The show opened to the public at 8:00 am on Saturday, August 26th and the Joppa Shrine Temple Hall was busy during the entire show. The show chairman had asked dealers to stay to the close of the show at 4:00 pm and many did. Several dealers used the time to peruse the offerings of their fellow dealers such as looking through boxes of postcards when the late afternoon traffic eased up.
Three years ago while at the Emerald Coast Bottle Collectors Inc. show in DeFuniak Springs, Florida, Pete Taggard and Norman Bleuler and myself were talking about what it took to start a bottle club and put on a bottle show and Pete Taggard said, "We could have a bottle club and show in Biloxi, Mississippi". And thus the seed was planted. We talked about it for several months until they set their plan in motion early this year. The hall was rented, show flyers and table contracts were drawn up and printed, ready to distribute at the Mobile Bottle Collectors Show & Sale on March 25, 2017.
Dealers at the Mobile show liked hearing of a Biloxi, Mississippi show and table sales started slowly as they would for any show five months away. The show promoters attended area bottle, coin, civil war and Indian relic shows spreading the good news about their upcoming show. As the show date approached, tables were sold out and prospective dealers were placed on a waiting list in case of any cancellations which usually happen.
The dealers reported good sales and are looking forward to the Biloxi bottle show in 2018.