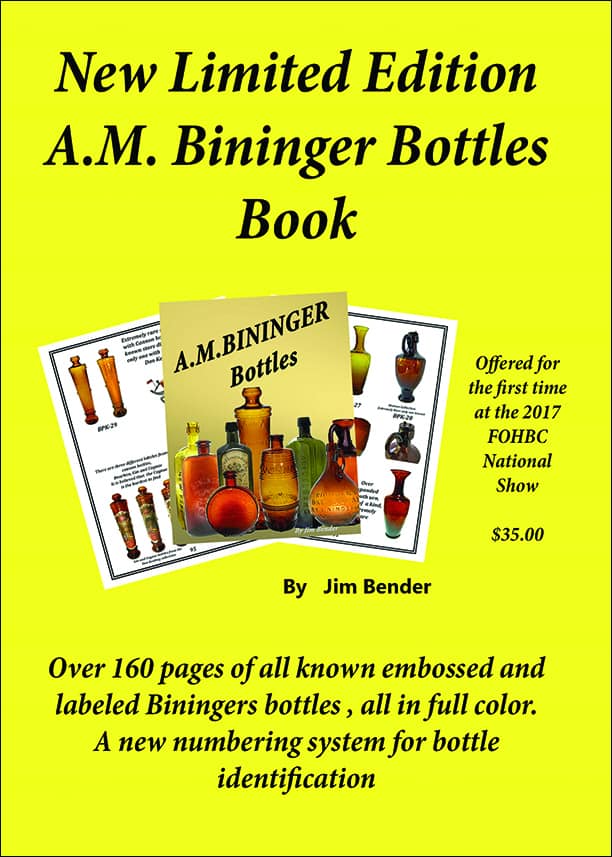 Jim Bender on A.M. Bininger Bottles: 'Day Dreams' Ready for Collectors
By Bill Baab
During a dig in Savannah, Georgia more than 40 years ago, a collector unearthed a strange-looking bottle. It was in the shape of an old time cannon.
Once he scraped off the mud, he read the embossing: A.M. BININGER & CO. / 19 BROAD ST / N.Y. Nearly 12-1/2 inches in height, the bottle was the first of its kind to be dug in Georgia, as far as that state's longtime collectors know.
Question is: What did it contain? Who was Bininger?
Those questions can now be answered by thumbing through the fascinating pages of A.M. BININGER BOTTLES, a 162-page book penned by Federation of Historical Bottle Collectors Historian Jim Bender.
This book deserves a place in the libraries of all collectors of antique bottles.
Readers will learn more than they bargained for in the well-illustrated pages documenting one of the young United States' pioneer liquor business men whose glass containers were anything but ordinary. According to Bender, all cannon bottles have smooth bases and either a ground or re-fired top. What is really neat is that cannon bottles had a store display consisting of a two-wheeled base on which the cannon rested. To top it off, a 30-star American flag made of tin perched on the rear of gun chassis. Only one complete cannon, stand and flag is known to exist in a private collection.
Researching material for the book took more than two years of Bender's time, but was made easy by super collectors Jack Pelletier and Don Keating, who allowed Bender access to their wonderful collections.
"Between them, they have the greatest Bininger bottles on the planet," Bender writes on the book's back cover,
So, what did the cannons contain? Bourbon, gin and cognac gave buyers more bangs for their bucks.
Aside from the shapes and colors of Bininger's containers, collectors will be fascinated by some of the liquors' names, like Rip Van Winkle Gin. There is no guarantee that drinking it will keep one asleep for 20 years, but the paper label shows a bearded old man peering at something ahead of him, so who knows?
Another bottle sports the "Old Tom" Label, with a fiendish-looking tomcat whose image is enlarged on the last page of the book.
Bininger sold a handled pitcher or jug embossed BININGER'S DAY DREAM, NO. 19 BROADWAY NY, its applied handle stretched from neck to shoulder.
Bender also traces the beginnings of the Bininger family and even found A.M.'s grave site in Camden, New York.
Every variety, and there are quite a few, of known Bininger bottles are shown in full color throughout the book.
Bender admits being fascinated by Bininger and 30 of them rest in his personal collection.
The book sells for $35 plus $7.95 shipping and can be ordered from the author, P.O. Box 162, Sprakers, NY 12166. Jim Bender jim1@frontiernet.net
Read More: Bininger Gallery
Read More: Bininger Advertising Art & Labels