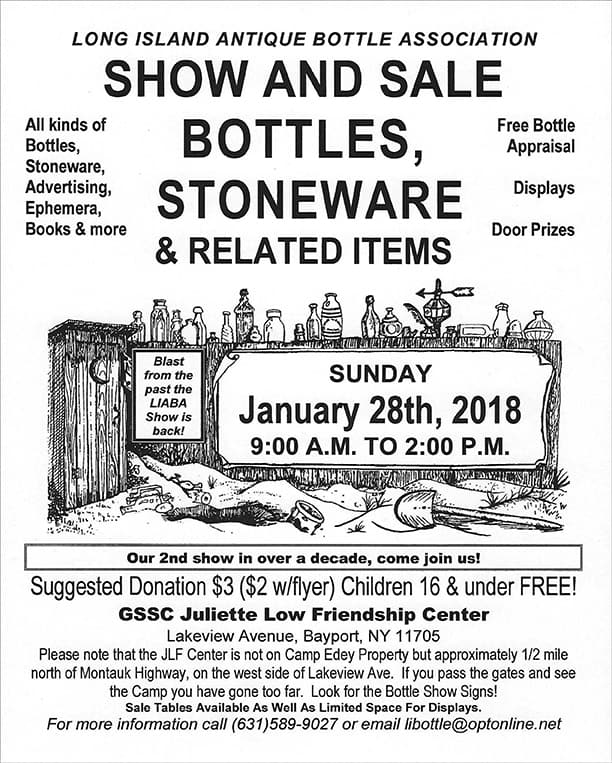 2018 LIABA Show Report
30 January 2018
Well, the Long Island club survived a blizzard on our show date in 2016 which forced us to cancel the show, with 3 feet of that white stuff, nothing was moving. While we did get a show up and running on a make up date (October of the same year), attendance was light, 60 paid at the door.
However, we are bottle collectors first and foremost, and we just keep on digging…..and tried this January again. We busted our butts passing flyers out and did social media overload at times. Our local daily paper for some reason failed to carry us, despite submitting in plenty of time. However, all the hard work paid off this time with much better attendance at 94, though for some shows this may seem weak.
Every single attendeee was buying……the energy in the building rivaled that of the National, it was amazing. Some bottles that walked in the door were a Bininger's teardrop pocket flask, couple IP sodas, a very nice dark green G.W. Merchant Lockport, and several sealed case bottles round out the goodies that I saw. Many walked out the door with a box of purchases.
Now, part of a show are displays, and we were honored to have four this year, up one from the previous show. Frank Bennit our milk bottle guru did the dairy league proud, while the club President Howard Crawford satisfied the locals crowd with a first class set up on the Bay Shore Bottling Company. For the devoted digger, Tom Strong had a exhibit of0 items dug in Manhattan, early English onions, flint glass OP meds, IP sodas, and plenty of shards that brought both gasps, and tears. Rounding out the displays was an exhibit of stoneware pitchers from the local pottery at Huntington, Long Island.
We are already planning for next year!!!
Mark R. Smith – LIABA
Please find attached pictures of the displays.