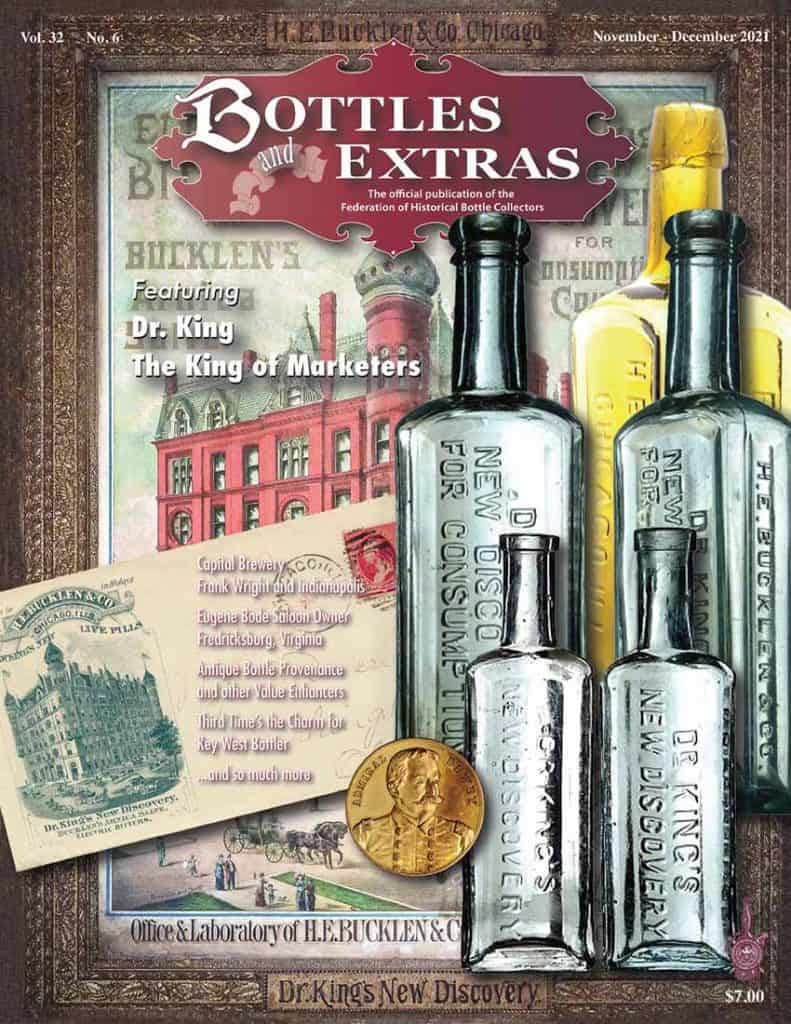 The November–December 2021 issue will be delivered late to members due to front-end production issues. We apologize for this delay. This is an exciting issue containing the following:
Vol. 32 No. 6 | November – December 2021 | No. 258 (Mailed late to members on 04 November 2021 – Visit Members Portal to Read)
Features: Capital Brewery Frank Wright and Indianapolis Martin Van Zant 14 Dr. King The King of Marketers Jerry Memry 28 Eugene Bode Saloon Owner Fredericksburg, Virginia Jeff Eastland 38 A 4th of July Dig Came in with a Bang and Went out with a Boom Baby! Rick Weiner 42 Antique Bottle Provenance and Other Value Enhancers Burt Robbins 52 Third Time's the Charm for Key West Bottler David Kyle Rakes 58
Vignettes: Follow-up Article for Eichelberger Distillery and the Eichelberger Dew Drop Bottle Mike McKillop 10 Reno 2022 Flyer, Top 25 Whiskey Display & Silent Auction Flyers 24 Herbert E. Bucklen Dealer in Patent Medicines 34
Departments: Table of Contents 1 FOHBC Officer Listing 2021-2022 2 President's Message 3 Shards of Wisdom 4 History's Corner 5 FOHBC News, From and For Our Members 6 Virtual Museum News Richard Siri 22 Lost & Found 62 Member Photo Gallery 64 Classified Ads & Ad Rate Info 66 FOHBC Show-Biz, Show Calendar Listings 68 Membership Directory 71 Membership Application 72
Just about all issues of Bottles and Extras are archived at FOHBC.org in the Members Portal.