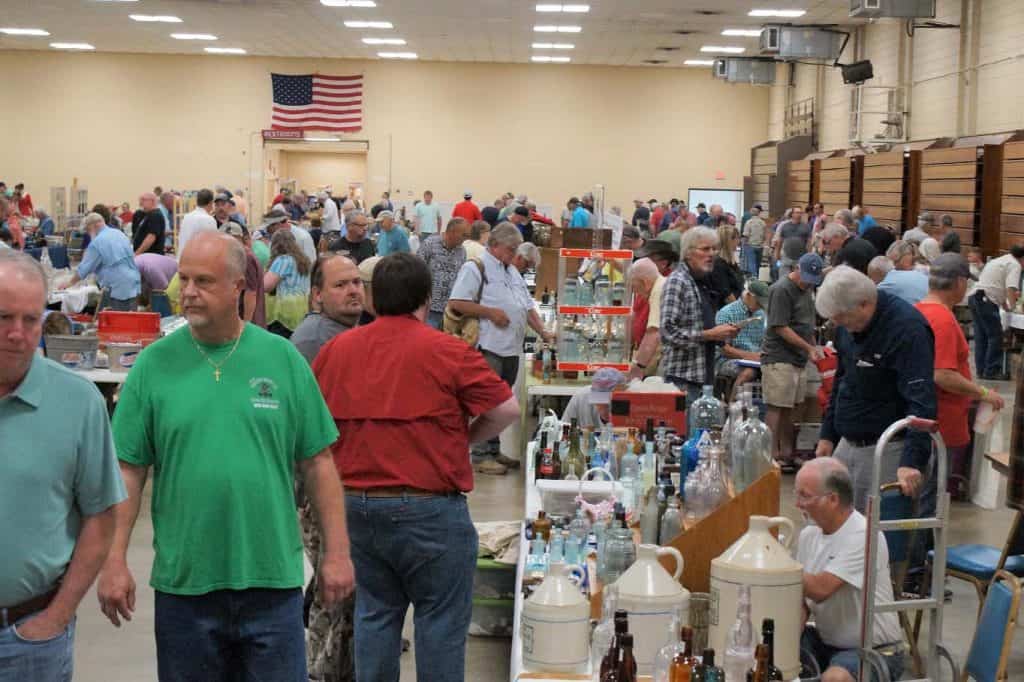 49th S.C. Bottle Club show marks huge dealer, crowd
by Bill Baab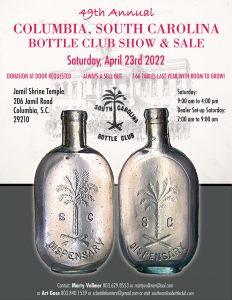 COLUMBIA, S.C. – The 49th annual South Carolina Bottle Club Show and Sale last April 23 was a rip-roaring success, attracting 174 dealers and a bumper crowd of happy collectors. Chairman Marty Vollmer's sweet dream is to top 200 dealers for next April's show. The 2022 show was held in a new venue—the Jamil Shrine Temple. "Our plan is to return to the temple next year because it worked out so well for us and the Shriners," Vollmer said. "And the second year of dealers only setup (7 a.m. to 9 a.m.) seems to be catching on. Dealers seem to be more relaxed, but many still remember the chaos in setting up at our old location. The new facility sports a very visible prime location along I-26 in the St. Andrews area of Columbia with plenty of parking. Food was provided by the Shriners, and they also provided the dealers' tables and even cleaned the hall after the show."
David K. Rakes, who made the long trip from Central Florida with his mind's eye focused on buying early colored sodas, noted that the first thing people ask after learning he'd attended a bottle show is, "Wad ya get?" "I left the show with three dandies, with my most surprising find a forest green, iron-pontiled P. Babb soda from Baltimore. This was my first Baltimore bottle, and it means a lot because I grew up 30 miles north of that city. And one of my best bottle collector friends is Bill Baab. He sure has a lot of a's and b's in his short name! My other nice finds were a blue 8-sided and iron-pontiled J. Boardman of New York and a teal 8-sided and iron-pontiled T.W. Gillett of New Haven, Conn. The bottles probably looked empty to most people, but I have filled them with memories of old and new friends who attended the show. Friends like Larry Smith, who found a dark yellow-olive 6-log Plantation Bitters, and James Stanley took home an S.C. Dispensary jug with a palmetto tree stenciled in blue on its side. I also gave Marty Vollmer a big thank you for sharing some of his bottle-related documents for use with a future bottle story I am working on," Rakes added.
Vollmer said there were "many excellent specimens of South Carolina Dispensary bottles and a fantastic grouping of bitters, inks, black glass, and colored sodas from South Carolina, Georgia, and other states. Historical flasks, free-blown chestnuts, and pontiled medicines were dispersed throughout. The variety and quality of Edgefield District stoneware was superb."
"The surprise of the show was an early mint cobalt blue Gleason tenpin-shaped bottle from Rochester, N.Y., brought in by a local picker. It was shown to only a few people and went home with a happy dealer from Georgia," he added.
Many dealers and collectors bought, sold, and traded well, and many a story was told, and old friendships renewed. The club used memorial funds honoring the late "Bottle Bob" Riddick of Lexington, S.C., to purchase a trio of show flags erected on the lawn in front of the temple. 
Newcomer Dan Lakatos of Elgin, S.C., may wind up as the club's permanent photographer. Check out some of the many photos he took which accompany this article.
"Marty asked me to write a brief statement about my first experience at this show," he said. "During the past two months, I relocated to Elgin after living in Maine for the last 40 years. I have been a bottle collector and dealer for 20 years after stumbling onto the hobby by chance. I've attended many New England bottle shows and have contracted for sales tables at many of them. I can conclusively state that this South Carolina show was superior to any show I previously attended in terms of table numbers and walk-in buyers. I was particularly impressed with the organization of the show, the cooperation and efficiency in the setup process, the security, and most importantly, the generosity of the club in the donation of proceeds to the Children's Hospital in Greenville, S.C. This gesture is a testament to what good our hobby can do for the greater community."
"Our club members were quite pleased with the turnout, and we are making plans for a great 50th-anniversary show in April of 2023," Vollmer said. "We will have three superb displays of Edgefield District pottery, South Carolina Dispensaries, and colored South Carolina sodas."