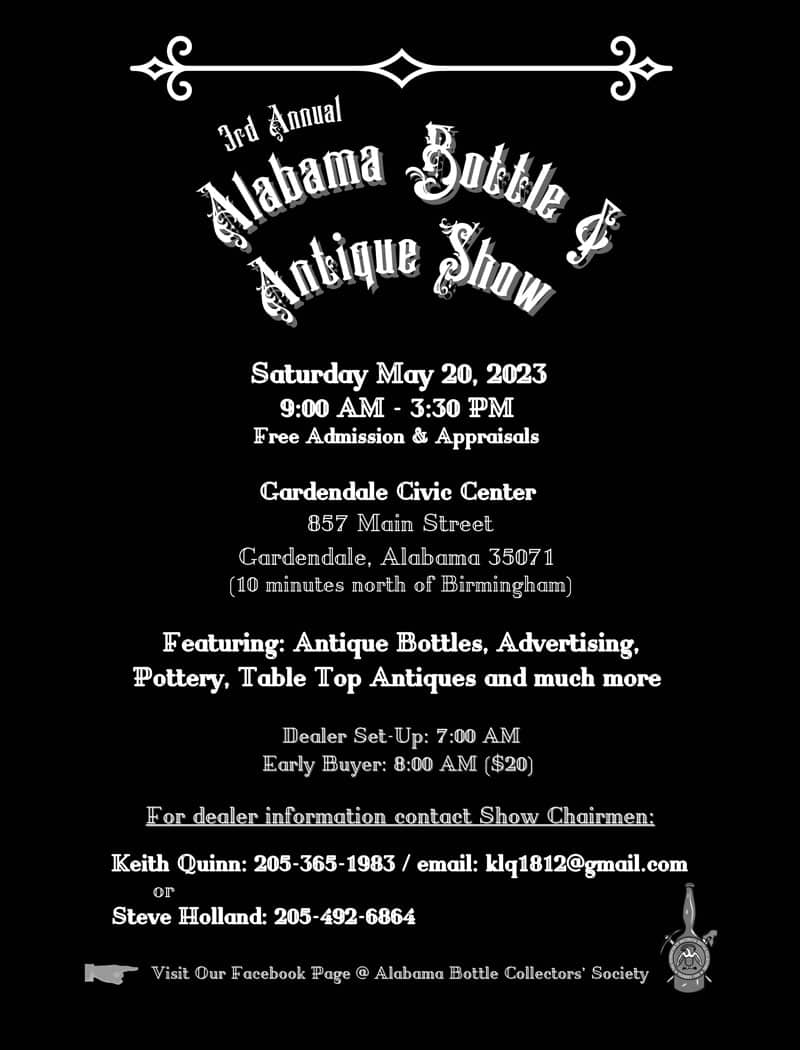 All Photographs and show write-up by Aaron Martin/Double A Photography.
The 3rd Annual Alabama Bottle and Antique Show was a hit once again. The show had a total of 85 tables that were filled from end to end with amazing history pieces. The show was set up at the Gardendale Civic Center in Gardendale, Alabama. Well before 8 am, the early buyers had the outside sidewalk covered, itching to get in. Discussion in the line about what was being looked for and what deals were to be made could be heard as the doors opened and the masses came in. 
Some of the big hitters in the hobby came and showed out. You had the father-son duo out of Tennessee, Greg and Wyatt Eaton, with their vast collection of hard-to-find Tennessee and Alabama bottles lined on their table. Clayton Marchant, a local central Alabama collector, was set up and had various hard-to-find Bessemer, Birmingham, and surrounding area bottles for grabs at amazing deals. Clayton also snagged an elusive Birmingham Coca-Cola Hutchinson bottle from a walk-in. You had the show chairmen that always bring out awesome pieces to offer for sale. 
Dennis Smith was set up with his Celery Cola display along with his books that carry a vast knowledge of the history of several soda companies. Brandon Nicholas, a local YouTube sensation (Adventure Archeology), was on site talking to fans and displaying, videoing, and selling some of his finds from his videos. You had stenciled jugs, cast iron, pottery, folk pottery, signs, and everything in between that you could possibly think of to be at the show. 
Traffic stayed steady, and many locals, first-timers, old-timers, and out-of-towners came to visit, some as far away as Michigan. Talking with Keith Quinn about next year's show looks to be even more exciting, with some new ideas coming such as the show being a two-day event with dealer set-up on Friday. The show date for next year is Saturday, May 12, 2024.