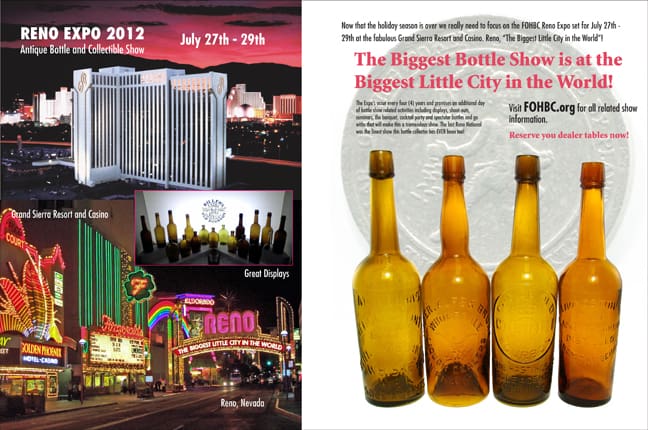 Updated 28 July 2012
RENO EXPO 2012 | July 27 – 29
General Public Today!
The show will be more than 325 tables with over 200 dealers, going to be a great time! 
Finalize your plans now for the FOHBC Reno EXPO 2012 at the Grand Sierra Resort and Casino 27–29 July 2012. This is going to be a big one!
View Information & Download Contract: EXPO 2012 book
Special Notes:
* When calling for a hotel reservation at the Grand Sierra for the 2012 Expo, tell them that you are with the FOHBC and the reservation access code is HIBC.  Standard Hotel policy is a guest will receive a full-refund and no charges will be incurred if the individual guest's reservation is cancelled no later than 48 hours prior to arrival.
*  For those of you that have not looked into the facilities at the Grand Sierra Hotel where the 2012 Expo will be held please be aware that the Hotel has FREE shuttle service from the airport, a R.V. Park and the Hotel is pet friendly, bring your dog if you want.
Early Admission on Friday
Early admission is for non-dealers that would like the privilege of buying early at the show with the dealers. The early admission fee will be $70. For individuals or a family couple (including minor children under 18). This price includes a complimentary souvenir program. Discounted cost for early admission to the National Shows is another privilege of FOHBC membersship. The discounted rate for current, paid up Federation members is $50. General Admission on Saturday and Sunday is $5. Read More
Seminar List:
* New Seminar Added: How to dig bottles in the Year 2012 in the West." by Tom Quinn. It will be about urban digging in backyards and const sites, not ghost towns. It will include how to do research, choose sites, get permission, and how to probe. Tom will start with the basics, for new diggers, and then also have a section on advanced digging (technical digs such as concrete and asphalt  probing/digging in parking lots and inside garages/bldgs and making professional repairs).
• Values and Investing by Fred Holabird, President Holabird – Kagin Americana, Reno Nevada.
• The EC&M Insulators by Dennis Bray.
• The Effects of Radiation and Thermal Exposure on Vintage and Antique Glass by Dwayne Anthony, this will be a real eye opener for anyone collecting objects made of glass.
• Hutchinson Type Soda Bottles by Ron Fowler, noted author and researcher.
• Eric McGuire's seminar will feature over 200 product labels from California bottles that date between the 1850's and 1890's. Eric is a long time collector and researcher that have penned numerous articles on antique bottles.
• Ferdinand Meyer V from Texas and Sheldon Baugh from Kentucky will tag team a double seminar on Trends in the Bitters Collecting Field and Medicinal Bitters Bottles. Bitters bottles are one of the most popular fields in bottle collecting.
• A seminar that covers Early Western Soda Bottles and California Beer Bottles will be presented by Thomas Jacobs, long time collector and authority on the subjects.
• Grace Bros. the Company and its Products will be presented by John Burton, the leading authority on the Grace Bros. Breweries. His talk will cover bottles, cans, labels, glasses and the various breweries owned by the Grace Bros. Free to the first 25 people who attend this seminar will be a CD covering all the above.

Read More EXPO News:
Warren Brock Friedrich – FOHBC Reno Expo News 02 April 2012
Shoot-out Update – FOHBC Reno Expo 2012 28 March 2012
FOHBC RENO 2012 EXPO Display Gazebo (in preparation of being filled with great collector bottles) 11 March 2012
FOHBC 2012 EXPO and 2013 National Show News 16 March 2012