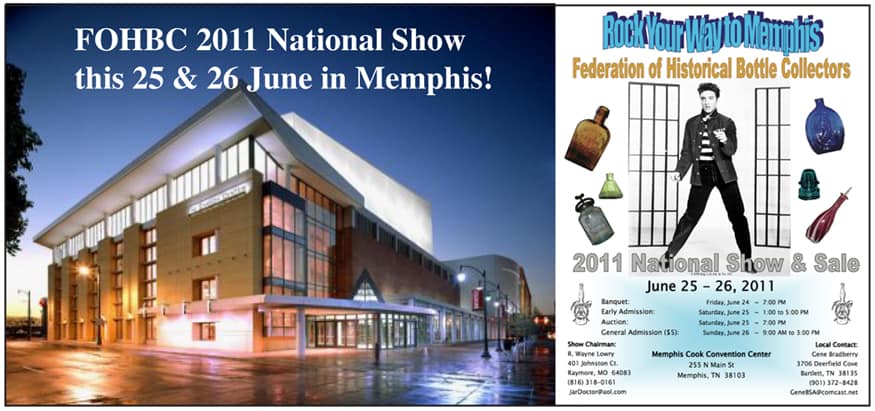 Dear Antique Bottle & Glass Collectors and fellow FOHBC Members:
This is a reminder that the FOHBC 2011 National Show & Sale in Memphis on 25 & 26 June is really coming together nicely. Only 11 more days!
Here are ten (10) great reasons for you planning to attend..
The Show is in the great city of Memphis, at the magnificent Cook County Convention Center. The host Marriott Hotel still has rooms available!
There are still a few Dealer tables left. Many major national and local dealers have signed up! This is going to be a great show.
The Banquet. There are still spaces available. You don't have to be a FOHBC Member. This is an 'all you can eat' Buffet followed by the great Dick Watson who will lecture on the legendary Charlie Gardner and his collection. Awards will be announced. Drawings for Prizes!
One of the best FOHBC Auctions in years is planned for Saturday Evening. It is also online. Some really nice and extremely rare bottles have been cosigned.
Attend of the FOHBC General Membership Meeting and Specialty Group Meetings on Friday.
Plan on some really nice Seminars on Saturday Morning.
Get a copy of the Souvenir Program, usually a collectors item.
Rub shoulders with some of the big collectors and dealers coming in from all across United States.
Eat some world famous Rendezvous Ribs.
Chance on seeing Elvis.
Gene Bradberry
FOHBC President
To see the new FOHBC Web Site: https://www.fohbc.org/

To see the FOHBC Auction: http://auction.fohbc.com/