---
Registration
Registration will be at the Grand Sierra Resort & Casino Convention Registration Desk #3.
---
Show Times
The Show will be on the Summit Pavilion. Early Admission on Friday (See below). General Admission: 9:00 am – 4:00 pm Saturday and 9:00 am – 3:00 pm Sunday. Folks this could be the biggest show ever with tables sold out. Look for close to 350 tables filled to the brim with antique bottles, glass and related collectibles. There may not be a 3-day show like this for years to come! See Show Flyer
---
Early Admission on Friday, 27 July
1:30 pm – 6:00 pm. Early admission, in the Summit Pavilion, is for non-dealers that would like the privilege of buying early at the show with the dealers. The early admission fee will be $70. For individuals or a family couple (including minor children under 18). This price includes a complimentary souvenir program. Discounted cost for early admission to the National Shows is another privilege of FOHBC membership. The discounted rate for current, paid up Federation members is $50. General Admission on Saturday and Sunday is $5. Read More
---
Antique Bottle and Glass Judged Shoot-Out!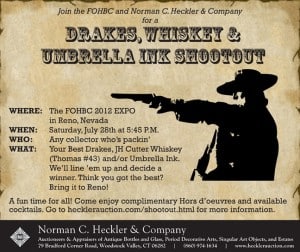 Saturday 28 July, 5:45 pm. The event will be sponsored by Norman C. Heckler & Co. This will be a landmark chance and great opportunity to see many great examples together in one event which rarely happens. A cocktail event will occur simultaneously. Categories to be displayed and judged include Drakes Plantation Bitters (4 log , 6 log and Arabesque), J H Cutter Whiskey (Circle Cutter, #43 in Thomas Whiskey Book, Sole Agent, plain reverse) and Umbrella Inks (pontiled base, smooth base). See Promotional Ad
---
Exceptional Educational Seminars!
The FOHBC is pleased to host a wonderful selection of Educational Seminars that you will not want to miss. Click for Educational Seminar Schedule and Information. All Seminars will be in Carson Rooms 1 – 4.
New Seminar added: "How to dig bottles in the Year 2012 in the West." by Tom Quinn. It will be about urban digging in backyards and const sites, not ghost towns. It will include how to do research, choose sites, get permission, and how to probe. Tom will start with the basics, for new diggers, and then also have a section on advanced digging (technical digs such as concrete and asphalt  probing/digging in parking lots and inside garages/bldgs and making professional repairs).  
• Values and Investing by Fred Holabird, President Holabird – Kagin Americana, Reno Nevada.
• The EC&M Insulators by Dennis Bray.
• The Effects of Radiation and Thermal Exposure on Vintage and Antique Glass by Dwayne Anthony, this will be a real eye opener for anyone collecting objects made of glass.
• Hutchinson Type Soda Bottles by Ron Fowler, noted author and researcher.
• Eric McGuire's seminar will feature over 200 product labels from California bottles that date between the 1850's and 1890's. Eric is a long time collector and researcher that have penned numerous articles on antique bottles.
• Ferdinand Meyer V from Texas and Sheldon Baugh from Kentucky will tag team a double seminar on Trends in the Bitters Collecting Field and Medicinal Bitters Bottles. Bitters bottles are one of the most popular fields in bottle collecting.
• A seminar that covers Early Western Soda Bottles and California Beer Bottles will be presented by Thomas Jacobs, long time collector and authority on the subjects.
• Grace Bros. the Company and its Products will be presented by John Burton, the leading authority on the Grace Bros. Breweries. His talk will cover bottles, cans, labels, glasses and the various breweries owned by the Grace Bros. Free to the first 25 people who attend this seminar will be a CD covering all the above.
---
Displays
Look for an exciting array of exhibits such as Rare Fire Grenade Bottles, W.H. Hutchinson, Early Souvenir China from Nevada, 50 State Hutch Sodas, Early Heinz Bottles, Kidney Bottles, USA Hospital Bottles, Hair Bottles, Colored Food Bottles, Swirled Bottles, Jars & Insulators, Rare Hyacinth Vases, XL Dairy Bottles, Sacramento California Bottles, IXL Bottles, Cigar and Tobacco Jars, 18th Century Black Glass, Unique Nevada Bottles, San Diego Bottles, EC&M Insulators, Miniature Bottles, Western Bitters, Quack Pot Lids, Poison Bottles, Mary Gregory, B&S Glass, Jars etc.!!! See a List of Displays and Displayers.
---
Fantastic Display Gazebo
Bring your two favorite bottles. The Northwestern Bottle Club is going to take to Reno their famous Gazebo and set up a feature for people that want to display bottles in a non-competitive setting. The Gazebo will hold all sizes of bottles from inks to tall bitters. The bottles will be signed in with the person's name on the bottom and that person is the only one able to remove them. There will be hired security along with others watching this display. Read: FOHBC RENO 2012 EXPO Display Gazebo (in preparation of being filled with great collector bottles)
---
The Banquet
Banquet Reception: 6:00 pm. Banquet: 7:00 pm. It gives us great pleasure to announce that Warren Friedrich will be the guest speaker for the banquet at the FOHBC Reno Expo and will also be one of the two 2012 FOHBC Hall of Fame inductees at the event. We hope to see you for some good food, great company as well as an informative presentation on a brief history of the "Early Glassworks of California" from the first commercial bottle factory in 1859 to the demise of the largest factory in 1899.
---
FOHBC Board Meeting
Bi-Annual meeting for FOHBC Board Member. 8:00 am – 9:00 noon.
---
FOHBC General Membership Meeting
Bi-Annual meeting for FOHBC Membership. Members and interested persons invited. 1:30 pm – 2:30 pm.
---
Professional Show Photographer
A professional photographer has been engaged to cover and document all aspects of the show. Look for Scott Selenak and his equipment!
---
FOHBC Hall of Fame Video
Outgoing Federation President has compiled a video of past FOHBC Hall of Fame recipints. Look for at the registration area.
---
Door Prizes
There will be five door prizes given out, 2 on Friday, 2 on Saturday and one on Sunday. Each will be $500 donated by American Bottle Auctions.
---
Visit FOHBC.org for all related show information…see you soon!