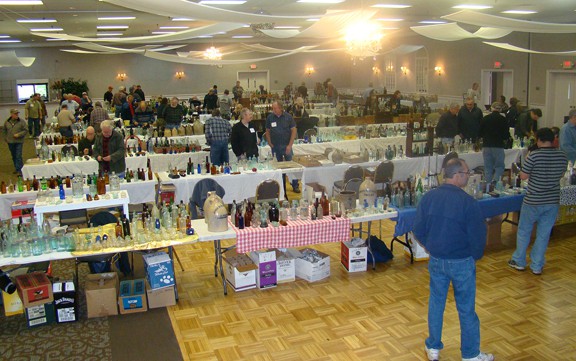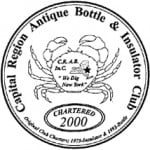 The Capital Region Antique Bottle Club (CRAB) held its 16th Annual Show and Sale on November 11, 2012 at the Polish Community Center located on Washington Avenue in Albany, New York.
There were 50 dealers from mainly the Northeast Region filling the show room to near capacity. The tables were full of every kind of bottle one would hope to find at a show.
Jason Privler and Fran Huges go out of their way to make all dealers and guests feel welcome and happy. The morning starts with free coffee, orange juice, bagels, donuts and fruit for all the dealers during set up. The tables are spaced so no one feels crowed in like some shows tend to be. The lighting is great and getting in and out is a breeze with large doors and a huge parking area.
"top notch display of poison, magnesium, pharmacy and nailsea bottles"
The Club also offers some great displays every year. This year was no different with a top notch display of poison, magnesium, pharmacy and nailsea bottles.
Over 100 collectors came through the door to purchase items for their collections. Sales were strong by most dealers that I spoke to. I was able to sign up a few new members to the FOHBC which is always a good thing.
Anyone interested in joining the Capitol Region Antique Bottle Club can contact Fran Huges at 518-377-7134 or fugees@nycap.rr.com dues are 15.00 yearly.
The club has over 60 members and holds a monthly meeting. They publish a monthly newsletter as well.
Please everyone back your local clubs and keep our hobby alive and growing. Clubs and Shows are the backbone of our great hobby.
Jim Bender
FOHBC Membership Director