Something to look forward to in Bottles and Extras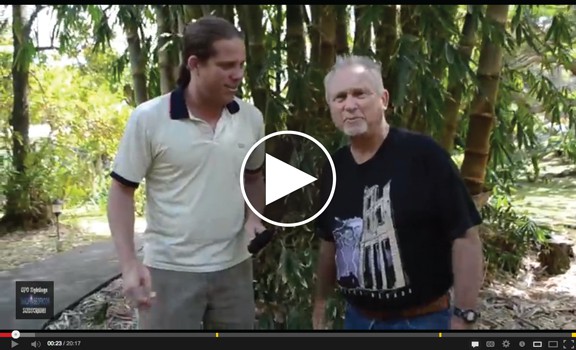 Martin & Ferdinand,
I wanted to follow up with you about a phone message I left regarding an article for Bottles and Extras and provide some background information. My wife and I just returned from a three week trip to Hawaii that was mostly bottle related. After the Las Vegas Show, we flew out to Oahu on 2/19 and joined up with the Hawaii Bottle Club at an annual Hawaiian and Collectible Show on 2/22-2/24. The club members were a big help with the "Hawaiian Bottles" Chapter of my book, "Bottles: Identification and Price Guide", 7th edition, and they hook onto this show every year since it's better than having their own show. It has about 500 sellers and a huge crowd every day. They asked that I join the show and I ended up selling 50 books (everything I brought), and the club sold a load of bottles. The Hawaii bottles are pretty neat, and expensive.
Then, the next week, 2/28-3/3, we flew over to the big island of Hawaii, and drove up to a town called Honoka, which is at the most Northern part of the island. This is where the two brothers (Brent & Blake Cousins) who I featured in the 7th Ed "Digging Chapter" live. These guys have a fantastic collection of Hawaiian bottles, and they took me out on a very cool digging trek to one of their favorite spots.They both have their own Movie/Video production company and post quite a bit of items on YouTube. They decided to film the entire trip and boiled it town to about twenty minutes. It was a little slippery going down, and a 45 minute walk through the jungle to get to the spot, but a lot of fun. We dug for about 5 hours then headed back. That hill that was slippery going down was a pain going back up. We did it with about 3 breaks. All in all, in was a great trip and I brought back some nice bottles.
Regarding the article, I recently signed a contract with Antique Trader Magazine to write a column on bottle collecting called "Bottle Treasure Uncorked" which also covers featured articles. Since this Hawaii trip was focused on bottles (Shows & Digging), they want me to do an expanded feature story on the trip. Since this article would be a big win-win for everything related to Bottle Collecting, I requested permission to have it reprinted in the Bottles and Extras magazine after it's published in Antique Trader Magazine, so it could get additional exposure with more collectors. I also took a ton of photos to go along with the article. They didn't have a problem with that as long as there's a statement made at the end of the article that it's being reprinted with Antique Trader's permission. I didn't think this would be a problem for the Federation, but I wanted to run it by you to double check. The article will run on April 8th so the Federation (FOHBC) could run it anytime after that. If you open the below link, you can view the video. Try not to laugh too hard with my early slipping and sliding.
Thanks
Mike (Polak)