Ferdinand,
Roy Topka with the Bottle Museum in Ballston Spa here. Local collector and artisan Jim Healy (he was tickled pink by the mention of his good work in the current Bottles and Extras) created the attached Fantasy Jug for the Museum and donated it to be raffled.
The theme being the 150th anniversary of the Racetrack in Saratoga. By early April the Museum website should be featuring the jug and information on the raffle, along with other media exposure that will be undertaken to promote the raffle. What I am asking, is it possible when the website is ready could the jug be pictured on your website with the link to the NBM? I understand if this is not possible, as all the clubs and the Federation are needing to raise money for their own purposes. I figure it never hurts to ask! Thank you for your consideration, if you have any questions, or if there is ever anything I can do please let me know.
Roy Topka
2013 Saratoga Show Chair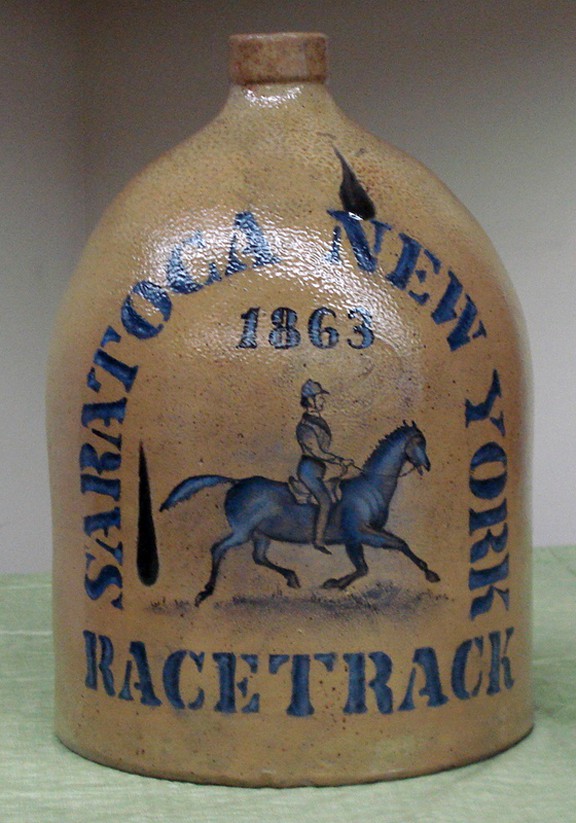 Fantasy Jug Raffle and Saratoga Bottles to be Featured at the 2013 Saratoga Show
A highlight of the 2013 Saratoga Annual Show (see info below) will be the raffle of a fantasy jug marking the 150th anniversary of the Saratoga race track. The 1860's era 3 gallon jug was donated by Schenectady, NY collector John Rudzinski and hand decorated by artisan Jim Healy of Tribes Hill, NY. The jug has a minor lip repair. Tickets are $10 each or three for $20 and can be purchased by contacting the National Bottle Museum at 76 Milton Ave, Ballston Spa, NY 12020, (518) 885-7589. Tickets will be available at the bottle show where the winning ticket will be drawn. All proceeds will benefit the Bottle Museum. We encourage everyone to participate and take a chance to become the owners of this wonderful piece of art.
Also featured at at the show and at the Museum will be special displays of Saratoga bottles and go withs from Northeast bottle collections.
When attending the show please take the time to check out the great displays!
Show Info
01 June 2013 (Saturday) Ballston Spa, New York – Annual Saratoga Bottle Show, Ballston Spa High School, 220 Ballston Avenue, Ballston Spa, New York 12020, Saturday, 9:30 am to 3:00 pm, No Early Admission, Set-up: Friday, 31 May, 7:00 pm to 9:00 pm and Saturday, 01 June, 7:00 am to 9:00 am, Admission: $3.00 Adult, $1.00 Children under 12, National Bottle Museum, nationalbottlemuseum.org, Roy Topka, chairman, 4 Firestone Lane, Clifton Park, New York 12065, 518.779.1243, rmt556@yahoo.com