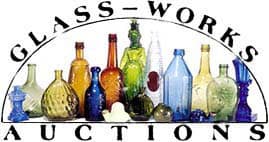 The Glass Works Auction #99 The "Madness in Manchester" Auction began online and concluded at the FOHBC 2013 National Antique Bottle Show in Manchester, New Hampshire on Saturday evening, July 20th 2013 (7:00 PM) at the Raddisson of New Hampshire Expo Center Ballroom. The room was packed and from all accounts was a GREAT success! Look for a full story in the upcoming September | October issue of Bottles and Extras. We wanted to get a few pictures out while the auction was so fresh in some of our minds.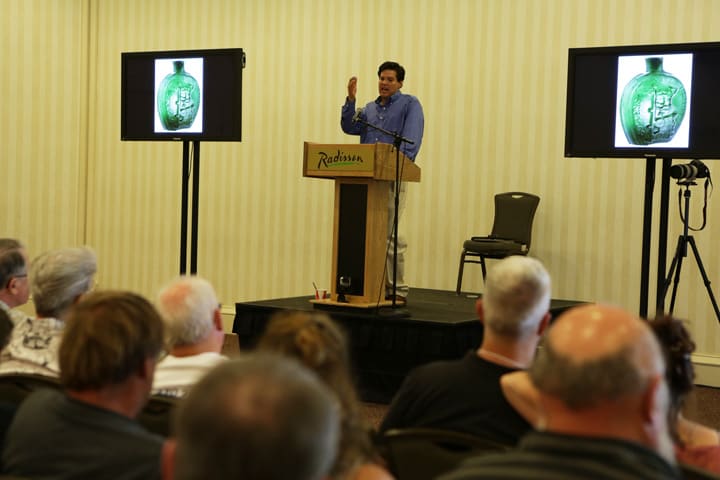 Gallery at Knotty Pine called the auction (see above pic) in a clean efficient way as Glass Works was not licensed in New Hampshire.
The FOHBC thanks Jim Hagenbuch, his staff and Glass Works Auctions for this First Class event. Glass Works Auctions will also be conducting the auction at the 2014 Lexington National.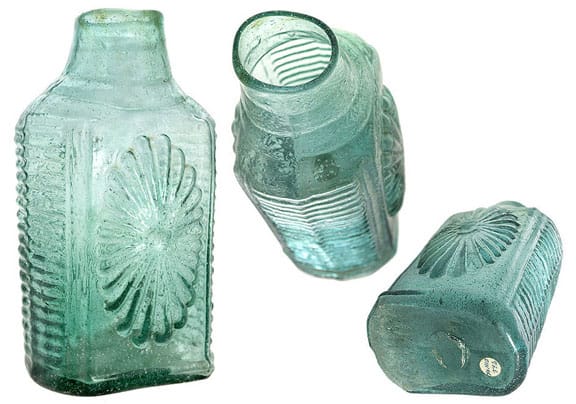 The Wide Mouth Sunburst Flask was the piece receiving the highest hammer price. This extraordinary piece went to a Rocky Mountain area collector and broke the $25,000 line including auction house premium.
Signature Auction Piece
G A L L E R Y
All photographs by Scott Selenak (FOHBC Show Photographer)