Manville New Jersey Bottle Show
by Jim Bender

|

FOHBC Membership Director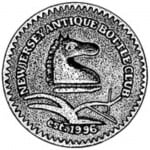 The New Jersey Antique Bottle Collectors Club held its 18th annual bottle show on February 2, 2014 in Manville, New Jersey. For years, this show was known as The South River Show. Due to the sale of the Knights of Columbus Hall, the show was moved this year.
Enter Bob Strickhart, who stepped up and took over the show. Bob is a life member of the FOHBC and supports our hobby to the fullest. Bob understands that bottle shows are the back-bone of the hobby and wanted to save the show.
Bob found a great location at the VFW located at 600 Washington Avenue Manville, New Jersey. The VFW hall was large enough to support the sell-out of 75 dealer tables. This still left room for seating to eat and rest your legs. The food was the best I have ever had at a show. All you can eat for $10, what a deal! Parking at the old show was always a problem and that problem was solved for sure at the VFW. Plenty of parking and the dealers had no issues at all loading and unloading. There was a line waiting at the door at 9:00 am which was a great sign. The sales floor seemed busy all day and all the dealers I spoke to said they had a good time and had sold some things. I sold several cups and go withes myself along with a few bottles. They held a 50/50 raffle as well as giving away a Flask and early New Jersey soda bottle as a raffle.
All three of the big east coast auction houses were there looking for commissions and visiting with all the folks. I was able to purchase a great early repro flask from John Pastor for my collection. It will be making the trip to the FOHBC Lexington National Antique Bottle Show in August as part of the display on reproductions I will be doing for the club members and show attendees.
I was also able to get three new members to join the FOHBC. If you are not a member you are really missing out. Join the FOHBC.
Overall, I think Bob did a great job with the show. He covered location, parking, show room and food which is all a good show needs. Thanks Bob for a fun day and saving the show!