Rushton's Cod Liver Oil New York
25 December 2014

It is always nice to see a bottle that I am unfamiliar with and to meet someone new in bottle collecting. In this case I am referring to Ken Darnell from Mount Sterling, Kentucky. Here is an e-mail and pictures that I received from Ken.
Ferdinand:
I am a new member of FOHBC, joining at the Lexington, Kentucky National Antique Bottle Show in August. I just purchased (see attached pictures) this wonderfully heavy F V Rushton Cod Liver Oil New York bottle with hinge mold base. I have exhausted my research, including finding an on line article (attached) that you recently authored (Read: The Rushton & Aspinwall Compound Chlorine Toothwash – New York).
I have also attached the cover of a 60 page treatise on the benefits of Cod Liver Oil by F. V. Rushton in 1855 (Read: Rushton's Treatise on Cod Liver Oil). I see that his father started the company in the 1830's with FV Rushton taking over sometime after that. I am trying to date this bottle. I believe it is circa 1860. Do you have an opinion that you can offer as to its date of manufacturer, or can you suggest a source who could help with that question?
I have been a long time Civil War artifacts collector and casual bottle collector. Thanks to your National Show in Lexington, and to the excellent articles in the "Bottles and Extras" magazine, my interest in historical bottles has taken another step up.
Thank you and your TEAM for your enthusiasm and leadership in preserving the history of historical bottles.
Very sincerely,
Ken Darnell
Mt Sterling, KY
PS: Bottle measures 10 1/8″ tall, and is unusually heavy. It is light green in color vs the usual aqua blue/green. Hinge mold base. Note the mold seam on neck that runs full length of neck, both sides, up under the applied lip.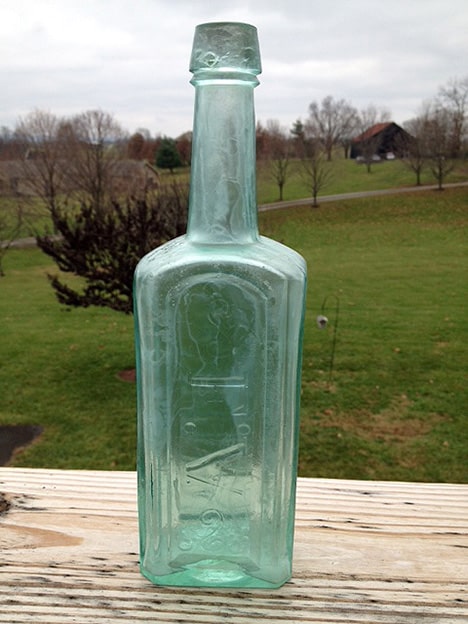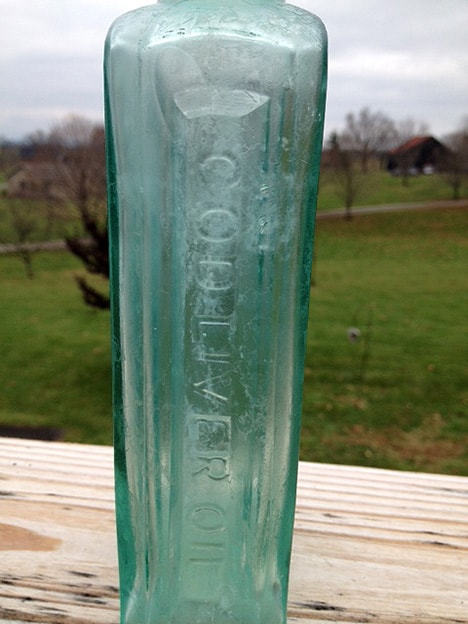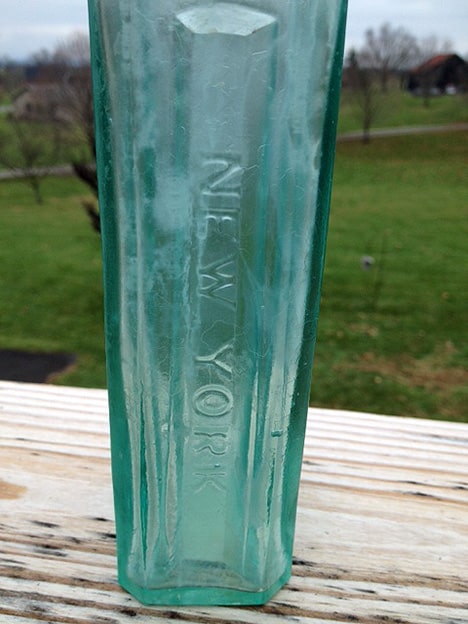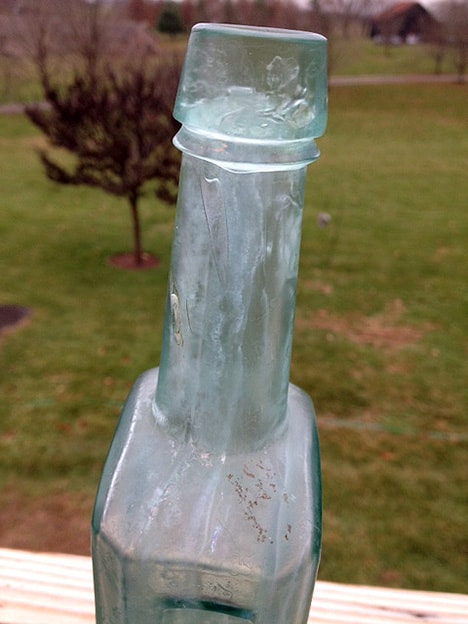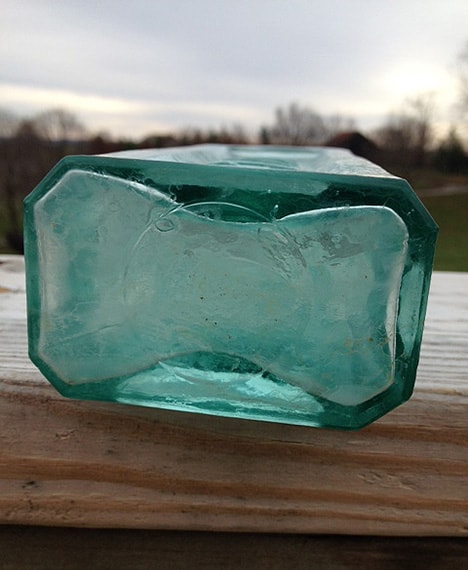 Rushton's Cod Liver Oil
Rushton & Aspinwall were leading druggist of their time in New York City. In 1827, William L. Rushton opened a drug store at 81 William Street, which was previously the dry goods store of Reuben & Henry M. Sikes. James S. Aspinwall does not appear in the directories prior to the partnership. Rushton and Aspinwall were listed as partners in 1830. They moved their William Street store from 81 to 86 William Street in 1835 and in 1836 they added a third location at 10 Astor House.
In 1850, we start seeing advertisements for Rushton, Clark & Company selling the Cod Liver Oil. The firm dissolves in 1855 and Rushton's Cod Liver Oil is being advertised by Frederick V. Rushton, son of William. Frederick was born in New York in 1929. This probably is the earliest advertising for the subject bottle though it looks to be a later make, say 1865 to 1875. If you notice, the third to last advertisement below is dated 1870 and includes "F. V." in the advertising which matches the "F. V." on the bottle. This is probably dead center on the date for the bottle. In 1872 the advertising seems to stop for this product.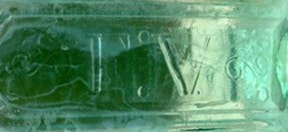 In 1878, the Supreme Court of the State of New York decided that J.C. Ayer & Co. of Lowell, Massachusetts had the sole right to use the word Cherry Pectoral for a medicine. Unfortunately F. V. Rushton was selling a similar product using the same name. F.V. Rushton died in New York on 5 January 1898.