Abbott's Bitters from Baltimore
We received the following very interesting e-mail from Peter Schaf who allowed us to share. This guy really has it covered for Abbott's Bitters.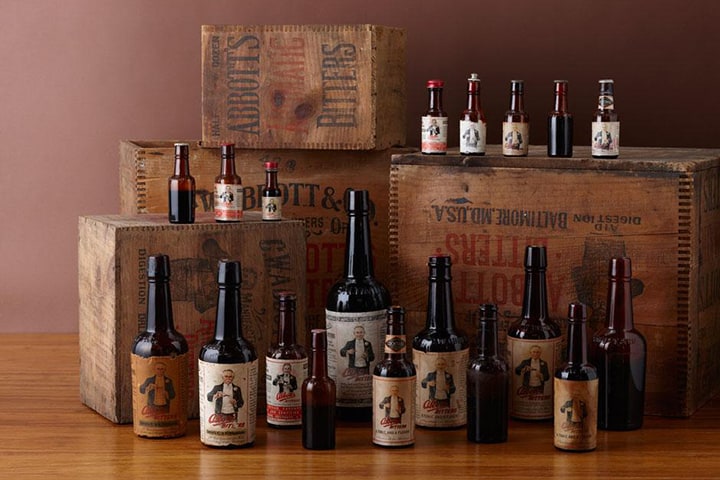 Dear Mr. Meyer,
Thank you for your very informative site! I very much appreciate the work that you have done and the stories and photos often continue to fuel my life-long passion for antique bottles and glass.
My passion for bottles finally brought me to the spirits industry, where I partnered with an old friend (who is also a bottle collector), to create a company dedicated to finding or recreating lost liqueurs, bitters and vermouths for craft bartenders and enthusiasts, originally specializing in absinthe.
Over many years, we had amassed a collection of Abbott's Bitters bottles and antiques and set upon a quest to recreate it, based on its tremendous popularity in cocktails up to the 1950's.
You can find our story and some of our research at: abbottsbitters.com
As you are a native of Baltimore, where the Abbott's company was located, I might imagine that this maker could have some personal interest for you as well.
Although we have considerable documented information and antiques concerning Abbott's, we have had a difficult time finding the truth regarding the founding and closure of the company. We also have not found an original bitters recipe from C. W. Abbott or know of any existing, although there is one person claiming to have found a 1860's recipe signed by a member of the Abbott family that he is claiming to be the original recipe. For several reasons, we have our doubts.
Through research of US census reports and Baltimore City directories, it would appear that some of the early history and founding dates of the company, and the original release of a product called 'Abbott's Angostura Bitters', may have been partially fabricated or presented in a misleading fashion in Abbott's marketing. Yes, imagine that from a 19th century bitters maker!
We also cannot find a definitive date of the closure, nor conclusive reason for the product's demise (though many have concluded it was the FDA banning of one of the assumed ingredients Tonka Bean, that we aren't convinced was ever even in the product). I have my own theories, based on the long-running legal feud between Abbott's and Siegert's Angostura Bitters' original US representative, J. W. Wupperman on the use of the word 'Angostura' in the product's name.
We have also never seen an original bottle or label of Abbott's Angostura Bitters (without the post -1899 Pouring Man image on it) with the label similar to Siegert's Angostura Bitters.
Read at PRG: Abbott's Aromatic Bitters – A Later Bitters with Class
Read at PRG: The Wizard of Oz and Angostura Bitters
Read at PRG: Looking at the Morning Star Bitters – Baltimore
My question for you is, if I may ask, do you have any historical documentation on Abbott's Bitters that you might like to share, outside what you have on your site, or have you ever come across early (pre-1890) bottles or labels from C. W. Abbott such as the one on the 1898 invoice or 1901 envelope on your site? Based on the Baltimore City business directory, we are fairly convinced that Abbott's father, C. F., first started working at the existing Morning Star Bitters company, founded around 1865, in the 1870's, eventually bought it and transferred it to his son, C. W. by the beginning of the 1880's., where the named was changed to C. W.. Abbott & Co. This would contradict the dates often seen on Abbott's invoices, labels and crates, etc., at least, in the sense that the C. W. Abbott Company and the product named C. W. Abbott's Angostura Bitters had been created/founded in 1865, or 1872.
We also don't know of any information that gives a definitive closure date for this company in Baltimore, sometime in the 1950's.
In full disclosure, we have created what we think is a very close replica of Abbott's Aromatic Bitters and are presently selling it. We did not take on this project lightly, nor purely for profit, as the research and attention to detail encompassed all our passion for history and antique bottles.
I should point out that the Abbott's Bitters label on your site is actually one of our early label prototypes for the modern product. There was no recipe for the Manhattan Cocktail on the original label, and you will notice that it reads PETALUMA, CA and not BALTIMORE, MD on the left side. If you were not already aware, we are flattered that you might have confused our work for that of an original label or that you would include ours on your site. We had no intention to deceive anyone, (we now own the 'Abbott's Bitters' trademark and could legally work under the d.b.a. of C. W. Abbott, but chose not to) we also changed the CW Abbott signature on the lower right side to TF Spirits.  There is some consternation that we did trademark the name, but we were not the first to try to trademark it in modern times (in 2002, by the Sazerac Company, though they failed and produced no final product under any name), and eventually, if it could be done by another company, it would have been.
We are surrounded by many modern products that carry original names that are hardly a shadow of their original specs or intentions and are proud to protect the integrity of the original quality of the bitters and its artwork.
Excuse me for this lengthy e-mail, should it not be of interest to you, especially since in the world of bottle collecting, Abbott's Bitters bottles are not at all 'stars'. However, I felt that if someone could shed more light for our studies, and as I eventually would like to write a book on this history, I would look to a fellow bottle collector of your esteem, knowledge and connections, for your input.
Thank you very much for your time.
all the best,
Peter Schaf
U.S. Importer: Anchor Distilling Co.
Facebook:
Troia Schaf – Tempus Fugit Spirits
Abbott's Bitters
Twitter:
@TFSpirits
@AbbottsBitters