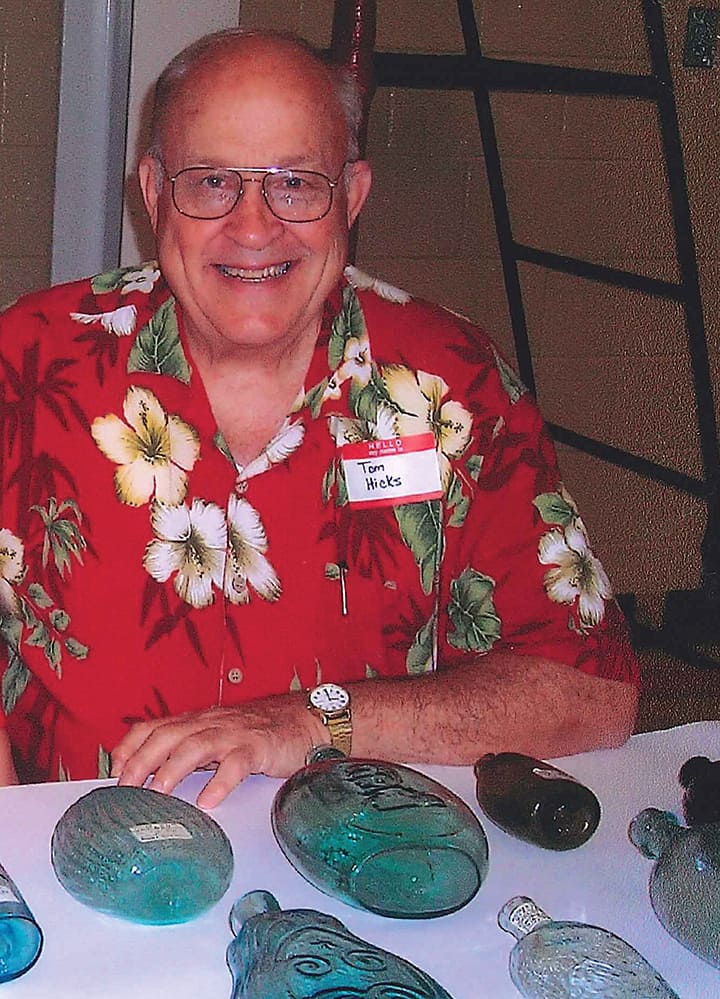 2015 Chattanooga National Banquet Speaker – Tom Hicks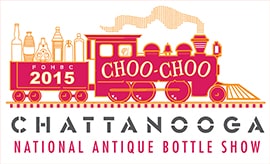 Adventures in our Hobby
James Thomas "Tom" Hicks was born Nov. 7, 1940 in Autauga County, Alabama. He attended Auburn University and graduated in 1965 with a degree in wildlife biology. He was hired as a wildlife biologist by the Georgia Game and Fish Commission (now Georgia Wildlife Resources Department) in 1966 and was stationed in Darien, a small southeast Georgia coastal town. While there, he read a story about Savannah bottle digging in the Atlanta Journal-Constitution Sunday Magazine and decided to check it out. "I didn't have much money back then, but I thought it was a neat hobby and decided to get involved," he said during a 2005 interview.
In 1969, he was among 14 Georgians who joined the Antique Bottle Collectors Association of Sacramento, Calif., the predecessor to the Federation of Historical Bottle Clubs (later Collectors).
He later joined the Federation as a life member, serving as Southern Region editor in 1989 and Southern Region chairman in 1990.
Meanwhile, in 1975, he met Mabel Resseau in Eatonton, Georgia. She became Tom's June bride that same year and the two have been together ever since. See one at a bottle show and the other isn't far behind. They attended the Charles Gardner Collection auction that same year and Mabel had the catalogue signed by a Who's Who of prominent people in the hobby, including auctioneer Robert W. Skinner, Norm Heckler (who authored the catalogue) and Gardner himself. (En route back to Georgia, the Hickses discovered they'd accidentally left the catalogue behind, but someone found and mailed it to them.)
The Hickses live in a restored and expanded 1820s home near Eatonton that houses their immense collections of Georgia pottery, Georgia and Alabama colored sodas, pontiled or rare bottles from those two states, glass target balls, Christmas lights, gun oil bottles and Joel Chandler Harris memorabilia like Bre'r Fox and Bre'r Rabbit figurines and antique Georgia-made furniture. Harris lived in nearby Eatonton.
The Hickses were featured in a story, "The Collecting Adventures of Tom and Mabel Hicks," by Bill Baab, published in the April 2005 issue of Antique Bottle & Glass Collector. More of their adventures were documented in another story by Baab in the November-December 2014 issue of Bottles and Extras.
Mabel is a collector, too. Her interests range from pottery pigs, original Hummel figurines, barber bottles, face jugs and ceramic chickens.
Tom has emerged as a widely respected expert on southern bottles pottery and he and Mabel have become fixtures at Federation-sanctioned shows, missing only one Expo (because of health issues) since attending the 1976 St. Louis show.
Toms talk will be mostly anecdotal about his adventures in the hobby.
The FOHBC Banquet
The Banquet will be held at the Marriott on Friday, July 31st. You do not have to be an FOHBC member to attend. A cash bar will be available for sodas and/or alcoholic beverages. The cost of the banquet will be $35 per person. Reservations will be available on a first come basis. Tom Hicks, renowned Southern Bottle Story Teller, will be our guest speaker. Awards will be presented to our annual winners who have earned special recognition in the past year.
There will be a special prize drawing for a $100 gift certificate to be spent at the show.
The "Battle of Chattanooga" bottle competition will begin immediately following the Banquet.