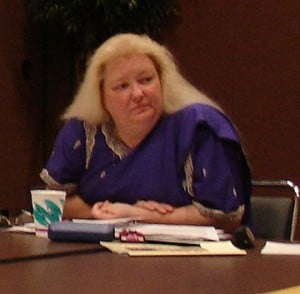 FLETCHER, N.C. – Kathy Hopson Sathe, 58, former editor of the Federation of Historical Bottle Collectors magazine, Bottles and Extras, died Feb. 21 after an extended illness.
After Bottles and Extras editor Dave Cheadle resigned in 2003, Ralph Van Brocklin, of Johnson City, Tenn., and then FOHBC president, began searching for a replacement. Southern Region editor Bill Baab, of Augusta, Ga., recommended hiring Kathy Hopson who lived in Johnson City at the time.
She had been editing a soda pop newsletter called The Soda Fizz since 2000 and was a major collector of applied color label sodas. She expressed her concern as to whether she had the skills to edit the magazine, but Baab told her, "Just think of it as a big Fizz!"
So she took the magazine to new levels in design and content through 2008 when she was forced to resign because of health issues.
"We have lost a real treasure in the bottle collecting hobby," Van Brocklin said. "Kathy had a knack for researching and writing about the hobby – particularly soda bottles.
"When I took the reins of the Federation in the fall of 2002, I thought I was only going to be faced with trying to get the organization back on sound financial footing," he continued. "No sooner did I agree to serve, my job got harder with the resignation of Bottles and Extras editor Dave Cheadle. After a month of unproductive phone calls (and the anxiety that I might have to become the editor), a call from Bill Baab suggested Kathy as a possibility for the position/ Despite having other editing responsibilities with The Soda Fizz, she graciously accepted the challenge and I am forever indebted to her for doing so.
"Kathy put together the first magazine of 2003 and continued to edit for us through the July-August issue in 2008. The impact of better articles, layout, color inserts and a close relationship with Central Plains Publishing created a new level of membership benefit that had more to do with strengthening the Federation of Historical Bottle Collectors than any other factor I have witnessed in the 15 years that I have been involved in the organization.
"When you look through your next issue of Bottles and Extras, I hope you will think an appreciative thought for Kathy. I know that I will. And, I know that she will be greatly missed."
"Kathy and I became good friends when she was Bottles and Extras editor and I was business manager of the FOHBC," said June Lowry, of Raymore, Mo. "We worked very closely together on the magazine as we tried to acquire articles for it.
"She will be missed and I hope she is in a better place because she had several health issues including her heart. It's hard to believe she could be gone at such an early age."
A private memorial service was held Feb. 28 at the Asheville, N.C., Mortuary.
Kathy later married Shree Sathe and he and a son, Shaun, survive her. Other survivors include her daughter from a previous marriage, Shannon Baker, Atlanta; her  mother-in-law, Frances Hopson, Johnson City; a sister, Sherry Richard, Deer Park, Texas, and Kathy's former husband and good friend, Stanley Hopson, of Greeneville, Tenn.