Announcing Holabird Western Americana Collections, LLC as the auctioneer for the FOHBC 2016 Sacramento National Antique Bottle Convention & Expo
[FOR IMMEDIATE RELEASE]
18 October 2015
The Federation of Historical Bottle Collectors (FOHBC) is proud to announce that Holabird Western Americana Collections, LLC will conduct the live FOHBC auction at the 2016 National Antique Bottle Convention & Expo in Sacramento, California on Saturday evening, 06 August 2016 at the Lions Gate Hotel.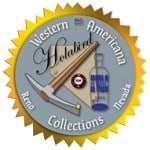 Holabird Western Americana Collections LLC was founded in 2012 to meet the needs of Americana Collectors looking for rare and new-to-market collectibles. The Holabird name in the title of the company draws its roots from Fred Holabird, company advisor, co-founder and the professional auctioneer. As the president of Holabird-Kagin Americana, a division of Kagin's Inc. from 2006-2014, he was the lead historian and author for a production team that published books and auction catalogs with sales in excess of $16 million.
When Holabird-Kagin Americana closed the Reno office in May 2014, Holabird's Western Americana Collections expanded their operations into the former HKA building and are excited to now list some of the best and rarest collectibles at all price points to meet the needs of local collectors, as well as the online community.
They specialize in buying, selling and appraising historical Americana, numismatics, exonumia, and antiquities. Their auctions typically feature: mineral specimens, ingots, coins, tokens, photographs, assay, stock certificates, checks, postal history, rare books, and other ephemera and mining collectibles relating to U.S. history circa 1800-1930.