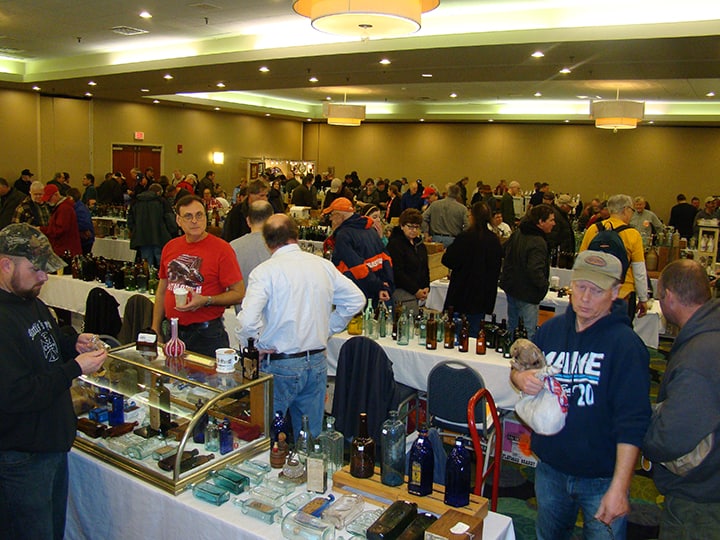 The 2016 Little Rhody Bottle Show & Sale

by Jim Bender | FOHBC Historian
This past weekend, good friend Jim Berry and I were able to attend the 45th annual Little Rhody Bottle Show & Sale. We attend the show every year as long as the weather stays good. It takes us about 4 hours to get there, but we don't mind as it is a great time to visit and joke around which is a must for me on any trip.
This year the show moved to its new location because the old location was sold. The Holiday Inn located on Myles Standish Boulevard, Taunton, Mass., proved to be a great location. The Holiday Inn is right off the exit and very easy to find. There is plenty of parking and easy in and out with boxes. I was told they even got discounts on rooms for people staying the night before or after the show.
Bill Rose, who is president of the club, served as show chairman. He did a great job with the show getting a new location and making it all happen. Shows are not an easy thing to pull off and many times just a handful of people do all the work. It is up to us the collecting community to support these shows and let the people putting them on that we support their hard work.
Bill's hard work paid off as the place was packed full of dealers and buyers. Brian Wade joked with me to say, "nice to see the bottle community came out of hibernation."
There were just over 70 sales tables with 50 dealers coming from six different states. At last count around 1 p.m., they had just over 300 paid admissions. That's not bad for a show held in the Northeast in January. This club has been doing the hobby a service since 1970. They hold a monthly meeting the second Tuesday of each month except July and August. They also offer an internet news letter. Dues are $15 a year. If you would like to join, check out their web site at littlerhodybottleclub.org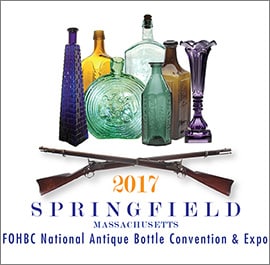 For me, most of the fun at the shows is visiting with friends. Once again the questions quickly went to the FOHBC 2017 Springfield National Antique Bottle Convention & Expo. I thanked Maureen Crawford for the great job she and Mike George did with the FOHBC 2013 Manchester National Antique Bottle Show. Manchester is clearly the springboard for Bob Strickhart and I to go bigger and better. The Manchester show was such a hit in the Northeast, people are just waiting on the edge of their seats for another great event. Bob and I plan on giving them all that they want and more.
I had a chance to visit briefly with good friend Marc Vuono about his role in Springfield. Marc will be doing one of our seminars on flasks. We will call it Flasks 101 and Marc will talk about the numbering system and how you can tell what you have. This is a seminar you do not want to miss.
I had a chance to thank Mike George for signing on to Team Springfield, as I call it. Bob had spoken to Mike about heading up the seminars and Mike was ready to join the team. Mike also will be doing a seminar about New England glass houses.
Let's face it, folks: I always say support your shows no matter how big or small. I look forward to seeing you at the next one and be sure to stop me and say hi.