Mohawk Valley Bottle Club Supports the FOHBC
On Monday, March 14, 2016, I did a talk on the history of the Federation of Historical Bottle Collectors (FOHBC) at the Mohawk Valley Antique Bottle Clubs monthly meeting. Ron Weir had asked me a month or so ago if I would be interested in speaking on the Federations history. Of course I said, and I was willing and excited to do so.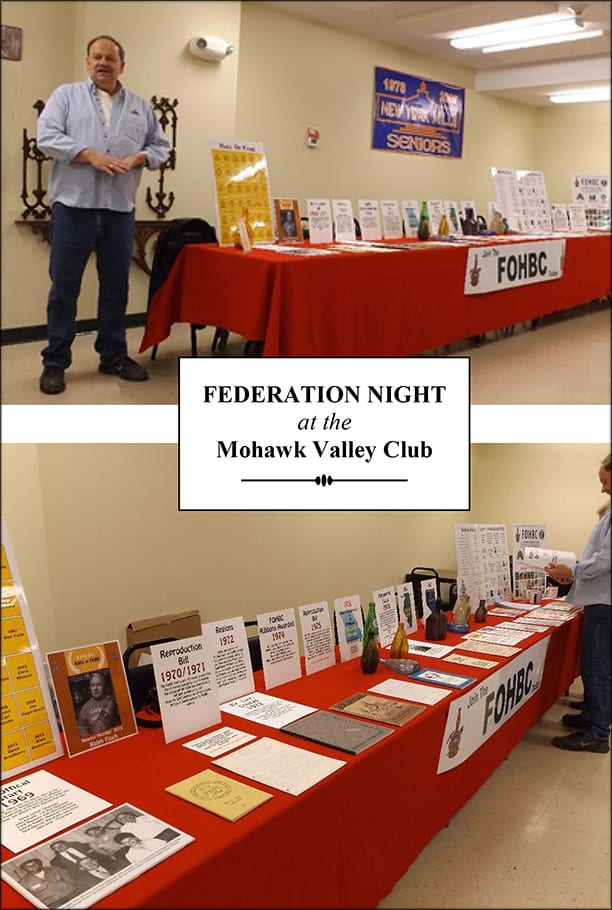 Ron told me that he also wanted to give away five free memberships to the FOHBC that night to be paid for by their Mohawk Valley Antique Bottle Club. This was music to my ears. The Federation supports all member clubs in whatever way we can. The Mohawk Club has been a member of the FOHBC for years and continues to find ways to support us too. I can only hope that other clubs will follow this lead and raffle off or give memberships to the FOHBC to their club members.
The past four or five years, the FOHBC has grown and once again has become an important part of antique bottle and glass collecting. The FOHBC had become somewhat tired over the years and a bit outdated. The current President, Ferdinand Meyer V, brought new life back into the organization. His personal drive and design work has become evident with his tenure on the board. BOTTLES and EXTRAS, as well as the FOHBC web site you see today is all due to his hard work.
Many new board members have come on board. How could they not chip in and help? Today the FOHBC Board of Directors is one of the best we have had in years and all have a common goal to make the hobby stronger and everlasting. Also, our National Antique Bottle events are getting back to what they were in the 70s, 80s and 90s. Great team work!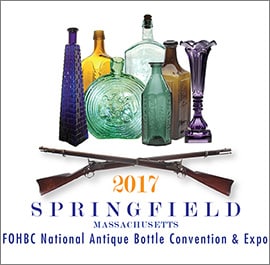 I am also proud to say that my co-chairman, Bob Strickhart and I are on the way to making the FOHBC National Antique Bottle Convention in 2017 in Springfield, Massachusetts every bit as good as the old Expo's so many people talk about. This event will put FOHBC national shows back on the map.
Every single show I go to, people ask me when they can get their contracts? I have had people come up to me and tell me they have not set up at a show in years but plan on doing Springfield in 2017. This is something all Convention Directors and National Show-Chairs dream of hearing. Contracts for Springfield will be available online 10 days before the FOHBC 2016 Sacramento National Antique Bottle Convention.
I hope to see some of you in Sacramento at the Springfield 2017 table and I will have contracts and information packets. Keep watch for some special dealer incentives too. Folks, mark your calendar and plan on coming. I can tell you this is an event you do not want to miss. Once again I would like to thank the Mohawk Valley Antique Bottle Club for their support. My next stop will be at the Ithaca Bottle Club meeting sometime this summer. I have also been invited to speak on the FOHBC and look forward to the presentation. Remember, support the FOHBC, we support you!
Jim Bender
FOHBC Historian
FOHBC 2017 Co Chairman Springfield Convention