FOHBC 2017 Springfield National Antique Bottle Convention & Expo
Latest Update: 08 June 2017
 

I N F O R M A T I O N

Hotel Information further below

INSTRUCTIONS: To obtain a Dealer tax # for Springfield. Click Here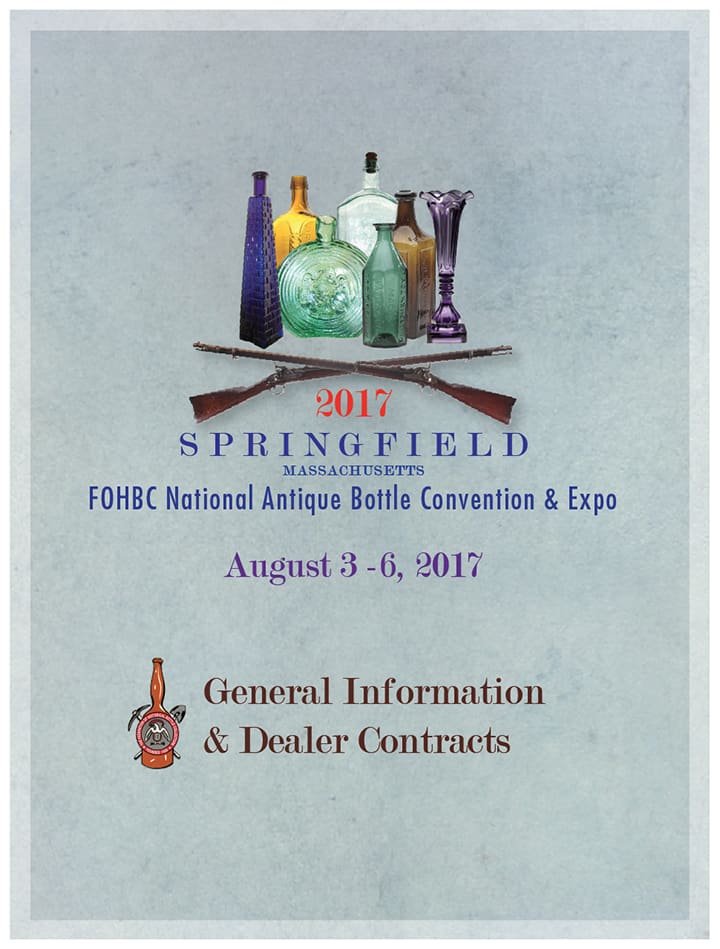 Sheraton Springfield Monarch Place | Hotel Reservations

Primary Host Hotel: For Online Hotel Reservations: Click Here Rate is $119. If guests prefer to telephone for reservations please call: 1-800-325-3535 or 413-781-1010 to book reservations. You will have to mention the Federation of Historic Bottle Collectors National Convention group name to receive the discounted $119 rate. All Rooms are now Sold Out. Use Marriott below.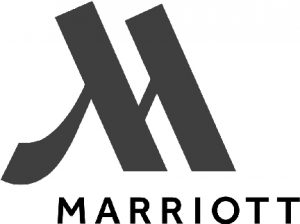 Back-Up Hotel (across street): Here is the reservation link your guests can use to make online reservations: Book your group rate for Historic Bottle Collectors Room Block. You will find the information for your online reservation link below. If you have questions or need help with the link, please do not hesitate to ask. Guests may also call 1 (800) 228-9290 and ask to make a reservation in the Historic Bottle Collectors Room Block.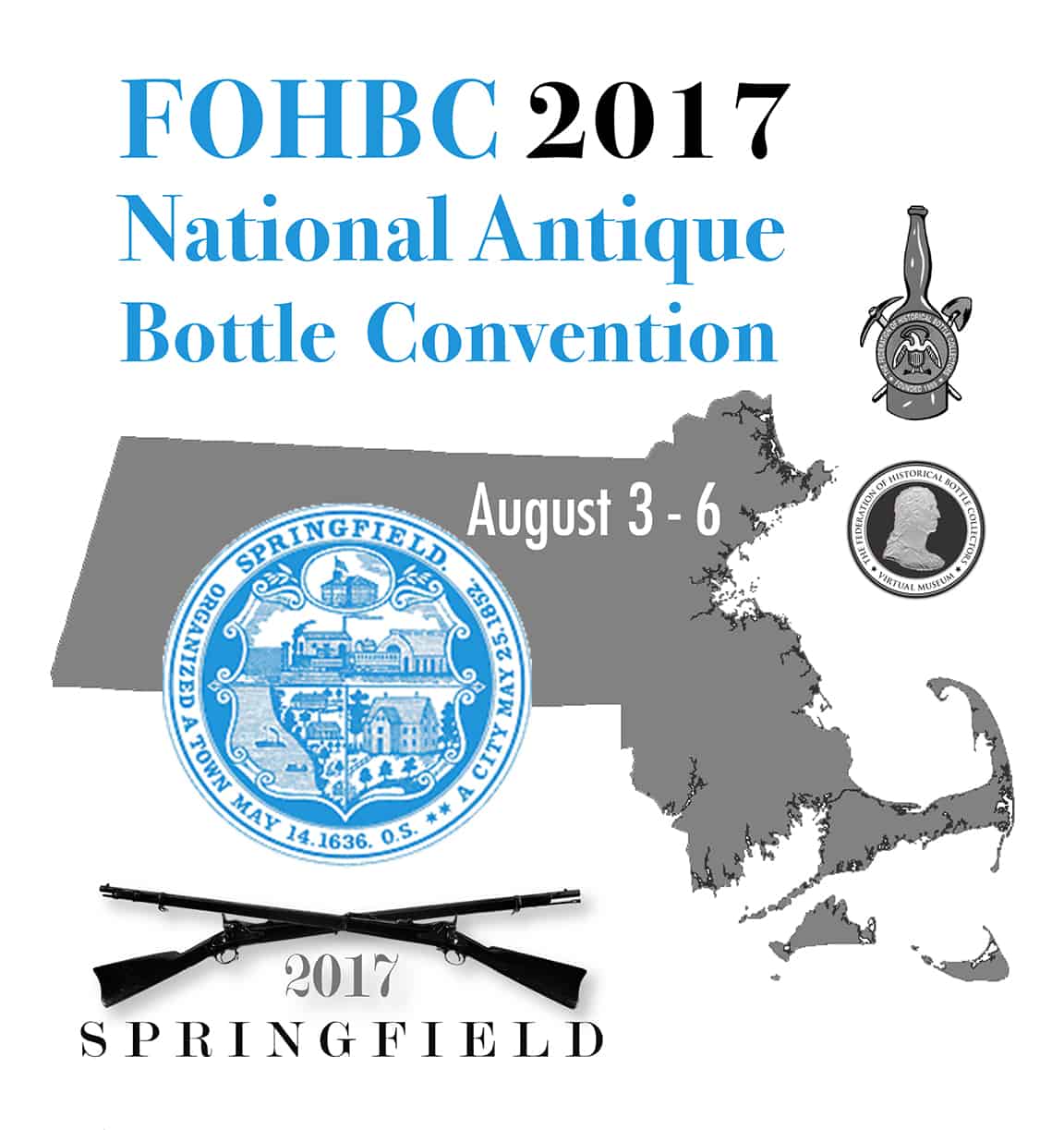 ---

13 May 2017: 2017 Springfield National Seminars – Schedule, Topics & Presenters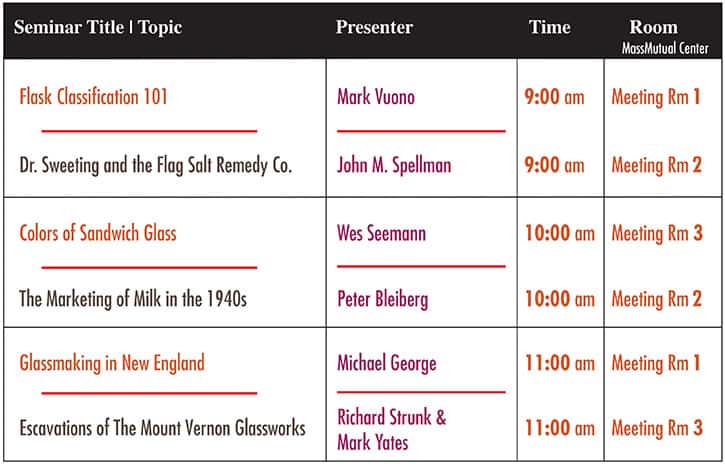 The FOHBC is proud to present a variety of fascinating educational seminars at the 2017 Springfield National Bottle Convention and Expo. This distinguished group of presenters was organized by seminar coordinator, Michael George. Read More
12 May 2017: Watson One Auction News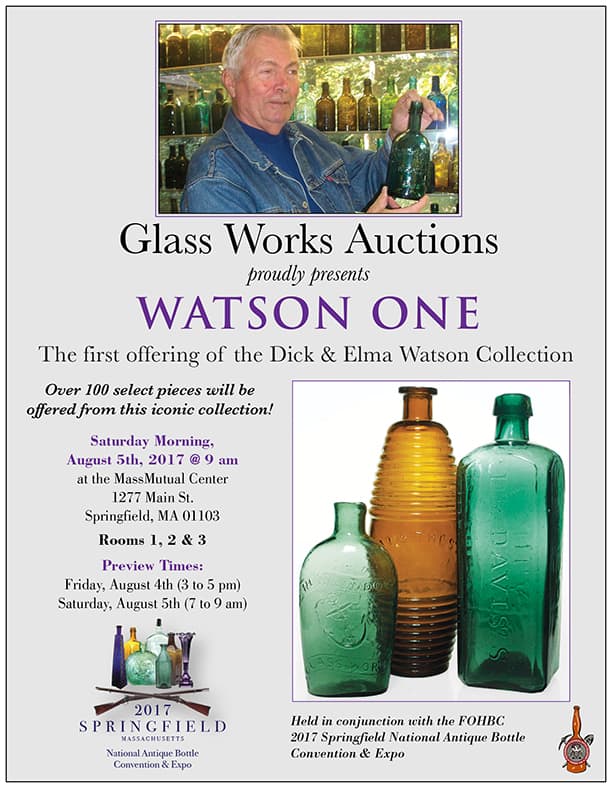 For immediate release: I explained once that some good things are worth the wait. And now the wait is over. Springfield 2017 is going to long be remembered for many reasons. Great show, great seminars, great banquet, superb auction. We are extremely grateful to the Watson family who in their parent's footsteps have made this contribution to the FOHBC and the hobby possible.
Team Springfield is excited to announce that Glass Works Auctions, under the leadership of Jim Hagenbuch, will conduct an auction of approximately 115 carefully selected lots from the Elma & Dick Watson collection of extraordinary bottles and glass on Saturday, August 5th, 2017.
Watson One, the first ever offering from the Watson collection, will take place in the MassMutual Center, adjacent to the Springfield showroom floor, on Saturday morning, August 5th 2017. Previews (subject to change) will take place on Friday August 4th from 3:30 to 5:30 P.M. and from 7 to 9 A.M. on the morning of the auction. Auction action will commence promptly at 9 A.M. and conclude in time for showroom floor activities to beginning at noon.
Bidding procedures, catalogues and specific items in the auction will be made public shortly. Stay tuned!!!!! There will be something for everyone and this, my friends, will be an event not to be missed. A splendid time is guaranteed for all!
Bob Strickhart (Springfield C0-Chair)
11 May 2017: Raffles at the National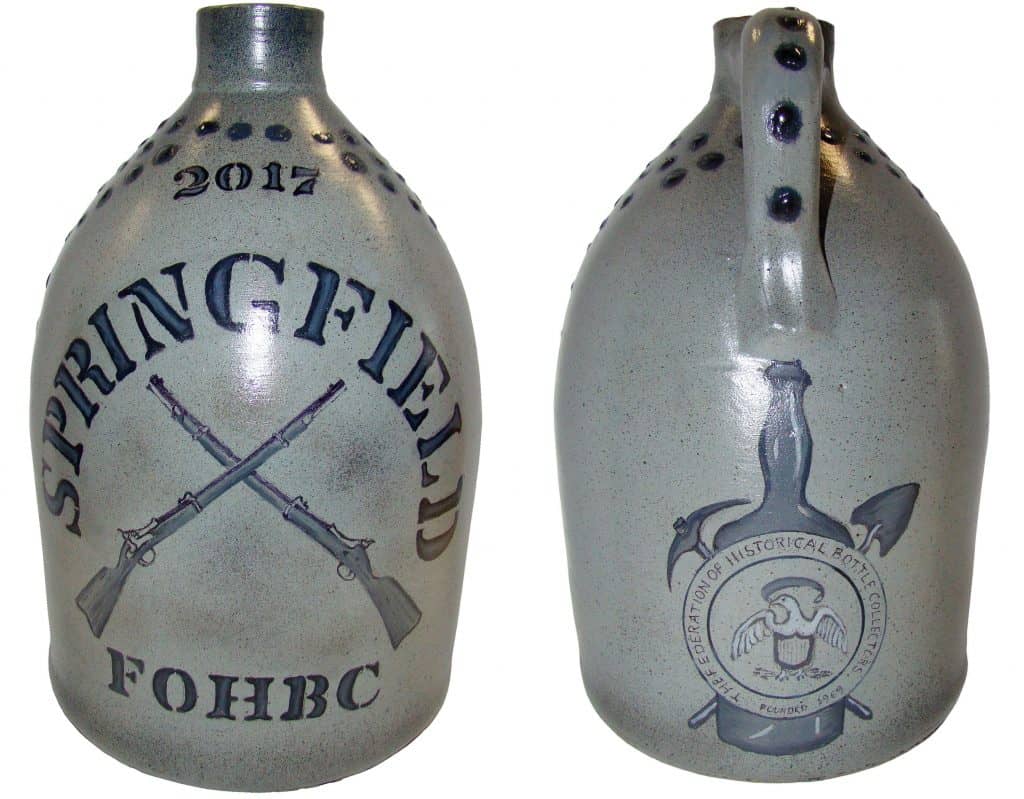 Here is an image of the first of two stoneware jugs being made to raffle at the Springfield National. Jim Healy is making them. The one shown in the photo is similar to the style we had at the 2015 Chattanooga National. The second will be an older looking jug. My plan is to sell tickets for $2 each or 3 for $5. – Jim Bender (Springfield National Chair)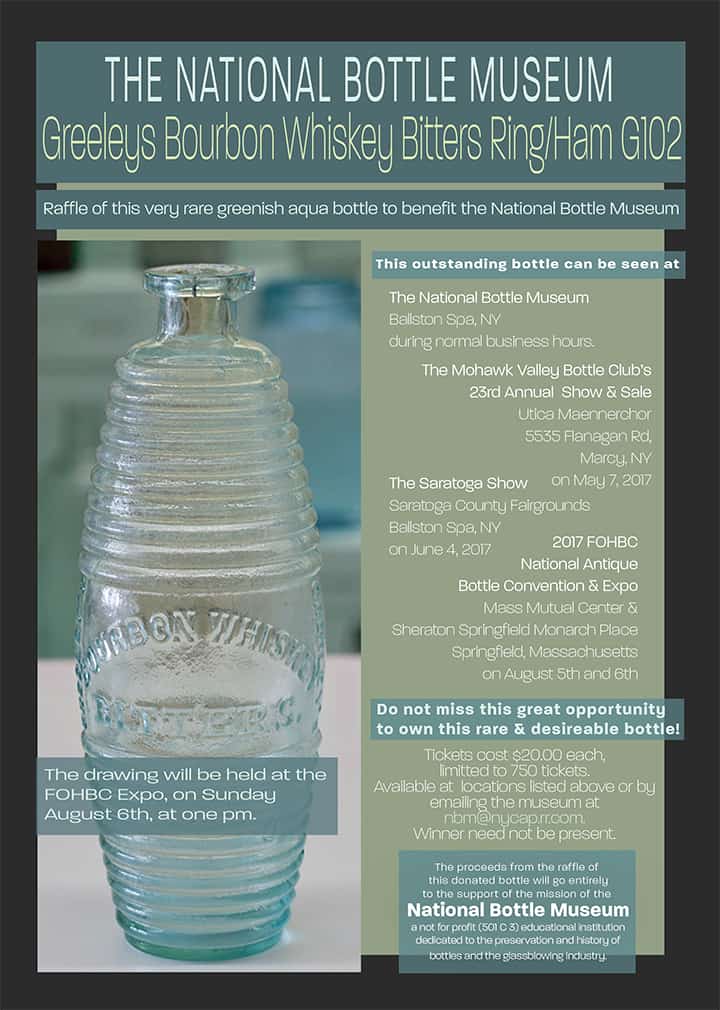 Through a generous donation from a friend on the west coast, the National Bottle Museum now has a wonderful Greeley's Bourbon Whiskey Bitters figural barrel in aqua to raffle at the FOHBC 2017 Springfield National Antique Bottle Convention & Expo. Read More
01 May 2017: Youth Activities Defined
Alicia Both, FOHBC Public Relations Director, wants as many children and young adults to attend the Springfield National. Remember these folks are the future of our hobby. Events include…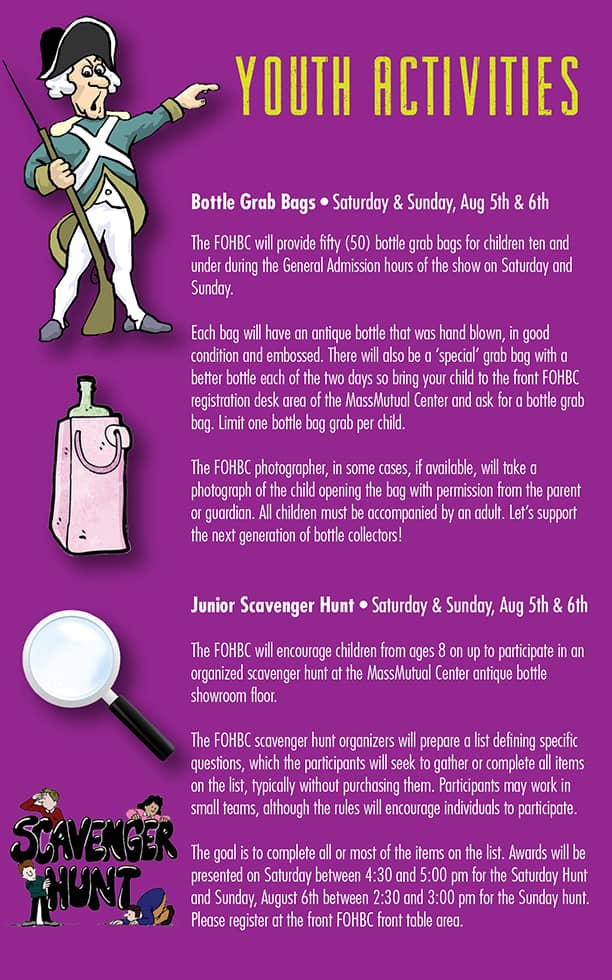 08 March 2017: 100th dealer contract for Springfield Drawing
We have received our 100th dealer contract for Springfield and as promised, we have chosen at random out of the first 100 dealers one lucky winner who will receive a one night stay at our host hotel, the Springfield Sheraton Monarch Place Hotel. We are pleased to announce that the winner of our "First 100" drawing is Ed and Kathy Gray from DuBois, Pennsylvania. Congratulations Ed & Kathy! There will be, as promised, one more drawing taken from the first 200 received contract requests. Space is becoming extremely limited as we expected. In fact, we are making arrangements for overflow reservations when our host hotel is sold out. We will have alternatives for you should you hesitate but please know that response to this show is strong. If you haven't made your reservations for tables, early admissions, banquets and lodging, do not hesitate. A splendid time is guaranteed for all! – Bob Strickhart, Springfield Co-Chair
06 March 2017: Make plans to attend the FOHBC Banquet!
Banquet will be the biggest one in years with the Watson tribute and other festivities. When making reservations, please note meal options – Chicken franciase with wild rice and sautéed tri colored cauliflower, Parmesan crusted cod with roasted baby bliss potatoes and sautéed haricot vert or Tuscan ratatouille tart.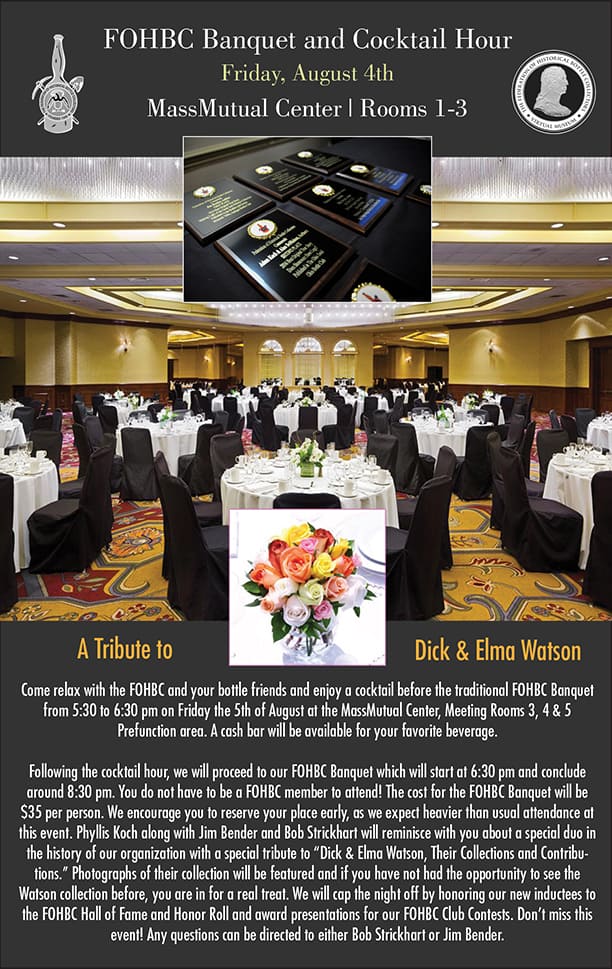 13 February 2017: Remember the Membership Breakfast!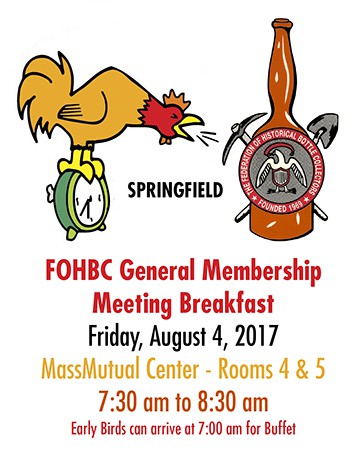 The FOHBC General Membership Breakfast Meeting will take place on Friday, August 4th, 2017 from 7:00 to 8:30 am with the membership meeting starting at 7:30 am in the MassMutual Center, Meeting Rooms 4 & 5. Please join us for a full buffet breakfast and our annual membership meeting. This event is specifically for current and paid-up FOHBC members and will be at no cost to attendees. We encourage you to come and be part of the FOHBC by participating in this event, our once a year General Membership Meeting. Get the latest news on the Federation, the Virtual Museum and our hobby. You will be able to join the FOHBC, or renew membership prior to the breakfast.
02 February 2017: Official 2017 Springfield National Photographers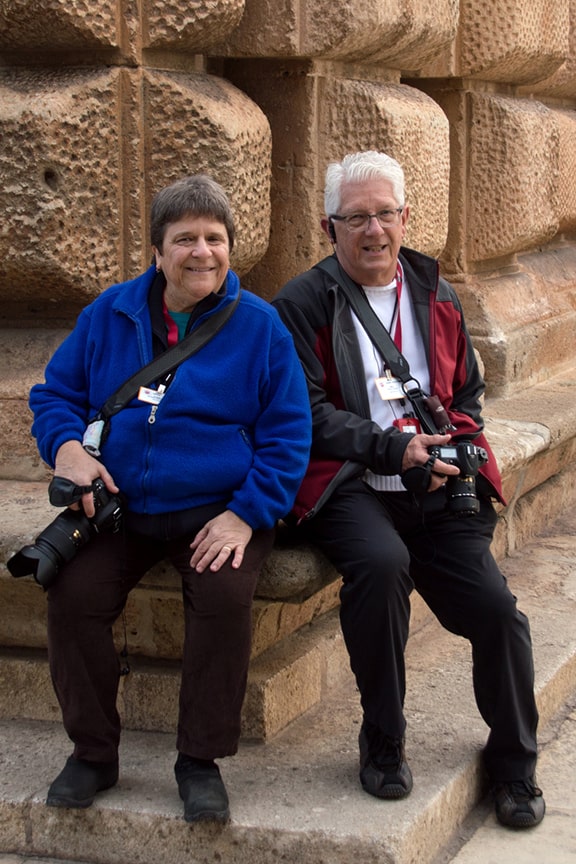 The FOHBC is extremely pleased to announce that the husband-wife team of Carol & Bill Petscavage will be the official convention photographers for the FOHBC 2017 Springfield National Antique Bottle Convention & Expo this coming August 3rd thru 6th. READ MORE
17 November 2016: Room Hopping – New Poster Art Created
A new event for the FOHBC 2017 Springfield National Antique Bottle Convention & Expo … Room Hopping! More Info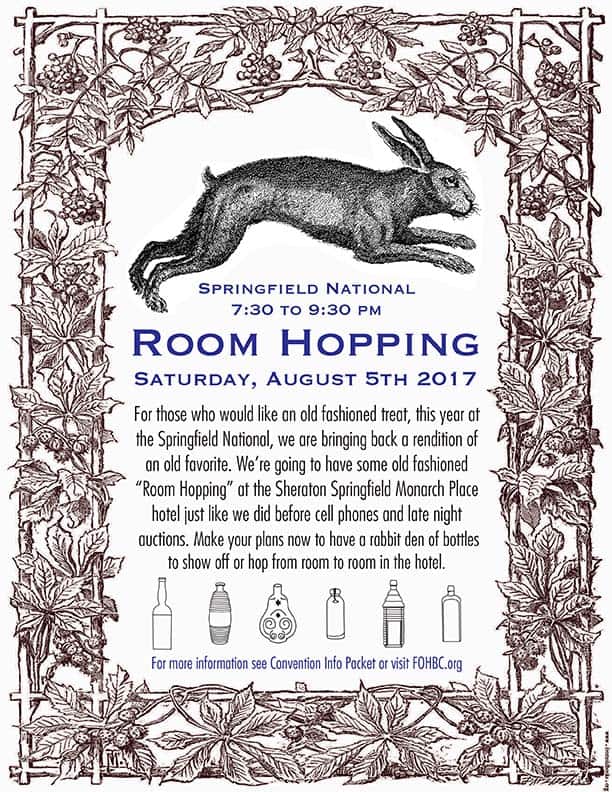 17 November 2016: Springfield Bottle Battle – New Poster Art Created
Art created for the FOHBC 2017 Springfield National Antique Bottle Convention & Expo bottle competition. The Battle of Springfield event is highly anticipated and will be one of the highlights of the convention. More Info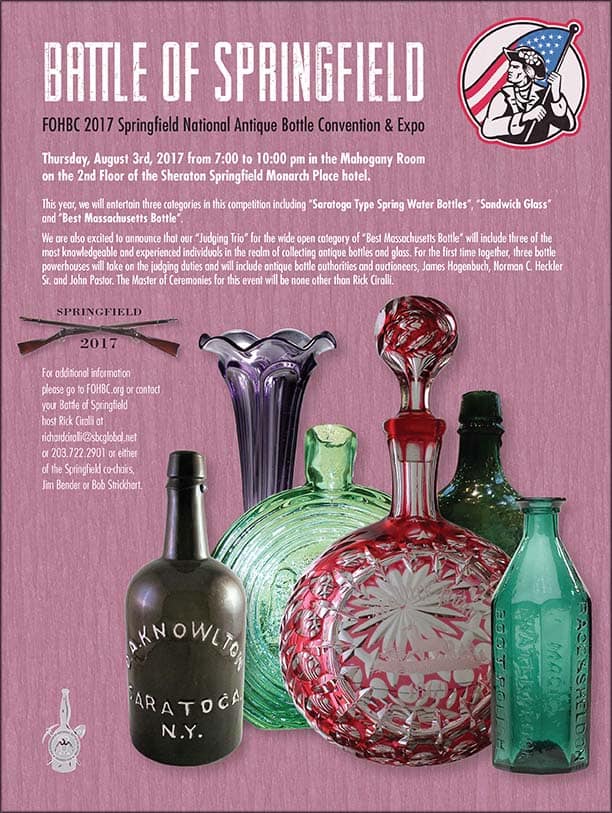 29 October 2016: Springfield Armory Reception – New Event added to the 2017 Springfield National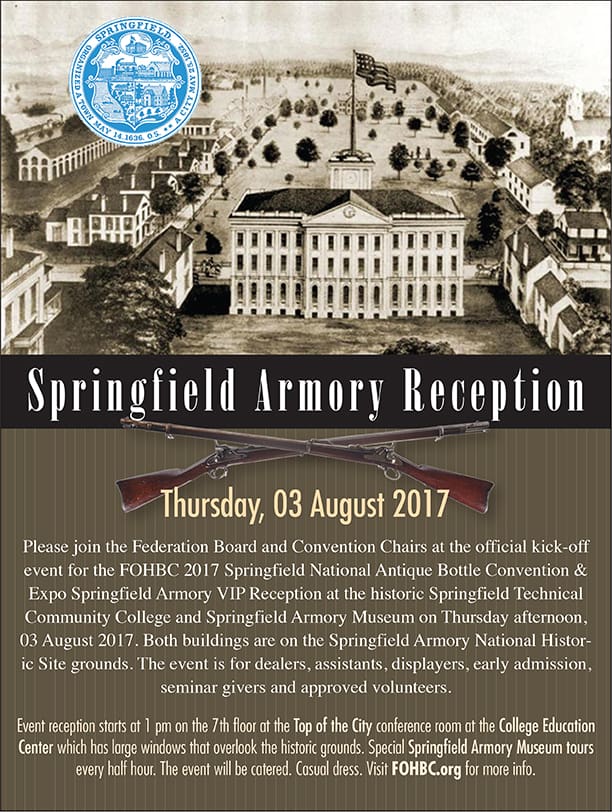 The FOHBC is working with the Events Coordinator at the Springfield Armory Museum and the Campus Events Coordinator at the adjacent Springfield Technical Community College. Both are in historic buildings on the National Historic Site (National Park Service) grounds and hold events. The FOHBC and Springfield Co-Chairs will be holding an afternoon reception on the 7th floor, "Top of the City" conference room at the Education Center which has large windows that overlook the historic grounds. READ MORE
15 September 2016: Press release Springfield 2017… Winner of free night stay drawing
Well, the early bird has caught the worm! As promised, when we reached our first 50 received contracts, we promised we would draw one lucky dealer to receive a two night stay at our host hotel during the 2017 Springfield National Convention & Expo. The lucky winners are Peter & Trish Manfredi from South Glasonberry, Connecticut. Congratulations!
Remember, we're not done! When we reach our 100th contract for Springfield, we will be having another drawing, this time for a one night stay at our host hotel! Don't hesitate, make your move now! We told you Springfield was really going to be something special, we're just beginning! A splendid time is guaranteed for all!
Bob Strickhart
Springfield National Co-Chair
04 August 2016: Watson One Auction Announced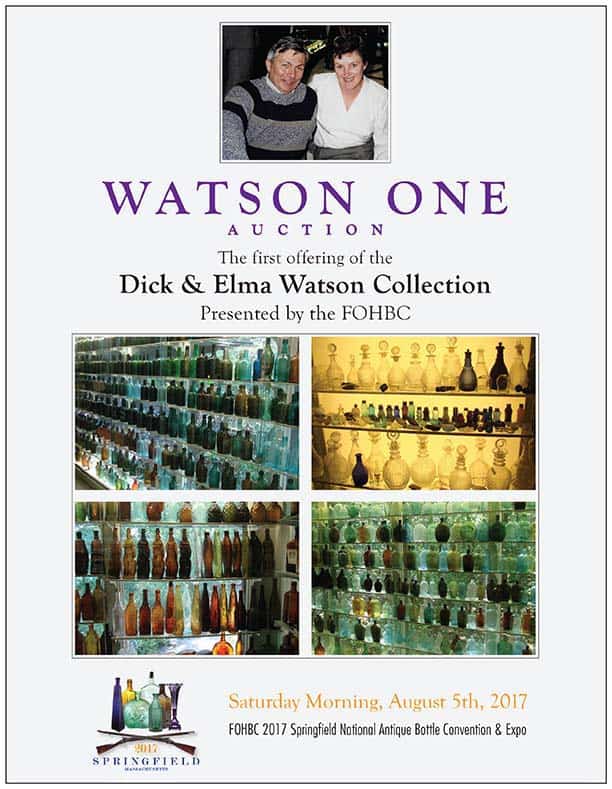 We're going to bring back the FOHBC auctions of the past and this will be an event you do not want to miss! For the first time in many years, we will conduct a live auction on Saturday Morning, August 5th, 2017. The FOHBC and the Watson family is extremely pleased to present to the public, for the first time ever, a wonderful selection of antique bottles and glass items from the famed collection of Dick & Elma Watson. We are very grateful to the Watson family, who in their parents' footsteps, continue to support the efforts of the FOHBC. Clearly, this auction is a momentous occasion and will offer a wide variety of categories of glass items from the Watson collection. Dick and Elma always believed that these fine collectibles were intended to be in the hands of appreciative collectors. The Watson's also believed strongly in this organization. And so, in typical Watson fashion, Dick and Elma continue in this way to support our hobby. A live preview of the Watson One Auction will take place in the MassMutual Center Meeting Rooms 1-3 on Saturday August 5, 2017 starting at 7:00 am followed by the live auction starting at 9:00 am. Catalogue availability and bidding information will be released in a timely fashion. Check the FOHBC website or contact Jim Bender or Bob Strickhart for more details. You don't want to miss this historic and epic event!
04 November 2015: Contract & Hotel Information
Interest in the 2017 Springfield Convention is growing every day. I now am getting many calls a week from dealers and collectors asking me for contracts and hotel information. Could you please post this letter to let the people know that contracts will be available one week before the FOHBC 2016 Sacramento National Antique Bottle Convention & Expo (30 July 2016) and that Bob Strickhart and myself will have a table in Sacramento to answer all questions and sign people up. These dates are very important to remember because Bob and I are doing something new for 2017. We are having a dealer drawing of the first fifty contracts we take and will be giving the winner two (2) free room nights at our host hotel the Springfield Sheraton. But this even gets better! If you are one of the first one hundred dealers to sign up we are having a second drawing for one (1) free room night and then a third drawing for two (2) free banquet tickets.
Speaking of the Banquet, we also would like to announce officially that our banquet feature presentation will be a large screen viewing of the late Dick and Elma Watson Collection of New Jersey. Bob and I were friends of Dick and Elma and both conceder it an honor to be able to share the collection on a big screen for those who never got to see. Bob and I, along with a guest speaker, will share our thoughts about the collection and the Watsons as we view this wonderful collection of over 5,000 bottle in all categories. This will be a once in a life time event and you won't want to miss it.
I am also including the link to make your hotel reservations which can be made now. If calling by phone be sure to mention the FOHBC to get the discount. Rooms are just $119 per night. We have booked as many rooms as we can and they will go fast. Springfield is going to be a bottle event talked about for years to come. We have other big surprises coming. Once we get all the details worked out we will forward the information to you so we can share it with all. Anyone who is interested in helping at the show can contact us. With an event this size we can use all the help we can get. Be it one day or all weekend.
SPRINGFIELD HERE WE COME!
Jim Bender
FOHBC Historian
FOHBC 2017 Show Co Chairman
09 September 2015: Logo and Graphics Look Approved for Convention
The logo and graphics layouts below were presented to the FOHBC 2017 Springfield National Antique Bottle Convention & Expo Co-Chairs Jim Bender and Bob Strickhart on Monday, 31 July 2015. Graphics approved for development by Co-Chairs and FOHBC Board of Directors. Read full Story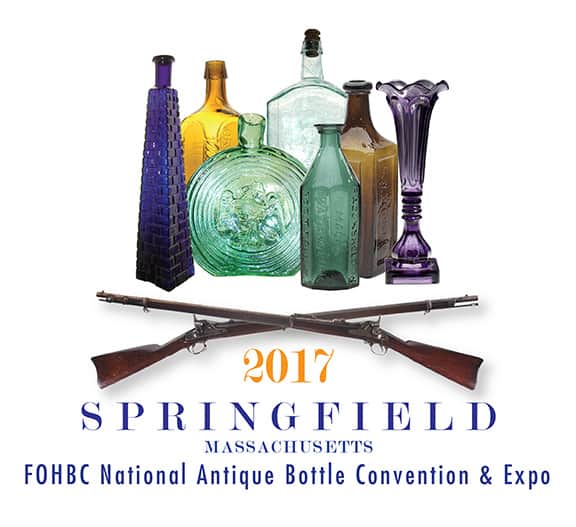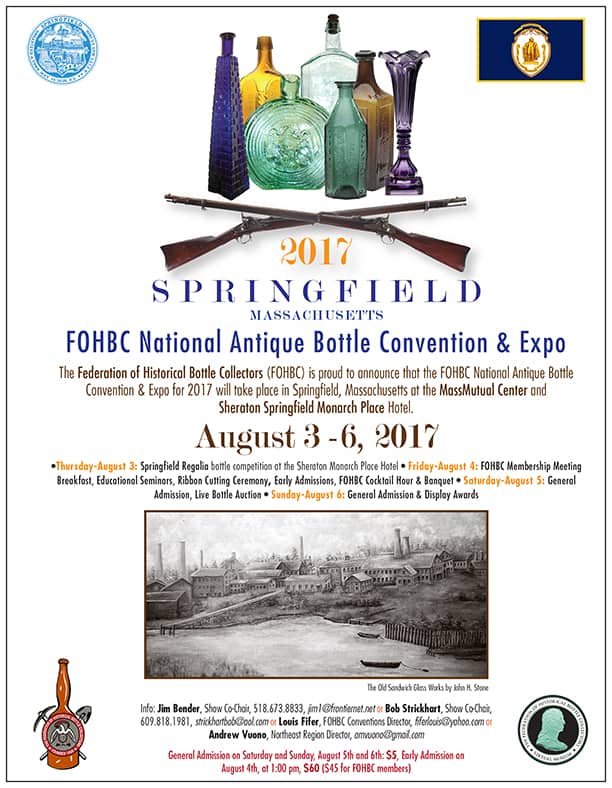 ---
02 August 2015: 2017 Springfield National C0-Chairs
FOHBC 2017 Springfield National Antique Bottle Convention & Expo Co-Chairs, Jim Bender (left) and Bob Strickhart (right), take a moment to pose at the 2015 Chattanooga National Antique Bottle Show.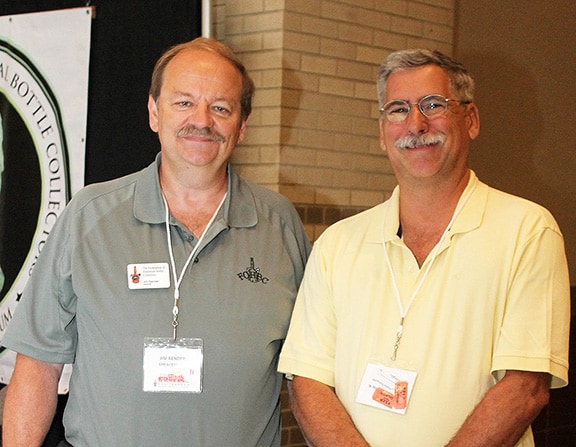 ---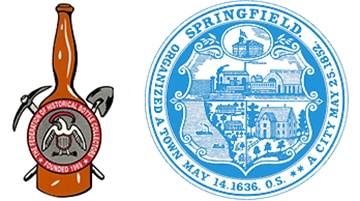 For Immediate Release:

FOHBC in Springfield, Mass in 2017!
13 May 2015
Northeast Region:

Some things are worth waiting for. This is one of those things…

The Federation of Historical Bottle Collectors (FOHBC) is proud to announce that the FOHBC National Antique Bottle Convention & Expo for 2017 will take place in Springfield, Massachusetts. Commencing Thursday, August 3rd, 2017, the MassMutal Center of Springfield Mass. will be the site of a historical bottle and glass experience you will remember for years to come.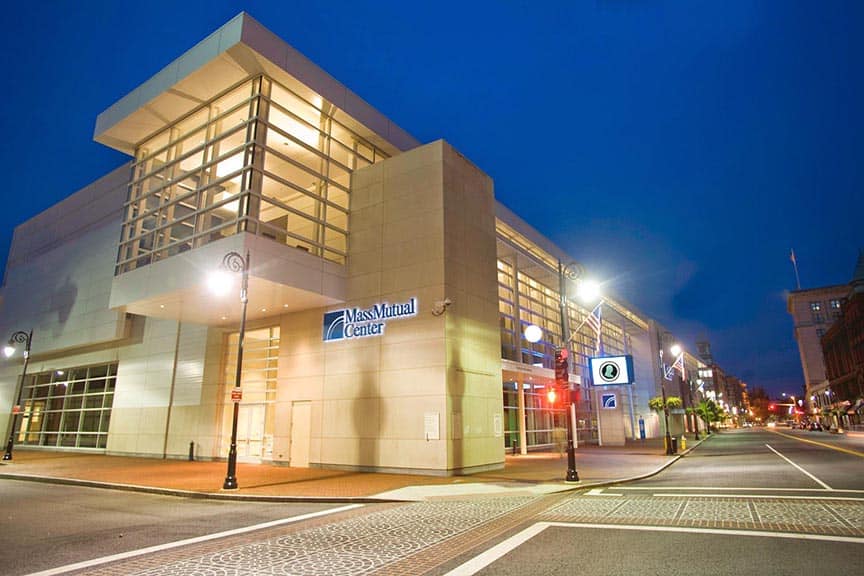 From Thursday the 3rd to Sunday the 6th of August in 2017, this Bottle Convention & Expo will bring back all the familiar FOHBC show favorites such as a world-class antique bottle show and sale, banquet, auction, educational seminars, displays and the bottle competition shootout. However, Show Co-Chairmen Jim Bender and Bob Strickhart, have a little something special planned that will make this Convention and Expo an event that is talked about for decades to come. Jim and Bob have made it their mission to make this "the bottle show of the century!"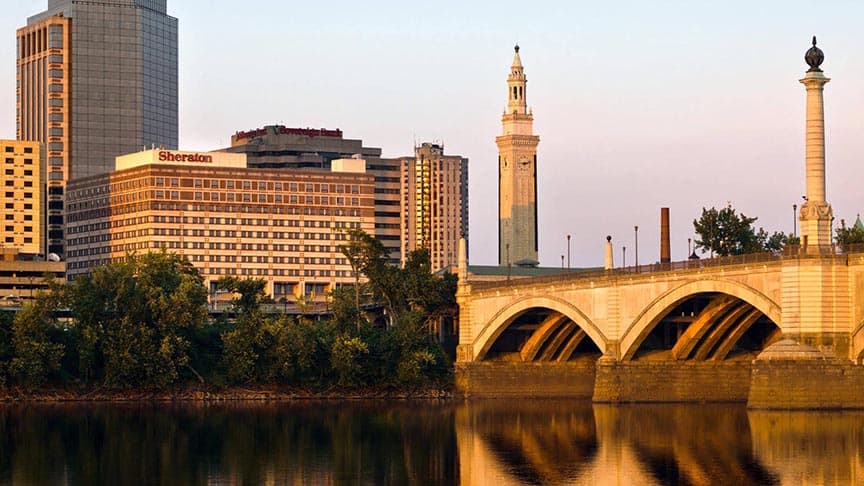 After an exhaustive search, the MassMutual Center of Springfield was chosen for its location and superior accommodations. Teaming with the MassMutual Center, the Sheraton Springfield Monarch Place hotel will provide host hotel services sure to meet and exceed everyone's expectations. Deluxe accommodations including free overnight parking will be available for an affordable $119 per night. A stones' throw away, the MassMutual center will provide us with a comfortable venue with plenty of natural light and a spacious setting for seminars, banquets and the many other special activities planned.
Watch the FOHBC Web Site "2017 Springfield National" page for updates including a live link for room reservations. Also, information concerning show contracts, seminars, banquet, shootout and the like will be forthcoming.
This will be worth the wait!