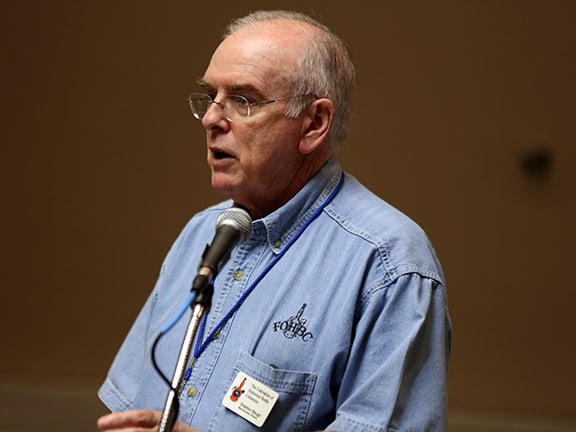 Sad news for sure—we have just been informed that long-time FOHBC board member and antique bottle and glass collector Sheldon Baugh passed away last evening. We've been following his deteriorating health through fellow collector and friend Gary Beatty, who just called on his way to the airport headed up to Kentucky to help his wife, Brenda, and plan for the services. We will post more information as it becomes available.
Sheldon Earl Baugh of Russellville, Kentucky | 1943 – 2023 | Obituary
Sheldon was a collector of bottles, go-withs, and anything that caught his eye. He would proudly tell everyone that he was a "true collector." Sheldon particularly focused on bitters, both figural and squares, from the southern states and national companies. He also specialized in Shaker bottles and paper goods from the Shaker communities. He became interested in the Shakers and their industries because they had a community where he lived in Logan County, Kentucky.
Sheldon started collecting in 1966 after returning home from the United States Air Force. He attended Western Kentucky University and served in the Kentucky General Assembly for 14 years. He was also licensed as a securities broker for twenty years and, from 1968 on, owned an insurance agency, then worked part-time as an agent. Sheldon was married to his wonderful wife, Brenda, having celebrated their 61st anniversary this year! Sheldon leaves two children and two grandchildren. Sheldon was a life member of the FOHBC and served as the Midwestern Regional Director for six years, President for four years, Director at Large for twelve years, and Merchandise Director for four years. You would rarely see Sheldon without his FOHBC shirts which he wore proudly year after year. Sheldon also served as a Deacon and Sunday school teacher for the Post Oak Baptist Church and many clubs and organizations in his community. We will miss him dearly and give our love and support to Brenda and his family.