Genesee Valley Bottle Association Holds 47th Annual Show and Sale
By Jim Bender, FOHBC Historian, FOHBC 2017 Springfield National Co-Chair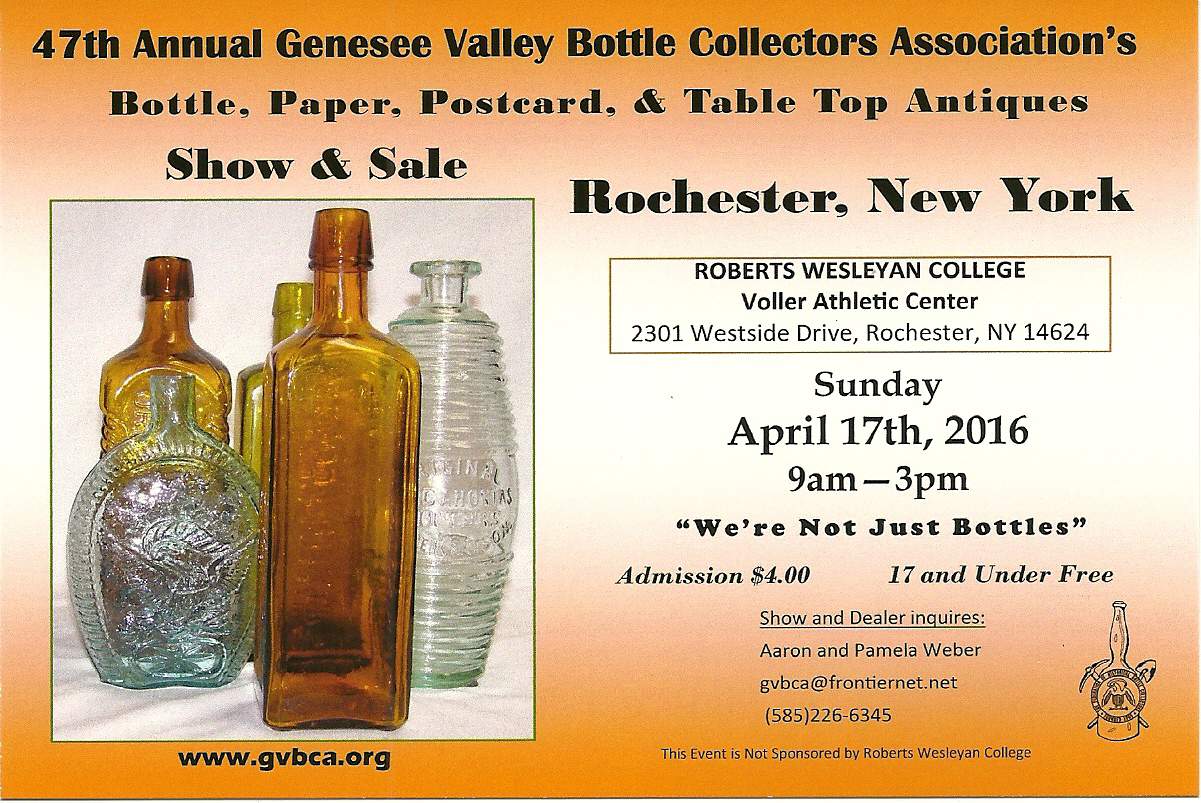 The weekend of last April 17, I made my annual trip to Rochester, New York for the Genesee Valley Bottle Association's 47th Annual Show and Sale at the Robert Wesleyan College Voller Athletic Center at 2301 Westside Drive.
This is a great location for a show with about everything a dealer could want. There is plenty of parking, big doors on the level ground to load and unload, great lighting and there is plenty of room behind the tables. Aaron and Pam Weber once again were the show chairmen. Pam and Aaron told me the staff at the center are as helpful as you could ever ask. Pam's quote was, "They can't seem to do enough for us. It's been a pleasure to host our show there." Their hard work always shows and both are always busy doing something. People like this are what makes our hobby live on. Aaron and Pam wanted to make sure everyone who helped out got mentioned. I, too, believe a thank you should go out to all these great people. Here is Team Rochester:
Admissions were handled by Terry Woodhams, Joanne and Mike Washington and Audrey Stecher. Saturday Night Hospitality was handled by Bonnie St Denis. Display chairman once again was Chris Davis. Advertising chairman was Jim Bartholomew. Sunday morning hospitality was handled by Monica Weber, Leo Goudreau and Sue O'Connell. Jacks (and Jills) of all trades helpers were Ken Willick, Jeff Katchko, Marianne Wink, Larry Wahl, Scott Stevenson and Dianne DeVolder.
Sometimes, I hear people say things like they ran out of mayo at the food counter and I really have to laugh to myself. If you've never put on a show, you have no idea the amount of work involved. At most shows, the people doing the work are getting nothing but the pats on the backs and a thank you once in a while. So the next time some little issue comes up at a show, think about the big picture, please.
The line waiting to get in this year was the longest line I have seen at a show so far this year. I would guess at least 100 people were waiting to get in. The attendance was over 600 people. I would also like to mention that when any of the college students wanted to look in, they were invited in at no charge. I was told over 20 students joined in to look around. This is great and could be the spark creating a new collector. My hats off to that idea!
Every year, a 50/50 raffle is held with a guaranteed prize of $1,000. This year's winner was Ken Reed, a dealer from Rochester.
During the late '70s and early '80s, I would attend the show and at the same time there was a large antiques show going on right next door. As times changed so did the shows. The antiques show stopped and the bottle show became somewhat smaller. So somewhere along the line the two shows became one. It's the best of both worlds for me. The show today is listed as a bottle and collectable show.
I believe this works well for the club. The hall is filled with over 125 dealers and 225 sales tables. I say do whatever needs to be done to keep shows running. Every dealer I spoke to had nothing but good things to say. I have yet to meet a bottle person who does not collect something else. Great job, guys!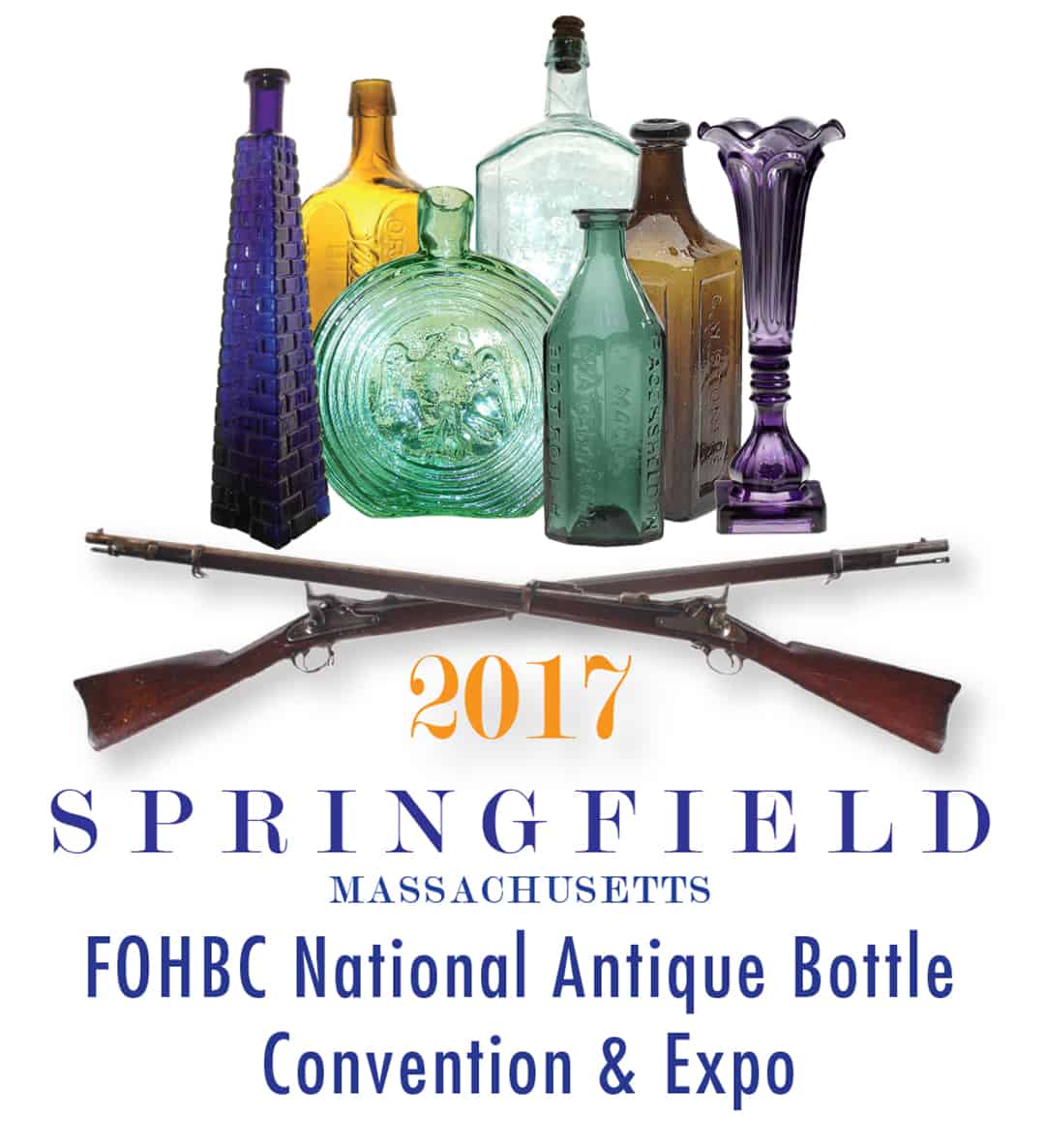 I was unloading my truck Saturday and the first person asked me, "Got any Springfield contracts with you?" As always, I tell them they will be ready by the end of July. I cannot tell you the interest in Springfield (FOHBC 2017 Springfield National Antique Bottle Convention & Expo) we are having. I am so looking forward to giving folks the super show they deserve.
A few months ago, I sent out a questionnaire to Northeast members asking what would make their show better. Bob Strickhart and I reviewed the answers and at Bob's suggestion we made one major change. Our auction will be held on Saturday morning, not Saturday night. So many people told us that 7:00 in the morning to 10:00 at night is just too long. Every person that we told at the show of our plan was on board and thought it was a great idea. Many told us they would come to the auction in 2017, an event they normally would skip because of the time of night it has been taking place. So we both felt better about the whole decision to change when we saw the overwhelming support behind it.
With all the fun I had this weekend going to dinner with friends, walking around the show room talking with people about everything and mainly Springfield, the best part of the whole weekend for me was when Bob took me to his car and handed me a bag. He said, "Steve sent this up for you." Steve is one of the sons of the late Dick and Elma Watson. I opened it and there was the most beautiful drawing of a National (Ear of Corn) Bitters you could ever hope to see in full size. I knew just what it was the minute I saw it.
Dick's wife Elma had drawn all the line drawings for both of Dick's bitters books back in the 1960s. Many times, Dick and I talked about it and he thought the drawings were lost forever at the publishers'. About two months ago, I received an e-mail from Steve with a single photo, an old box opened with a drawing of an Indian Queen laying on top. It simply said, for your viewing pleasure. My heart stopped and I knew history was saved.
Steve made me a perfect copy of the drawing and had it mounted for me. It will stay with me now until my end of days. I could get into the whole story of the drawings and write on forever, but keep watch for Antique Bottle & Glass Collector for a full story that Bob wrote about them. After that, join Bob and I at the banquet in Springfield on Aug. 3-6, 2017, where we will share stories and photos about Dick and Elma Watson. They were two fantastic people who lived our hobby every day of their lives. They supported the hobby like no others. Their story is something the world needs to hear and history books must record.