Jeff Wichmann inducted into the FOHBC Hall of Fame
03 April 2016
The FOHBC takes great pleasure in confirming that Jeff Wichmann, of Sacramento, California has been inducted into the Federation of Historical Bottle Collectors Hall of Fame. The Federation Board was very pleased with the nomination process and approved his induction with a unanimous, 18 of 18 votes. A 2/3rd majority was required. Jeff will join an important group of individuals who have brought forth significant contributions to our great hobby.
Jeff will be accepting the award at the FOHBC 2016 National Antique Bottle Convention & Expo Banquet on Friday, 05 August 2016, at the Lions Gate Hotel Hotel, Club Ballroom.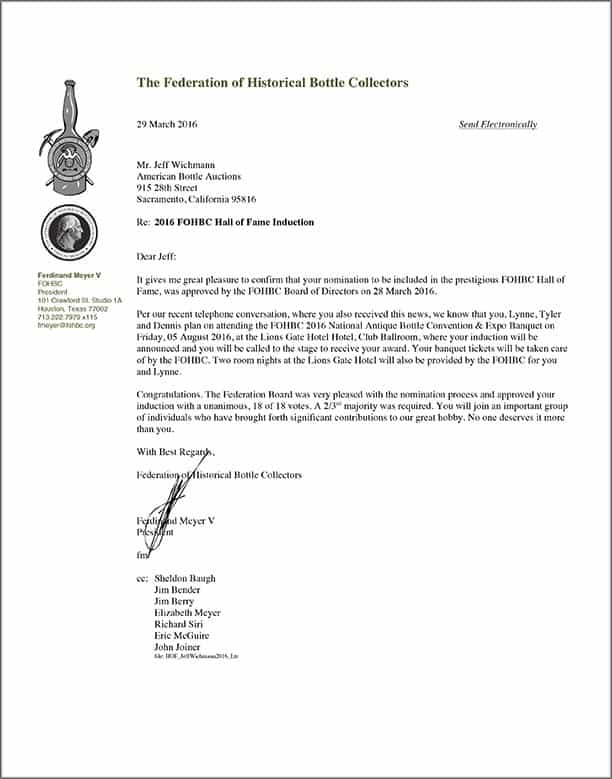 Jeff Wichmann is a California native who has parlayed his vast knowledge of antique bottles and glass into a full time related business called American Bottle Auctions. His was the first auction house to provide full-color glossy catalogues sent to interested collectors at no charge. He also launched what is believed to be the first online antique bottle auction. In 2013, Jeff was inducted onto the FOHBC Honor Roll, but given his increase in antique bottle collecting-related activities, including financial support of the Federation, the board of directors voted to move him up to the organization's highest honor level. Photography of old glass is one of his strong points. He also shares his knowledge on his web site www.americanbottle.com. In 1999, he published The Best of the West – Antique Western Bitters Bottles, a book containing information of value to collectors of that genre.