Shupp's Grove was a Hot One
This past weekend, Linda and I attended the 16th Annual Shupp's Grove Bottle Fest in Adamstown, Pennsylvania. We attend this show every year and I have to say it is one of my favorite shows of the year. I like the outdoors setting and the fact that you can roam around until dark visiting with people.
This year it was hot, I mean very hot. It hit the 90's in the shade at times. I believe it slowed some people down this year. Mornings were busy but as the sun got overhead the crowds thinned out for sure.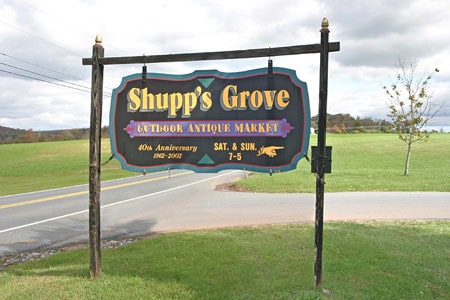 Shupp's Grove Antique Market is set up much like a campground with showers, a deli and ice cream shop. They hold sales events there all year, just about every weekend. I had many of the full time dealers thank me for coming and they love us bottle people. You see, us bottle people collect other things and shop everywhere and not just in the bottle rows.
Once again, I had so many people ask me for contracts for the FOHBC 2017 Springfield National Antique Bottle Convention & Expo it was not funny. The good news is that on July 28th they will be online at FOHBC.org. I look for the show to sell out fast this time. So many people ask me, "Will it be as good as the 2013 Manchester National was?" My answer is always the same, "You don't want to miss this event."
If you don't go online, just contact Bob (Strickhart) or I and we will mail you a contract. Please don't wait too long. We believe it will be a fast sell out. We plan on having a waiting list once sold out so if someone drops out someone new can come on.
Bob and I continue to have people ask to help us with things. We are so lucky to have so many good people in this hobby. I would like to name a few special guys who both stepped right up to give us a hand at Shupp's Grove. First, Greg Spurgeon of North American Glass. We wanted to find some old canning jars to make centerpieces on the banquet tables and when Bob contacted Greg to see where we could get some cheaper jars he stepped right up and said I have some and will give them to you guys. So Bob met Greg at Shupp's Grove and he gave us some nice jars. Thanks again Greg!
The next guy I would like to mention is my good friend Dave Olson. I was sitting with Dave visiting about Springfield and when I mentioned having grab bags for kids, Dave asked how many do you need? I told him 50 or so but we have plans for two extra special grab bags. One each day on Saturday and Sunday with a great bottle for some lucky kid. Dave said, "Well I can help with that." He could not give me the bottles but would sell them to me dirt-cheap. Well let me tell you this, the two bottles are fantastic and you may as well say Dav gave them to me. I can't wait to see the kid's eyes that get these bottles. I want to keep them a surprise until the kids get them. All I can say is mom and dad will want them in their collection.
I have to tell you, doing all this work and preparation for Springfield I have learned it is well worth it. People step up all the time for the better of the hobby and Bob and I plan on giving them everything they hope for. I am off to the FOHBC 2016 Sacramento National Antique Bottle Convention & Expo in a few weeks. My understanding is it is all falling into place and should be a lot of fun.
Jim Bender
FOHBC Historian