Madison Bouckville Tent Sale Still a Hit
23 August 2016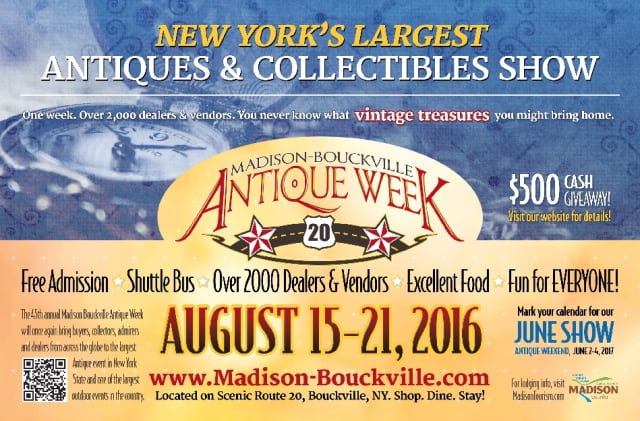 For a number of years now, a group of us guys have rented a couple of tents at the nationally known and popular, Madison Bouckville Antique Week in Bouckville, New York. They call themselves the "Bottle Nuts."
This past Saturday, August 20th, my good friend Jim Healy and I drove out to see the Bottle Nuts and attend the antique event. Jim had never been and I myself go every year as long as it's not raining.
We got there about 8:00 am and found the guys all in good spirits and smiling. This is a good sign as they had been there all week. That's right, the show is a week long.
This year, Jim Burns and Jim Bartholomew handled the tent rental and table rentals. They had both tents full and there was a lot to take in. I myself spent more time visiting and talking about the FOHBC 2017 Springfield National, which I am co-chairing. The nice thing about it now is when people say do you have any contracts, my answer is yes and I hand them one. I handed out many at the tent and a few paid right on the spot.
Order 2017 Springfield Dealer Tables Here
There were some great bottles in the tent. David Sidelinger of Corry, Pennsylvania had some killer bitters bottles. The photos I took in the tent do not do justice to the real colors.
I was also able to give the guys from the Rochester and Syracuse clubs their award plaques from the recent FOHBC 2016 Sacramento National Antique Bottle Convention & Expo banquet in California a few weeks back. I was there and able to bring the plaques back for them. Great job guys. It is always nice to see people rewarded for their hard work.
I ran into Charlie Betts who asked me about doing a display in Springfield. I can't wait to see what Charlie has in mind. I believe he is one of the top fire grenade collectors in the country.
Jim Healy is always amazed at the work people do to keep the hobby alive and well. He enjoyed the tent visit allot and even picked up a piece of stoneware to repair.
Next year around the end of August plan driving out to central New York and spending a day or two at Madison Bouckville and say hi to the Bottle Nuts.
Jim Bender
FOHBC Historian
FOHBC 2017 Springfield National Co-Chair