48th Rochester Show and Sale was Great
05 May 2017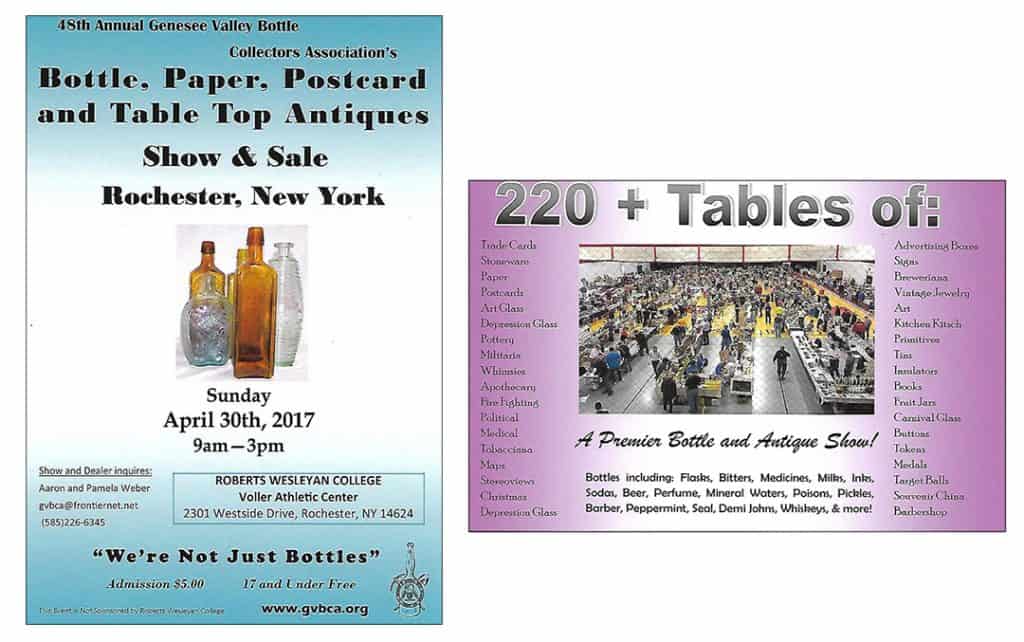 This past weekend, April 30th, I was able to make my yearly trip to Rochester for their 48th annual show and sale. Aaron and Pam Weber once again served as the show chairs. They do a great job with this show and always have a packed show room.
They will be the first to tell you they don't do it alone. The club is run by a great board which includes John DeVolder (president), Chris Davis (vice president), Ken Willick (recording secretary), Lucy Kraemer (corresponding secretary) and Jim Bartholomew (treasure). Along with that board, other volunteers step up to help. Terry Woodhams oversees admissions, Doug Nicot takes care of the Saturday night hospitality party. To round out the volunteers we have Bea Woodhams, Mike Washington, Joanne Washington, Larry DiMarco, Monica Weber, Kelly Weber and Marianne Wink.
The club is officially known as the Genesee Valley Bottle Collectors Association. But like all clubs that have a show it gets cut off to where the show is held (Rochester). That's why I always call the shows by their locations as most dealers and collectors do.
Once again, this year the club held its show at the Roberts Wesleyan College on 2301 Westside Drive in Rochester, New York. This is a great location for a show with plenty of room for the 222 tables of bottles and antiques. With 119 different dealers from 10 states, the show is not just bottles as their ads say. They opened up the doors years ago to other forms of collectables. The show itself is about half bottles. This brings in a big crowd and opens the hobby up to new people as well. One nice thing they do to encourage younger people is free admission to anyone 17 years old or younger as well as any students. The total of free admissions this year was 42. This is a great way to get younger people to come in and look around. I wish all shows would start doing this. They also had 598 paid admissions as well.
Chris Davis always seems to get a nice run of displays at the show. There are about 10 to 12 displays every year. This is nice as most shows struggle to get 2 or 3 displays.
Once again, I fielded many questions about the upcoming Springfield National. We are now forced to say that the host hotel, the Sheraton Springfield Monarch Place Hotel is sold out. We got the hotel to provide 500 room nights but at this point it is full. We have a small amount of rooms available across the street at the Springfield Marriott .The price is a bit higher but as they say, "the early bird gets the worm." The second question on everyone's mind is the Watson One Auction. We still cannot say much but we will have an announcement very soon. This is going to be a great event.
We still have tables to sell and need to do so. I hear more and more, "I plan on coming but don't know if I want to set up." We need everyone to pitch in and help make this a killer show. There is just so much going on in the back ground you would not believe it. Just mark your calendars and come join us. So by the time I see you at Rochester next year it will all be in the books. I have included photos of the show so you can see all that you missed. See you next year.
Jim Bender
FOHBC Historian
2017 Springfield National Co-chairman