Latest Update – 22 July 2019
Dealer Tables, Early Admission and Banquet Tickets Still Available!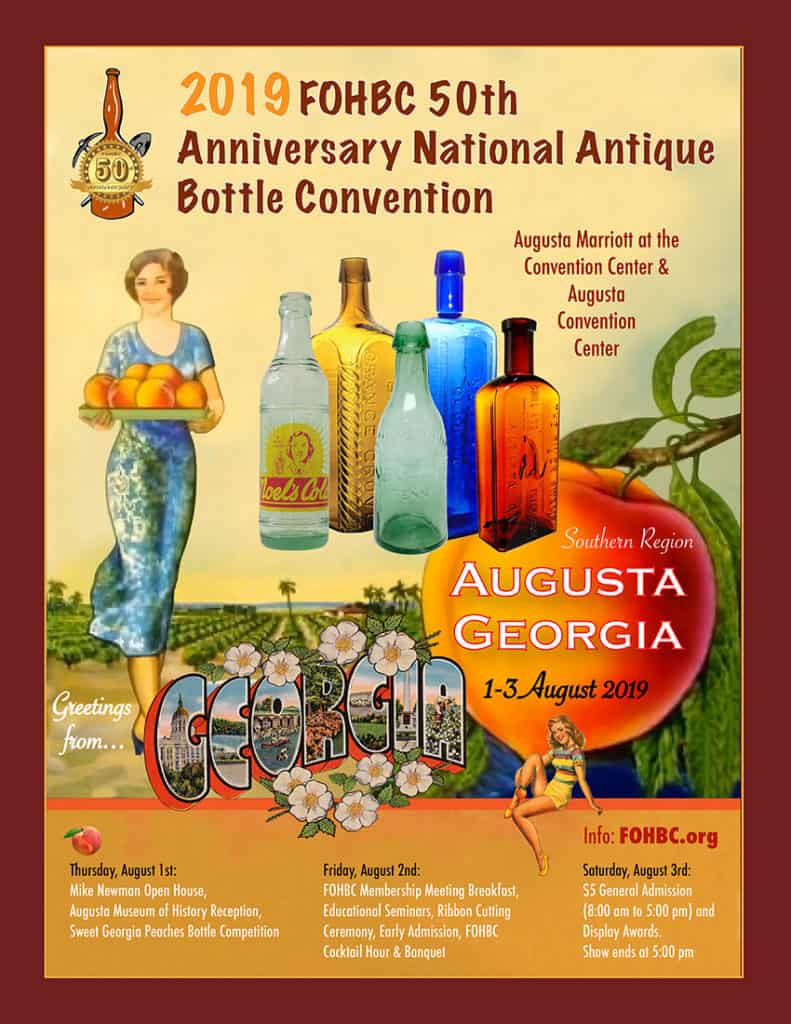 The Federation of Historical Bottle Collectors (FOHBC) is proud to announce that the FOHBC 2019 50th Anniversary National Antique Bottle Convention & Expo will take place in Augusta, Georgia at the
Augusta Marriott at the Convention Center & Augusta Convention Center.
Welcome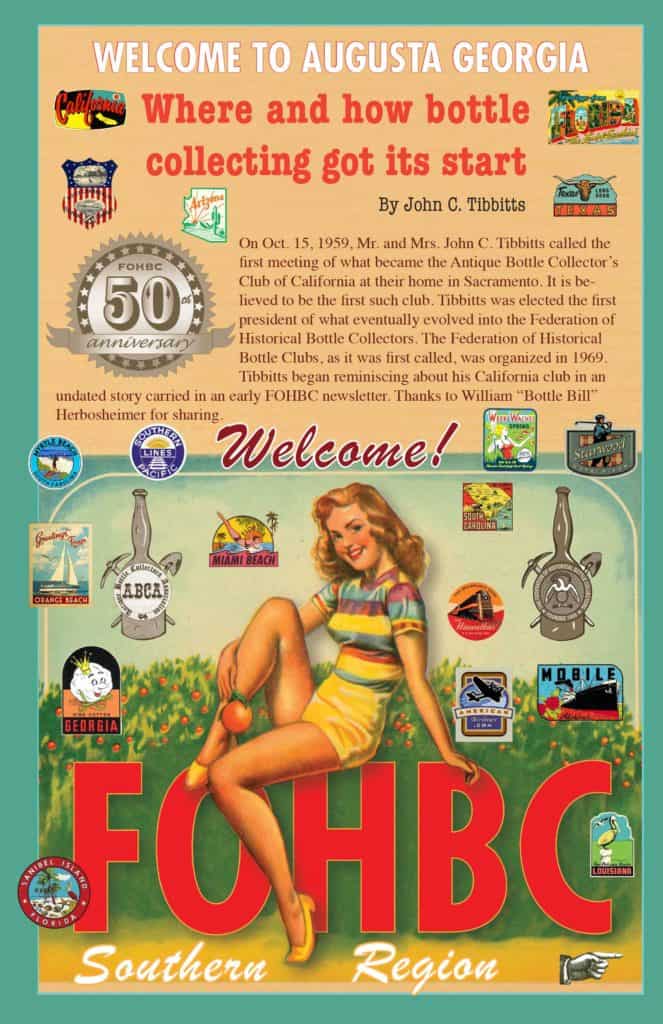 Schedule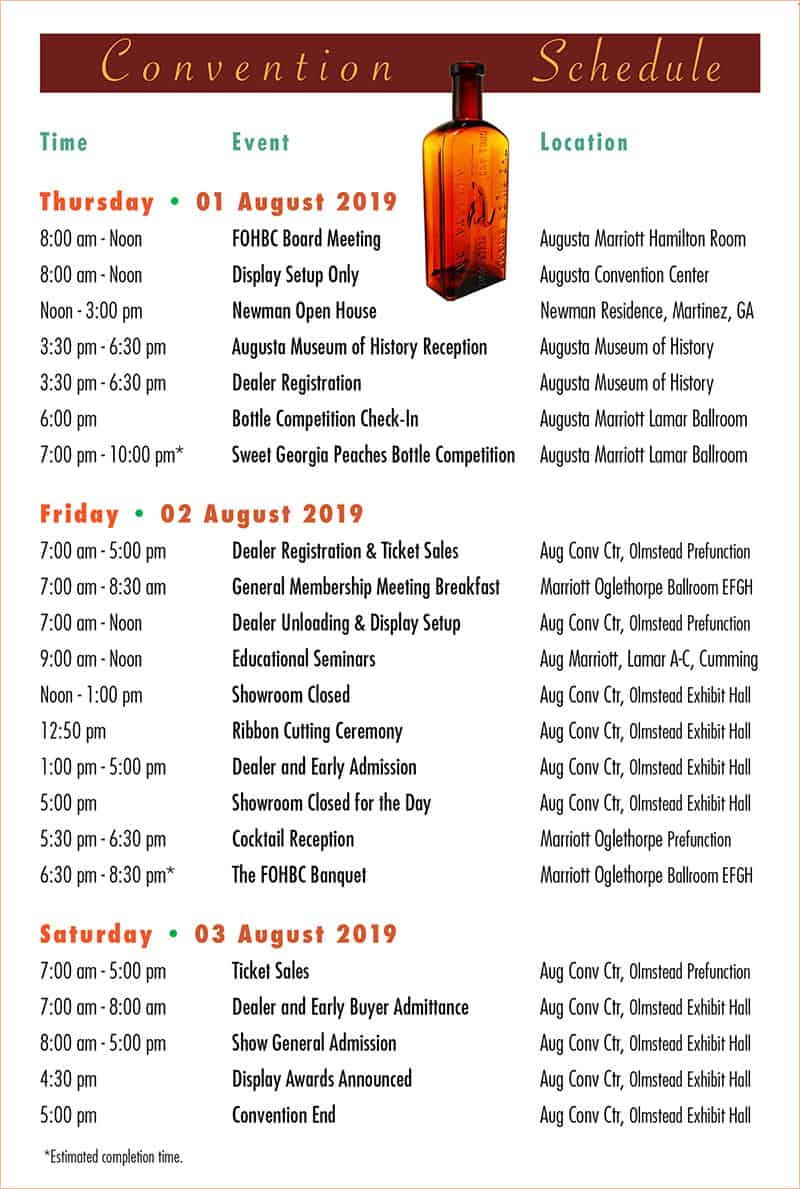 This will be a three-day event commencing on Thursday-August 1st, opening with the early afternoon Mike & Julie Newman Open House followed by the late afternoon Augusta Museum of History Reception followed by the Sweet Georgia Peaches bottle competition at the Augusta Marriott at the Convention Center. On Friday, August 2nd, there is the FOHBC Membership Meeting Breakfast, Educational Seminars, Ribbon Cutting Ceremony, Early Admissions, FOHBC Cocktail Hour and Banquet and on Saturday, August 3rd we will be have $5 General Admission (children 15 and under free) to the bottle show at the connected convention center followed by Display Awards at the conclusion of the show. The convention will end at 5:00 pm on Saturday.
BANQUET TICKETS STILL AVAILABLE!
Team Augusta

FOHBC Augusta Consortium Chairs: Bill Baab, riverswamper@comcast.net, Ferdinand Meyer V, fmeyer@fmgdesign.com, Mike Newman, thenewm@aol.com, Walter Smith, supplies@furnituredoctor.net, Marty Vollmer, martyvollmer@aol.com, Eric Warren, scbottles@aol.com
Event Links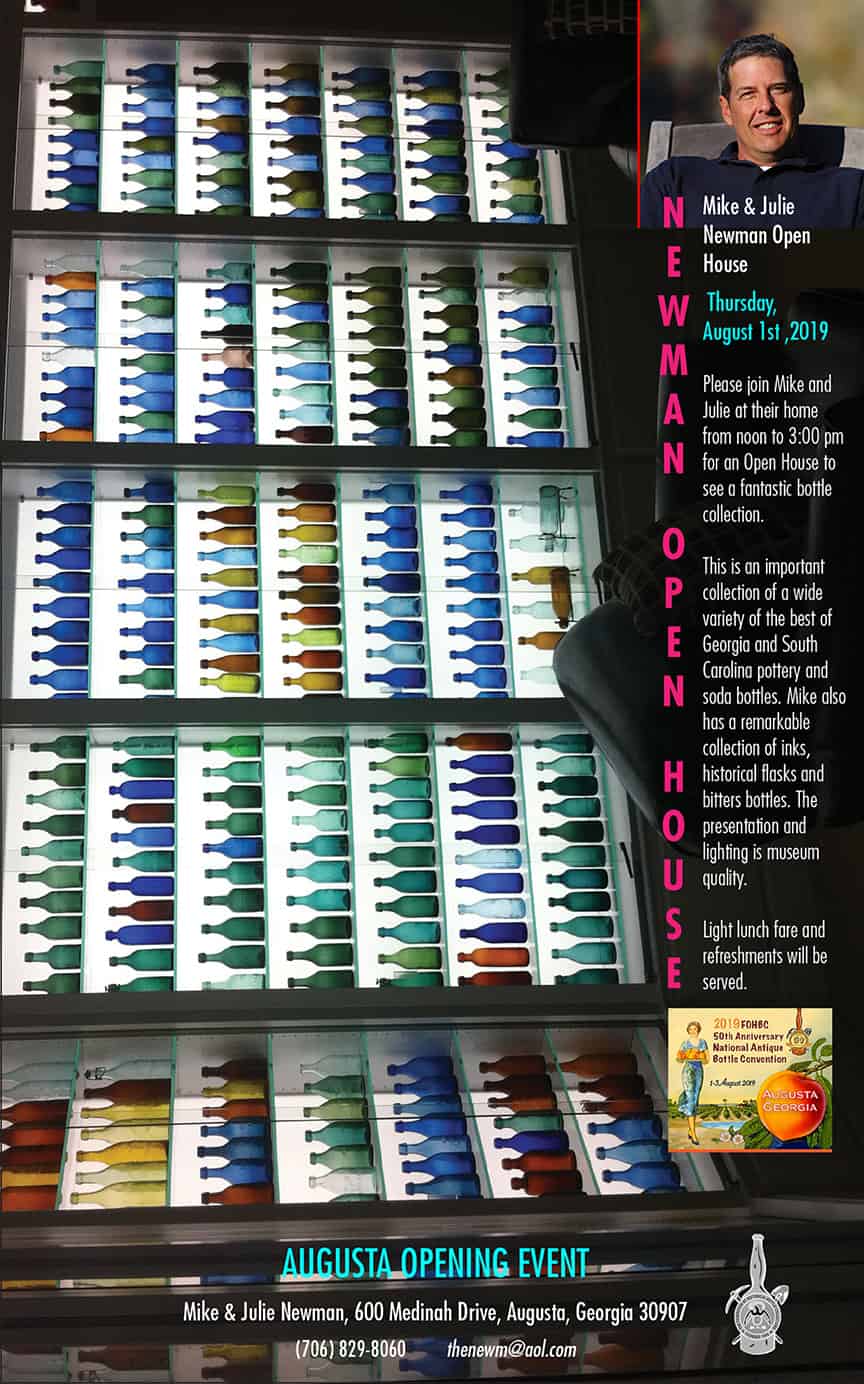 Mike & Julie Newman Open House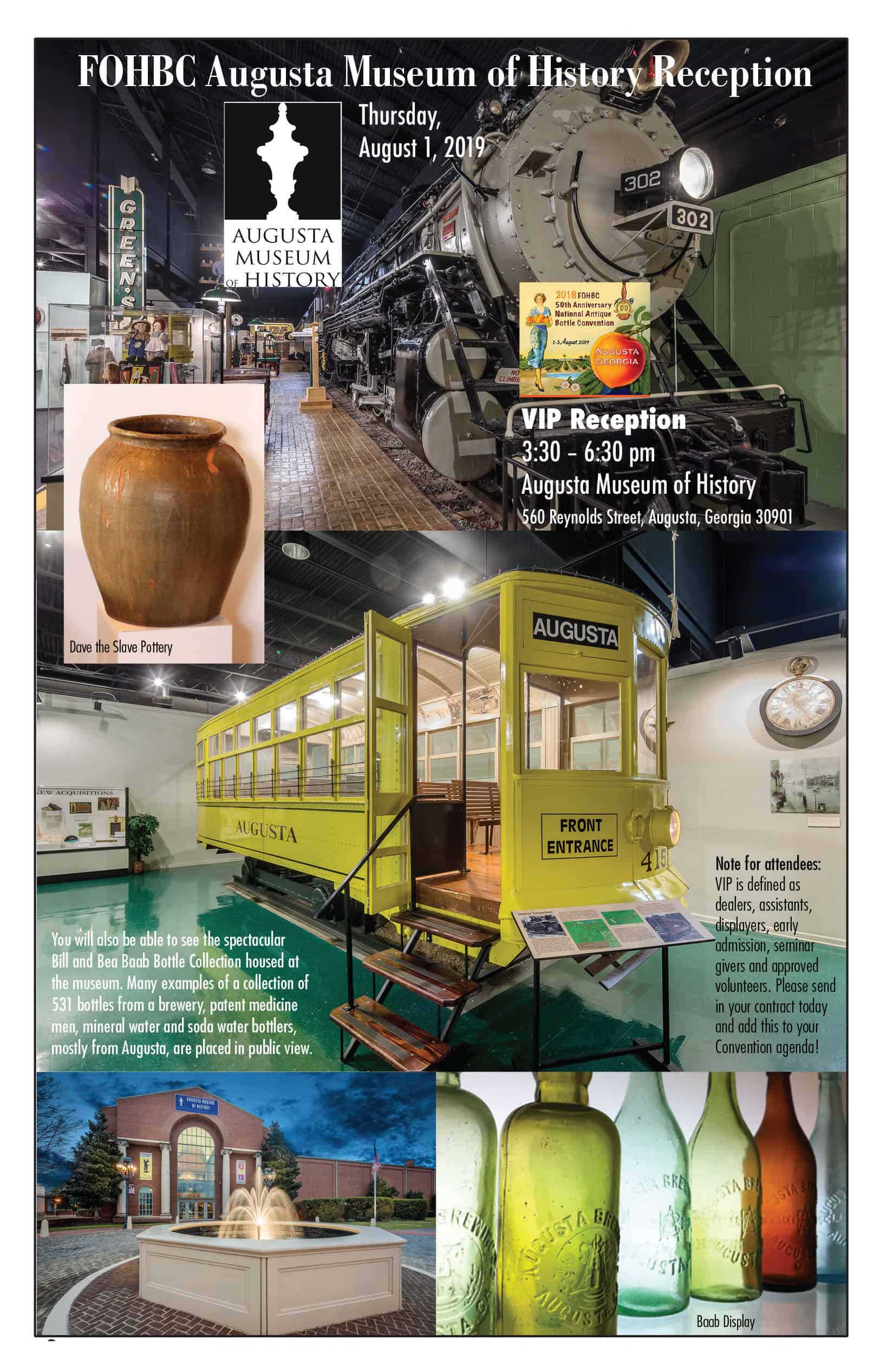 Augusta Museum of History Reception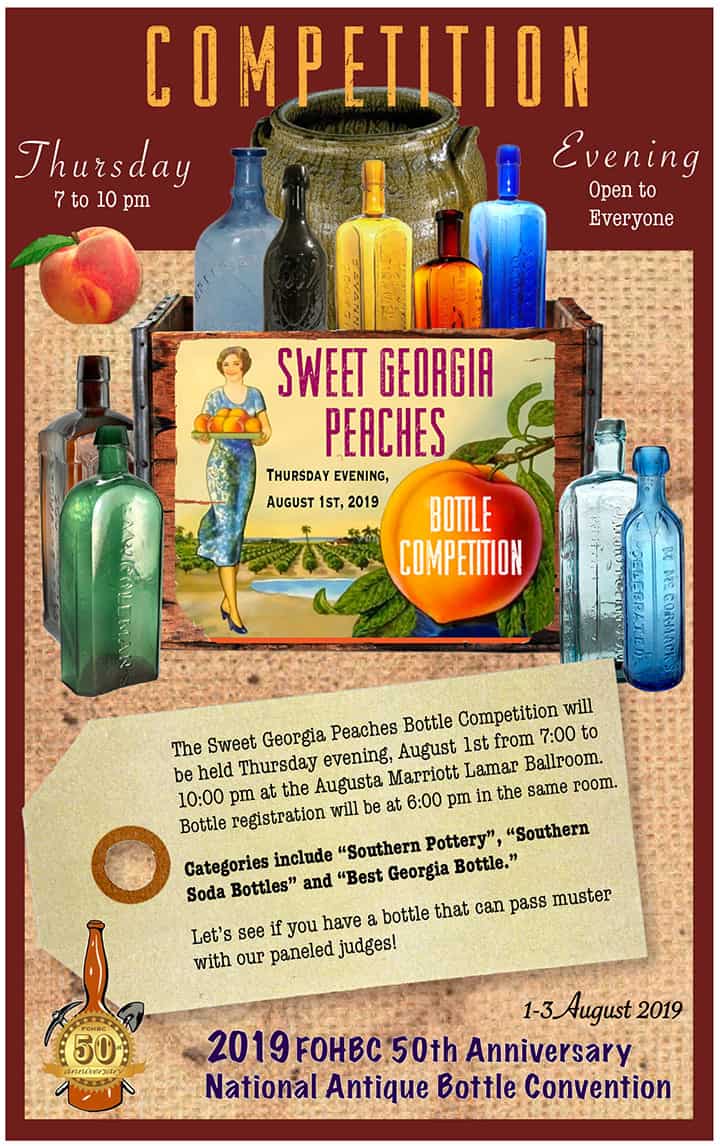 Sweet Georgia Peaches Bottle Competition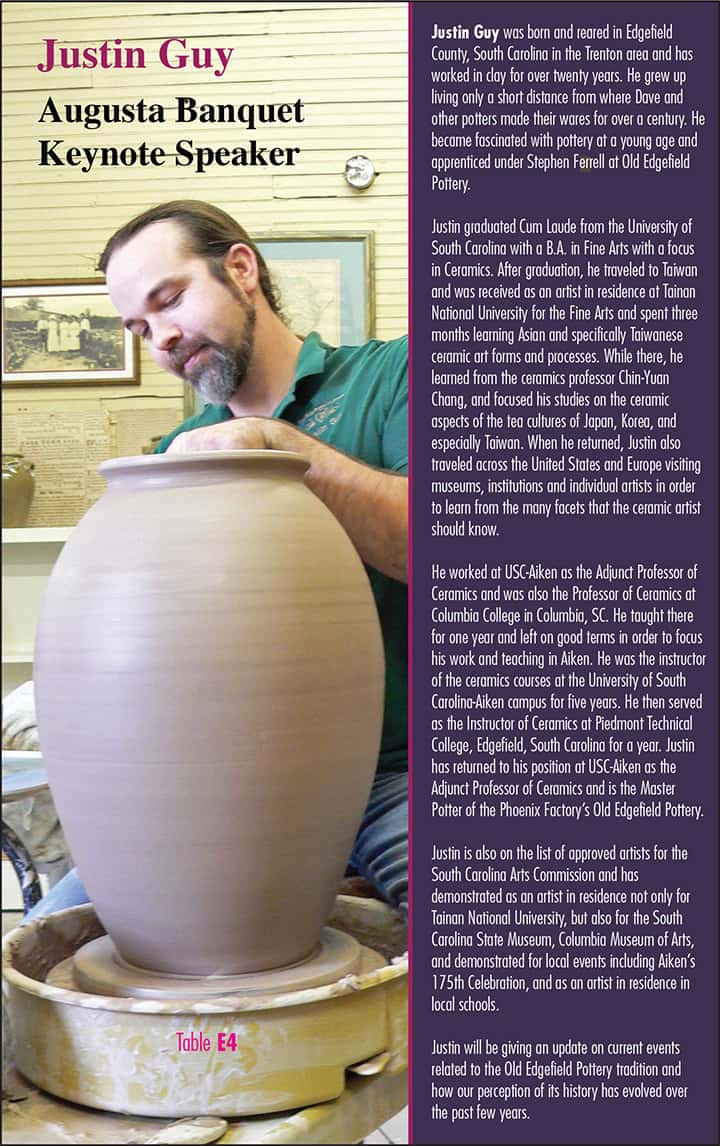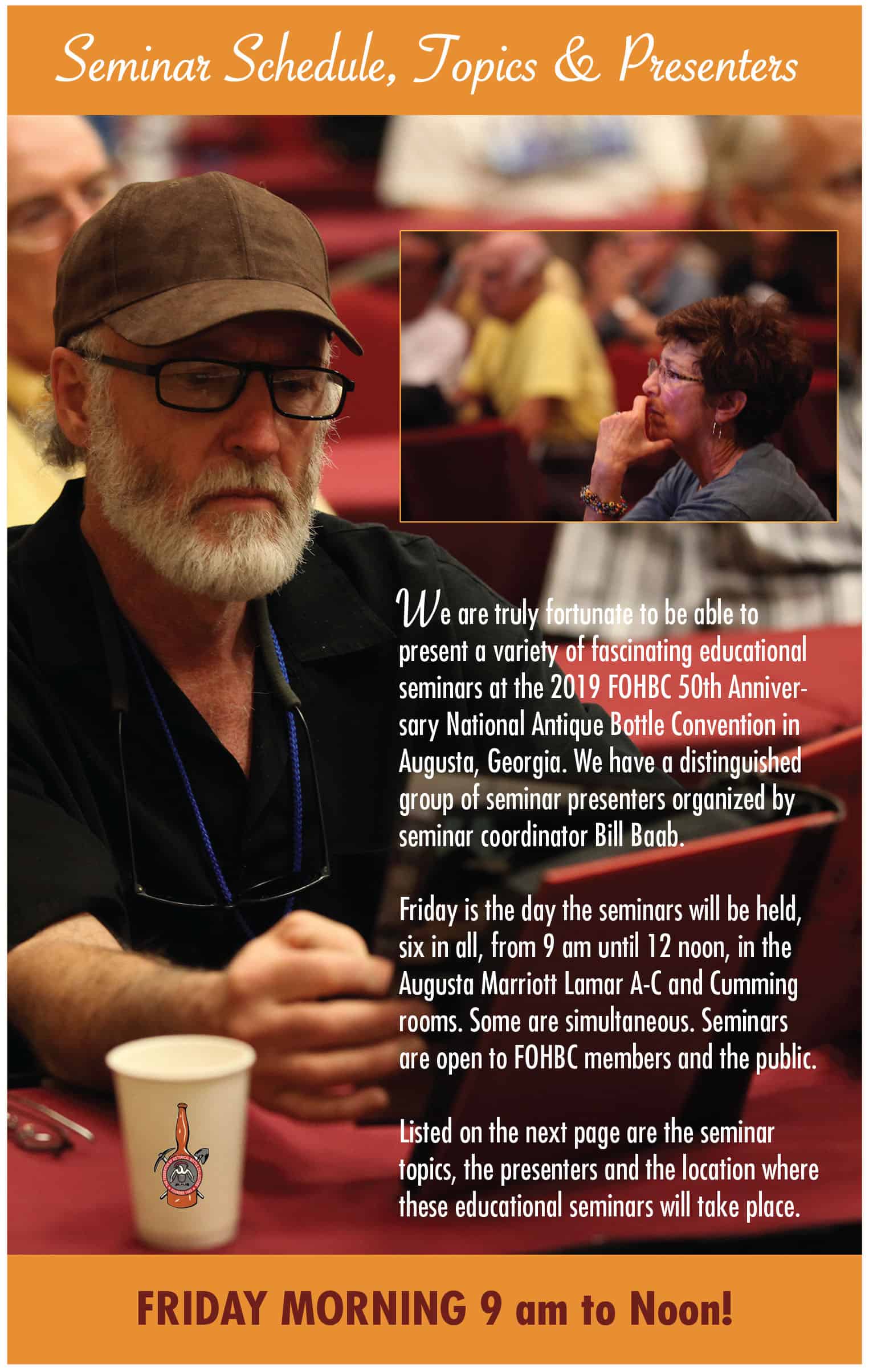 Hotel Information
Augusta Marriott at the Convention Center
HOTEL SPECIAL RATE CUT-OFF DATE WAS 17 JULY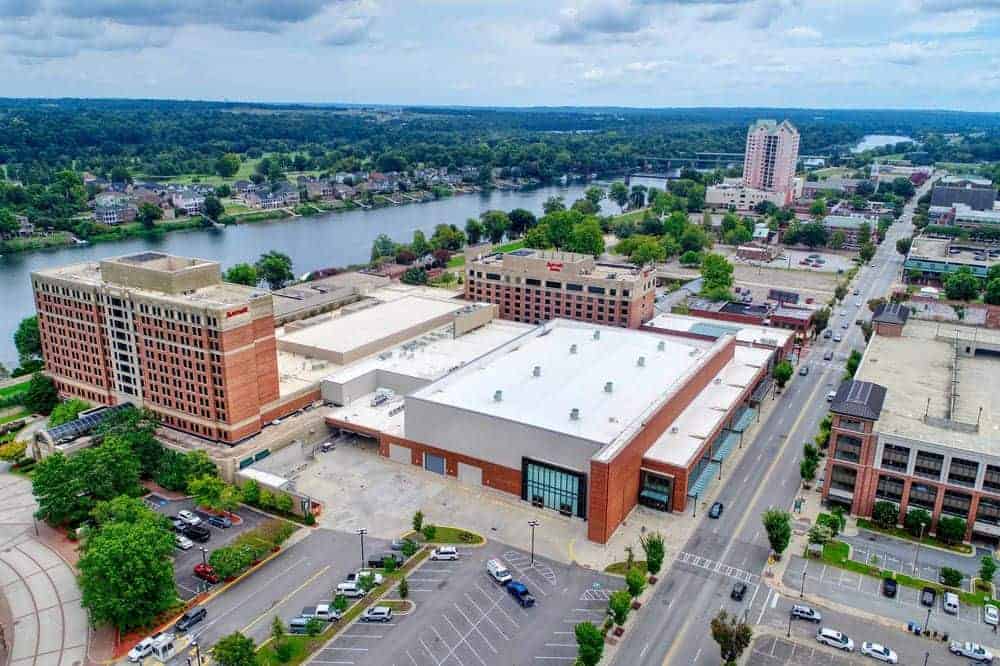 Olmstead Showroom Floor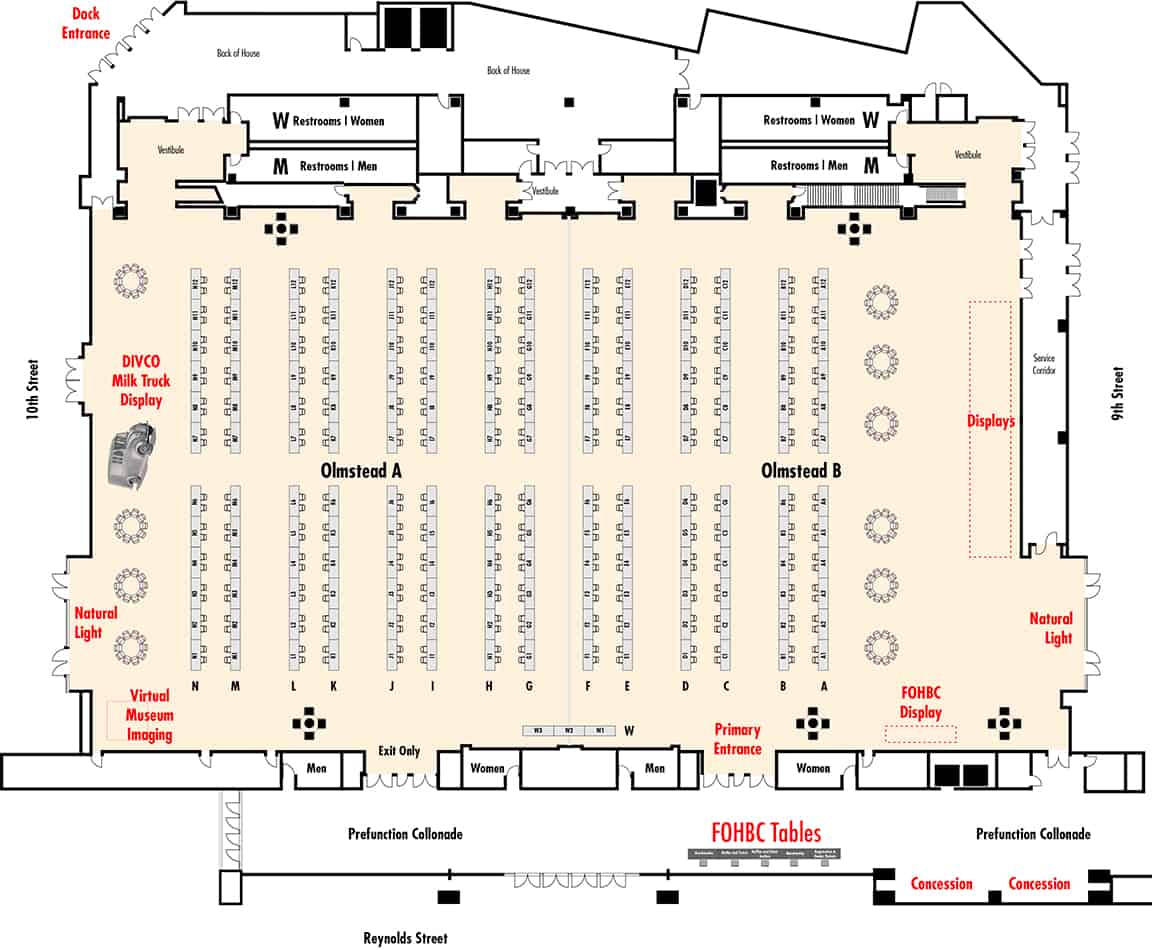 Ribbon Cutting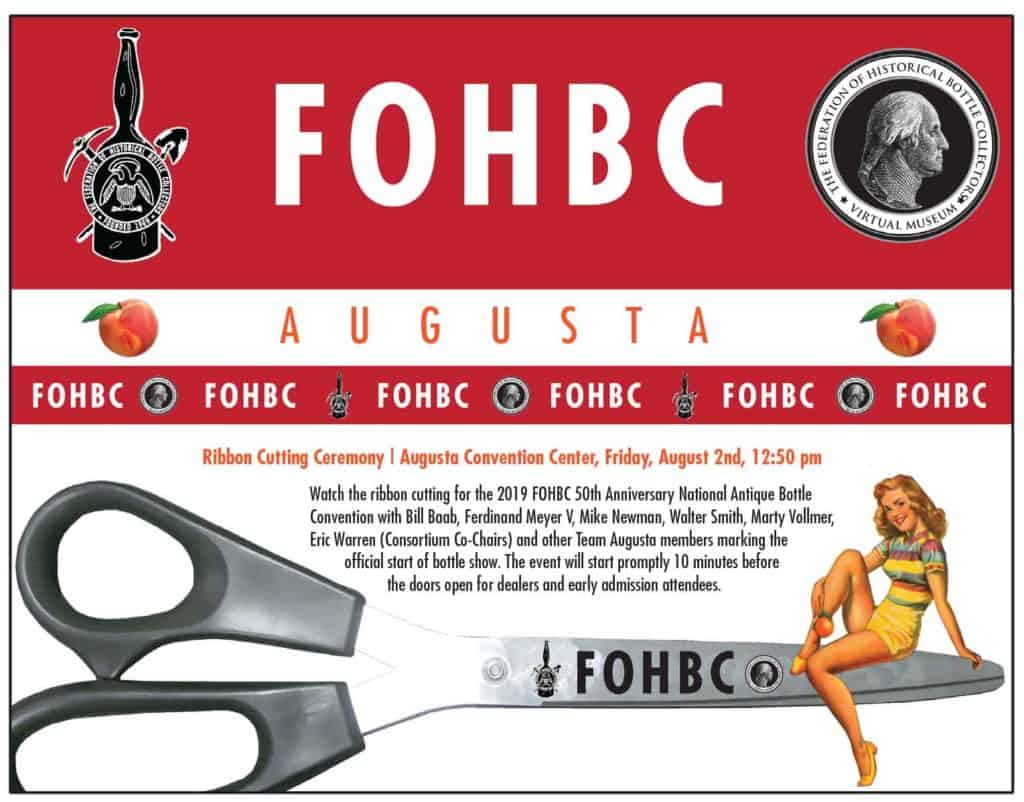 Membership Breakfast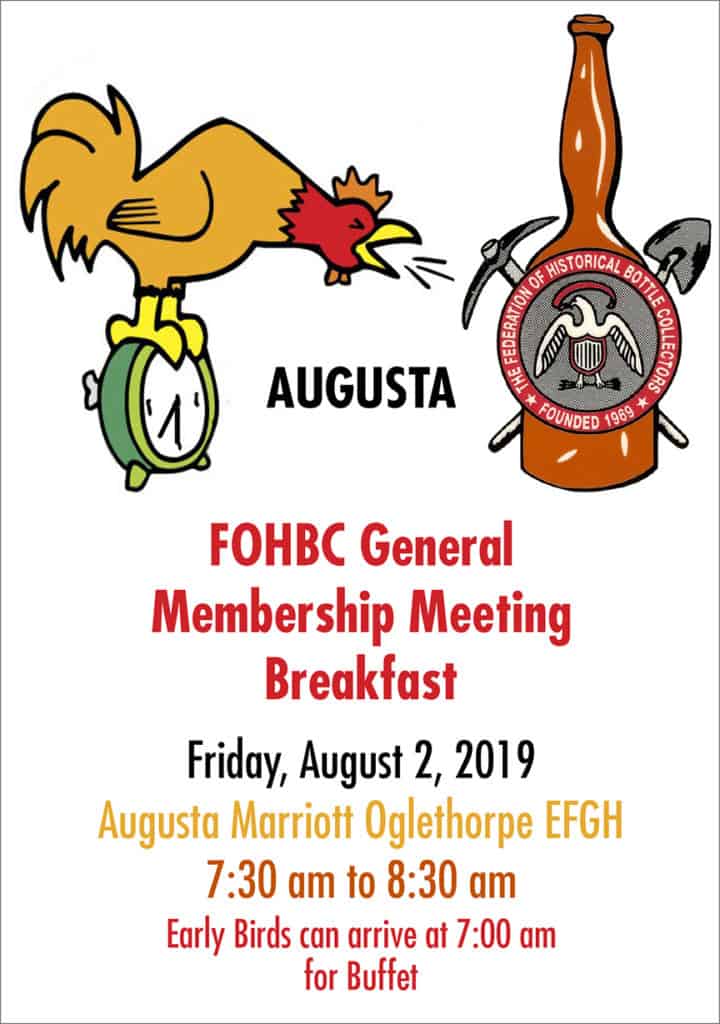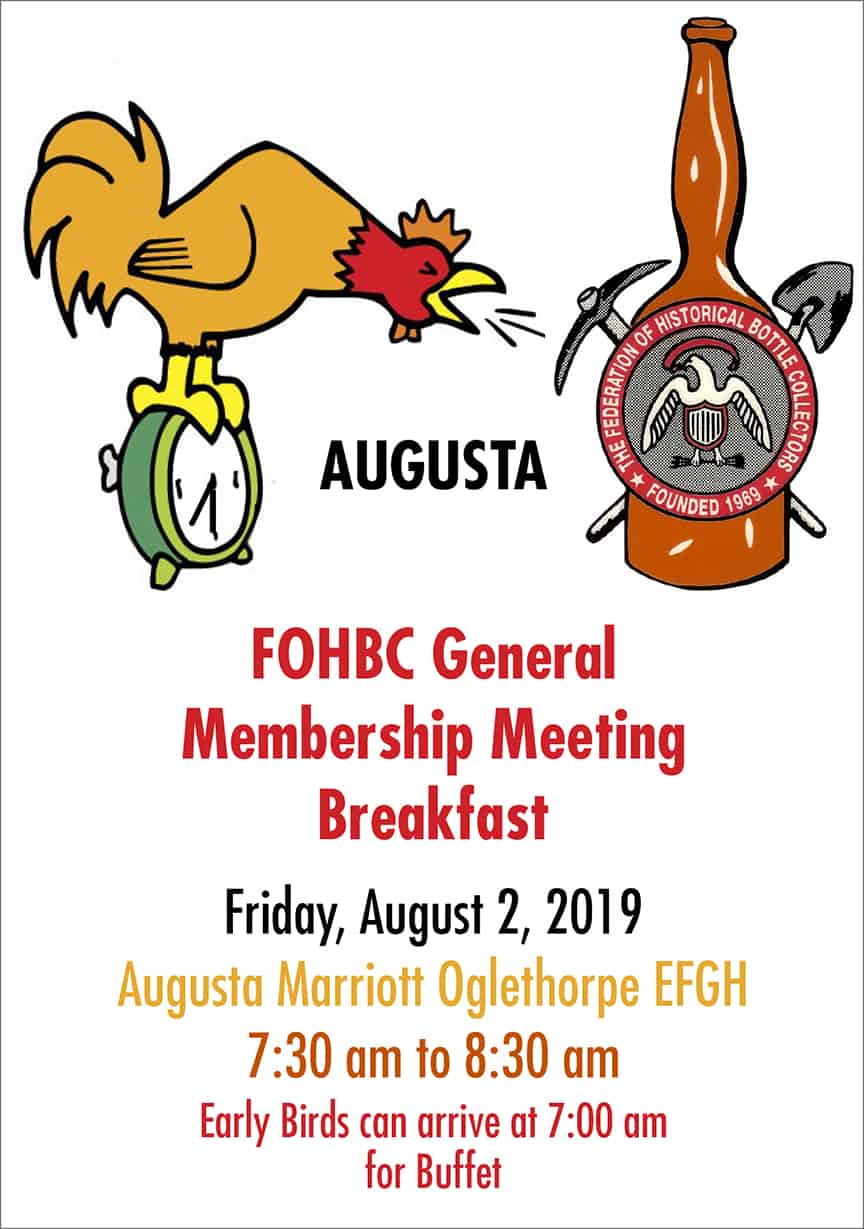 Raffles & Prizes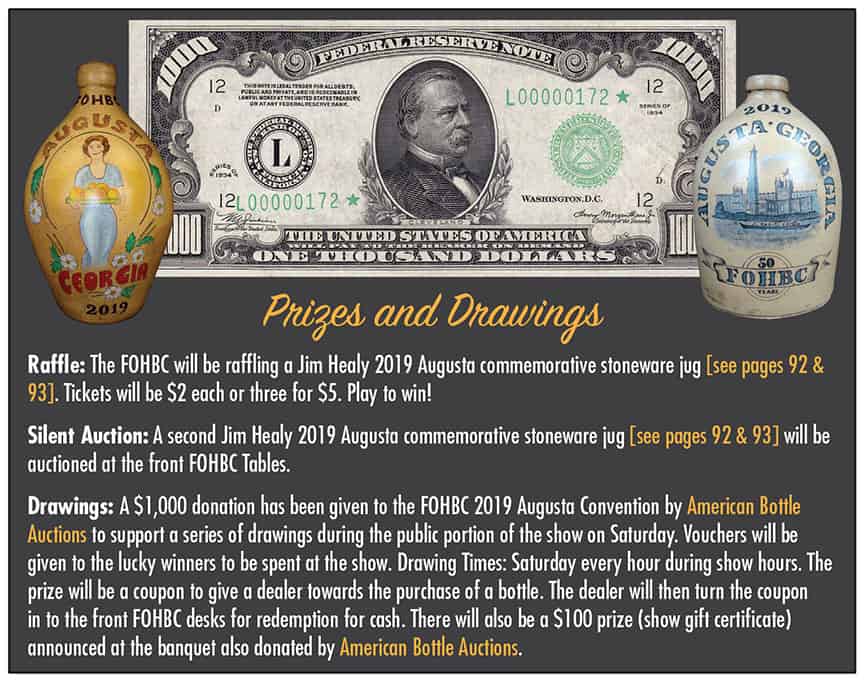 Youth Corner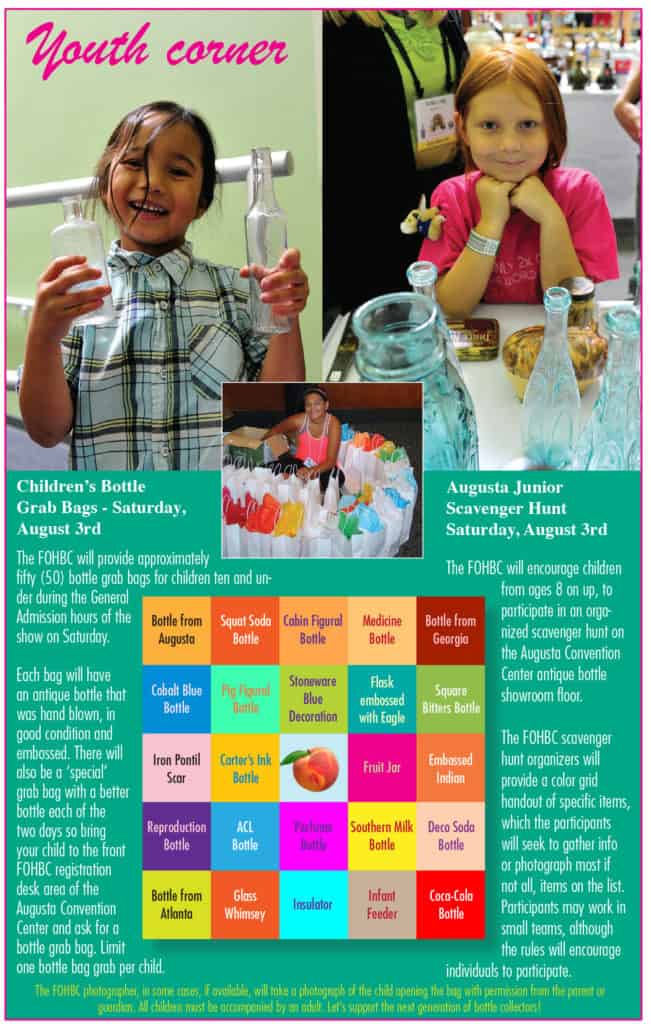 Souvenir Program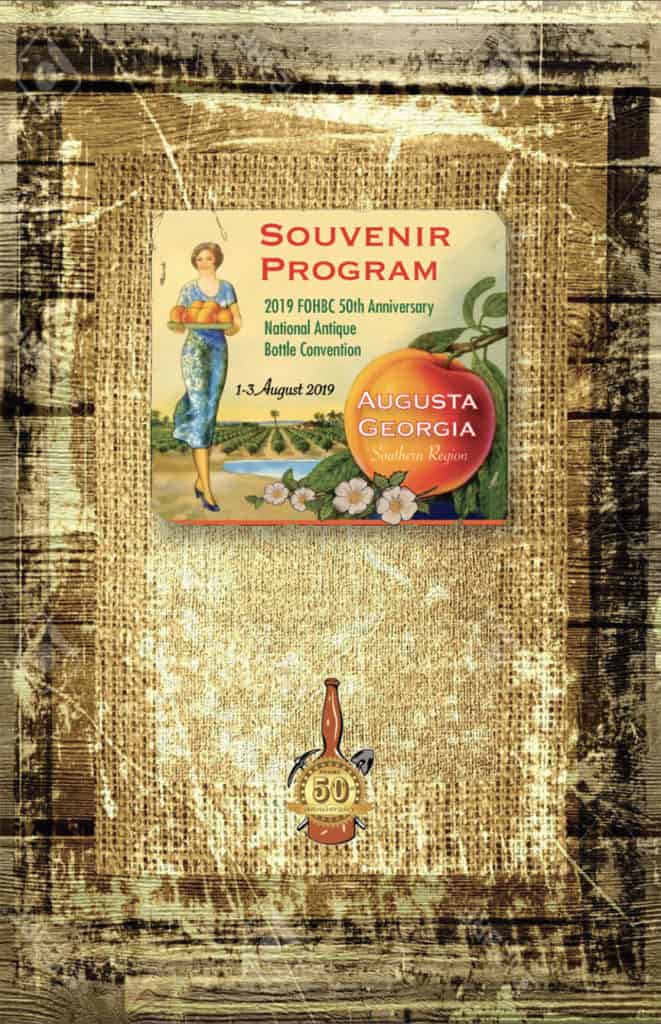 Thanks to the following advertisers in the 2019 FOHBC 50th Anniversary National Antique Bottle Convention | Augusta, Georgia | Souvenir Program
Tom Pettit (vintage soda collector), American Glass Gallery, American Bottle Auctions, Sandor P. Fuss (fine American historical glass), Glass Works Auctions, Peachridge Glass, Heckler & Co., John Joiner (collector), Carlyn Ring, Alicia Booth, FMG Design, Louis Fifer (Pikes Peak flasks), Jim & Val Berry (wishing best), National Bottle Museum, North American Glass, Jim Bender (wanted Bininger bottles), Rick Ciralli (collector & dealer), John Fifer (slot machines), David Jackson (collector), Jelly Jammers, Rick Carney Artifact Artist, David Olson (buying & selling), Rick & Berney Baldwin (specialty collectors), John Wolf (cures wanted), American Poison Bottles Wanted (Joan Cabaniss), McMurray Antiques & Auctions, North American Soda and Beer Bottles, Todd von Mechow, Cane & Abel (glass canes) Ralph & Janet Finch, Matt Lacy (fine historical flasks), Mark & Andrew Vuono (historical flasks), State of Franklin Bottle Show, Buffalo Bottle Collectors Assoc., Dan Luciano (treatments & cures), Antique Bottle Club of San Diego, Antiques & Collectibles Insurance Group, Steve Ketcham (specialist collector), Jim and Jodi Hall (wanted fine bottles), John O'Neill (wanted Jules Hauel pot lids), Gary Beatty (bitters), Jerry & Helen Forbes (specialist), Mike Dickman (old bottles), Sheldon Baugh (bitters & Shaker bottles), Eric McGuire (wishing best), Frank Wicker (wanted bitters & whiskey barrels), Dana Charlton-Zarro (wishing best, Pitkins), Findlay Bottle Show, Bitters Bottles Books (Bill Ham), Bottle Tree Antiques (John & Mary Bray), Dale & Barbara Santos (demijohns), Augusta Marriott, Circle City Bottle Club & Show, Chip Cable (Pittsburgh bottles wanted), Fruit Jar Annual 2019, Southwest Bottles & Jar Spa (Joe Brison), Richard Siri (western collector), Mobile Bottle Collectors Club, Rod Vining, Larry Childers (Arkansas collector), American Digger Magazine, Bill & Bea Baab (research), Holabird Western Americana Collections, Horse Creek Bottle Club, Wisconsin Antique Advertising Club (Steven Libbey), Zane Wood (Hutchinson's), Rich & Kathy Tucker (fine historical flasks), Eric Warren (wanted SC bottles), Midwest Antique Fruit Jar & Bottle Club, Jeffrey S. Evans & Assoc., Furniture Doctor & Restoration Supplies (Walter Smith), Forks of the Delaware Bottle Show, Theo Adams (wanted St. Louis bottles), Antiques & Collectibles Insurance Group, Ron Hands (early American fruit jars), H. H. Warner Book (Mile Seeliger), Columbus Bottle Show, Mike & Julie Newman (welcome & bottles available), A Coin & Silver Shop (Tom Phillips), Grayslake Show, Windy City Coin Op Show, Kovels On Antiques & Collectibles (Terry Kovel), Tom Lines (bottles & flasks), South Carolina Bottle Club, 1st Chicago Bottle Club, British Bottle Review, 49er Antique Bottle Show, Dave Bowers (upcoming book), Collectibles Insurance Services, Bibliography of Glass (Willy Van den Bossche), Genesee Valley Show, National lnsulator Assoc. (NIA), Houston Antique Bottle Show, National Association of Milk Bottle Collectors, Andy Rapoza (Collector of Lynn, Mass. Medicines), Phillip Smith (fruit jars), Wooten & Wooten Auction House, Atlanta Antique Bottle Show, Charlie Martin Jr., Ben Swanson, Jeane Meyer, Dennis Smith, Plantation Jewels Savannah History, Addy Meyer, Connecticut Museum of Glass and International Perfume Bottle Association.