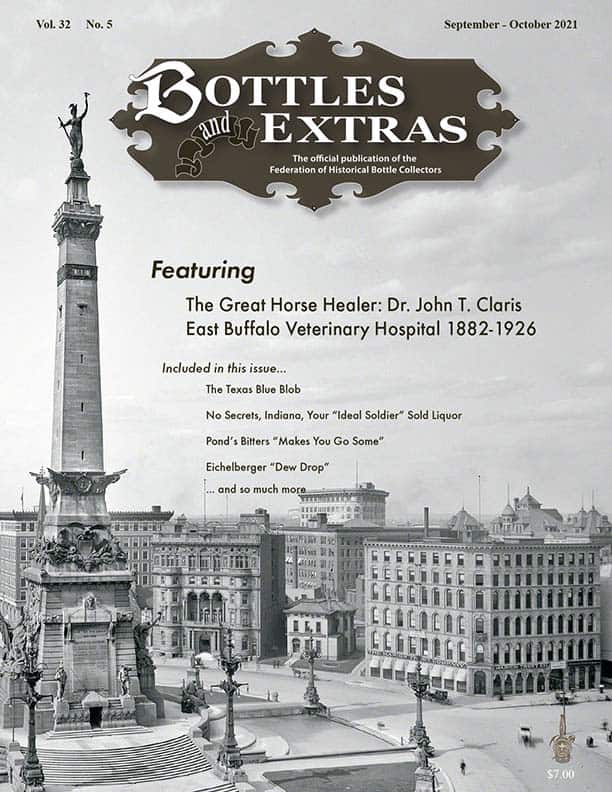 The September–October 2021 issue of Bottles and Extras issue cover is interesting and grabs your attention. While there are no bottles on the cover, there are certainly many pictures within!
Vol. 32 No. 5 | September – October 2021 | No. 257.  (Mailed to members on 20 August 2021 – Visit Members Portal to Read)
Features: Eichelberger Dew Drop Mike McKillop 12 Pond's Bitters "Makes You Go Some" Ferdinand Meyer V 29 The Texas Blue Blob Brandon DeWolfe 40 No Secrets, Indiana: Your "Ideal Soldier" Sold Liquor Jack Sullivan 48 The Great Horse Healer: Dr. John T. Claris – East Buffalo Veterinary Hospital 1882-1926 Peter Jablonski 54
Vignettes: The Not-So-Dry Story of Diving Into an Augusta, Ga. Well Bill Baab 20 "Pipe!" He Hollered Bill Baab 22 Reno 2022 Flyer & Shootout Flyer 37
Departments: Table of Contents 1 FOHBC Officer Listing 2021-2022 2 President's Message 3 Shards of Wisdom 4 History's Corner 5 FOHBC News, From and For Our Members 6 Virtual Museum News Richard Siri 26 Lost & Found 62 Member Photo Gallery 64 Classified Ads & Ad Rate Info 66 FOHBC Show-Biz, Show Calendar Listings 68 Membership Directory 71 Membership Application 72
Just about all issues of Bottles and Extras are archived at FOHBC.org in the Members Portal.