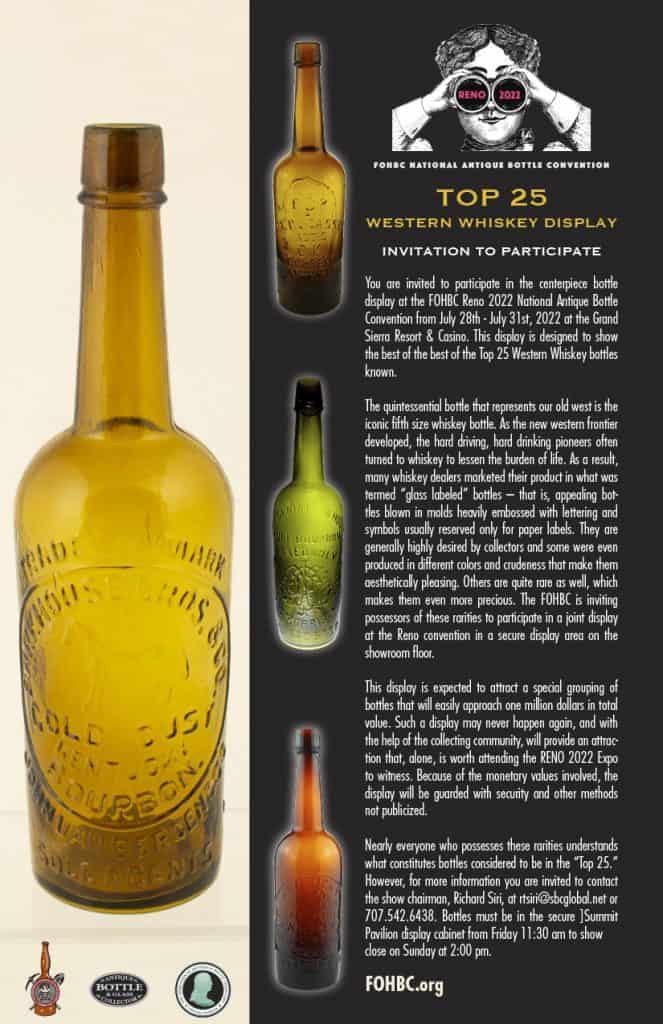 Top 25 Western Whiskey Display • Friday, July 29th, Sat., July 30th & Sun. July 31st [Showroom hours] Summit Pavilion
You are invited to participate in the centerpiece Top 25 Western Whiskey Bottle Display at the FOHBC Reno 2022 National Antique Bottle Convention from July 28th – July 31st, 2022 at the Grand Sierra Resort & Casino. This display is designed to show the best of the best of the Top 25 western whiskey bottles known. 
The quintessential bottle that represents our old west is the iconic fifth-size whiskey bottle. As the new western frontier developed, the hard-driving, hard-drinking pioneers often turned to whiskey to lessen the burden of life. As a result, many whiskey dealers marketed their product in what was termed "glass labeled" bottles – that is, appealing bottles blown in molds heavily embossed with lettering and symbols usually reserved only for paper labels. They are generally highly desired by collectors and some were even produced in different colors and crudeness that make them aesthetically pleasing. Others are quite rare as well, which makes them even more precious. 
The FOHBC is inviting possessors of these rarities to participate in a joint display at the Reno convention in a secure display area on the showroom floor. This display is expected to attract a special grouping of bottles that will easily approach one million dollars in total value. Such a display may never happen again, and with the help of the collecting community, will provide an attraction that, alone, is worth attending the RENO 2022 Convention to witness. Because of the monetary values involved, the display will be guarded with security and other methods not publicized. Nearly everyone who possesses these rarities understands what constitutes bottles considered to be in the 'Top 25'. However, for more information, you are invited to contact the show chairman, Richard Siri, at rtsiri@sbcglobal.net or 707.542.6438.
Bottles must be in cabinet from Friday 11:30 am to show close on Sunday at 2:00 pm.