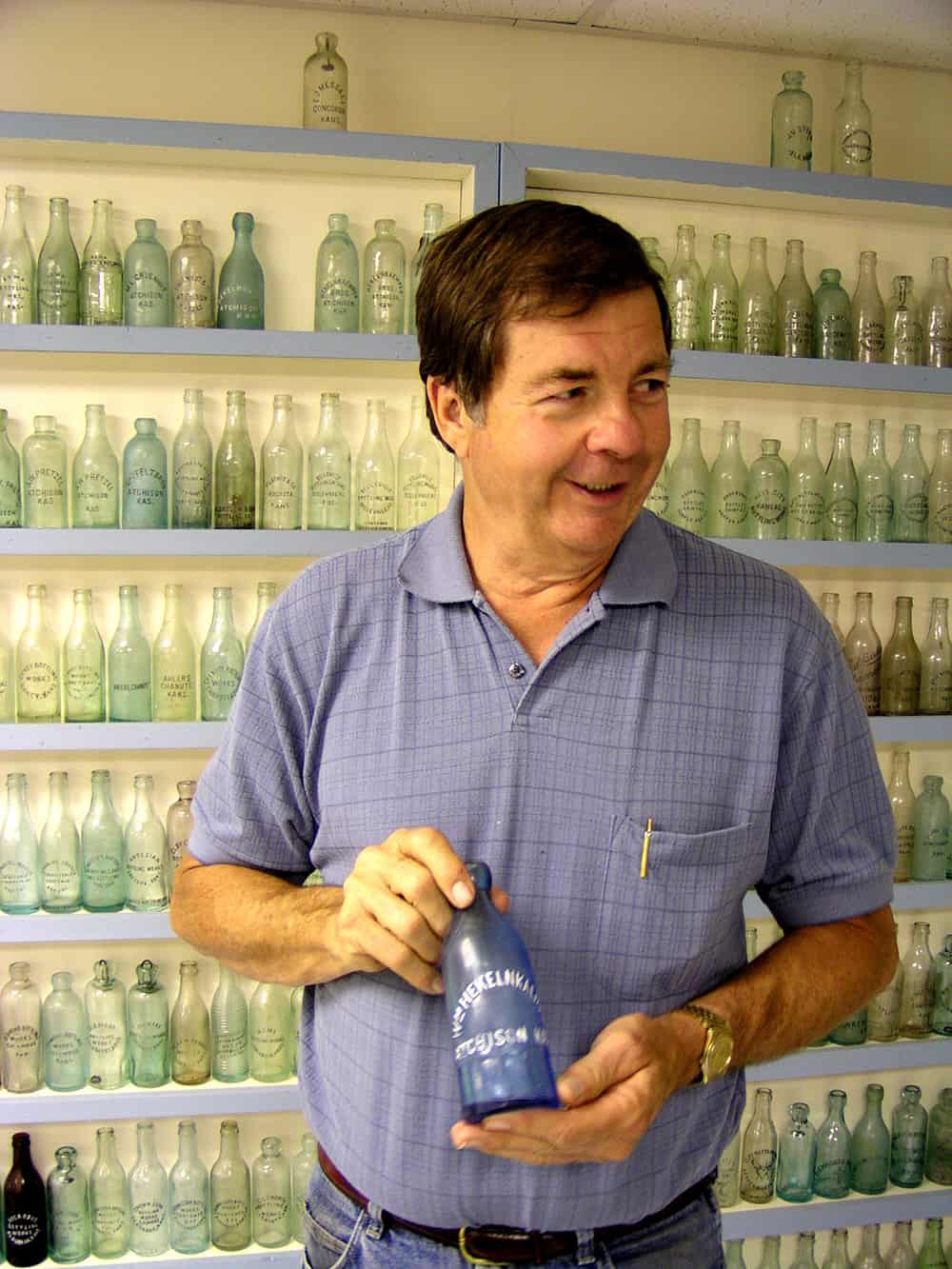 The bottle digging and collecting community has lost a giant. Johnnie Fletcher passed away on January 21 after a long battle with cancer.
Johnnie was an avid and very successful privy digger, starting in the 1980s. He dug thousands of bottles in Arkansas, Colorado, Iowa, Kansas, Louisiana, Missouri, Montana, Wyoming, and Oklahoma. This feat may not seem exceptional, yet hundreds of these bottles were previously unknown. The discovery of new bottles that are then introduced to the collecting community is essential to the vitality of the hobby. Johnnie located more unknown Kansas bottles than anyone else, significantly contributing to the interest in Kansas bottles.
As newsletter editor for the Oklahoma Territory Bottle and Relic Club, Johnnie produced the monthly Oklahoma Territory News for 34 years and 408 issues. This newsletter has been recognized as one of the best amongst Federation clubs. The excellent digging articles and other information greatly contributed to the knowledge of and interest in bottle collecting throughout the Midwest.
Johnnie exhaustively researched and wrote the definitive bottle reference books for Oklahoma, Kansas, Arkansas, and Missouri. These books are fully illustrated and include embossed bottles, embossed dose cups, stenciled jugs, and mini jugs. His books provide a wealth of information in a well-organized reference that greatly benefits regional collectors in particular and bottle enthusiasts in general.
Johnnie was one of the greatest goodwill ambassadors the hobby has ever had. Johnnie was extremely generous in sharing dug bottles with homeowners. These acts spread an appreciation for antique bottles and bottle collecting and provided a very positive image for the hobby. Johnnie unselfishly shared his knowledge of the specialized skill of privy digging. Without a steady stream of new bottles and people capable of digging them, the hobby risks getting stale and losing participants. Johnnie personally taught me, as well as many others, how to locate and dig privies. Johnnie taught an Atchison, Kansas gentleman how to dig privies. This man, in turn, taught his grandson how to locate privies, thus ensuring another generation of bottle diggers. Johnnie regularly supported and attended bottle shows in several states as both a dealer and buyer.
Johnnie assembled several important bottle collections. His Kansas bottle collection is the largest and most complete in the country. Visiting his bottle museum was a fantastic experience.
Johnnie was inducted into the FOHBC Hall of Fame in 2009. I had the honor of introducing Johnnie at his induction ceremony during the FOHBC National Antique Bottle Show in Pomona, California. The hobby has lost one of its most enthusiastic supporters, and I have lost a good friend.
Ed Stewart
Paola, Kansas