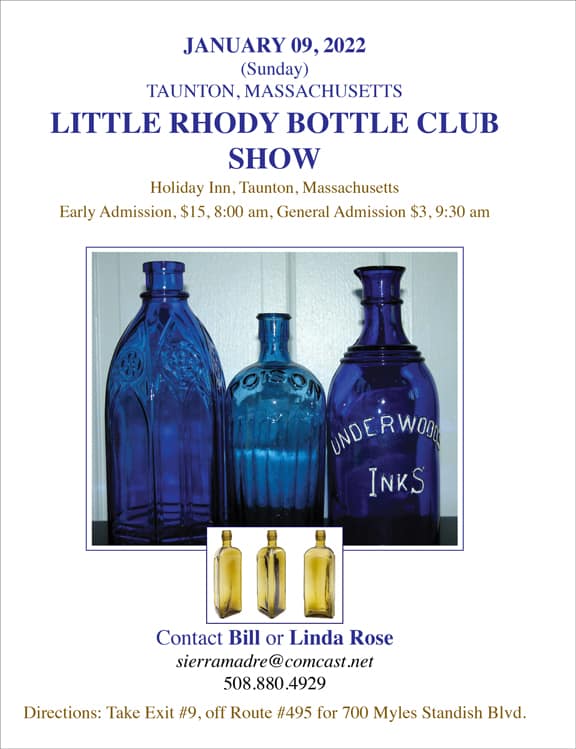 Three strikes and you're out! Maybe in baseball but not The Little Rhody Bottle Club!
We got our three strikes before 5:00 AM on the morning of our show, January 09, 2022. With Covid fear terrorizing our great country, a few vendors started cancelling their tables. That was strike one! After all of the bottle magazine advertising and regional post cards had been distributed the state of Massachusetts changed the exit numbers off of Route #495 from Exit #9 to Exit #25. Strike two! In that same short time span the hotel changed its name from The Holiday Inn to The Clarion Hotel. Strike three! Next, the new sign on the hotel was too small to read from the exits at Route #495. Strike four! Wait for it! Finally, it snowed the day before the show. Strike five! But The Little Rhody Bottle Club was still at the plate swinging and the show went on.
That rugged New England and Northeast attitude prevailed with vendors coming from as far away as Long Island, New York to set up. Yes, attendance was down as we say here in New England by, "a wee bit." But the bottle enthusiasts came out in the frigid weather and were lining up for the 8:00 AM early buyer entry. People in masks and out of masks were examining, buying and talking about bottles. It was festive atmosphere inside the show room as people were smiling, happy to be out of their homes exchanging stories about bottle digging and great bottle finds. The typical bottle examinations were conducted by holding a bottle at arm's length into a light source to search for that dreaded crack.
The club moves forward as we will continue our 2nd Tuesday of the month meetings at The Pontiac Free Library in Warwick, Rhode Island. The club has coordinated with Leonard's Antiques on Route #44 in Seekonk, Massachusetts to continue its free outdoor swap meets. Lastly, the date for our next show at The Clarion Hotel in Taunton, MA will be January 08, 2023.
William Rose, President Little Rhody Bottle Club Show