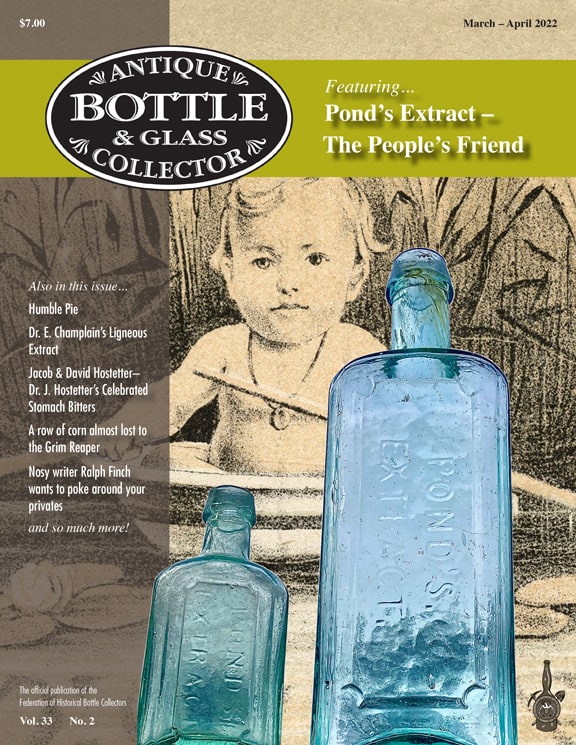 ANTIQUE BOTTLE & GLASS COLLECTOR
March – April 2022
We are excited to say that our inaugural issue of Antique Bottle & Glass Collector was mailed to FOHBC Members on Friday, 11 February 2022—four days ahead of schedule! FOHBC members can also read online in PDF or page-by-page reading in the Members Portal. This is our first issue since the merger of Bottles and Extras and Antique Bottle & Glass Collector (AB&GC). We have chosen the name Antique Bottle & Glass Collector and developed a hybrid design (taking the best from both magazines) and will follow the Bottles and Extras bi-monthly distribution schedule.
The contributions to the bottle collecting hobby by Scott Grandstaff and Kitty Roach commenced in 1988 when the magazine Bottles & Extras took form on the kitchen table of their home in Happy Camp, California. With the help and support of FOHBC Hall of Famer Dr. Cecil Munsey of Poway, California, they published their first edition in 1989. In 1995, when the publication had grown too big for both of them, they decided to turn over the magazine and subscribers list to the FOHBC at no charge. Bottles & Extras became the Federation's most tangible asset. The first issue was March 1995, Volume 6, No. 3.
John Pastor's first issue of Antique Bottle & Glass Collector magazine was the December 2010 issue. John purchased the magazine from Jim Hagenbuch. Jim had bought the magazine in the mid-1980s when it was called Old Bottle Magazine and was renamed Antique Bottle & Glass Collector. John Pastor would gift the magazine to the FOHBC in late 2021.
The FOHBC board approved the "magazine merger" after an eight-year process when the idea was first proposed by John Pastor to board president, Ferdinand Meyer V over dinner in Michigan at Johns house in November 2013. The FOHBC board formally approved the merger on 13 October 2021.
Interested in the latest FOHBC News instead of waiting to read in the magazine. Read FOHBC News on our website FOHBC.org